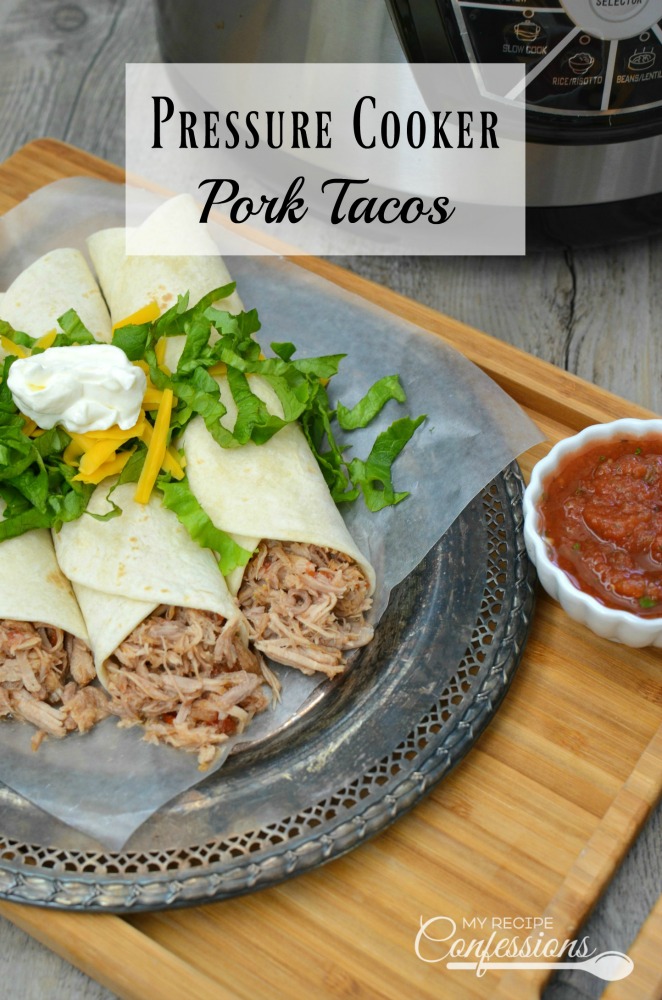 Pressure Cooker Pork Tacos are easy to make and taste delicious! The pork is so tender that you can't pull it out of the pressure cooker without the meat falling apart. The meat is juicy and dripping with flavor.
I love Mexican food! I honestly could eat it every day but it can sometimes be a bit time consuming.  An electric pressure cooker will cook the food in almost a third of the time that it takes in a crockpot or in the oven.
You would think that by now I would be used to the cooking time of my pressure cooker, but every time I make a new recipe, I get so excited to see how quick it cooks. It never ceases to amaze me.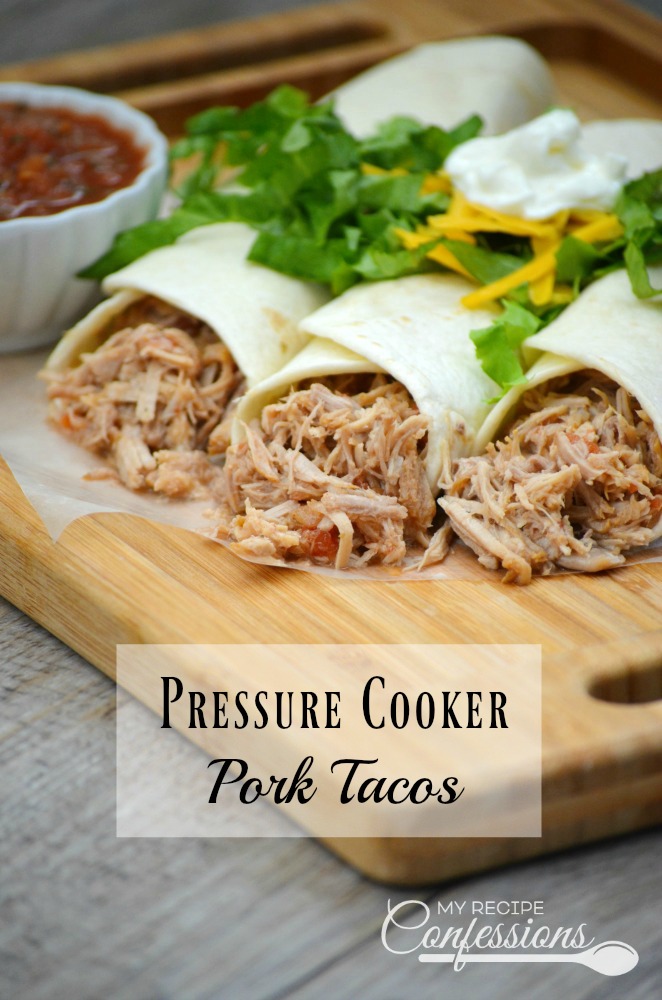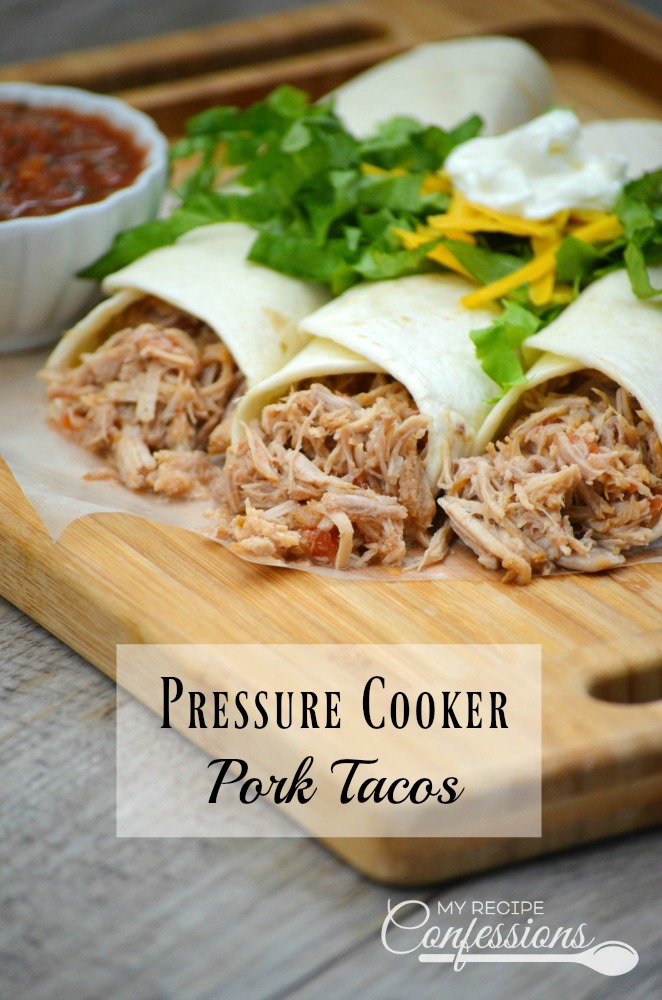 Dinner is no longer ruined if you forget to put the meat in the oven or crock pot so it has enough time to cook. Just throw it in the EPC and dinner is saved!
With love from my kitchen to yours,
Carrie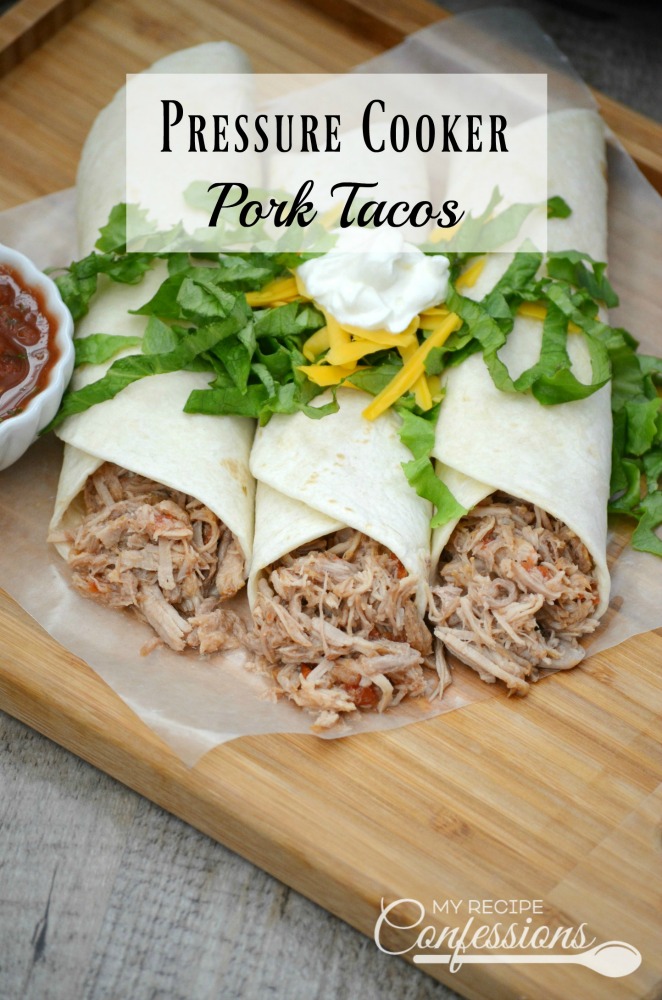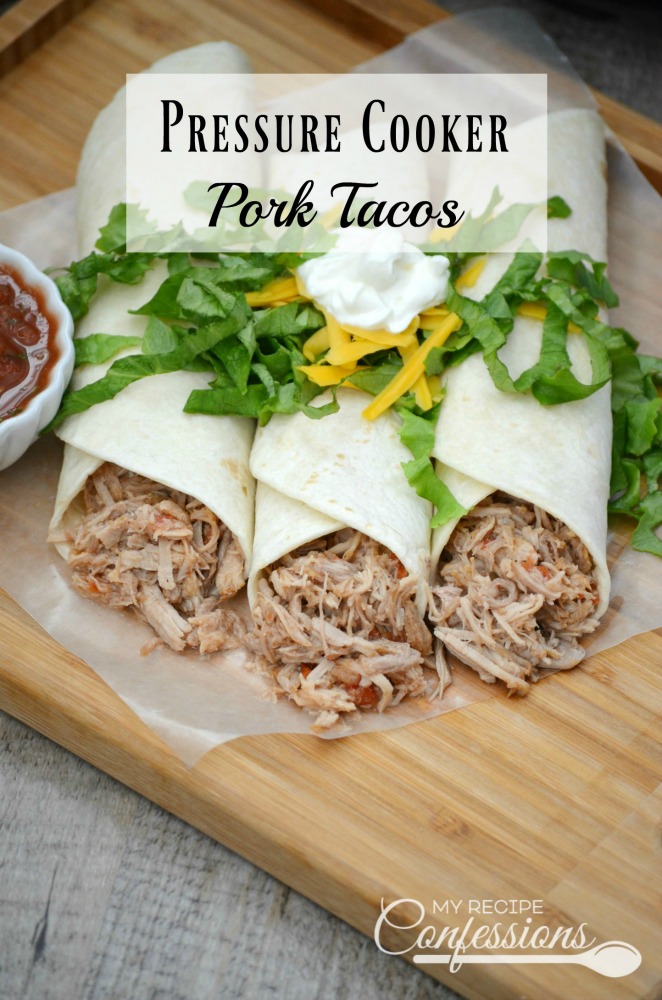 Pressure Cooker Pork Tacos
4 lbs of pork roast, cut into 4 to 6 pieces
2 tbsp. of canola oil
2 tbsp. of kosher salt
1 tsp. of cumin
1 tsp. of oregano
1/2 tsp. of smoked paprika
1 (14.5 oz.) can of diced tomatoes
1 tbsp. of garlic
1 medium onion, diced
1 can of green chilies
1 cup of water
Instructions
Set the pork roast out on the counter 20 minutes prior to cooking so it can come to room temperature.  Rub the pieces of pork with the kosher salt and then place the meat in the electric pressure cooker. Add the canola oil and brown the meat for 3-4 minutes, or until the pork is completely browned.
Add the remaining ingredients into the pressure cooker and stir quickly. Lock the lid in place and set to high pressure for 1 hour and 40 minutes or 100 minutes.
After the cooking time is over, do a natural release of the pressure for 10 minutes and then do the quick release option for the pressure. Remove the pork from the pressure cooker and shred with two forks. Pour 1 cup of the juice from the pressure cooker over the meat. Serve pork on a tortilla with your favorite toppings.
Remember to always follow your pressure cooker's instructions for use.
Here are a few other recipes you might enjoy.