Easy Classic Fruit Pizza is a classic yet simple recipe. The soft sugar cookie crust, creamy cheesecake frosting, and juicy sliced fruit is bursting with flavor. This gorgeous dessert is absolutely divine!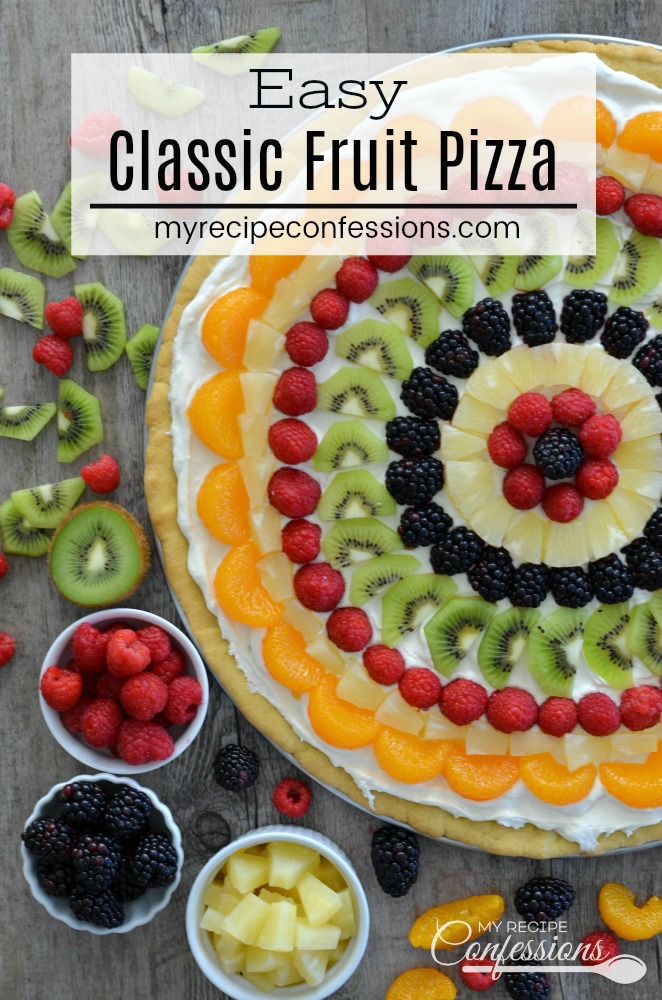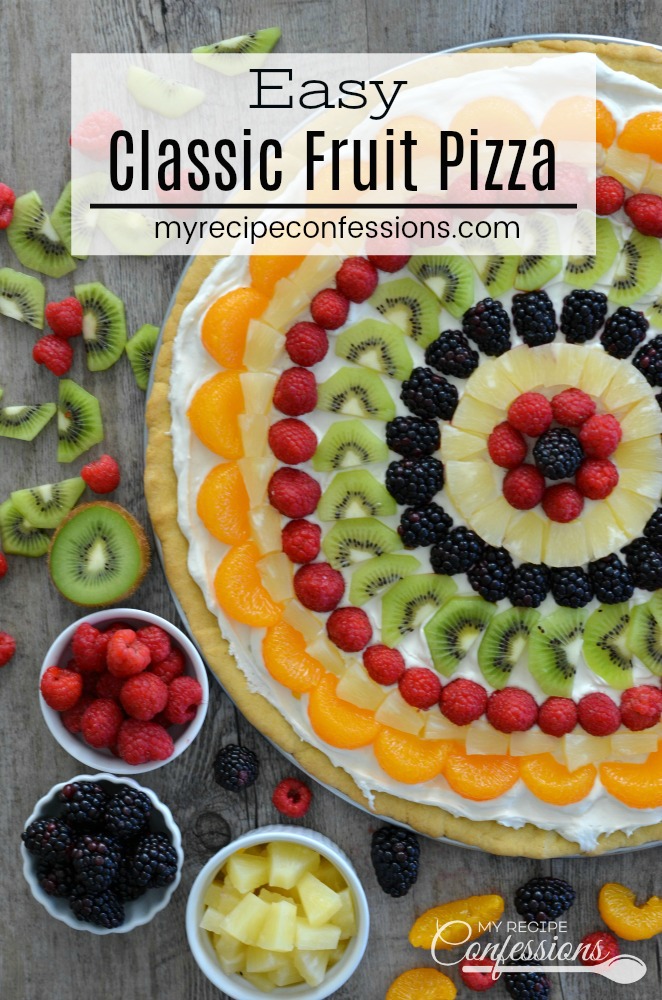 This Easy Classic Fruit Pizza came about when I attended a Utah Influencers Getaway. When we returned to the hotel that night, I was faced with a very frustrating dilemma. We were welcomed by a large spread of fruit, veggies, chips and dip, and assorted desserts all provided by Harmon's Grocery.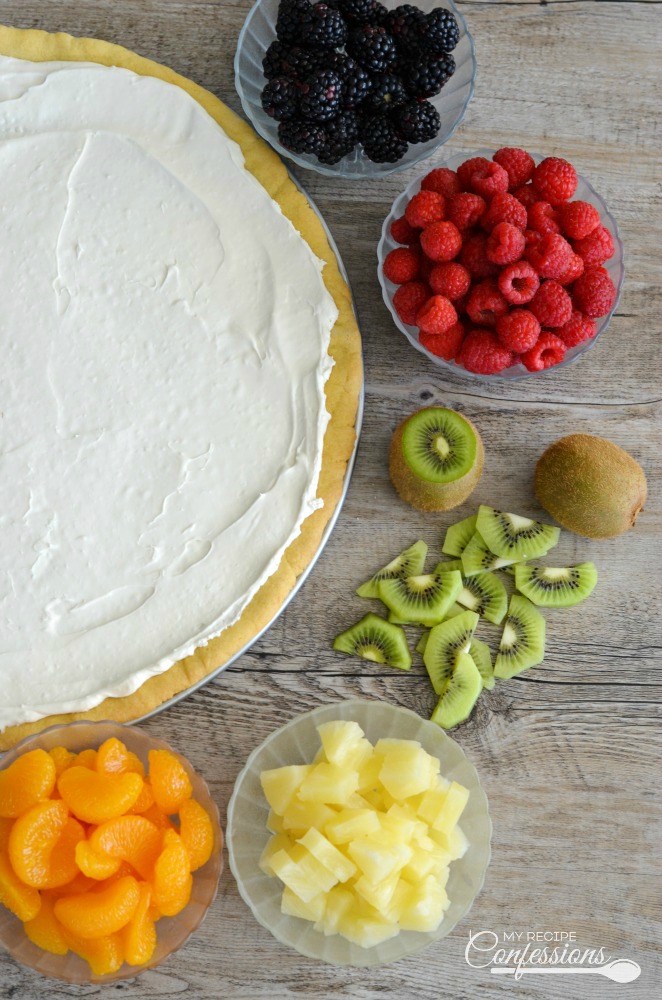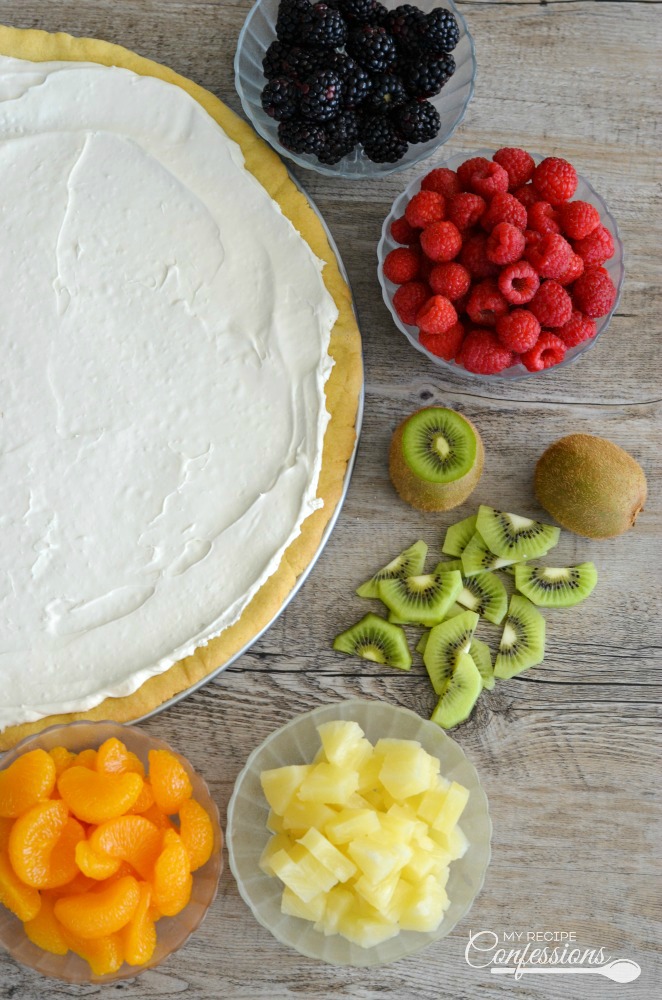 Being torn between the healthy fruit and not-so healthy desserts, I found myself wishing that somehow I could enjoy both. At that moment, I realized that the solution to this dilemma was fruit pizza. I also realized that I had not put this recipe on the blog yet.
For the crust of this divine Easy Classic Fruit Pizza, I use my favorite sugar cookie recipe, Grandma's Super Soft Sugar Cookies.  These sugar cookies are one of my most requested desserts and I'm always asked for the recipe. I can't say I'm surprised, after all who can resist a soft and chewy sugar cookie with a rich vanilla flavor? I know I certainly can't.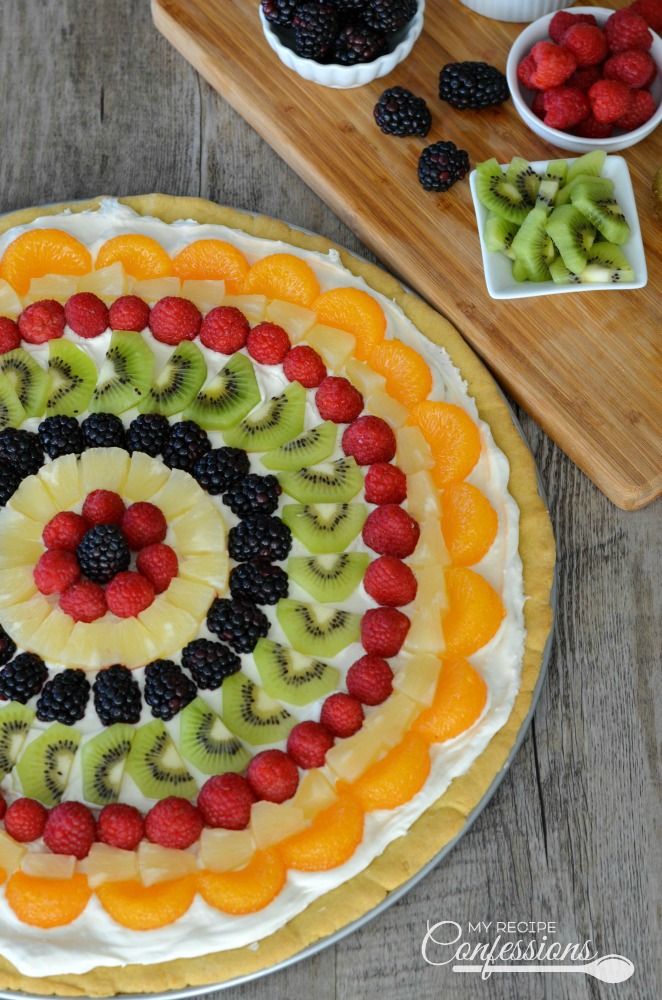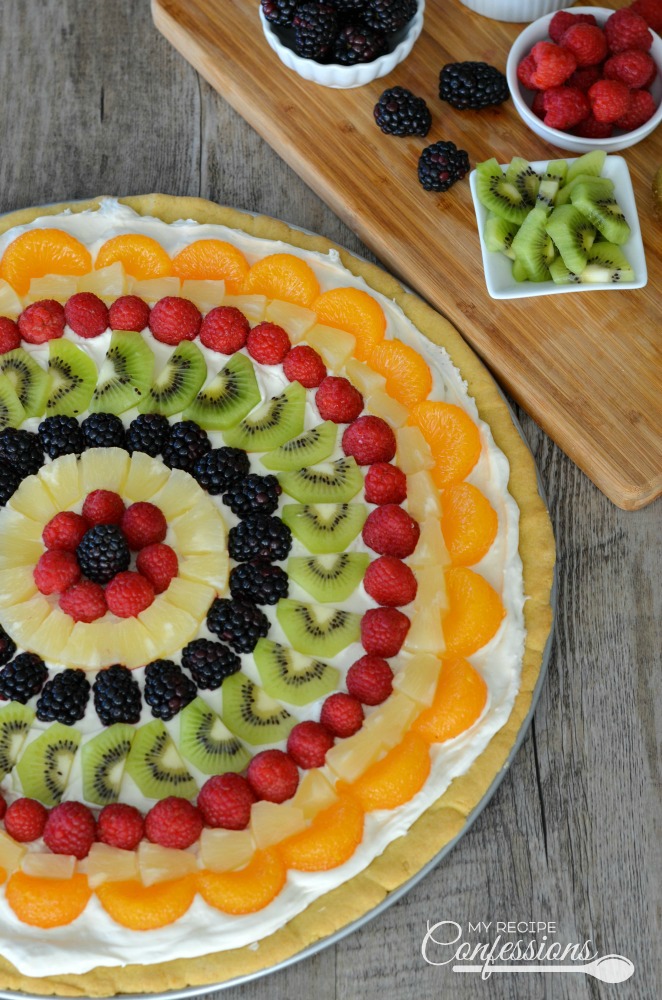 The cheesecake frosting is made with cream cheese, heavy cream, sugar, and vanilla. It tastes like you are biting into a smooth and creamy slice of cheesecake. Of course this frosting is a lot easier to make than a cheesecake, that's just part of it's charm.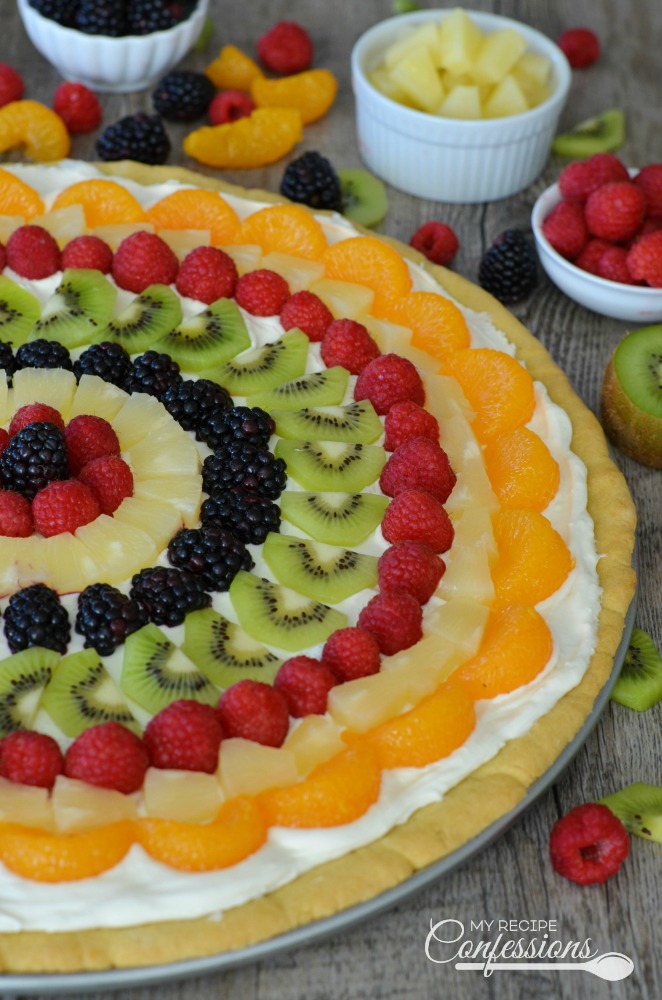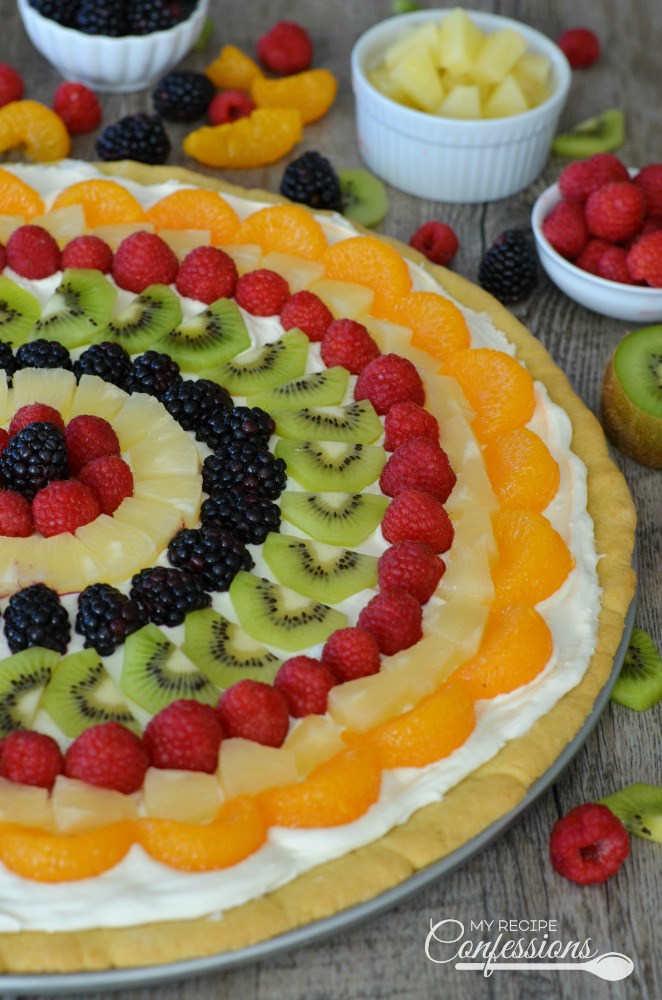 The fresh fruit on top is what really seals the deal for me. I am always up for a big bowl of sweet fruit. Add the juicy fruit on top of a soft sugar cookie and creamy cheesecake frosting and I might as well throw in the towel because there is no way I can resist it!
With love from my kitchen to yours,
Carrie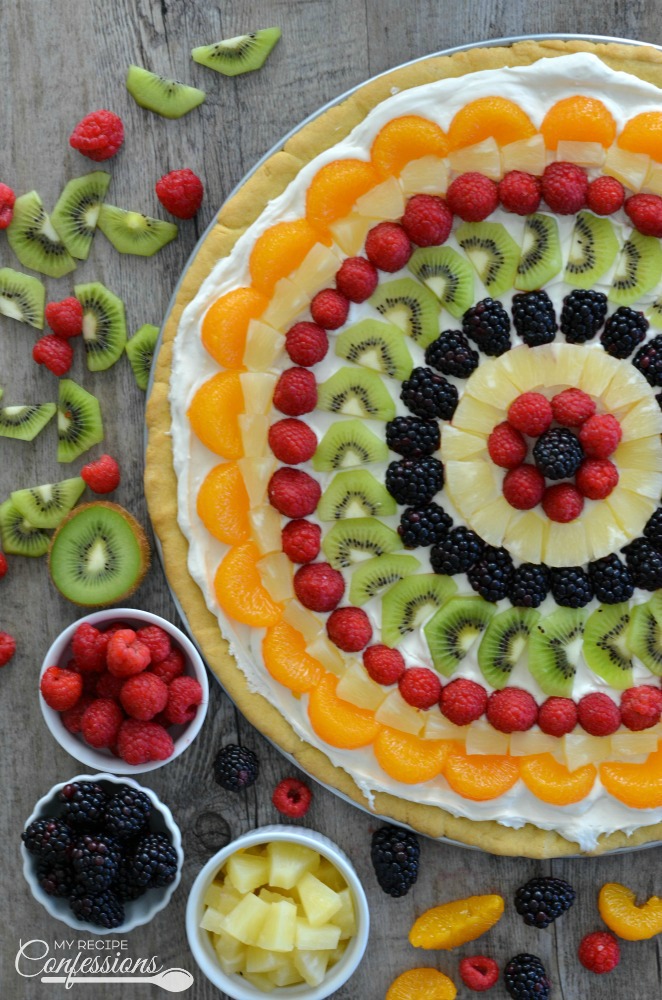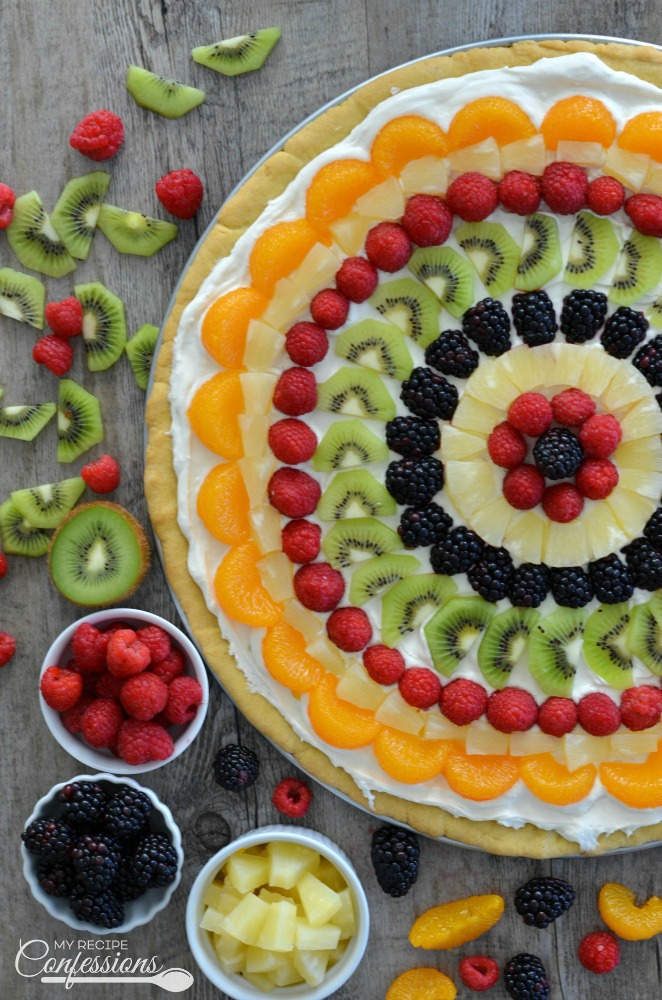 Easy Classic Fruit Pizza
1 batch of Grandma's Super Soft Sugar Cookies 
2 cups of raspberries
2 cups of blackberries
1 (11 oz.) can of mandarin oranges
3 kiwis, peeled and sliced
1 (15 oz.) can of pineapple tidbits
Instructions
Preheat oven to 350 degree Fahrenheit
Prepare the Grandma's Super Soft Sugar Cookie dough according to the instructions. Roll the cookie dough out into a greased 16 inch pizza pan.
Bake for 12 to 15 minutes or until the edges are a light golden brown. Allow the cookie to cool completely.
Spread the cheesecake frosting evenly on the top of the cookie crust. Add fruit and enjoy!
Cheesecake Frosting
8 ounces of cream cheese, softened
1/3 cup of granulated sugar
1 1/4 cup of heavy whipping cream
1 tsp. of vanilla extract
Directions
Mix the cream cheese and sugar until smooth and creamy.
Add the vanilla and heavy cream and whip until the frosting forms stiff peaks.
Refrigerate until served. Store any unused frosting in the refrigerator.
Here are a few other recipes you should try.