Peanut Butter Bars, Peanut Butter, Cookie Bars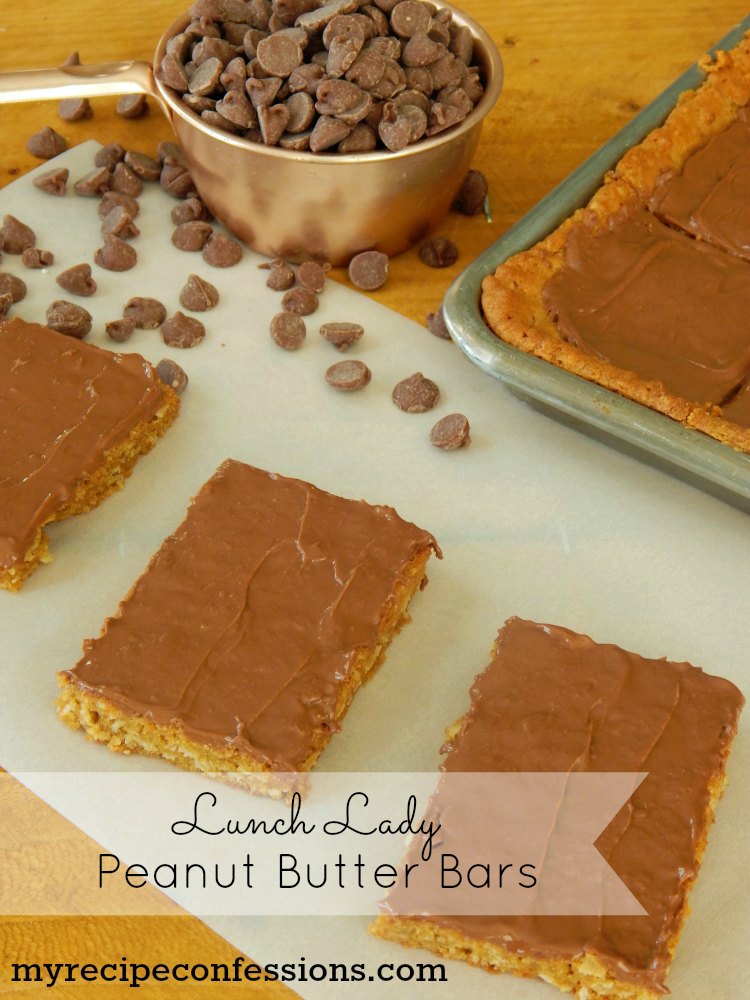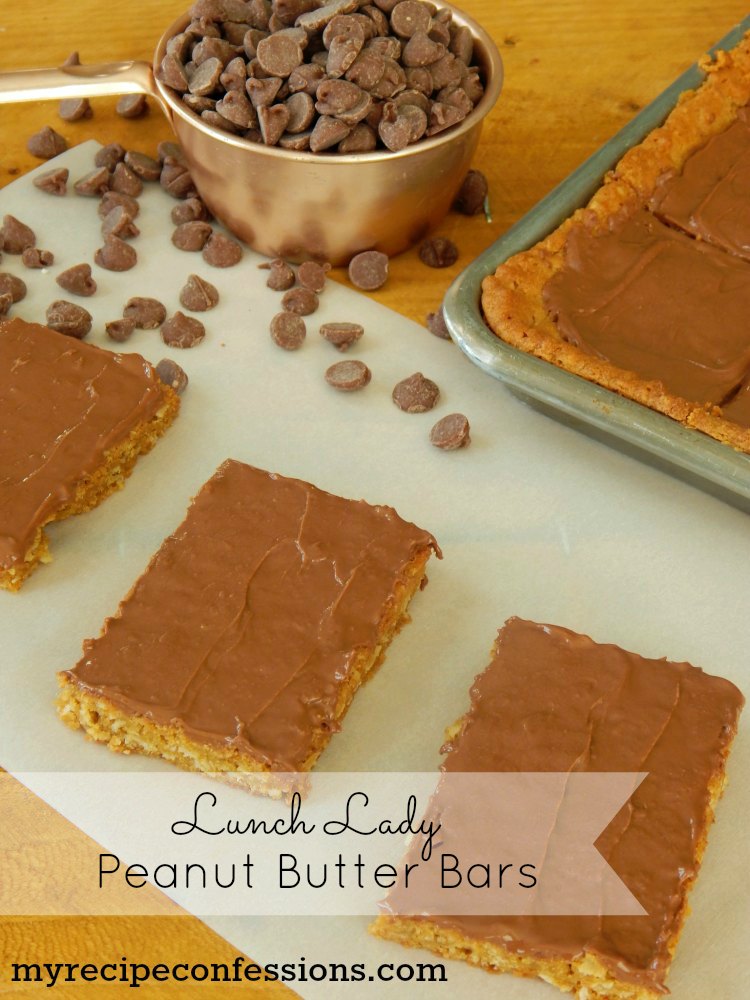 These Lunch Lady Peanut Butter Bars disappear very quickly at my house. To say that my boys love them is a bit of an understatement! Before I even pull them out of the oven, my boys are begging for some.
I got this recipe from my husbands sweet sister Jill. This recipe reminds me so much of one of my favorite lunch treats when I was in elementary school. I always looked forward to the days that they served peanut butter bars. Back then, the lunch ladies made all the food from scratch.
If you are looking for a simple dessert that will not only feed a crowd but will please them as well, look no further! This is the perfect recipe for you!
With love from my kitchen to yours,
Carrie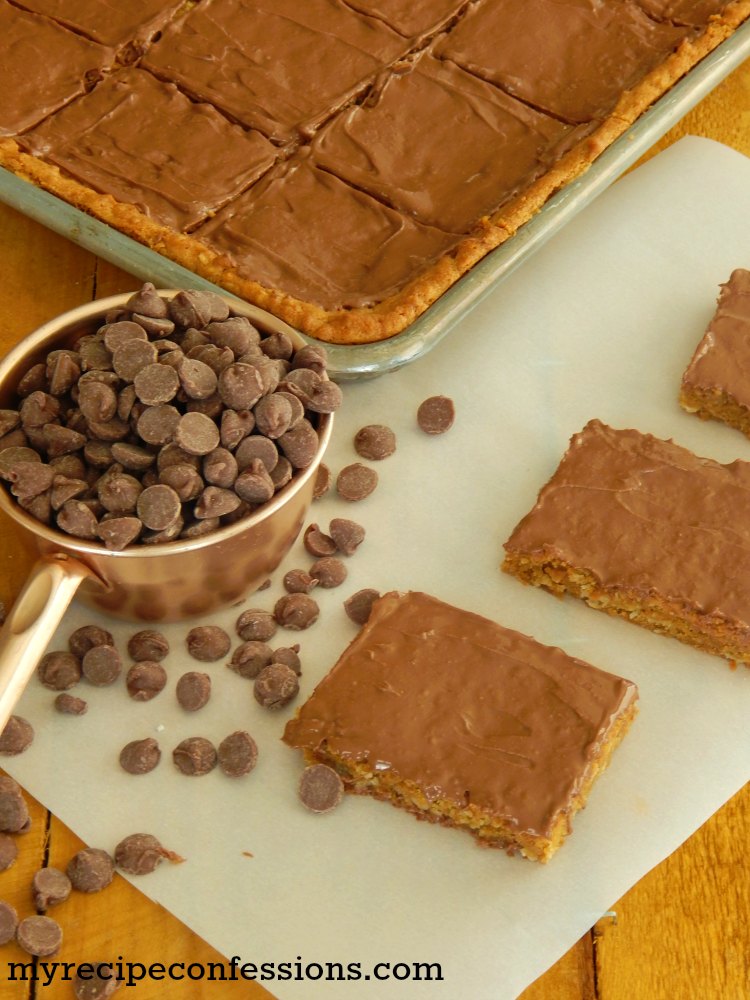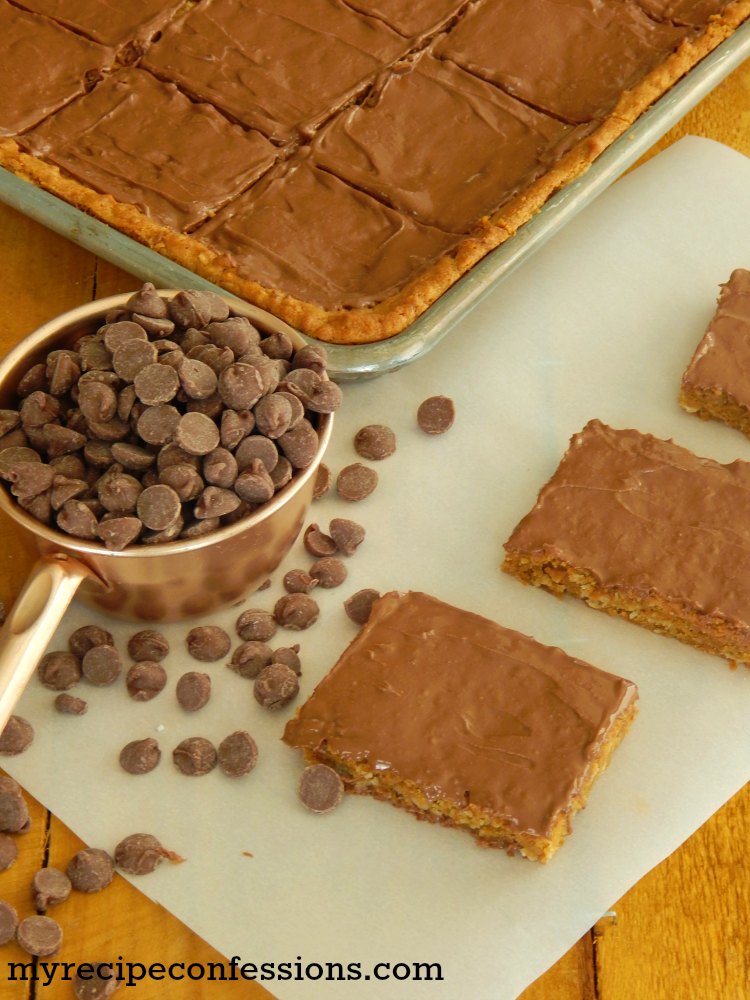 Lunch Lady Peanut Butter Bars
3/4 cup of butter
3/4 cup of white sugar
3/4 cup of brown sugar
2 eggs
3/4 cup of creamy peanut butter
1 tsp. of vanilla
1 1/2 cup of all-purpose flour
1 1/2 cup of oats
3/4 tsp. of baking soda
1/2 tsp. of salt
1 (11.5 oz.) bag of milk chocolate chips
Instructions
Preheat the oven to 350 degrees
1. In a medium size bowl, cream the butter and sugars together. Add the eggs and continue to cream. Mix in the peanut butter and vanilla until the mixture is smooth and creamy.
2. In a smaller bowl, mix the dry ingredients together and then mix them into the peanut butter mixture. Spray a baking sheet with baking spray and spread the peanut butter mixture evenly into the pan.
3. Bake for 10 to 15 minutes or until a knife inserted in the center comes out clean. Sprinkle the chocolate chips over the hot bars and allow the chocolate chips to melt for  3 to 5 minutes. Evenly spread the chocolate over the peanut butter bars. Cool completely before cutting into bars.
Here are a few other recipes that you might enjoy.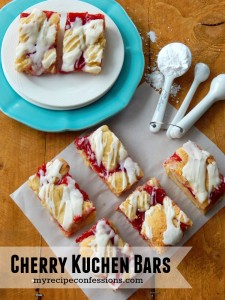 The Perfect Rice Krispie Treats