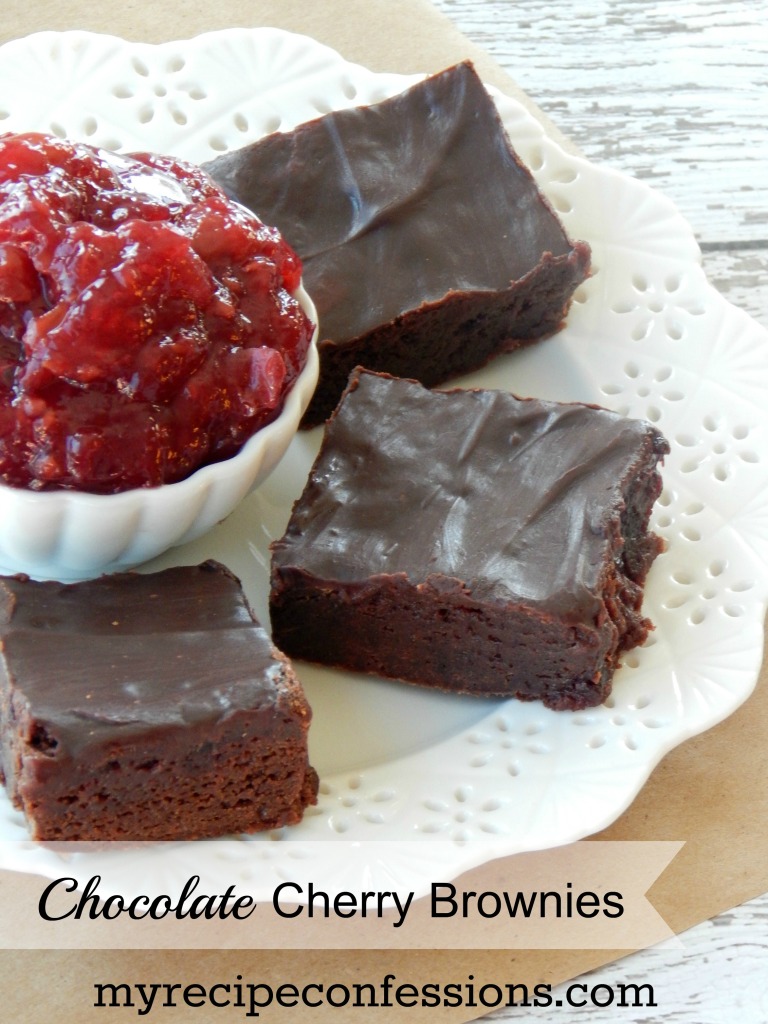 I like my brownies very moist and chocolatey (if that is even a word). I like them to have enough flavor that they can stand on their own without frosting if they need to. However, I like frosting on my brownies but I don't like it so sweet that it over powers the brownie and you get a instant headache from all the sugar.
I know, I know, I am kind of picky when it comes to my brownies. That is why I instantly fell in love with these brownies! They are every thing I have ever wanted in a brownie and more because you get the added bonus of the cherries. You can switch out the cherry preserves for another fruit preserve if you like. I think strawberry preserve or raspberry preserve would be fabulous.
The chocolate gaunche on these brownies is so silky smooth and it magically melts in your mouth with each bite.
Is your mouth watering yet? Mine is, so I am going to go because I have a brownie waiting for me. Dooda Lou!
With love from my kitchen to yours,
Carrie

Chocolate Cherry Brownies
Brownies
1 cup of all-purpose flour
1/2 tsp. salt
4 oz. of unsweetened chocolate
2/3 cup of butter
2 cups of granulated sugar
4 large eggs
1 1/2 tsp. vanilla extract
1 cup of cherry preserves
Gaunche
1 cup of semi sweet chocolate chips
1/2 cup of heavy whipped cream
To make the brownies:
Preheat oven to 350 degrees
1. In a small bowl, mix the flour, baking powder, and salt.  In a medium-sized microwave safe bowl, heat the butter and chocolate on high heat for 2 minutes. Remove the bowl from the microwave and stir. If not completely melted,  return the bowl to the microwave for 30 second intervals stirring in between until fully melted.
2. With a electric mixer mix in the granulated sugar. Add the eggs one at a time, stirring after each one until well blended. Gently stir in the vanilla extract and flour mixture.
3. Pour the brownie batter into a prepared 9 x 13 inch pan. Drop large spoonfuls of the cherry preserves onto the brownie batter,  Using a knife, swirl the cherries through out the batter. Bake for 35 minutes of until the a toothpick inserted in the center comes out clean. Cool the brownies completely.
To make gaunche:
1. Place the chocolate chips in a medium-sized heat proof bowl. Heat the cream in a small sauce pan on medium-high heat until it just begins to bubble around the edges and remove from heat.
2. Pour the hot cream over the chocolate chips and let sit for about five minutes. Whisk cream and chocolate chips until smooth. Let the gaunche sit at room temperature for 10 to 15 minutes.
3. Evenly spread the gaunche over the brownies. Place the brownies in the fridge for 30 minutes to let the gaunche set up. Cut and serve.