Italian Cranberry Orange Pound Cake is worth every minute spent in the kitchen making it! It is soft, fluffy, and bursting with flavor. I made this cake a couple of times this week and I had to give most of the cake away because I knew if I didn't, I would eat it all. Just like all amazing cakes, this cake is even better the next day.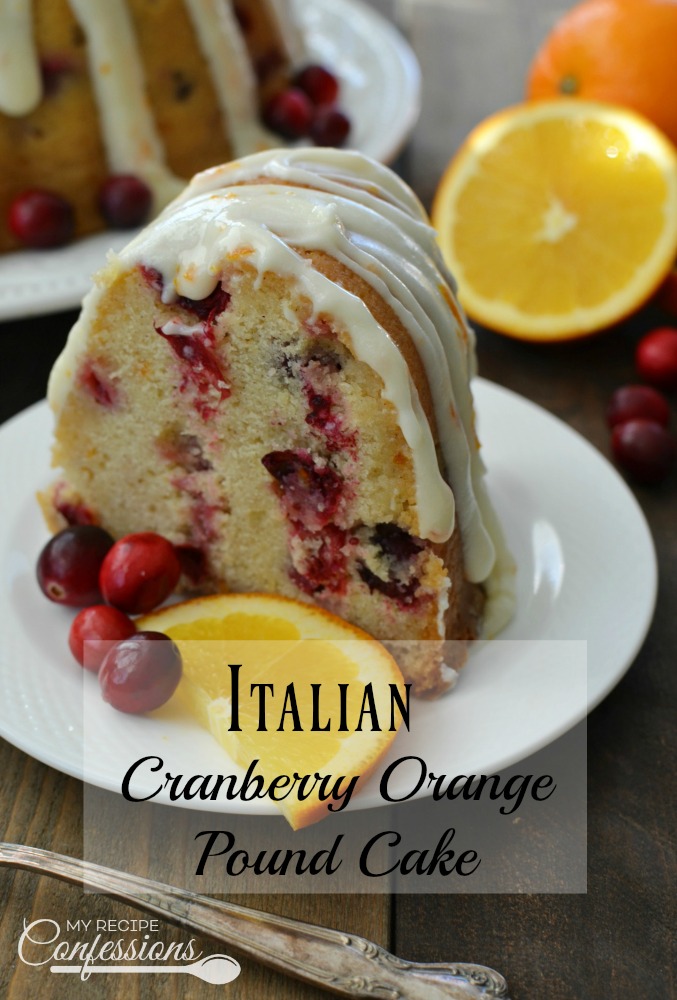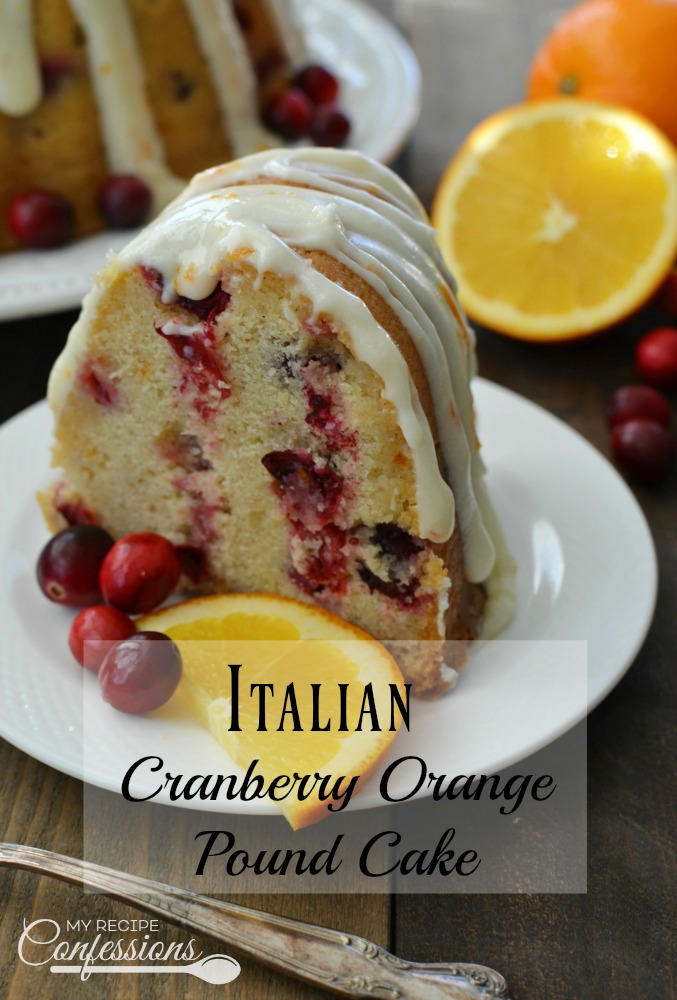 This Italian Cranberry Orange Pound Cake is a twist on the most popular recipe on my blog, Italian Lemon Pound Cake. If you thought the lemon pound cake was is great, just wait until you try this one. It screams Christmas. The big plump cranberries that are baked throughout the cake are my favorite!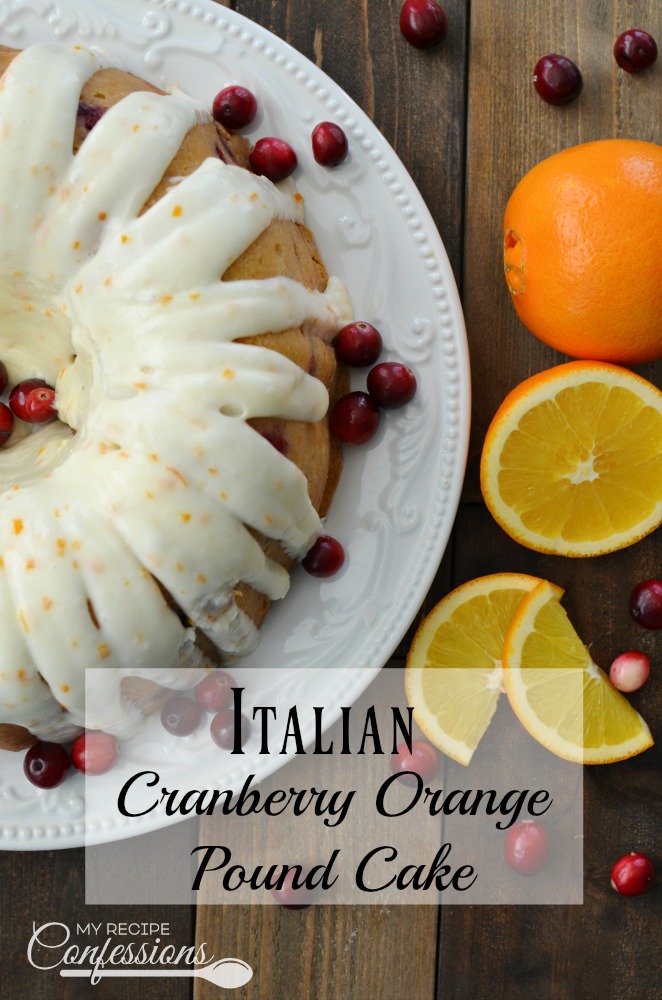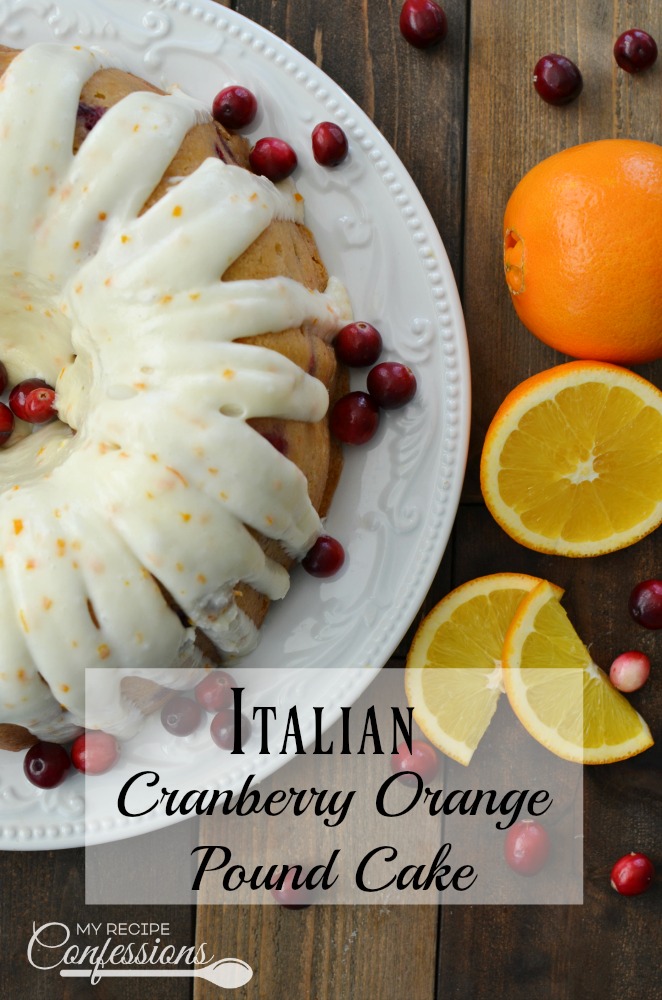 Not to mention the dreamy orange cream cheese frosting that is drizzled on top is smooth and creamy with the perfect  burst of flavor that is quite unforgettable.  In fact, I love this cake so much that I plan on making it every Christmas from now on. I dare say that you will feel the same way!
With love from my kitchen to yours,
Carrie

Italian Cranberry Orange Pound Cake
3 cups of flour
1 tsp. of baking powder
1/4 tsp. of salt
4 eggs, at room temperature
1 cup of unsalted butter, softened
2 cups of  sugar
1/4 cup of orange juice
2 tbsp. of orange zest
1 tsp. of vanilla
*1 tsp. of fresh ginger, minced
1 tsp. of cinnamon
1/4 tsp. of ground cloves
1/2 cup of buttermilk
1/2 cup of mascarpone cheese ( or 1/2 cup of sour cream)
3 cups of fresh cranberries
Instructions
Pre-heat oven to 325° Fahrenheit
Mix the flour, baking powder, and salt together in a bowl and set aside.
In a large bowl, cream the butter and sugar until light and fluffy. Beat in eggs, one at a time.
Stir in the ginger, ground cloves, cinnamon, mascarpone cheese or sour cream, orange juice, orange zest, and vanilla extract, until well combined.
Add half of the flour mixture to the butter mixture. Mix in the buttermilk and then mix in the remaining flour mixture. Stir just until flour disappears. Gently fold in the cranberries.
Pour the cake batter into the generously greased bundt pan. Bake for 75 to 80 minutes or until a knife inserted into the center comes out clean.
Remove the cake from the oven and let rest for 5 minutes. Turn the cake over onto a cooling rack with a baking sheet underneath. Brush the orange glaze all over the cake with a pastry brush. Allow the cake to cool completely. Drizzle the orange cream cheese frosting over the pound cake.
Orange Glaze
1 1/2 cups of powder sugar
1/3 cup of orange juice
Stir the powder sugar and orange juice until smooth.
Orange Cream Cheese Frosting
8 oz. of cream cheese*
1 tbsp. of orange zest
1/4 cup of orange juice
3 cups of powder sugar*
Whip the cream cheese until it is creamy and lump free.
Mix the remaining ingredients together until smooth and creamy.
*Recipe Adjustments: I made this cake tonight and ended up adjusting the recipe a little bit. First of all the cake recipe called for ground ginger. That was a mistake. It should be fresh minced ginger. 
Second, Instead of using softened cream cheese  I found it works better to whip cold cream cheese until it is creamy and lump free. I also added an additional cup of powder sugar. The frosting is not a really thick frosting. It is the perfect consistence to drizzle over the cake. 
Here are a few other recipes you might enjoy.