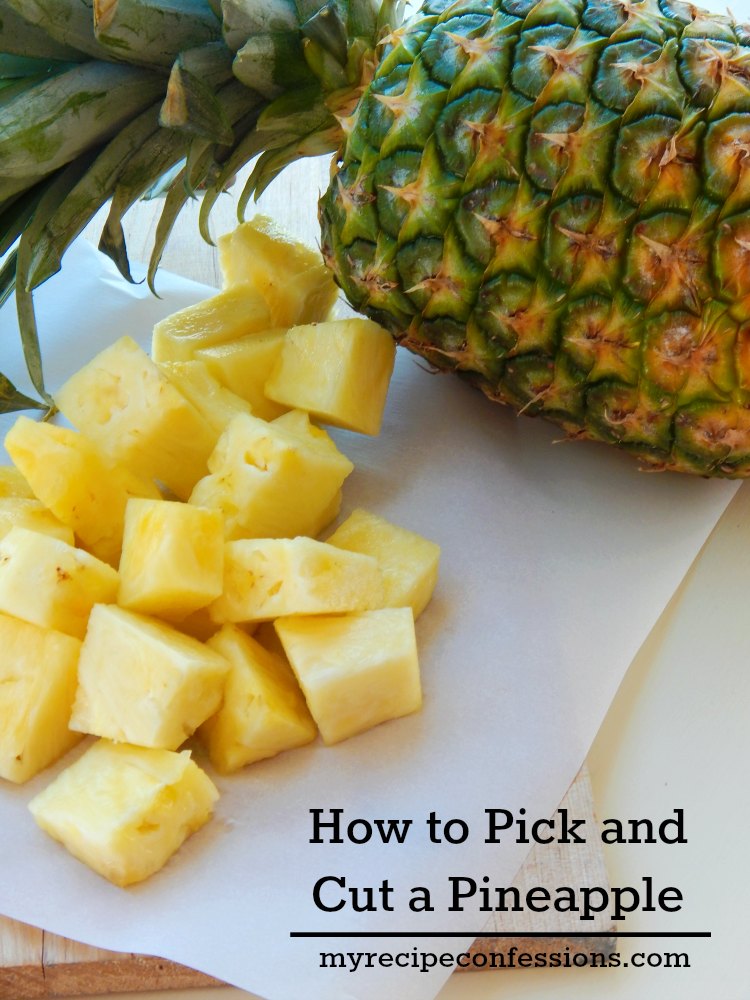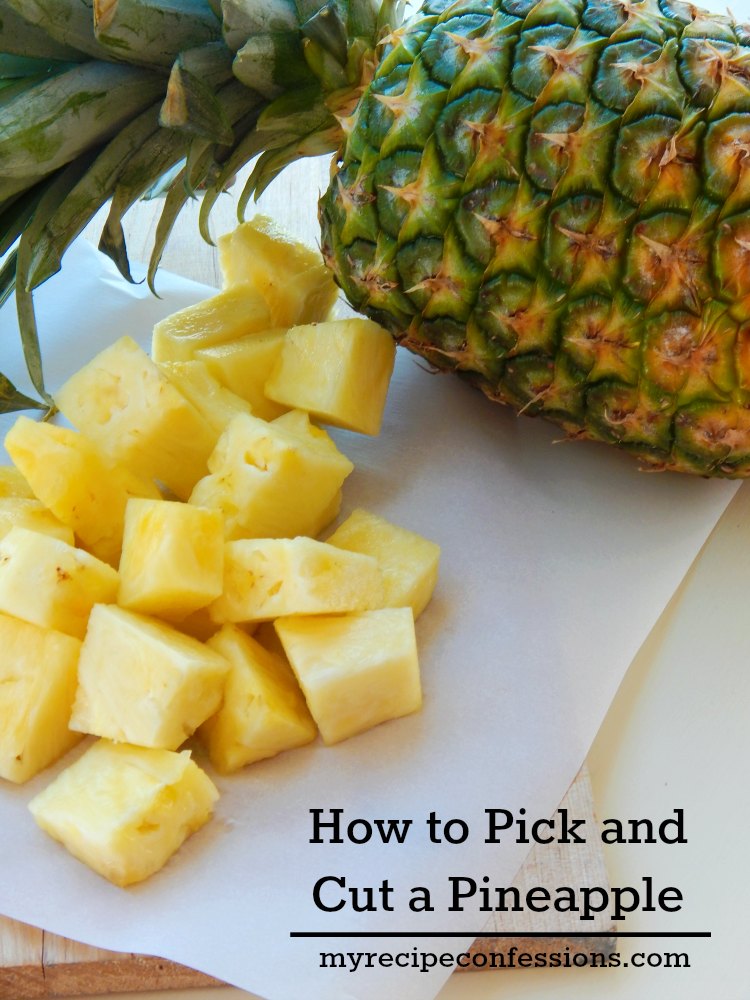 How To Pick and Cut a Pineapple is the perfect guide to picking a juicy ripe pineapple and cutting it so there isn't any waste. If you love fresh pineapple like we do at our house, then you don't want to miss this guide!
I also love that my kids will eat it like candy. I use to be intimidated by cutting a pineapple. But once I was taught the proper way to cut it, intimidation went away and we eat pineapple all of the time
I also have a Pineapple Slicer and Corer. It is great to use when I want the pineapple cut into rings. It is a lot faster to cut the pineapple by hand than it is using the slicer.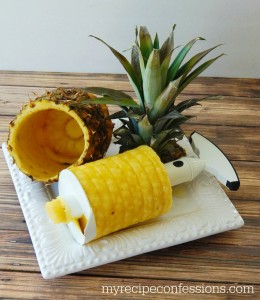 I have found that if I have fresh fruit cut up in the fridge, we eat a lot more of it. I have even caught my three-year-old standing in the fridge eating the fresh fruit out of the bowl.
There is nothing more frustrating than when I cut a pineapple and it isn't good. So here are 5 tips I found very helpful for picking a ripe pineapple.
1. Look for golden yellow coloring around the bottom of the pineapple and around the eyes of the pineapple. There may be some green on the sides, but you don't want the whole thing green.
2. If you smell the bottom of the pineapple, it should smell sweet if it is ripe. If there isn't a smell, it is not ripe yet. If it has a fermented smell, it is overripe.
3. You want the pineapple to be firm with a little bit of giving. It there is any soft spots, it is overripe.
4. You want a pineapple that is healthy looking. You don't want a pineapple that is wrinkly, has brownish red spots,  has mold, or withered brown leaves.
5. The pineapple should be heavy. If you pick up the pineapple and it is heavier than it looks, that means is juicer. Heavy doesn't mean bigger.
Once you buy the pineapple, it needs to be cut and eaten within a few days. Once cut, it needs to be refrigerated. It can stay in the fridge for up to one week depending on how ripe the pineapple is.
I hope this helps you feel more confident in picking and cutting pineapples. I will see you back here tomorrow for more mouthwatering recipes and kitchen tips and tricks.
With love from my kitchen to yours,
Carrie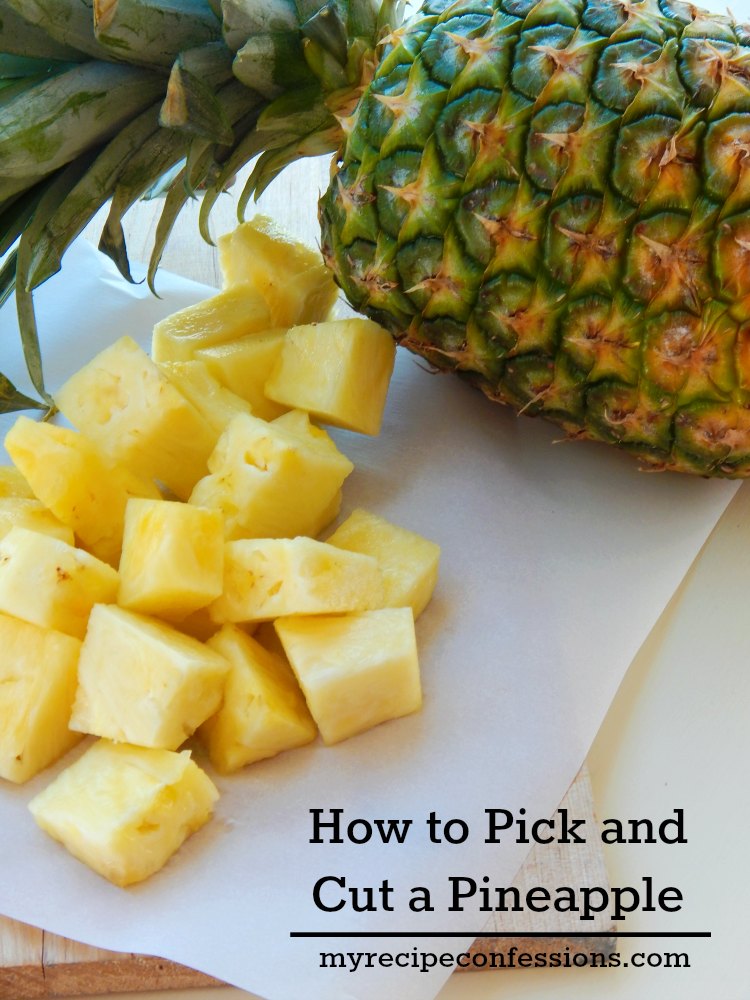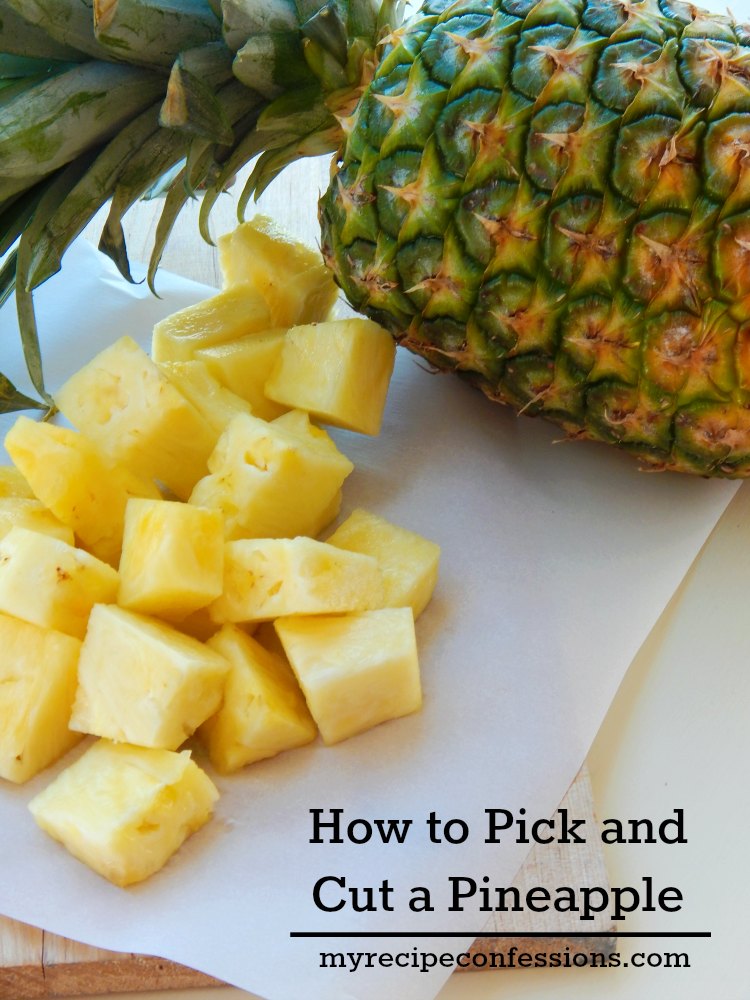 How to Pick and Cut a Pineapple
1. Place a cutting board on a baking sheet. This will keep all the pineapple juice from running all over. I also like to have a garbage can right next to me so that I can easily throw the skin away without making a mess all over the floor. Turn the Pineapple on its side and with a sharp knife, cut about 1 inch off of the top.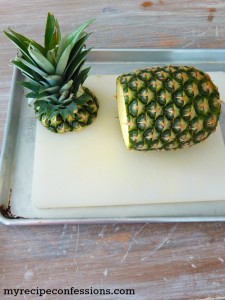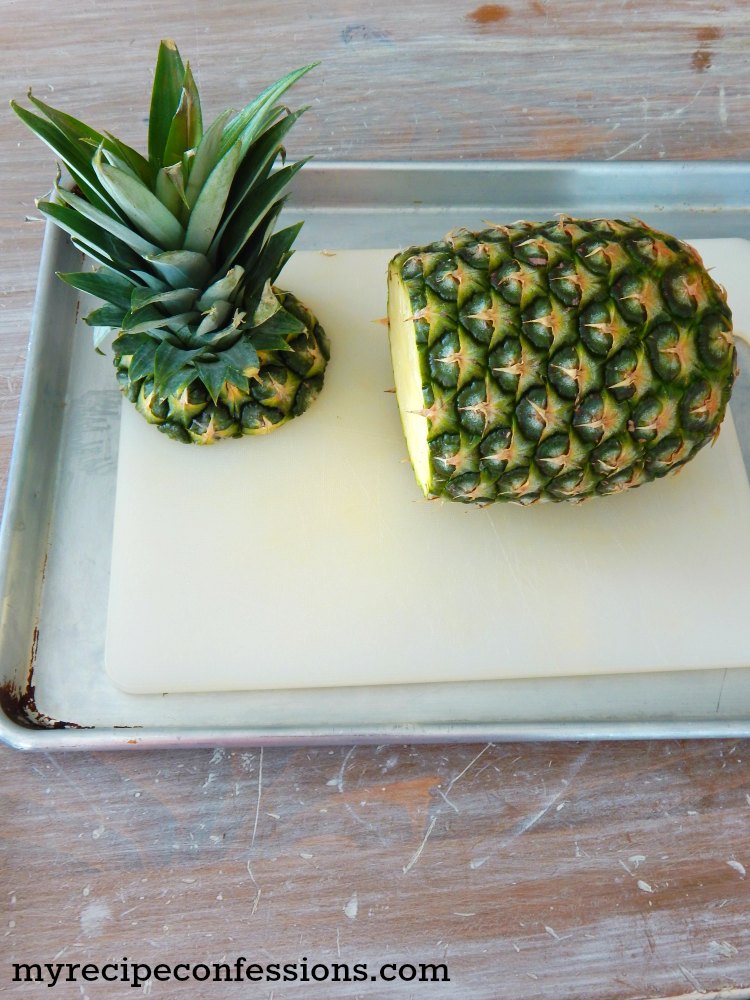 2. Cut 1/2 inch off the bottom of the pineapple.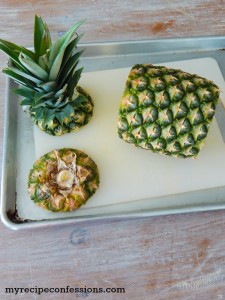 4. Turn the pineapple upright and carefully cut a section from top to bottom. Follow the contour of the pineapple and cut as close to the skin as you can. Don't worry about the eyes, you will trim them off later. Continue to cut all the way around the pineapple.
4. Go back and carefully shave the eyes off of the pineapple with your knife.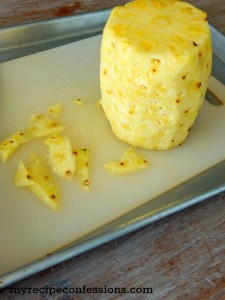 7. Cutting around the core, cut the pineapple into four sections.
8. Cut each quarter section into 1 to 2-inch strips, depending on how big you want them. If I am serving the pineapple in a salad or with a dip, I cut it into 1-inch strips. If I am grilling the pineapple spears or I want chunks for kabobs, I cut them into 2-inch strips.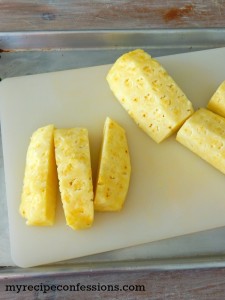 9. Cut the strips horizontally into 1 to 2 inch chunks.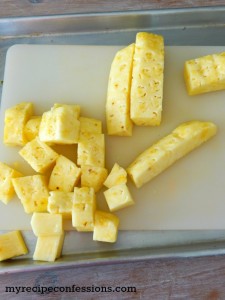 I like to serve fresh Pineapple with dip. Here are a few of my favorite recipes.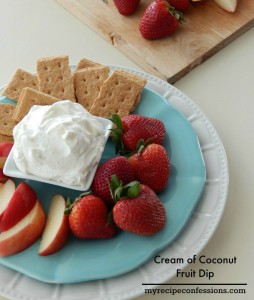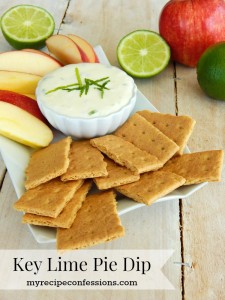 Another great recipe is this Grilled Pineapple and Ham Teriyaki Kabobs.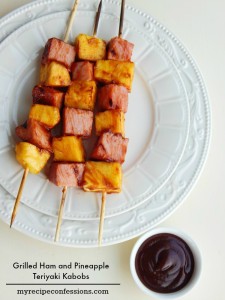 How to Pick and Cut Pineapple