Grandma's Super Soft Sugar Cookies, are so soft and chewy with the perfect vanilla flavor and not to mention they are super easy to make. I get asked for this recipe every time I make them.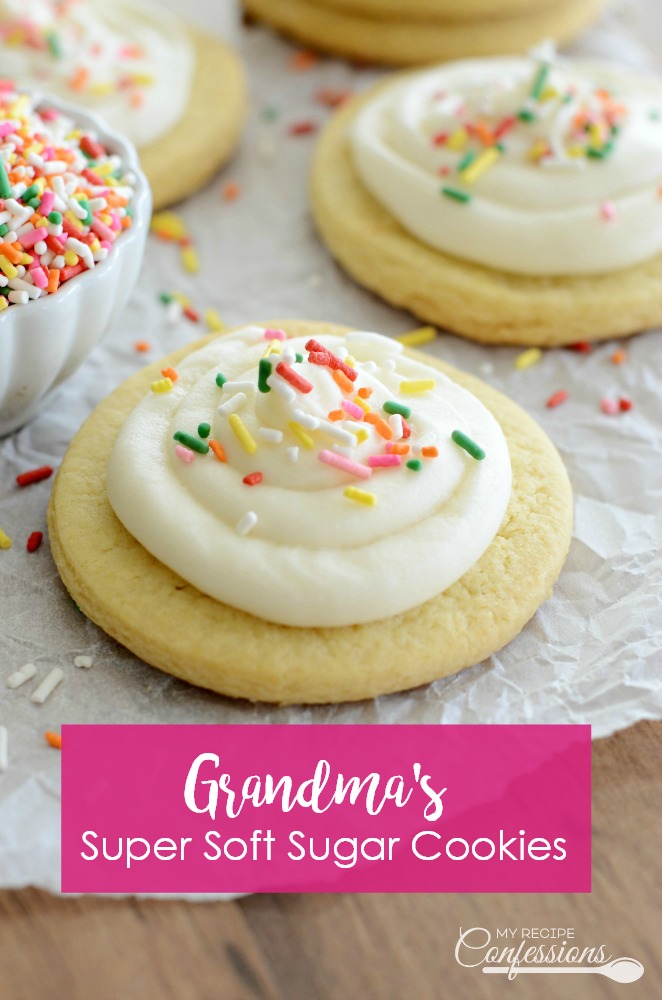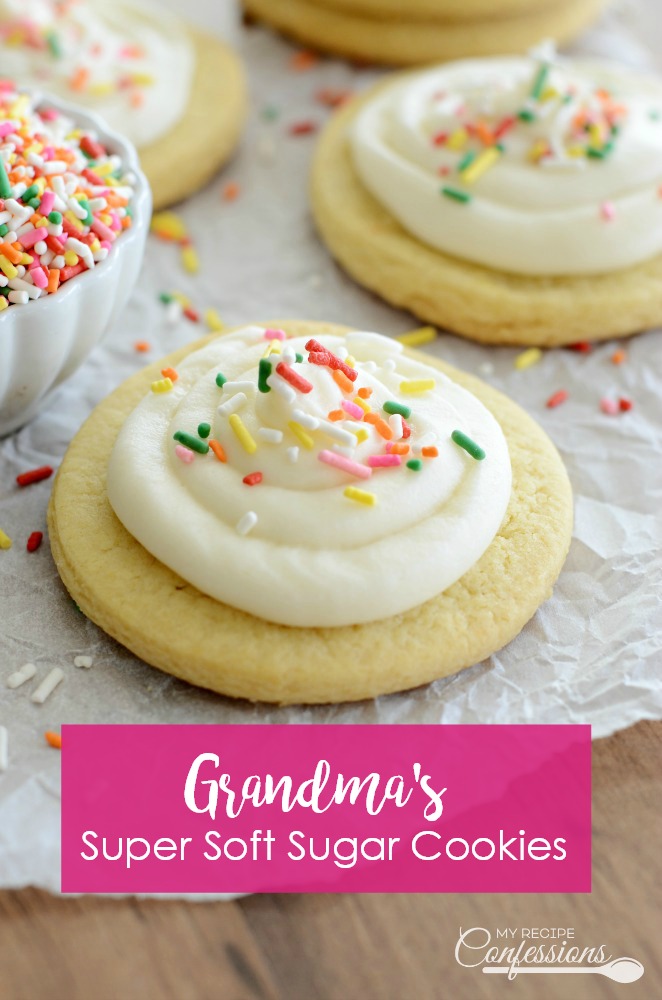 Sugar Cookies are my favorite and these Grandma's Super Soft Sugar Cookies are my biggest weakness! Growing up my mom always baked our sugar cookies until they were crispy. That was my favorite way to eat sugar cookies until I tasted a soft and chewy sugar cookie. After the first bite, I was hooked and I have been making soft and chewy sugar cookies ever since.
For years I switched back and forth between sugar cookie recipes. I could never find one that I was completely in love with. Some recipes produced very soft sugar cookies but had a very bland flavor. Other recipes produced flavorful cookies but they were too dry.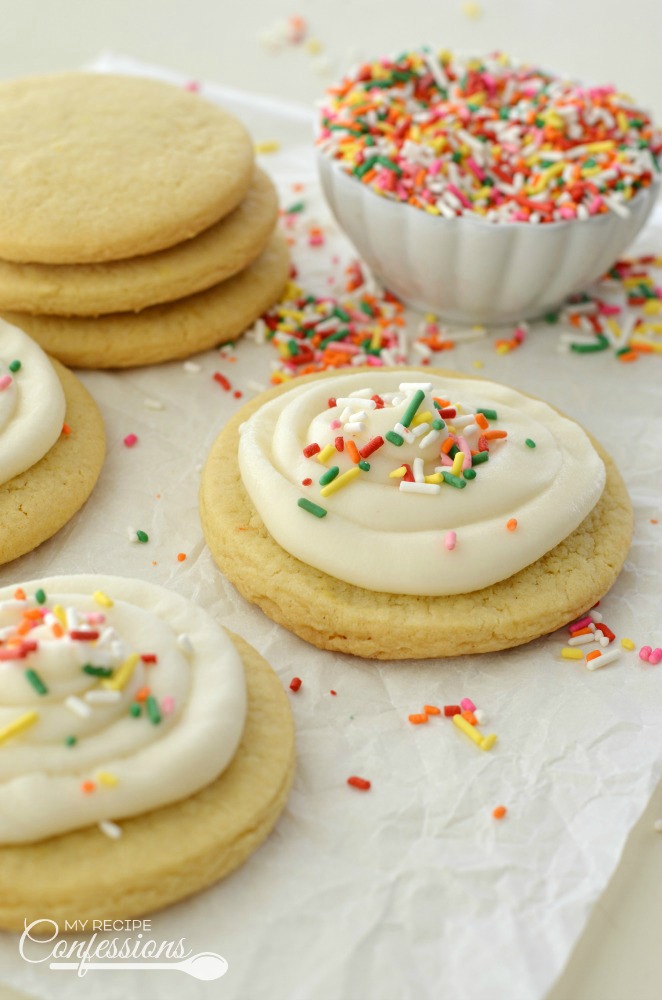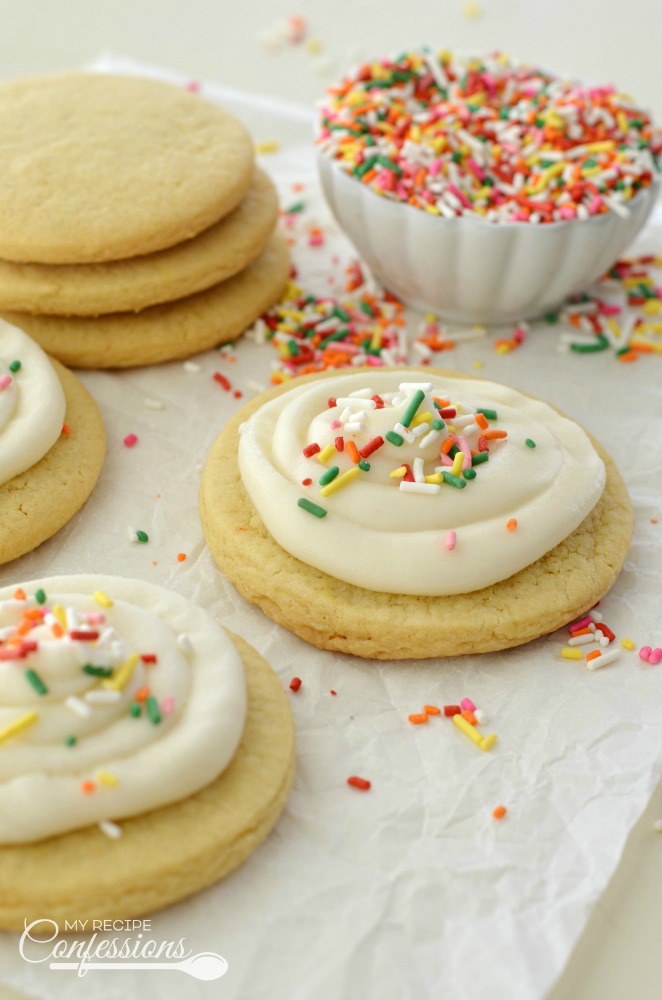 This recipe is from my husband's cousin Jen. One day I came across it when I was looking through his family's cookbook. After making it for the first time, I knew I had a winner! The vanilla pudding mix makes the cookies soft and produces a rich vanilla flavor that I absolutely love. French vanilla pudding has the richest flavor but regular vanilla pudding will do in a pinch.  I did add sour cream to the recipe. Sour cream in cookies helps keep the cookies moist.
Then there is the frosting. I don't like frosting that tastes like straight powder sugar. So, I like to frost my cookies with a cream cheese frosting. The recipe only calls for 2 oz. of cream cheese, so it doesn't have an overpowering cream cheese flavor. This frosting is smooth and creamy and has the perfect touch of sweetness.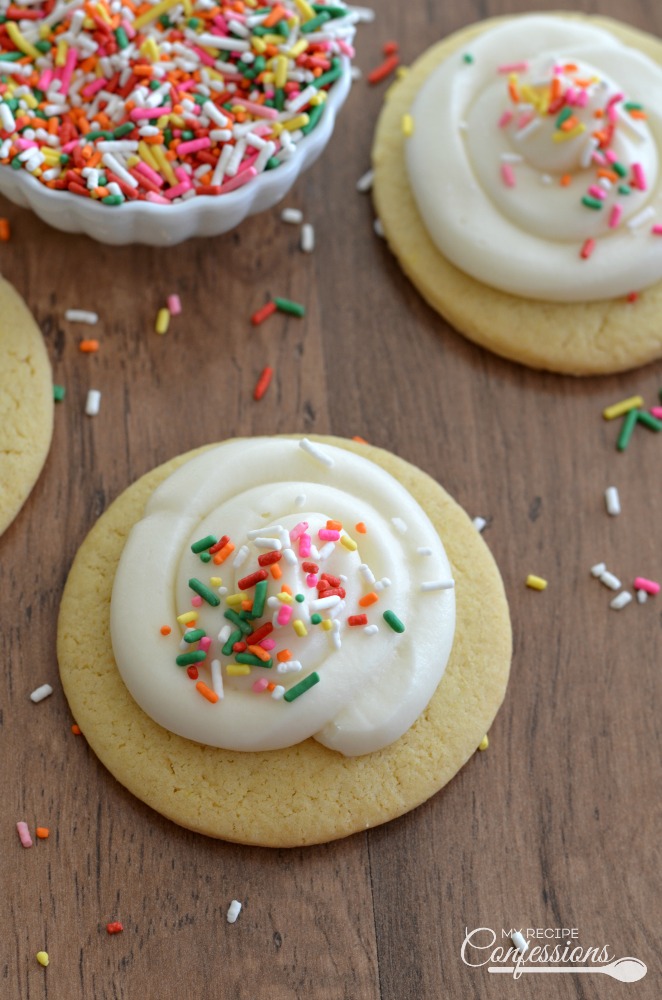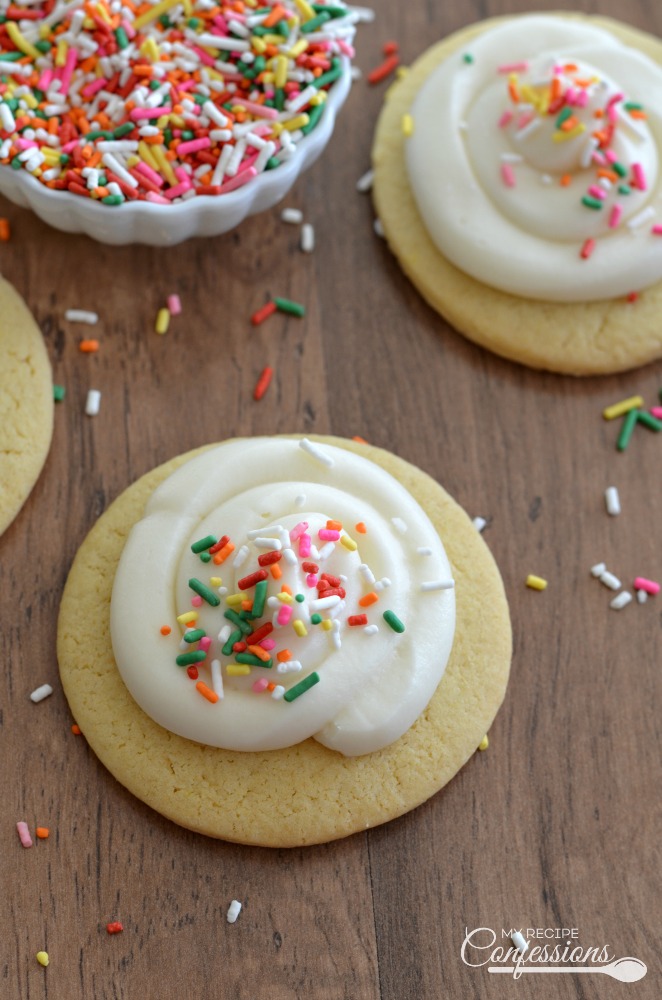 Every time I take Grandma's Soft and Chewy Sugar Cookies any where, I get asked for the recipe. People are often surprised at how easy they are to make.
I'll let you in on a little secret, to cut down on the mess, I roll my sugar cookies out on a silicon mat. The great thing about the silicon mat is that you don't have to use any flour. Just simply roll the cookie dough out directly on the mat.  My silicone mat is similar to this one.
With love from my kitchen to yours,
Carrie

Grandma's Super Soft Sugar Cookies
1 c. butter (softened)
1 c. granulated sugar
2 tbsp. of sour cream
1 egg
1/4 cup of milk
1 tsp. of vanilla
1 (3 oz.) French vanilla instant pudding
1 tsp. baking soda
¼ tsp. baking powder
3 ½  cup of  flour
Preheat oven to 350 degrees.
Instructions
1. Cream the butter and sugar together. Add the egg, milk, sour cream, and vanilla to butter mixture.
2. Mix dry ingredients together and slowly add to butter mixture. Stir just until the flour disappears.
3. Roll the cookie dough out into a 1/4 inch rectangle and cut out into desired shapes. Place cookies on greased cookie sheet.
4. Bake at 350 degrees for 8-10 minutes or until slightly golden brown. Cool completely before frosting.
Cream Cheese  Buttercream Frosting
1 stick of butter, softened
2 oz. of cream cheese softened
6 c. powder sugar
1 tsp. vanilla extract
2-4 Tbsp. milk.
Cream butter and cream cheese together in a medium-sized mixing bowl.
Add powder sugar and mix until well combined. Stir in the  vanilla extract.
Slowly add milk until it reaches the desired consistency. Store any unused frosting in the refrigerator.
This recipe was originally posted on October 18, 2013.
Here are a few other sugar cookie recipes that you should try.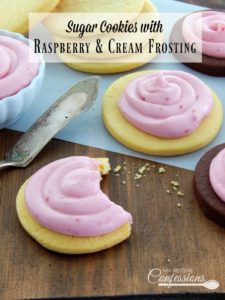 Sugar Cookies with Raspberry Cream Cheese Frosting