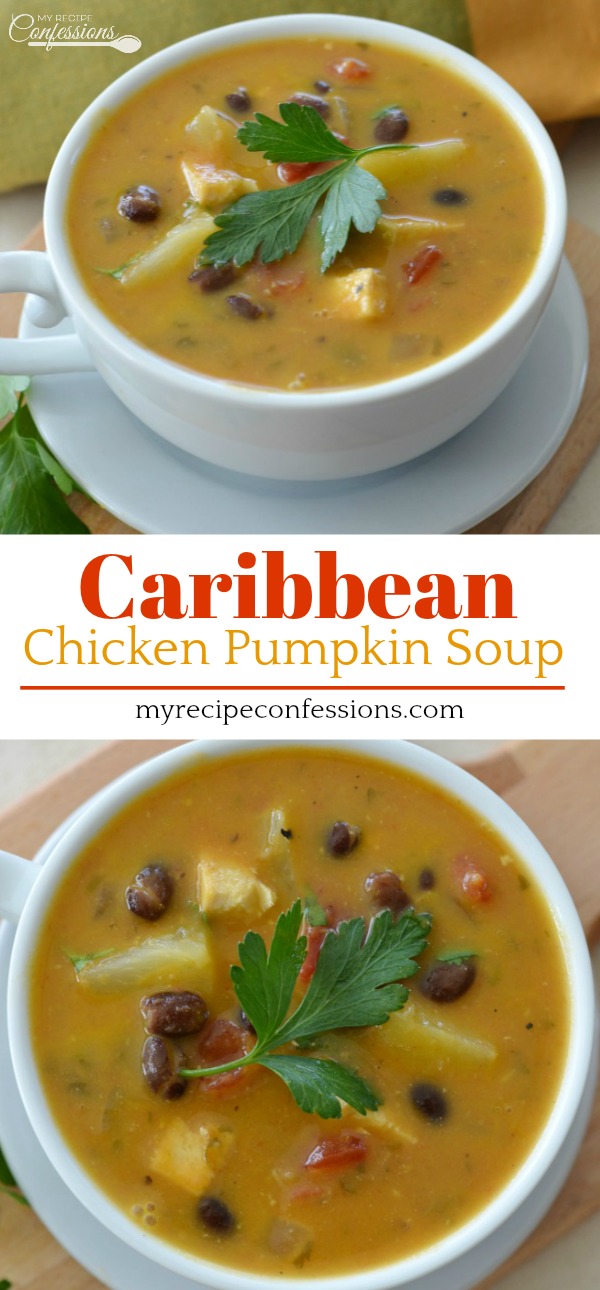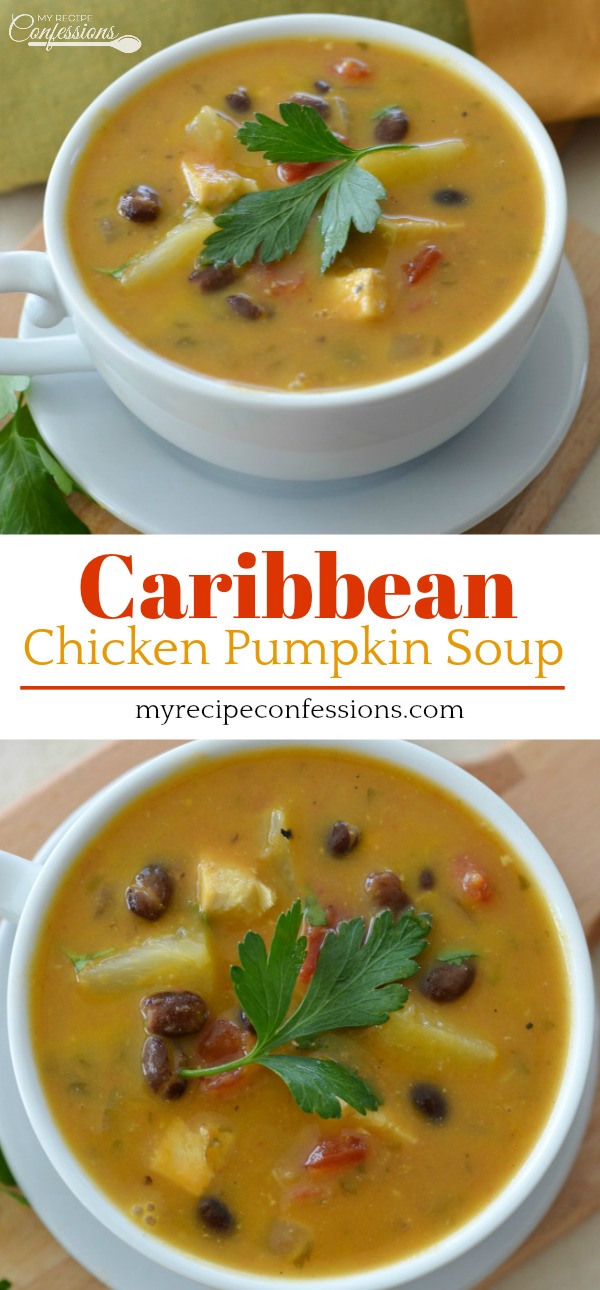 Caribbean Chicken Pumpkin Soup is not like other soups. It is both refreshing and comforting at the same time. The pineapple and cilantro really help boost the flavor while the coconut, curry, and pumpkin round out the flavors and gives it a nice warm comforting taste. It is everything you could ever want in a soup!
Caribbean Chicken Pumpkin Soup is a recipe I got from my genius cousin Erin. She came up with this recipe after falling in love with a soup at a local restaurant. Wanting to recreate the soup at home, she found a couple of similar versions online and then created her own recipe for this soup.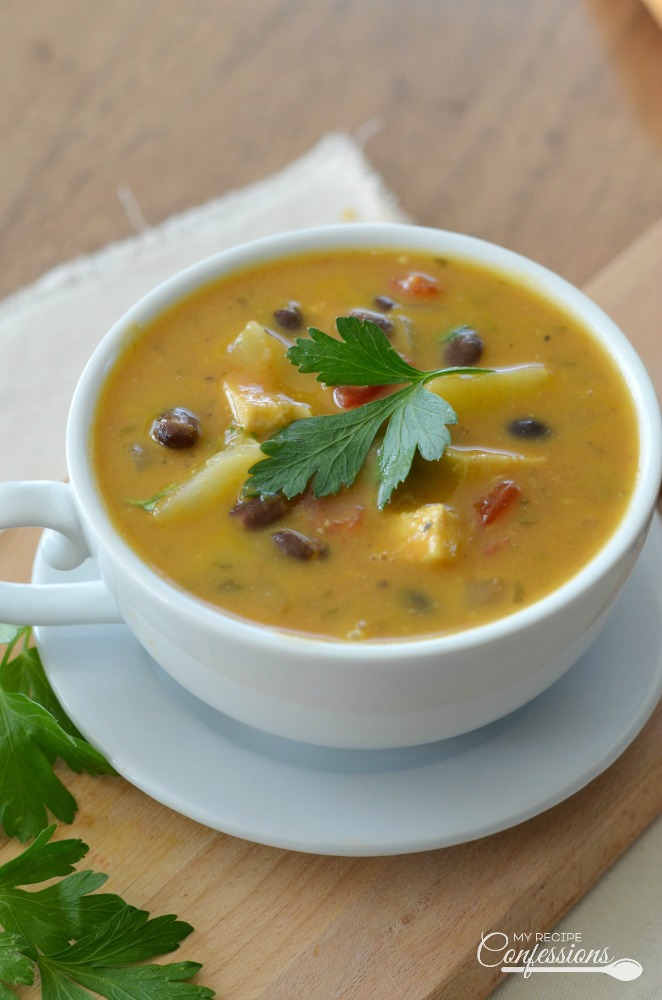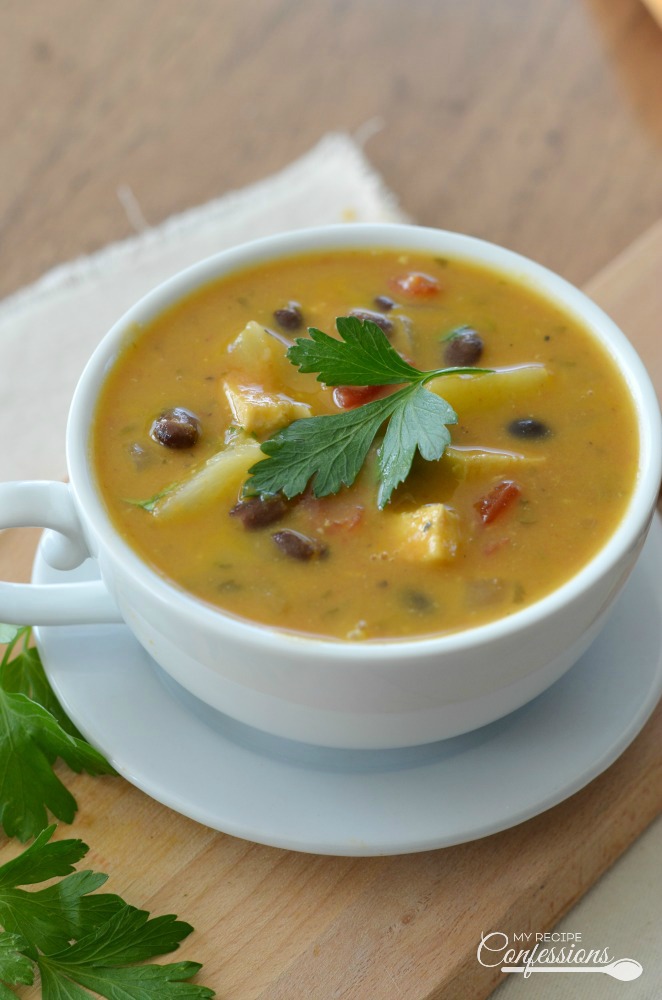 Friends, I made this soup for the first time last night and to say it is amazing is an understatement! I absolutely love this soup and could not wait to share it with the rest of you.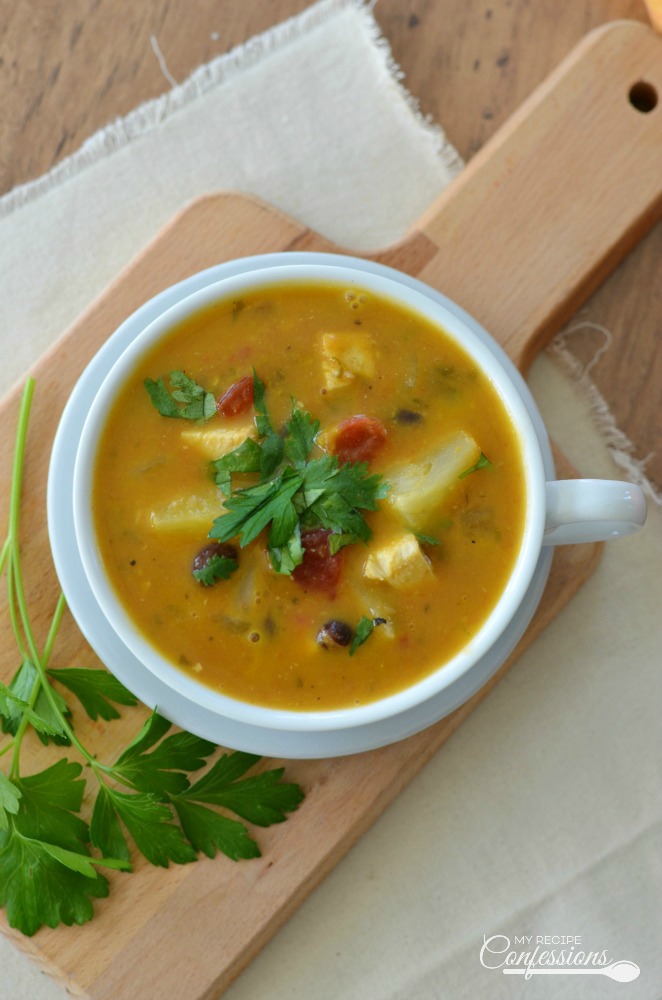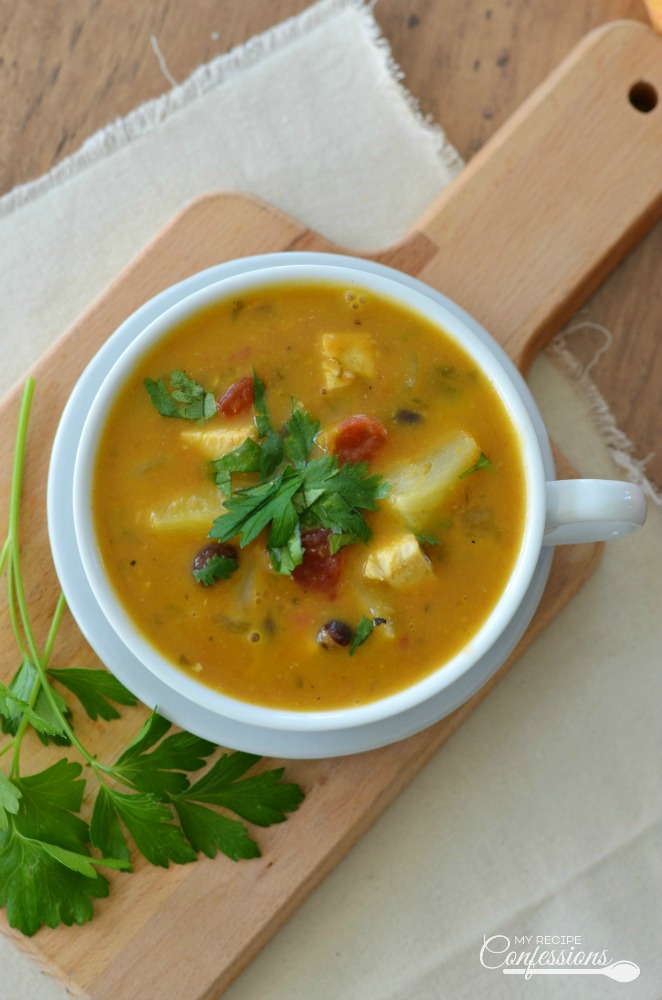 This soup can be made in the crock pot or on the stove top. Erin recommends you garnish the soup with tortilla strips and shredded coconut. Oh man, my mouth is watering already. I might just eat my left over soup for breakfast because I don't think I can wait until lunch.
With love from my kitchen to yours,
Carrie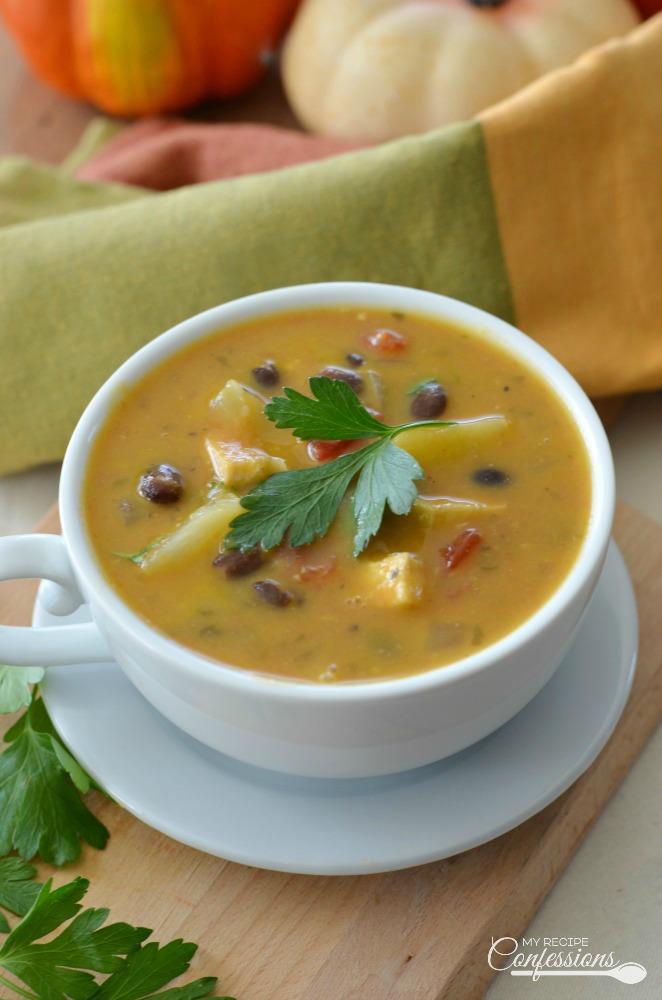 Caribbean Chicken Pumpkin Soup
yields 10 to 12 servings
1 medium yellow onion, diced
1 yellow bell pepper, diced
2 garlic cloves, minced
2 tbsp. of olive oil
3 cups of chicken broth
2  1/2 cups of cooked chicken, cubed
1 can (15 oz.) of packed pumpkin puree
2 cans of black beans, drained and rinsed
1 (14.5 oz.) can of diced tomatoes, drained
1 (14 oz.) can of unsweetened coconut milk
1 can of pineapple tidbits, drained
1 tbsp. lime juice
3 heaping tbsp. of fresh cilantro, chopped
2 tsp. dried parsley flakes
2 tsp. of cumin
1/2 tsp. salt
1 tsp. of curry
Instructions
1. In a large sauce pan over medium-high heat, saute the onion, bell pepper, and garlic in a the olive oil until the vegetables are tender.
2. Add the remaining ingredients and bring to a boil. Reduce heat to low and simmer the soup for 20 minutes or until it is heated through.  Garnish with tortilla strips and shredded coconut.
* Crock Pot Version– Follow step one and then transfer the onions, bell peppers, and garlic to a 5 quart crock pot. Stir in the remaining ingredients into the crock pot. Cover and cook on low for 4 to 5 hours, or until heated through.
Here are a few other soup recipes you should try.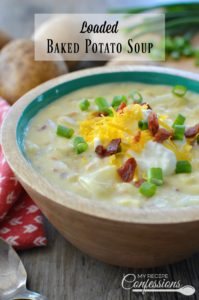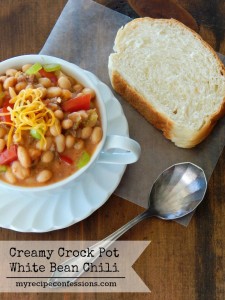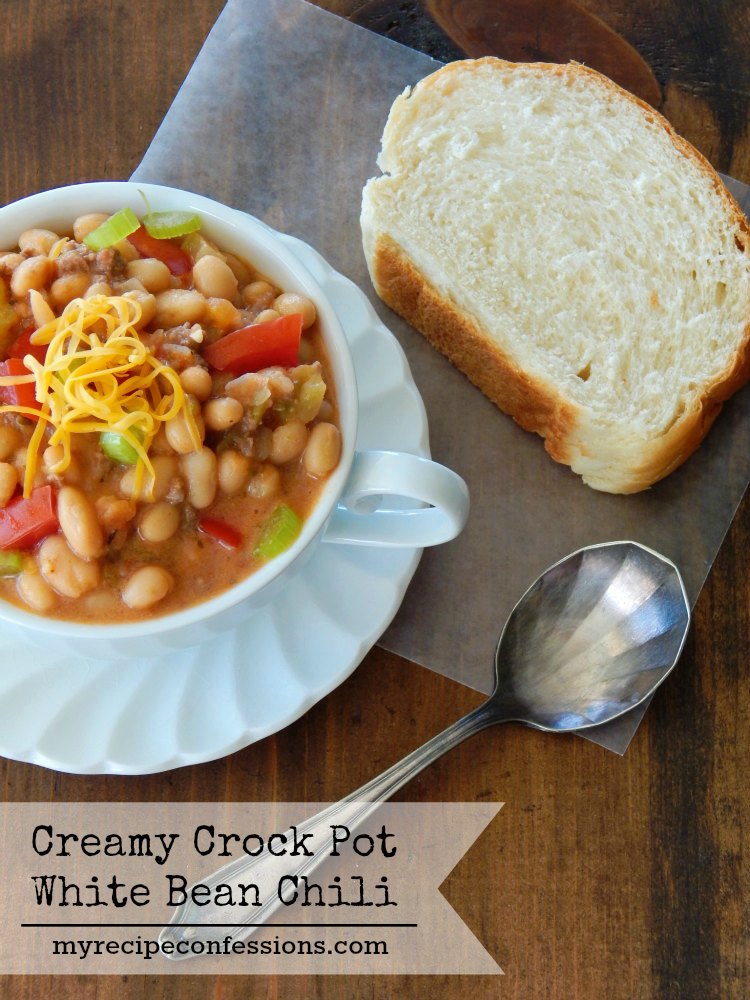 Creamy Crockpot White Bean Chili