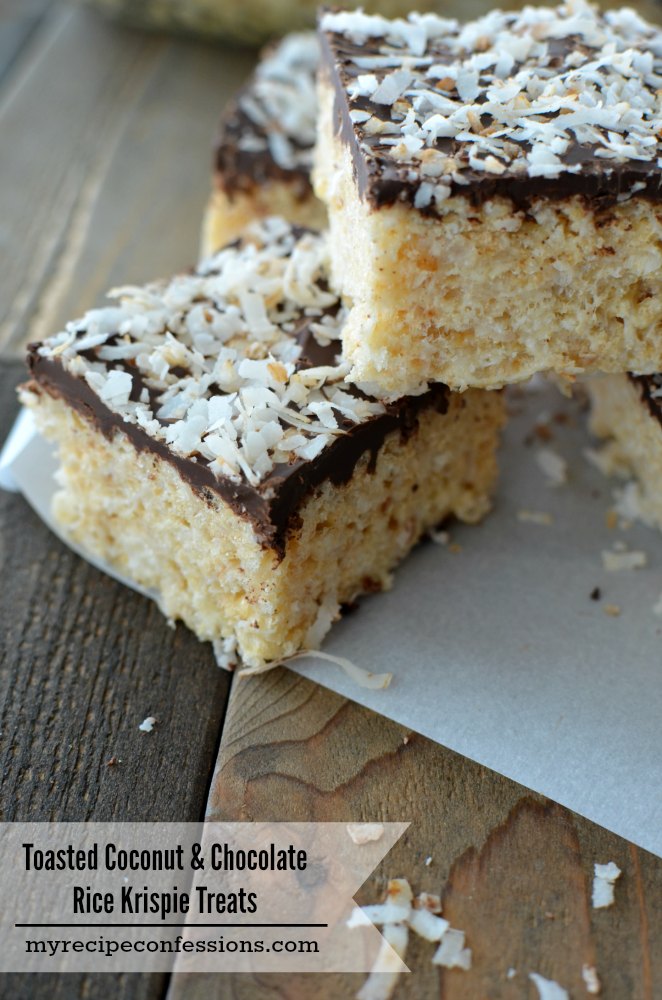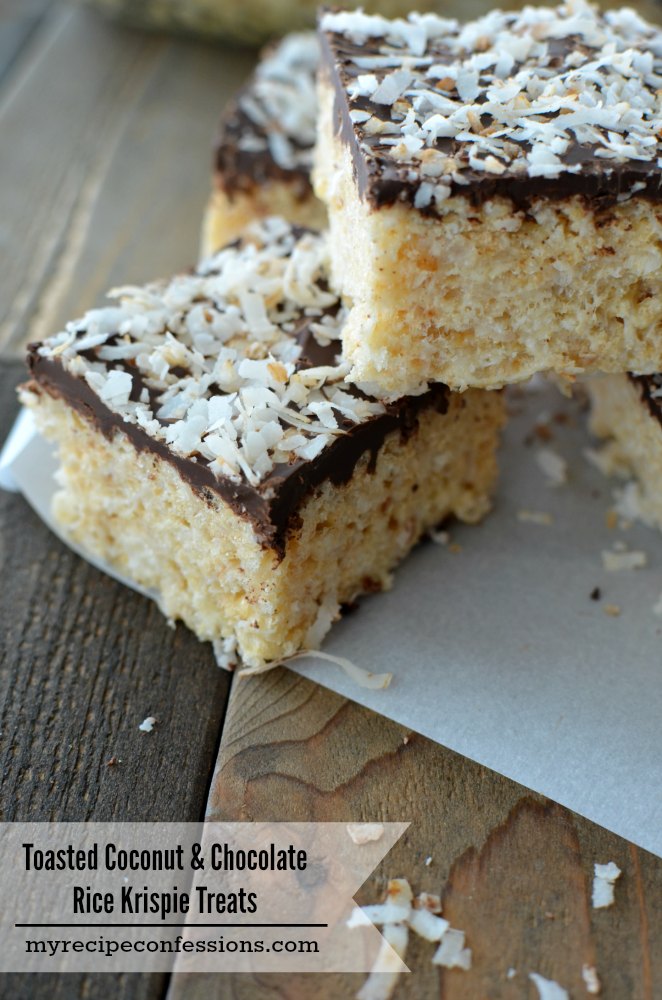 Rice Krispie Treats are bumped up to a whole new level when chocolate and toasted coconut is added. Chocolate and coconut is one of my favorite combinations.  So it was only a matter of time before the chocolate and coconut combination spilled into a rice krispie treat recipe.
Trust me, you won't be disappointed in the results. They are absolutely heavenly! And the fact that you can make them in under 10 minutes isn't too bad either.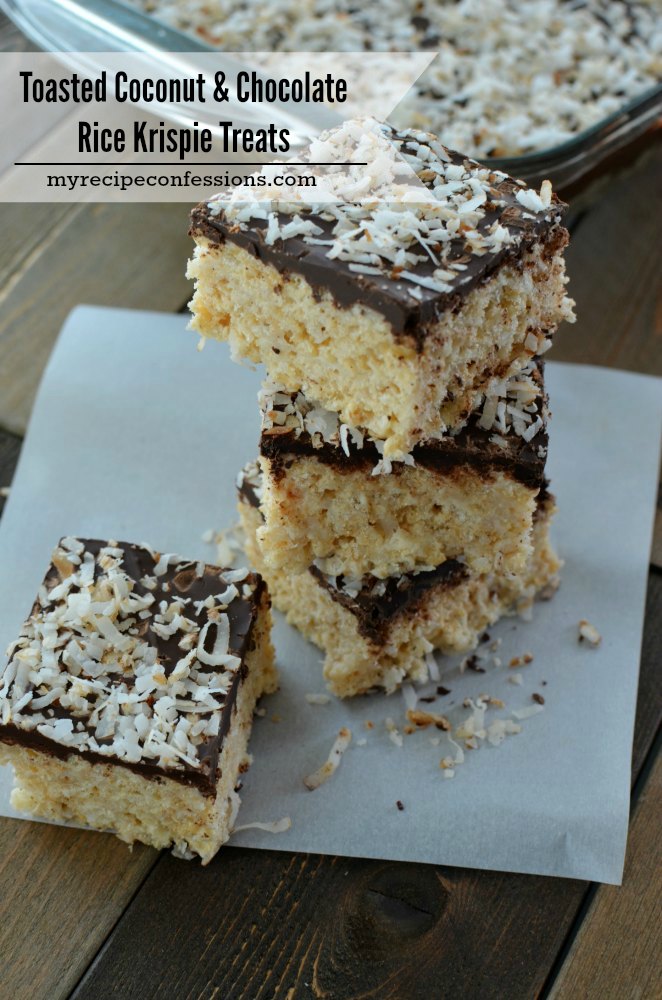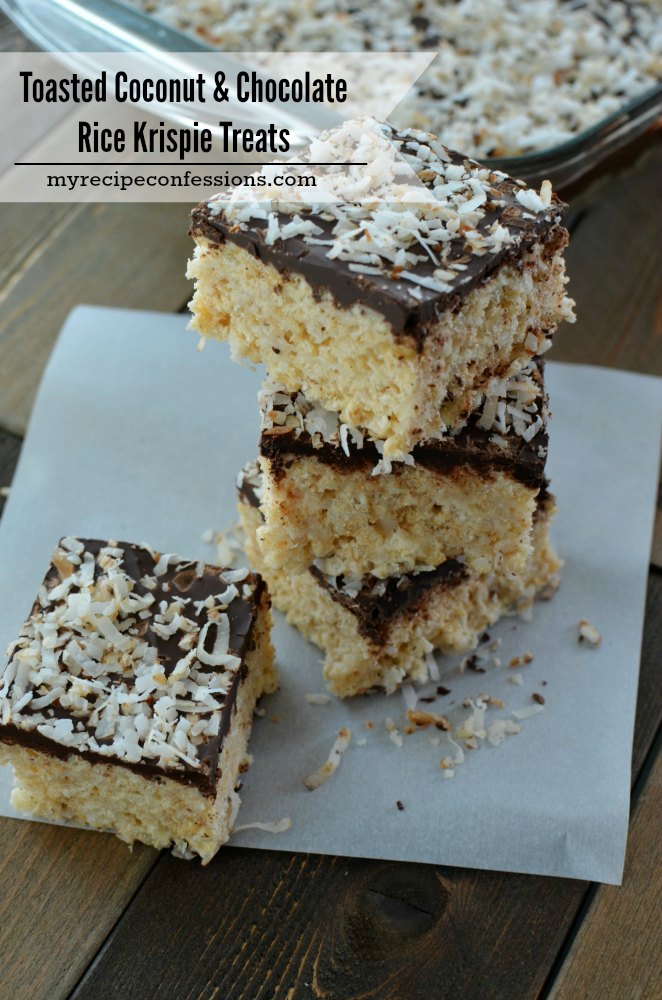 The recipe calls for semi-sweet chocolate chips. I don't recommend switching the semi-sweet out for milk chocolate. Milk chocolate is too mild and doesn't stand out as well as the semi-sweet does.
With love from my kitchen to yours,
Carrie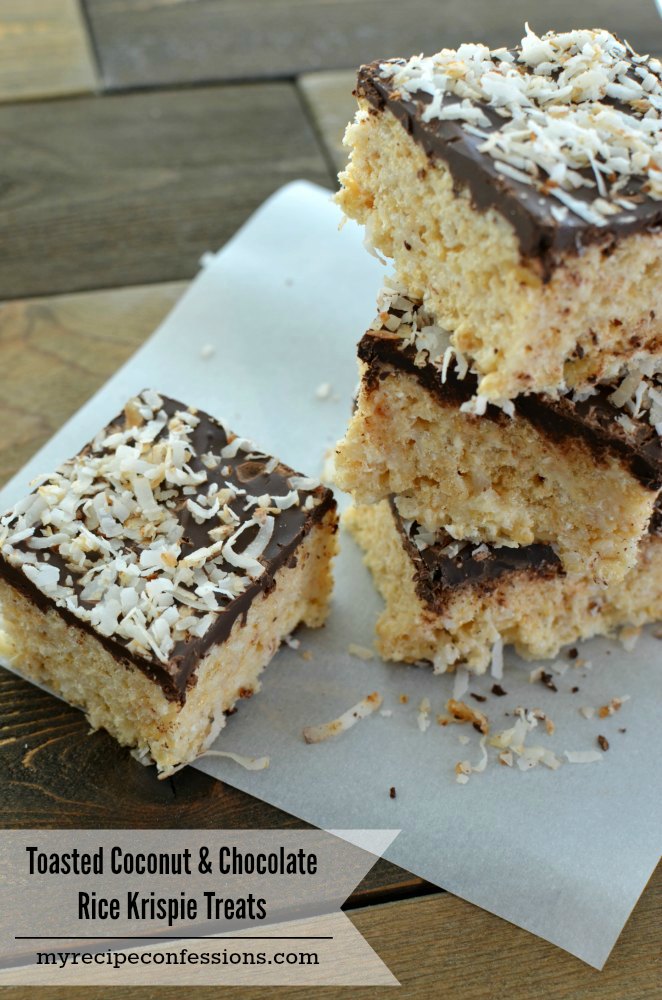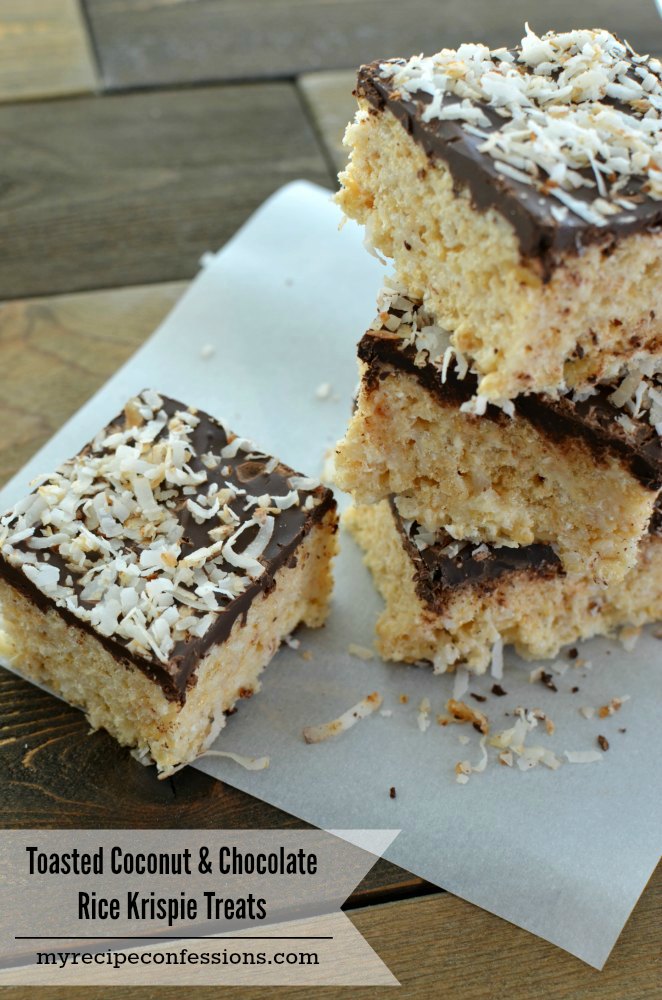 Toasted Coconut & Chocolate Rice Krispie Treats
1 (16oz.) bag of marshmallows
1/4 cup of butter, softened
1 tbsp. of coconut extract
6 cups of rice krispies
2 1/2 cups of sweetened coconut flakes
1 (12 oz.) bag of semi-sweet or dark chocolate chocolate chips
Instructions
Place the coconut flakes in a large skillet over medium heat. Stir the coconut frequently until most of the flakes turn a golden brown (about 4 -5 minutes).
 Melt the marshmallows and butter in a large microwave-safe bowl for 2 minutes. Remove the bowl and stir the marshmallows. If the butter is not completely melted return to the microwave for another 30 seconds.
Stir the coconut extract into the melted marshmallows. Fold the rice krispies and 2 cups of toasted coconut into the marshmallows until well combined.
Spray a 9 x 13 pan with baking spray. Evenly spread the rice krispie mixture into the pan with a spoon dipped in water or sprayed with baking spray.
Place the chocolate chips in a small microwave-proof bowl and heat in the microwave for 30 second intervals until completely melted.
Spread the melted chocolate over the rice krispie treats and sprinkle the remaining 1/2 cup of toasted coconut flakes over the top of the chocolate. Allow to cool for 30 to 45 minutes or until the chocolate is set before cutting.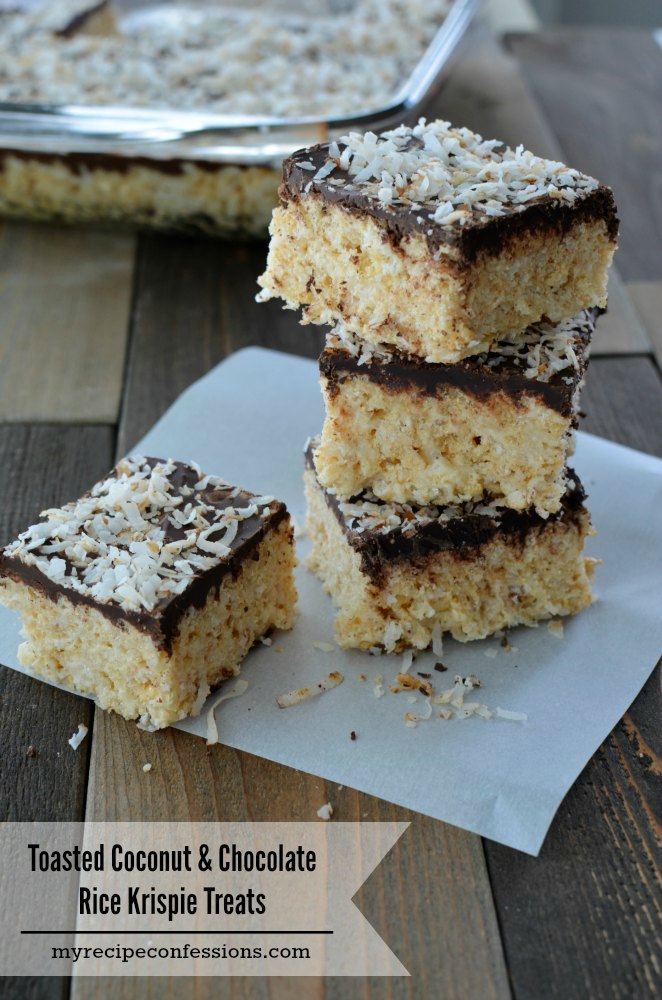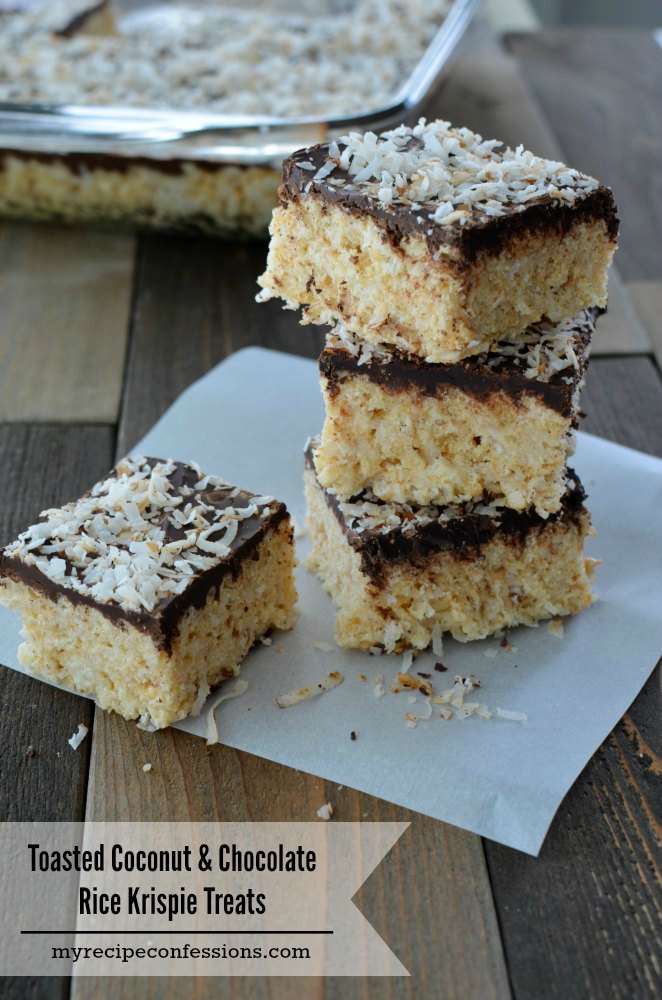 Here are a few other recipes you might enjoy.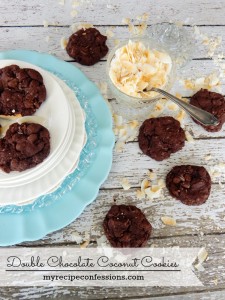 Double Chocolate Coconut Cookies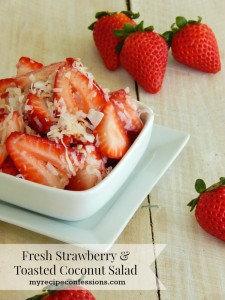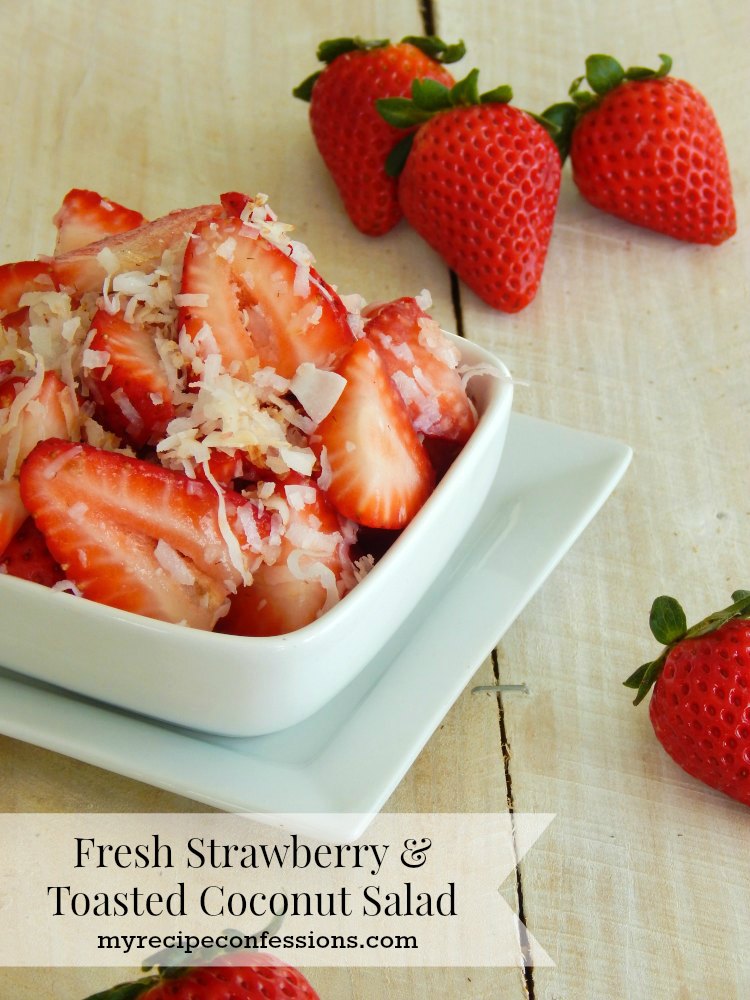 Fresh Strawberry and Toasted Coconut Salad