When I saw this recipe on the I Want Crazy blog, it was love at first sight. Coconut cream pie is one of my favorite pies! So why not have coconut cream cookies?
I switched out the vanilla extract for coconut extract to boost the flavor even more. These cookies are moist and so loaded with the creamy coconut flavor. If you close your eyes while you eat one, you can almost feel the warm tropical sun on your face. This recipe is definitely a keeper!
Until next time,
Carrie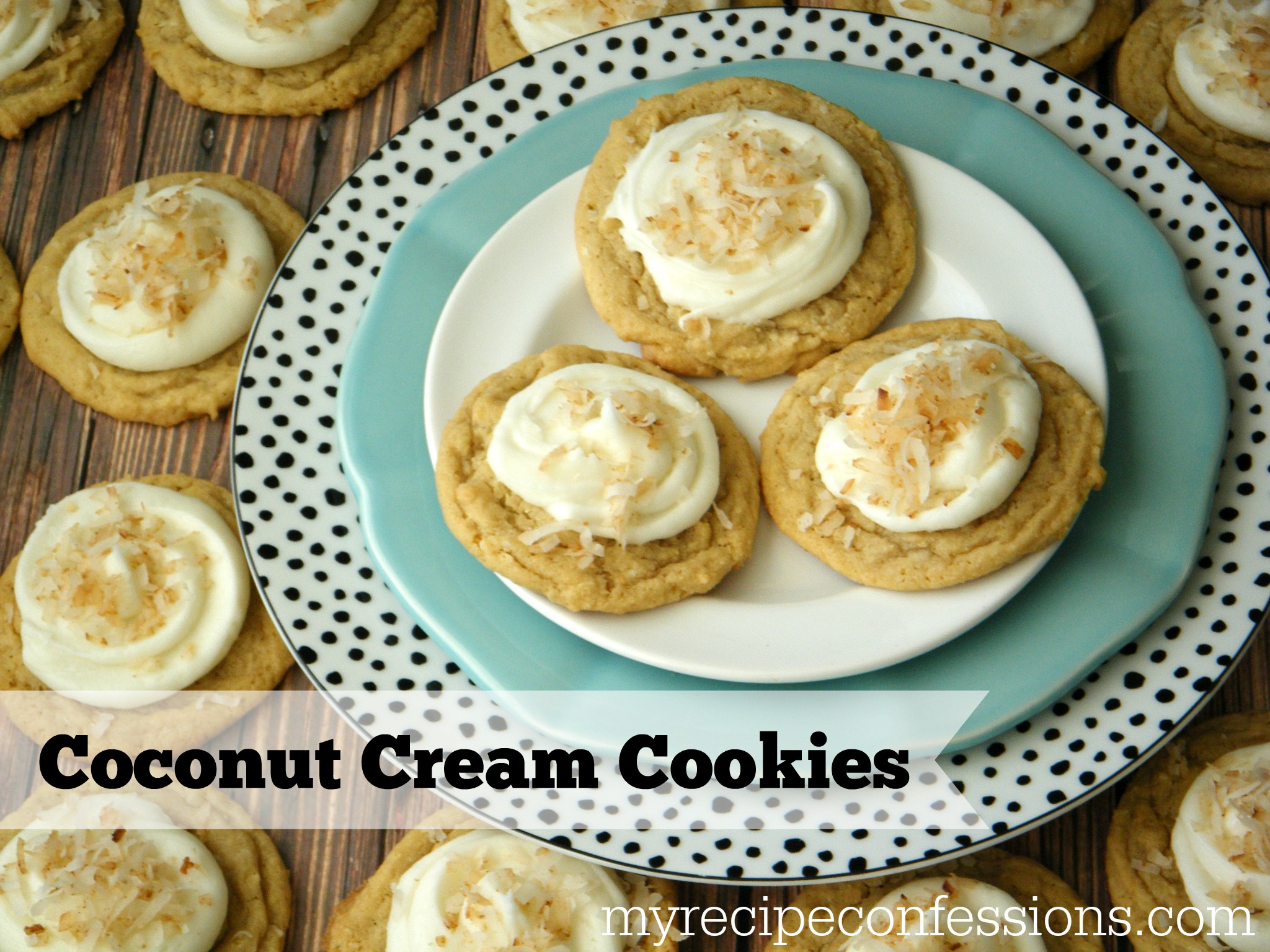 Coconut Cream Cookies
3/4 cup of butter, softened
1 cup of brown sugar, packed
1 /4 cup of granulated sugar
2 eggs
1 tsp. coconut extract
2 cups of all purpose flour
1 tsp. baking soda
1 (3.5 oz.) box of instant coconut cream pudding
Instructions
Preheat oven to 350 degrees
1. Cream butter and sugar together. Add eggs and continue to cream the mixture. Add the pudding mix and vanilla and then mix well.
2. In a small bowl, mix the flour and baking soda together. Gradually add the dry ingredients to the wet ingredients. Mix until combined well.
3. Drop a tablespoon of cookie dough onto a greased baking sheet for each cookie and bake for 8 to 10 minutes. Let the cookies cool completely before frosting.
Coconut Cream Cheese Frosting
1 /4 cup of butter, softened
1/4 cup of cream cheese, softened
4 cups of powder sugar
1 tsp. coconut extract
1. Cream the butter and cream cheese together. Gradually add the powder sugar and mix until it is creamy and has no lumps. Add the coconut extract and mix to combine.
Toasted Coconut
1 cup of sweetened coconut flakes
1. Add the coconut flakes into a skillet on Medium-high heat. Stir continuously until the coconut starts to turn a light golden brown. Remove from heat and cool completely before sprinkling over the cookies.
This recipe is adapted from the I Want Crazy blog