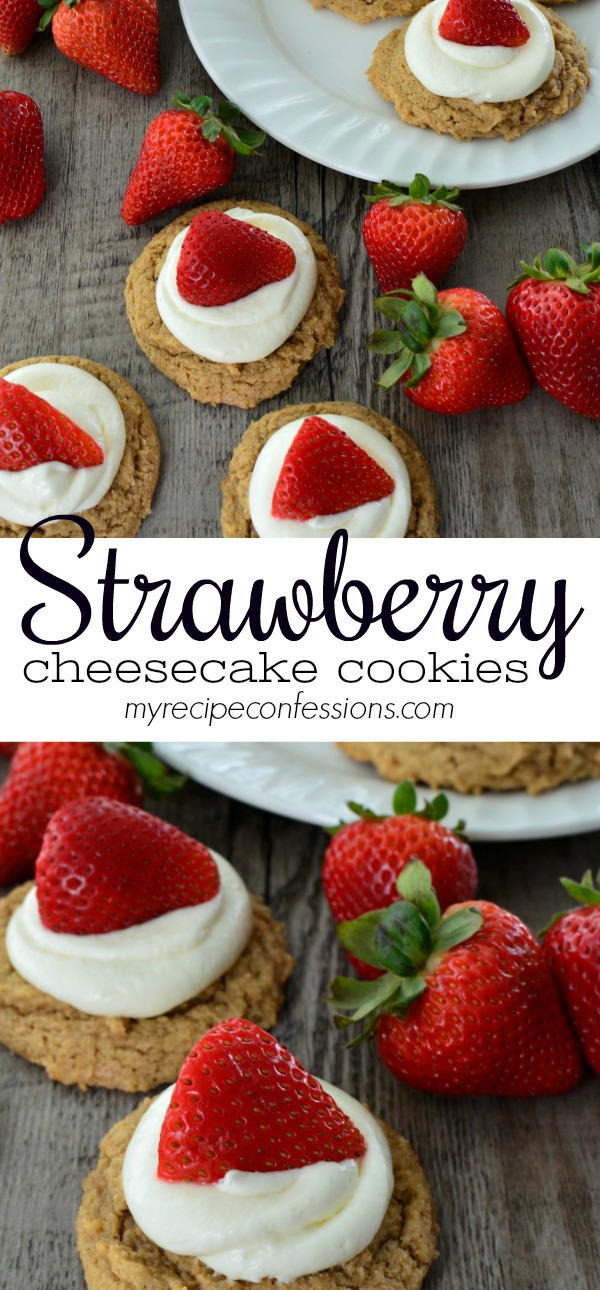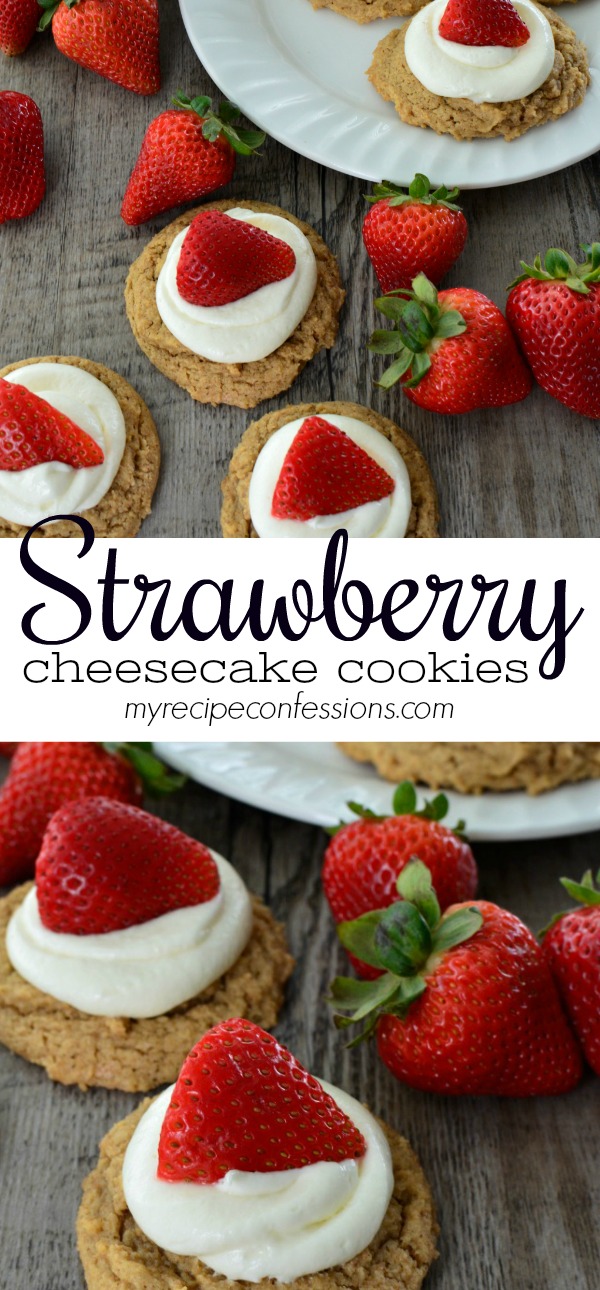 Strawberry Cheesecake Cookies taste just like the real thing. The cookie tastes just like the graham cracker crust of a cheesecake. As for the cheesecake frosting, well… it tastes just like cheesecake filling. The fresh strawberry on top only adds to the vibrant and fresh flavor of the cookie.
I love making cookies because they are faster to make than most desserts and you get a lot of cookies. It takes a lot less time to whip up a batch of Strawberry Cheesecake Cookies than it does to make a Strawberry Cheesecake.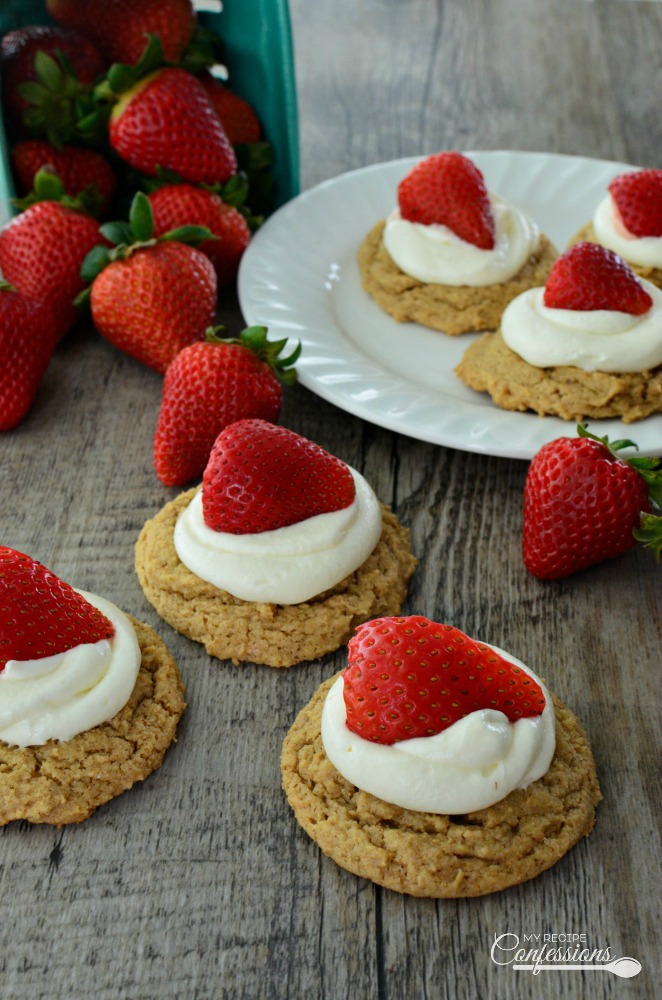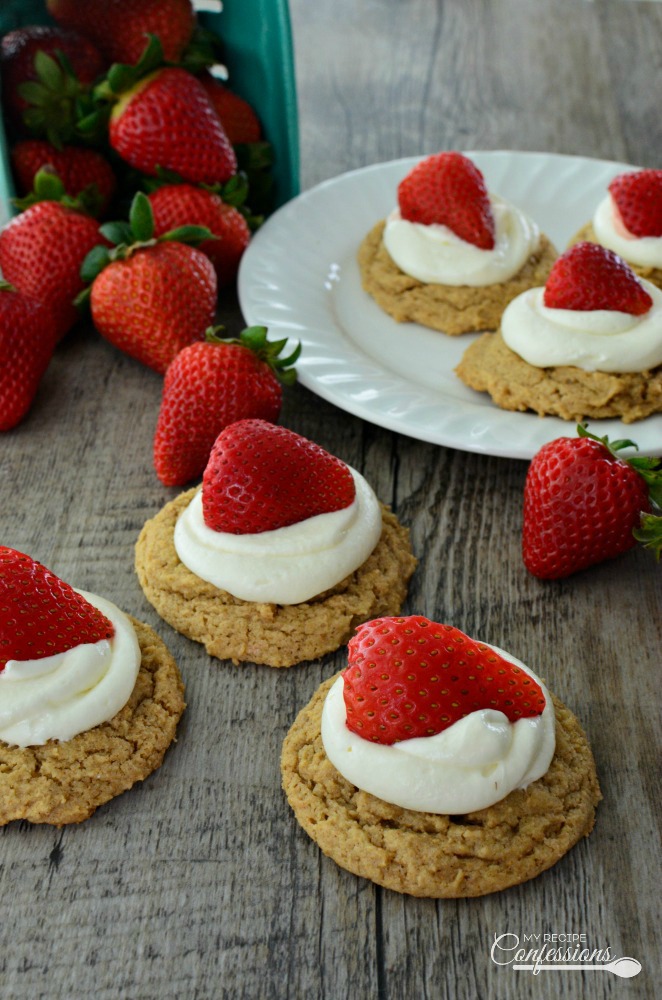 I think you will be surprised at just how much these cookies taste like a freshly baked Strawberry Cheesecake. They are such an elegant looking cookie that they would be perfect to serve at a shower or wedding. Yet they are versatile enough that you could serve them at any casual get together.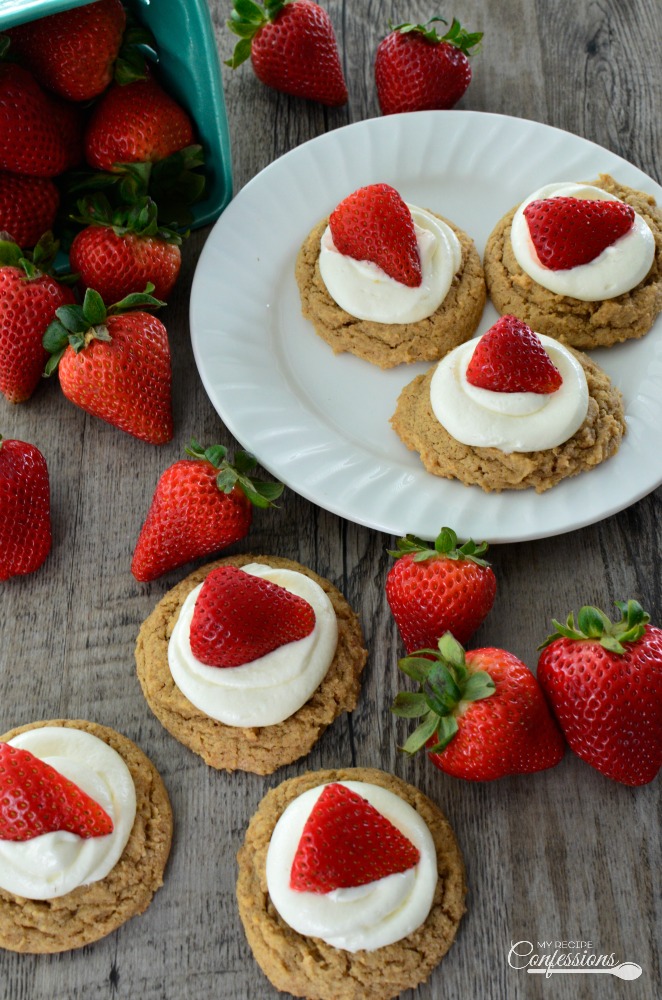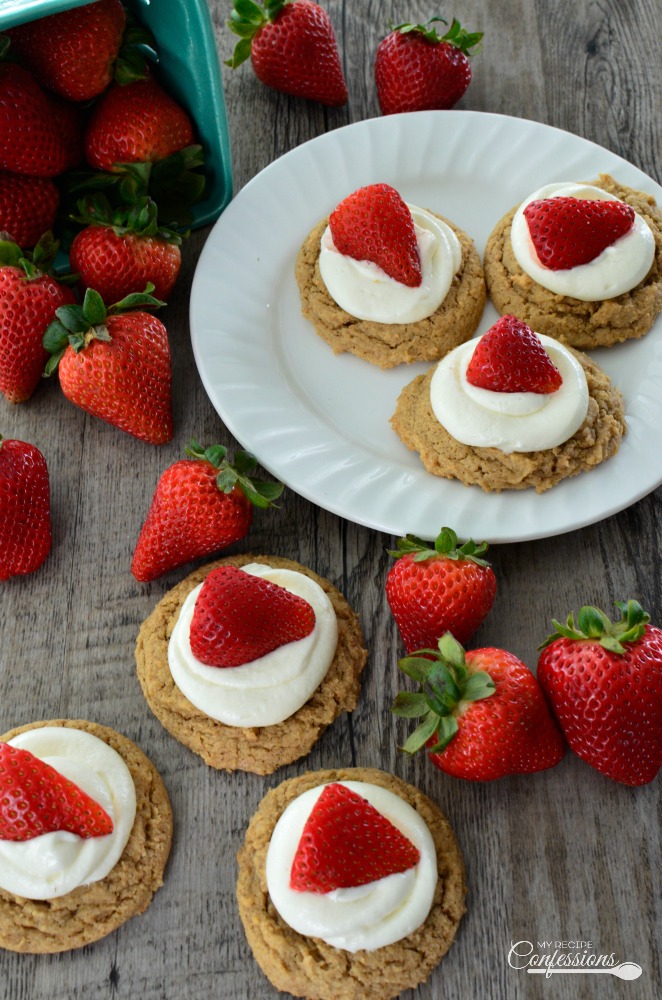 So instead of slaving away in the kitchen all day making a dessert for your next party, whip up a batch of Strawberry Cheesecake Cookies. Then with all the time you just saved yourself, you can put your feet up and relax!
Until next time,
Carrie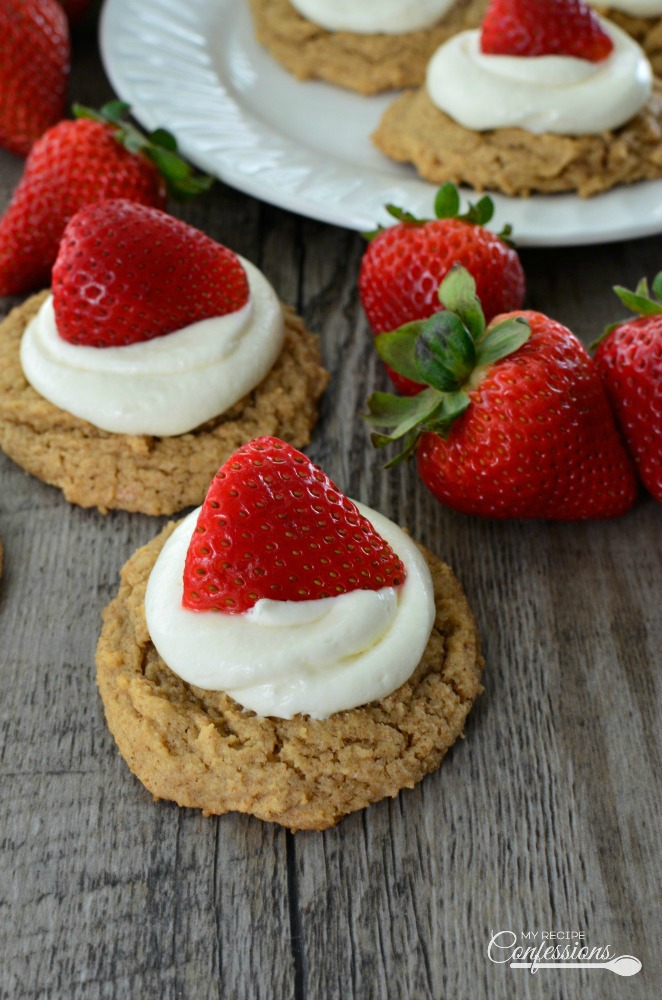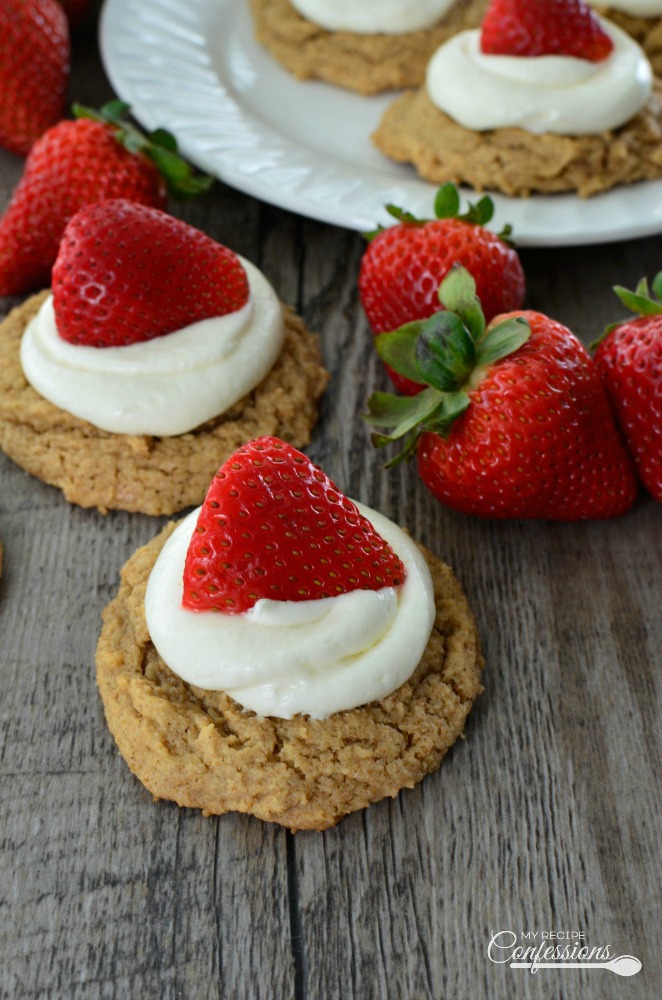 Strawberry Cheesecake Cookies
makes 2 dozen cookies
Graham Cookies
3/4 cups of butter, softened
1/2 cups of granulated sugar
3/4 cups of dark brown sugar
2 eggs
1/3 cups of sour cream
1 tbsp. of honey
1 tsp. of cinnamon
1 tsp. of vanilla extract
1  1/2 cups of graham flour
2 cups of all-purpose flour
1 tsp. baking soda
1/2 tsp. baking powder
1/4 tsp. salt
Instructions
Preheat oven to 350 degrees
1. In a large bowl, cream the butter, sugars, and eggs together. Mix the sour cream, honey, cinnamon, and vanilla into the butter mixture.
2. In a medium-sized bowl, mix the graham flour, all-purpose flour, salt, baking powder, and baking soda until well combined. Add the flour mixture to the butter mixture and mix well.
3. Scoop 1 tbsp. of cookie dough onto an ungreased cookie sheet for each cookie and bake for 10 to 12 minutes or until golden brown. Cool completely before frosting.
Cheesecake Frosting
12 oz. cream cheese, softened
1/4 cup of lemon juice
1 (7 oz.) container of Marshmallow Cream
2 cups of powder sugar
12 strawberries sliced in half
Instructions
1. Cream the cream cheese and lemon juice together until it is smooth. Mix in the powder sugar and marshmallow cream and whip until the frosting is smooth and creamy.
2. Frost cookies with cheesecake frosting and top with a strawberry slice. Store any leftover cookies in the refrigerator.
Here are a few other recipes you should try.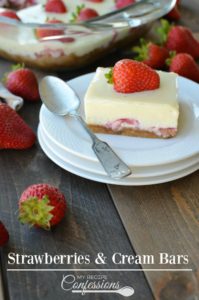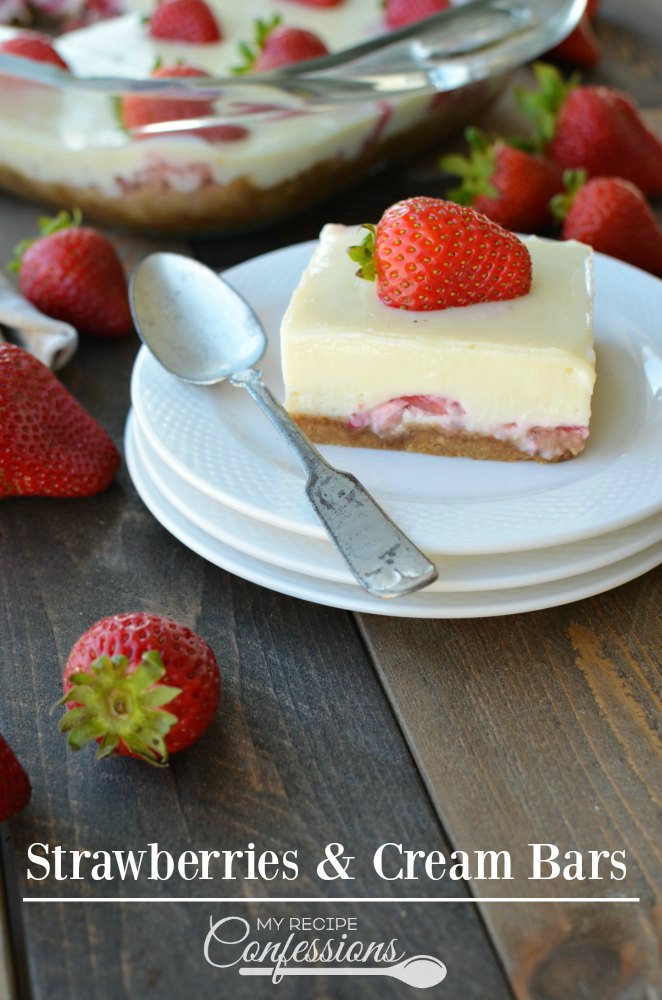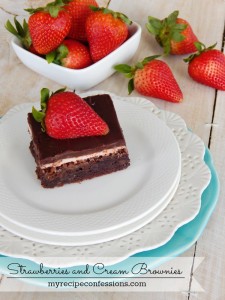 Strawberries and Cream Brownies