Fresh Strawberry Pie is the best way to enjoy strawberry season. The sweet and refreshing strawberries are piled high in a rich flaky pie crust and then topped with light and fluffy homemade whipped cream.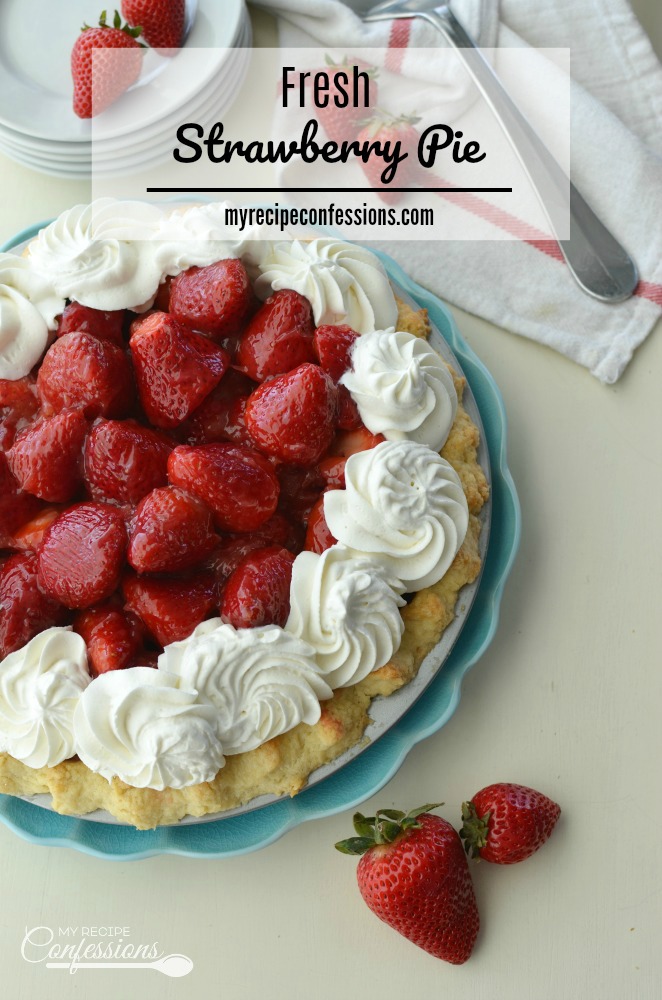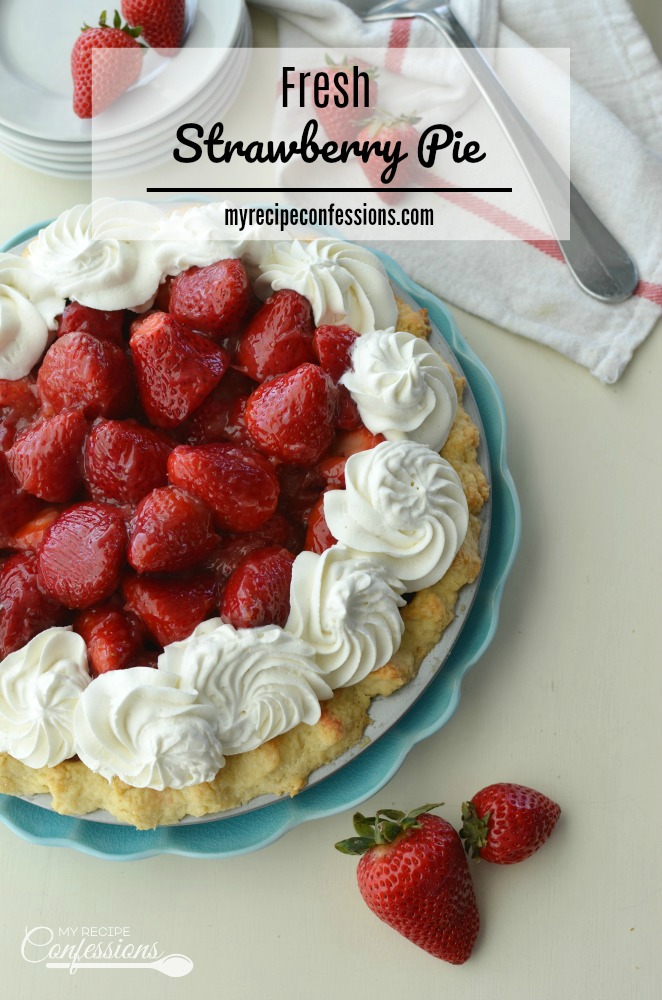 Whenever I make this pie, I always take a slice to my dad. He loves fresh strawberry pie. I can remember as a kid going to a restaurant for his birthday and the staff bringing out a strawberry pie and singing Happy Birthday to him. Then, we all had a slice of the pie. I remember not being too impressed with it and thinking strawberry pie just wasn't my thing. What I didn't realize at the time is that it was the pre-made glaze that I didn't like, not the pie itself.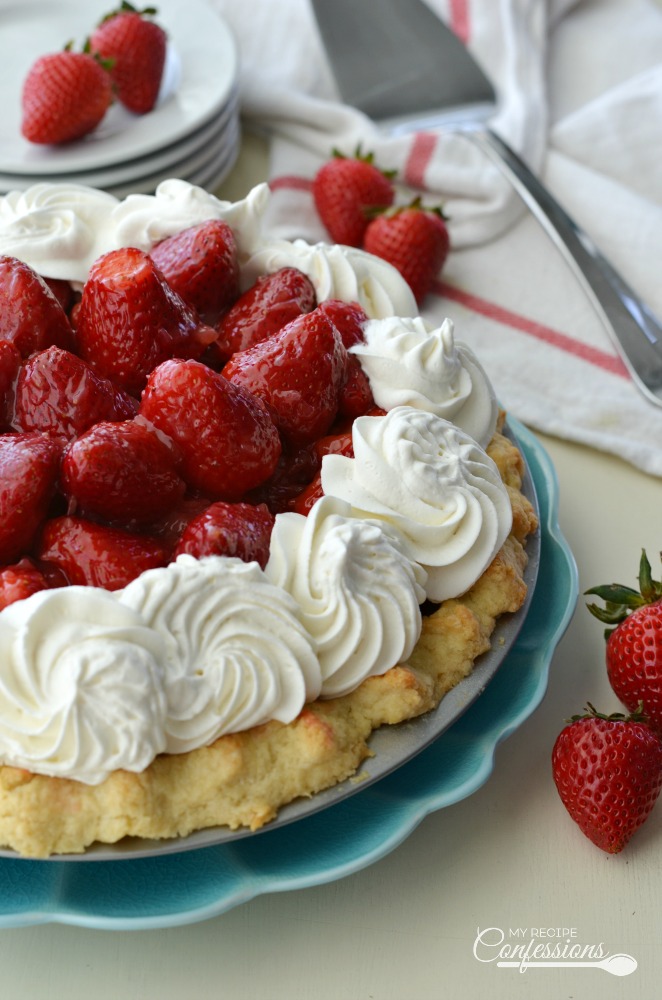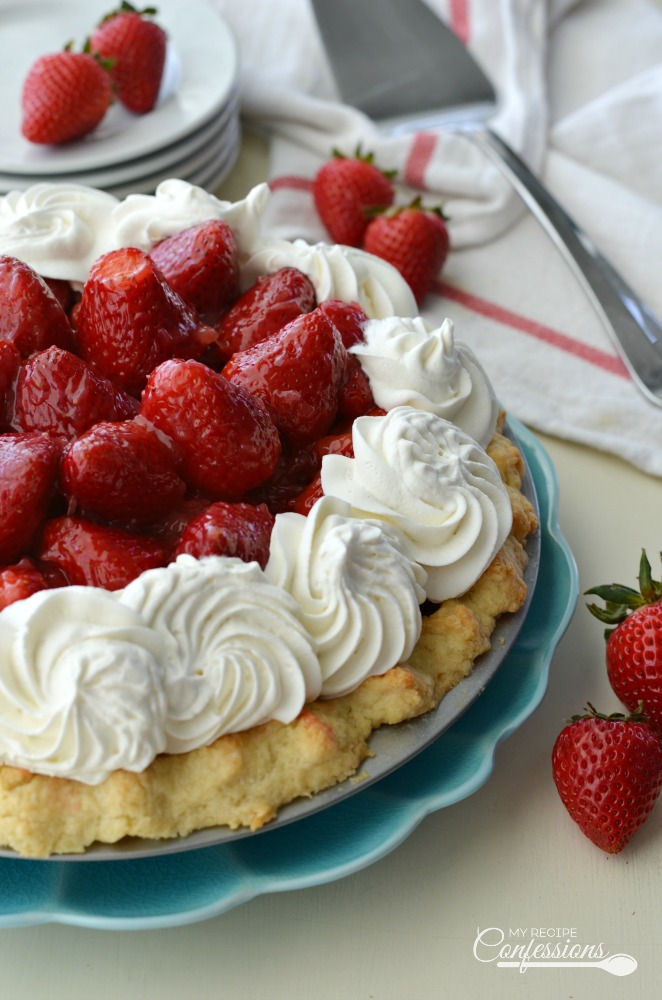 Well, this recipe does not have pre-made glaze. The glaze is made from scratch and it is so simple to make! Instead of taking away from the fresh strawberry flavor like the pre-made glaze does, this glaze boosts the strawberry flavor even more.
With the combination of homemade pie crust, fresh strawberries, homemade glaze, and homemade whipped cream, this pie is a recipe for instant happiness!
Until next time,
Carrie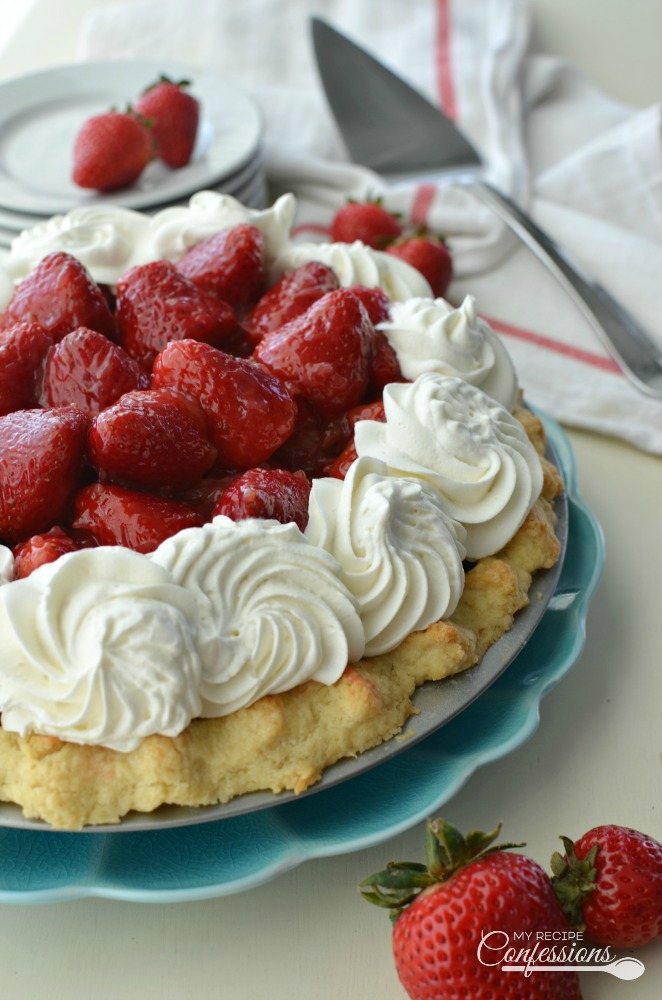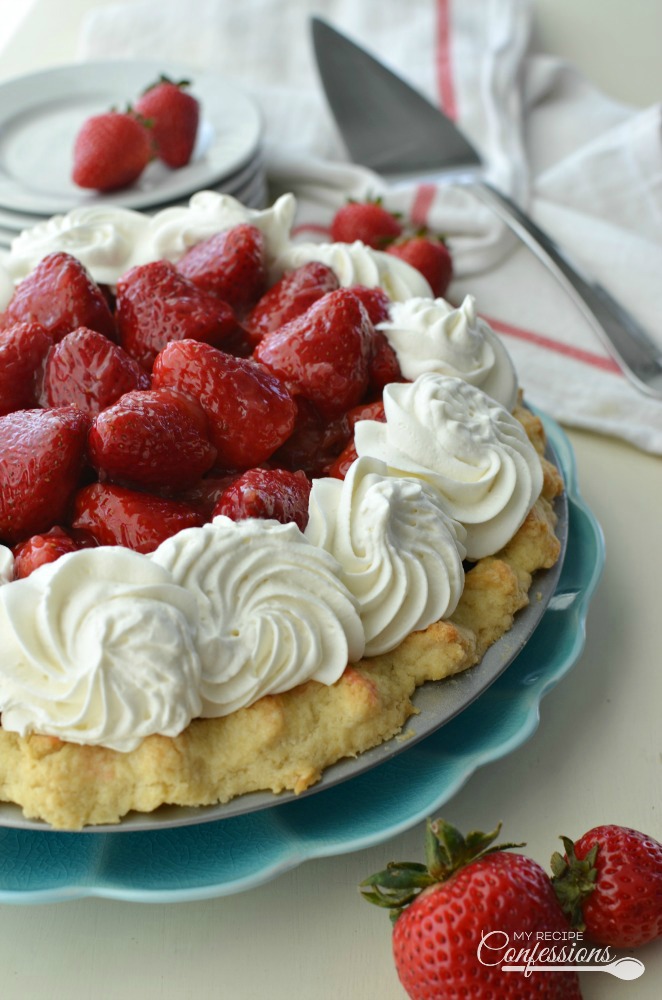 Fresh Strawberry Pie
makes 8 servings
1 baked and cooled pie crust (try my favorite flaky pie crust)
5 cups of fresh strawberries, washed and quartered
1 cup of water
3 1/2 tbsp. cornstarch
3/4 cup of sugar
1 1/2 cup of heavy cream
1/4 cup of sugar
1 tsp. vanilla extract
Instructions:
1. Combine 1 cup of sliced strawberries and 2/3 cups of water in a medium-sized pan. Over medium-high heat, bring to a boil and simmer for 3 minutes. Mash the strawberries with a wooden spoon and turn the heat down to medium-low heat.
2. In a bowl, mix the remaining 1/3 cup of water with the sugar and cornstarch. Whisk in sugar/cornstarch mixture into the hot strawberries mixture. Simmer the mixture for 3 to 4 minutes until thickened and translucent. Cool completely.
3. Gently toss the remaining strawberries into the strawberry glaze. Pour the strawberry mixture into the pie crust. Place some plastic wrap over the pie. Place it in the fridge to set up for 2 hours.
4. Beat the Heavy cream, 1/4 cup sugar, and vanilla extract in a medium-sized bowl until it forms stiff peaks. Pipe the whipped cream onto the strawberry pie and serve.
This recipe was originally posted on May 13, 2014.
Here are a few other pie recipes you might enjoy.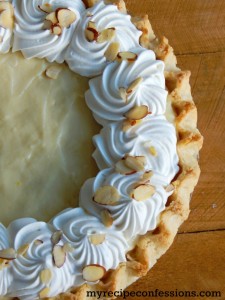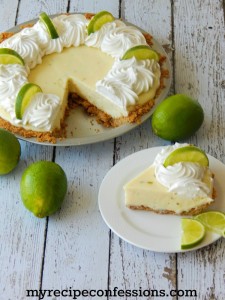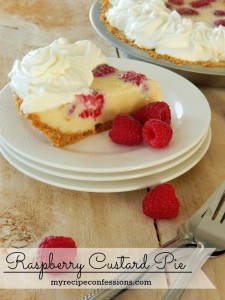 Fresh Strawberry Pie is the BEST pie ever! The fresh sliced strawberries and the homemade glaze is incredibly amazing! The strawberry filling and flaky crust topped with whipped cream makes this pie the BEST there is!