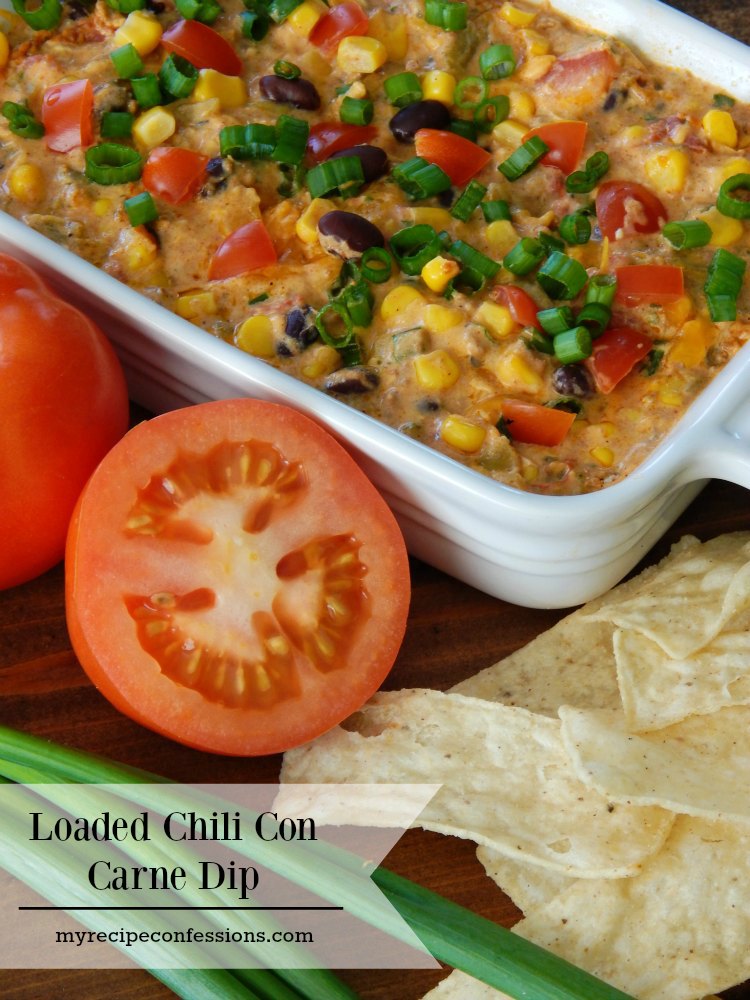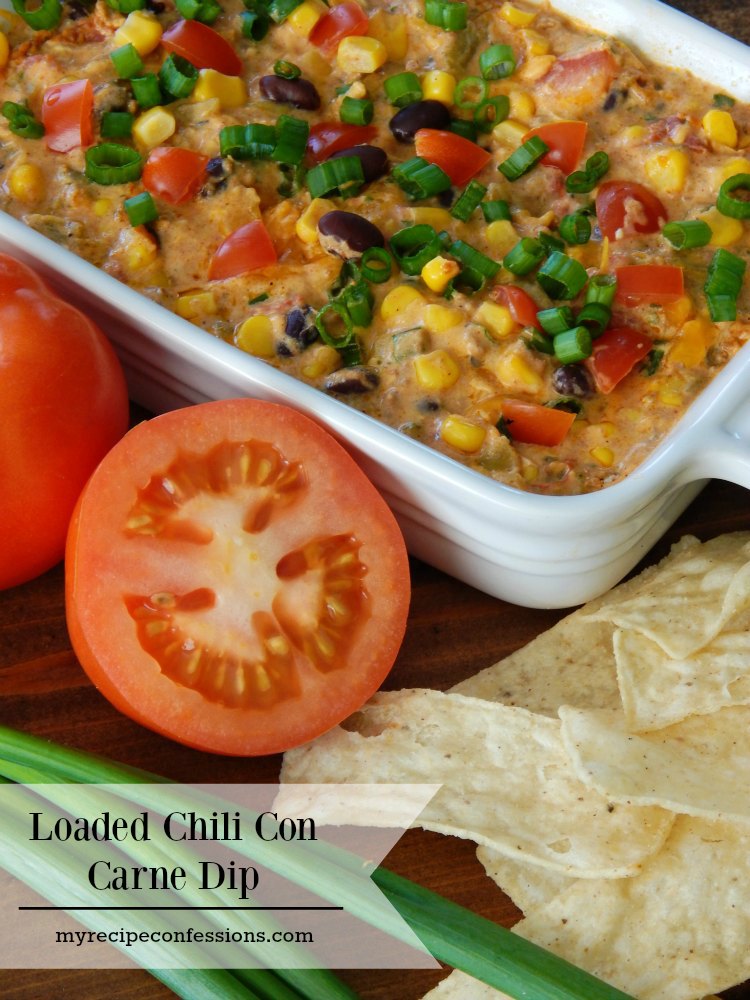 With the Super Bowl coming up, my mind is on appetizers. I'm sure I have told you before that I am not a big sports person. I don't even know who is in the running for the super bowl. I have one boy who is a big Seahawks fan and another boy who loves the Broncos. So I root for theses teams when they are playing. As far as the Super Bowl goes, I am all about the food part. The food is the best part in my opinion.
This dip is loaded to the max with South of the border goodness! To make this recipe even more irresistible, it is super easy to throw together. You pretty much mix it all together and bake it in the oven for 30 minutes. It doesn't get any easier than that. It is best served hot with tortilla chips.
WIth love from my kitchen to yours,
Carrie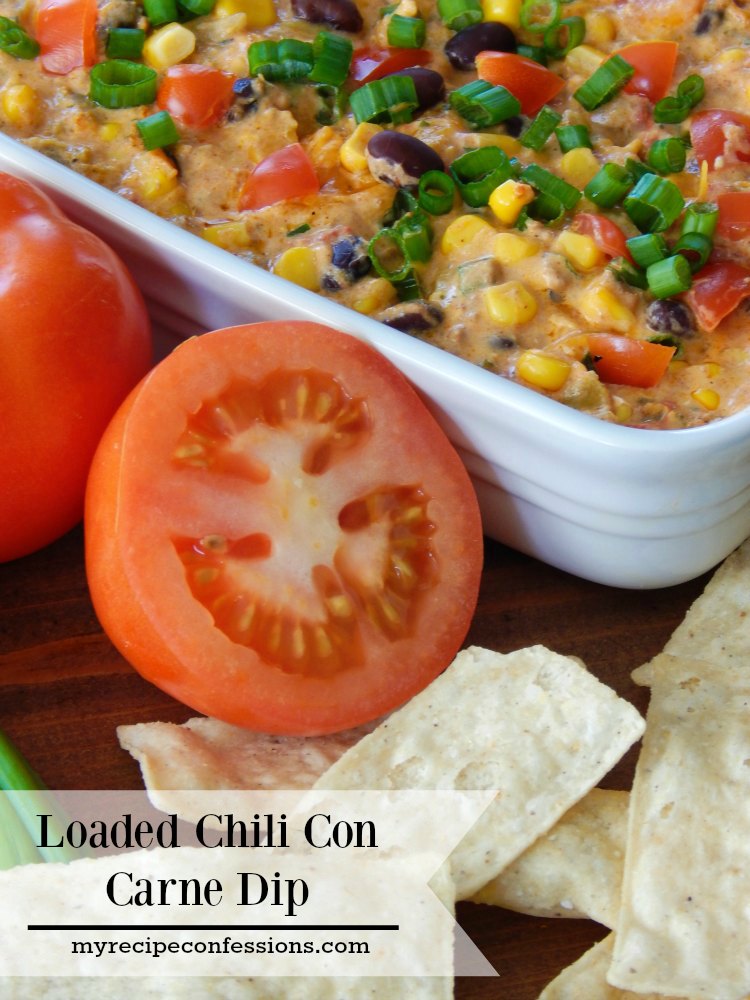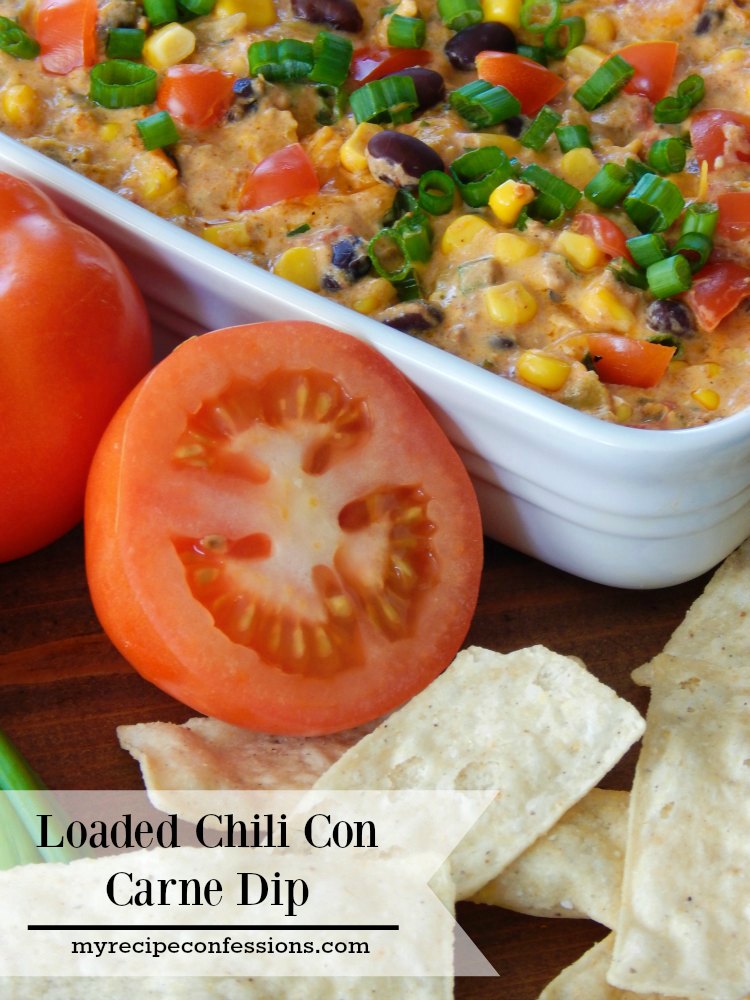 Loaded Chili Con Carne Dip
1 can of chili con carne without beans
1 (8 oz.) block of cream cheese
1 can of sweet yellow corn, drained
1 can of black beans, rinsed and drained
1 (7 oz.) can of mild green chilies, chopped or diced jalapeno
1 tsp. of cumin
1 tsp. of oregano
1 tbsp. of cilantro, chopped
1/2 tsp. of smoked paprika
1/2 tsp. of garlic powder
1/2 cup of green onion, diced
2 1/2 cup of chedded cheese, shredded
Instructions
Pre-heat oven to 400 degrees.
Place the cream cheese in a large microwave safe bowl.Heat in the microwave for about 45 to 60 seconds or until the cream cheese is softened.
Mix the remaining ingredients except for 1 cup of shredded cheese together in the bowl. Pour the dip in a 9×13 pan. Sprinkle the remaining 1 cup of shredded cheese over the dip and place in the oven. Bake for 30 minutes or until it is heated through and bubbling around the edges. Serve  hot with tortilla chips.
Here are a few other dip recipes you should try.