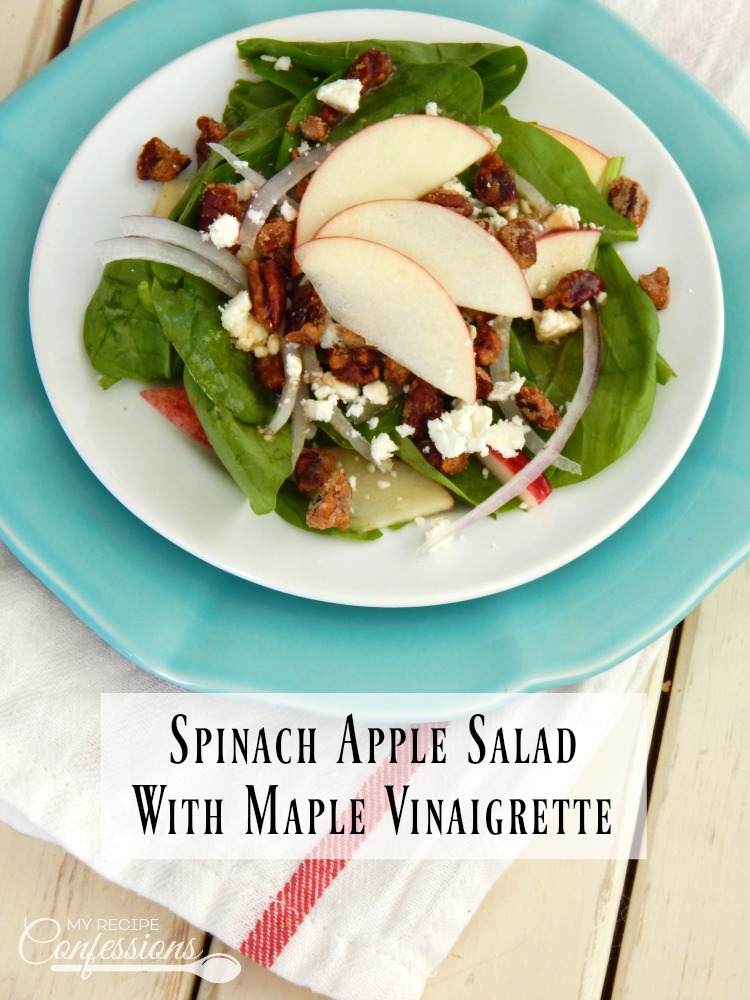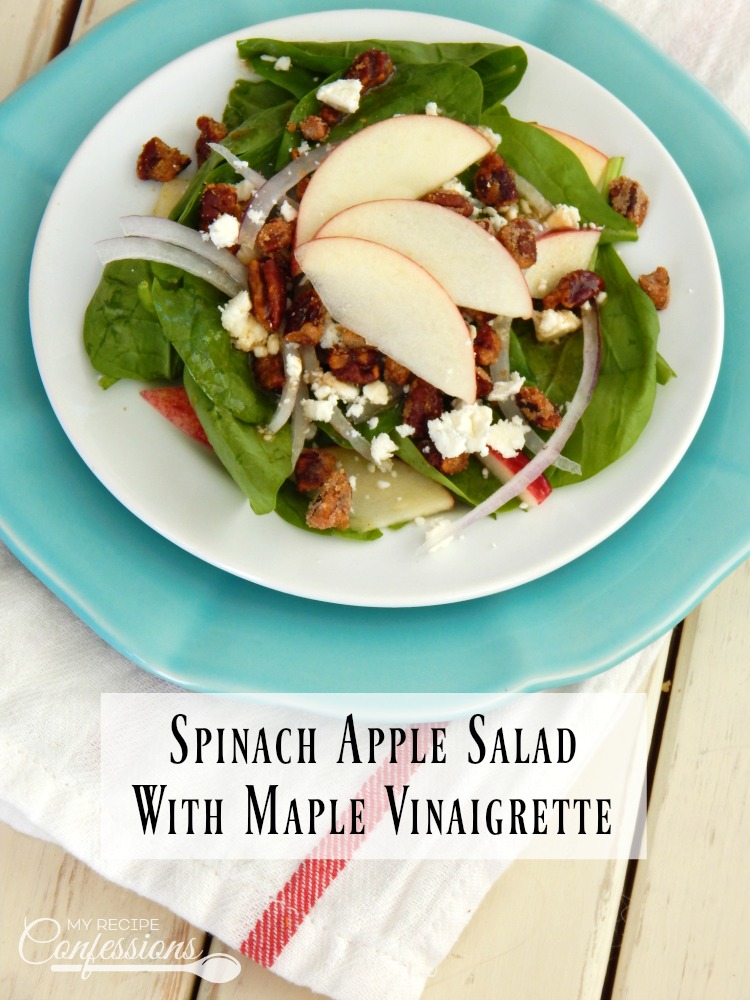 This Spinach Apple Salad with Maple Syrup Vinaigrette is a game-changing recipe! I am in love with this Maple Syrup Vinaigrette! It might sound odd, but seriously guys, it is what makes the salad! And the Sugared Curry Pecans are out of this world!
My husband loved this salad.  I, of course, am a pretty big fan as well! I can't tell you what my kids thought about the salad because Dave and I ate it before they had a chance to taste it.
You can also top this salad with some grilled chicken for a main dish. Oh baby,   doesn't that sound amazing?
Thanks for stopping by today, I hope your weekend is filled with lots of fun Fall activities and of course a helping of Spinach Apple Salad with Maple Syrup Vinaigrette.
With love from my kitchen to yours,
Carrie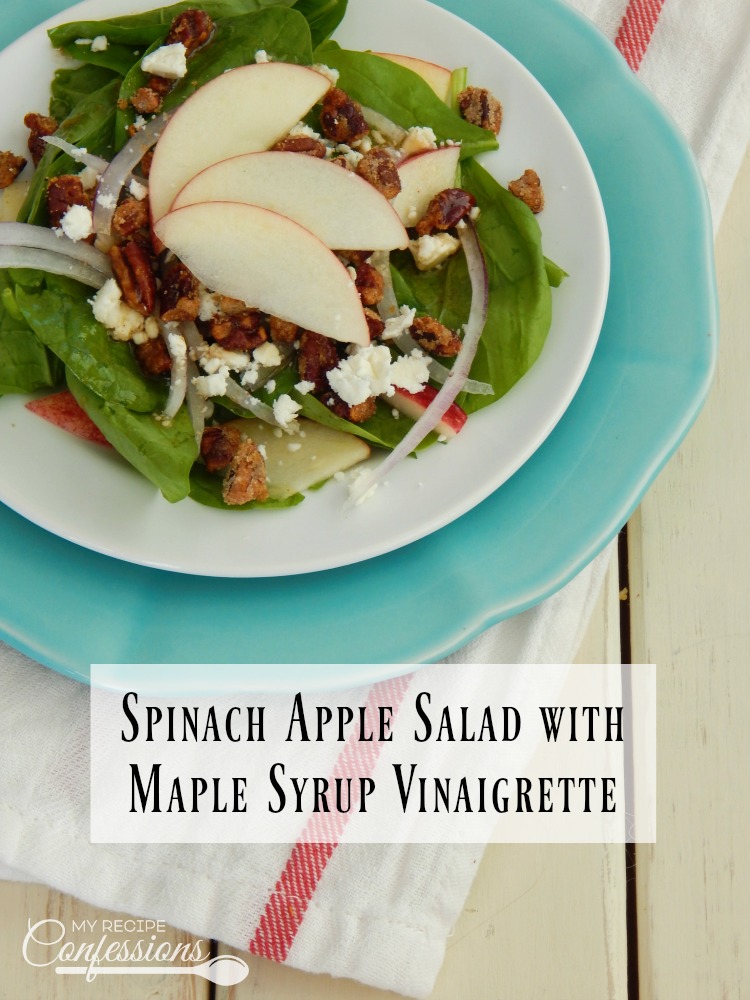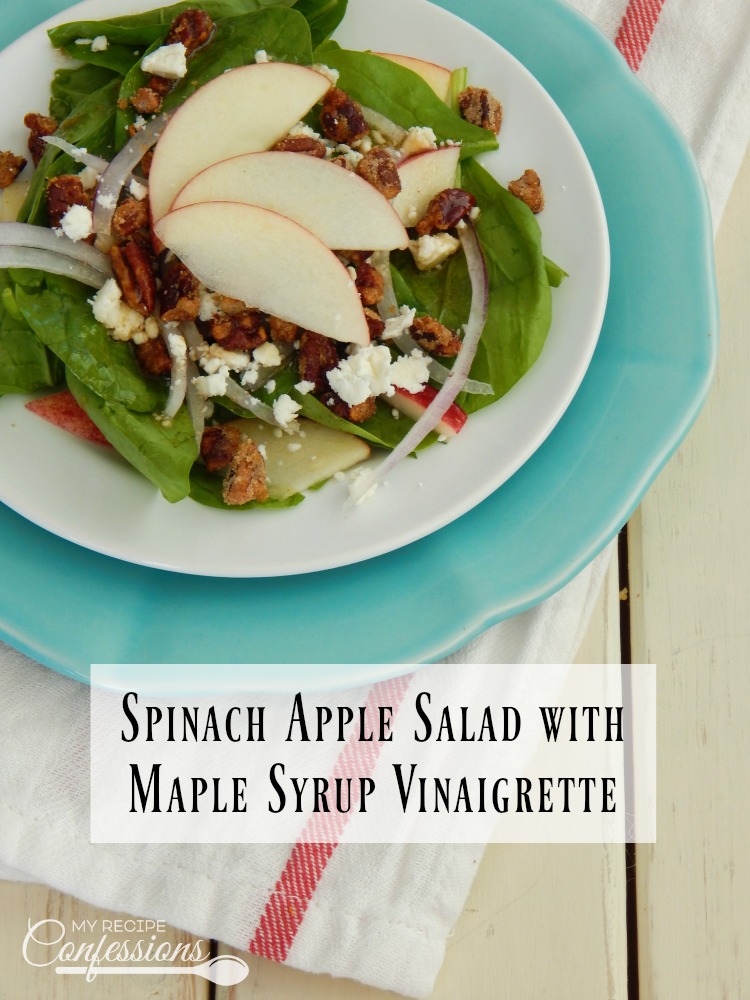 Spinach-Apple Salad With Maple Syrup Vinaigrette
Salad
1 (10 oz.) bag of spinach leaves, washed and dried
2 small gala apples, sliced thin
1 small red onion, thinly sliced
1 (4 oz.) container of feta cheese
Sugared Curry Pecans
1 (6oz.) bag of pecan halves
2 tbsp. of butter, melted
3 tbsp. of granulated sugar
1/4 tsp. of ground ginger
1/4 tsp. curry powder
1/8 tsp. smoked paprika
Maple Syrup Vinaigrette
1/3 cup of apple cider vinegar
2/3 cup of maple syrup
1 tbsp. of soy sauce
1/2 tsp. of curry powder
1/8 tsp. of smoked paprika
1 tsp. of salt
1/3 cup of olive oil
Instructions
Preheat oven to 375 degrees
1. Toss the pecans in the melted butter. Mix the sugar and the 3 spices together. Add the buttered pecans and toss to coat. Spread the coated pecans in a single layer on the baking sheet and bake for 10 to 15 minutes of until the pecans are lightly brown and toasted. Separate the pecans with a fork and cool completely.
2. For the vinaigrette: Whisk together the first 6 ingredients until well combined. Gradually whisk in oil until well blended.
3. To assemble the salad: In a bowl toss, the 4 salad ingredients. Drizzle the desired amount of Maple Syrup vinaigrette on top and sprinkle the Sugared Curry Pecans on top. Serve immediately with the remaining vinaigrette on the side.
* The Sugared Curry Pecans can be made in advance for up to a week before and stored in an air tight container. The Maple Syrup Vinaigrette can be made up to 3 days ahead of time and covered and chilled until ready to use.
Inspired by the Spinach-Apple Salad With Maple-Cider Vinaigrette from Southern Living.
Here are a few other recipes you should try.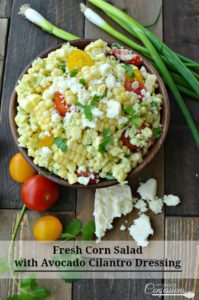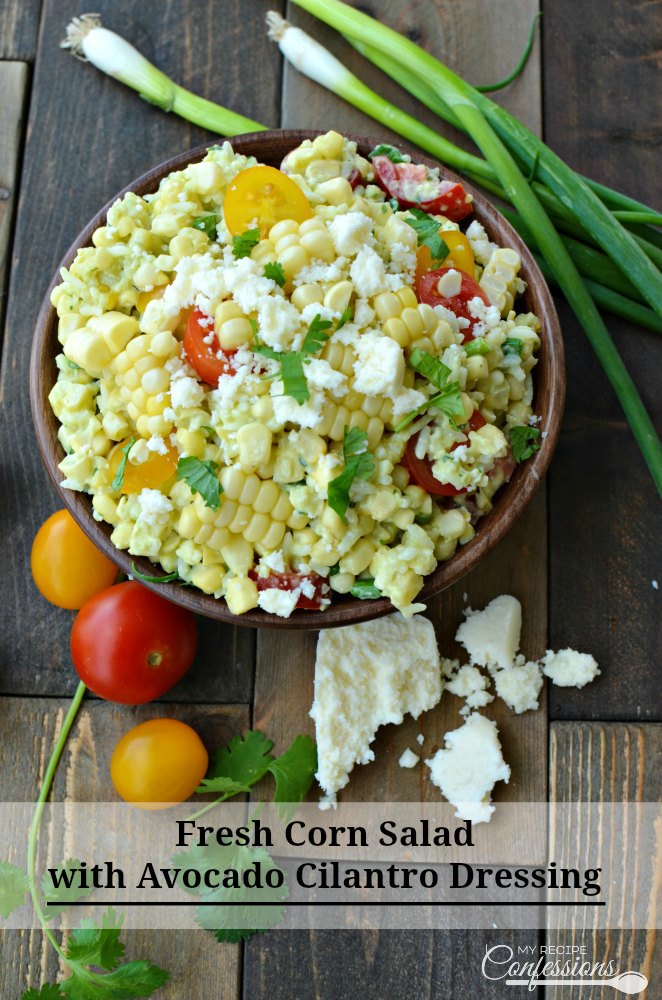 Fresh Corn Salad with Avocado Cilantro dressing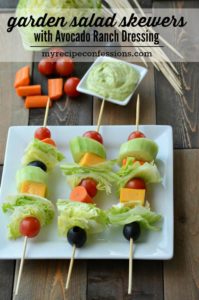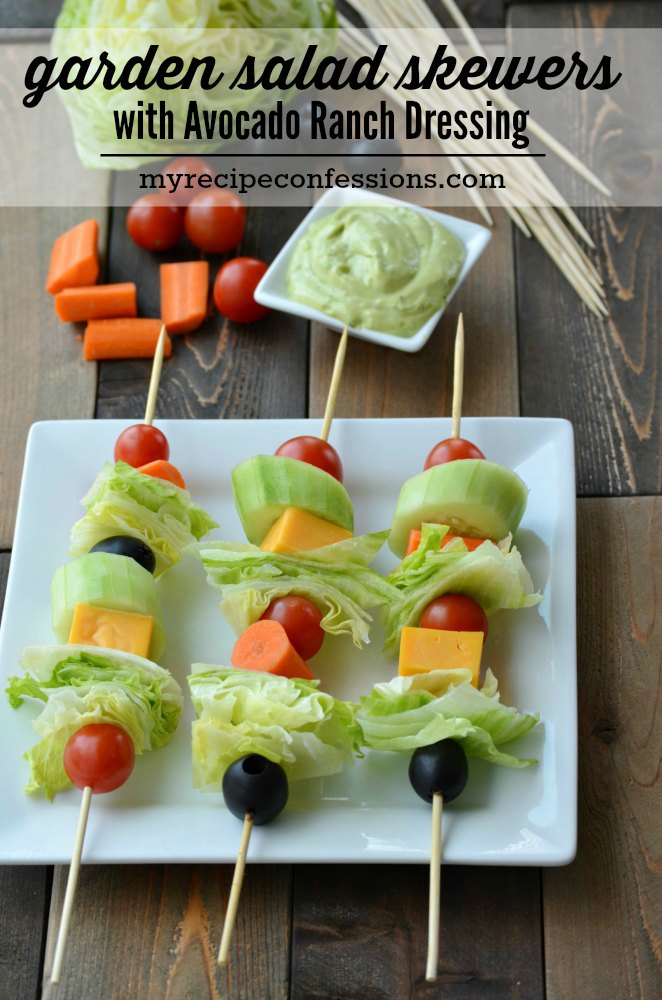 Garden Salad Skewers and Creamy Avocado Ranch Dressing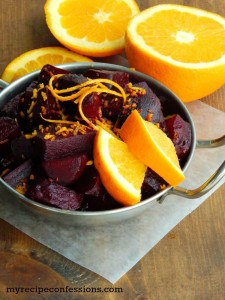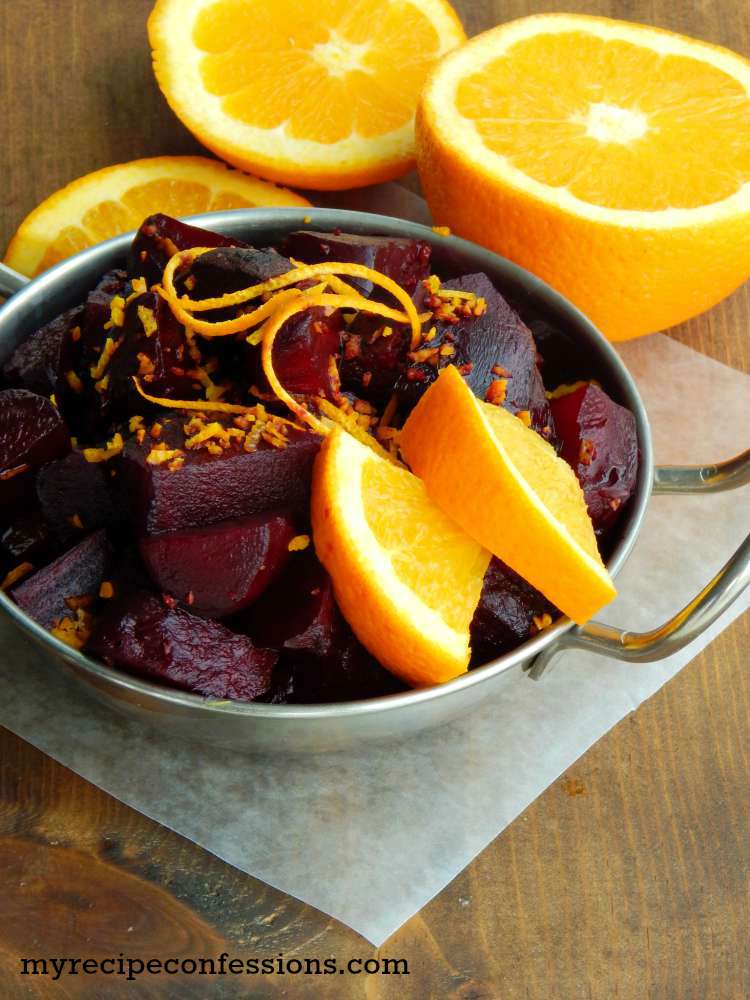 Roasted Beet Salad with a Balsamic Orange Glaze