Accent Chair Makeover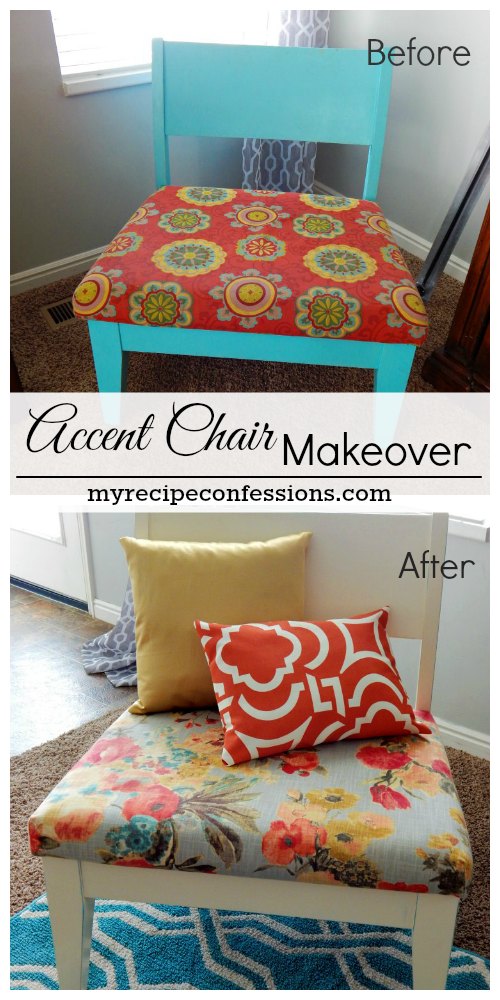 I bought these chairs about four or five years ago off of KSL (a local online classified site) for $50 for the set. They were originally a dark brown stain with a tan microfiber cushion. I have always loved how comfortable and wide the cushions are. Those who know me know that I don't stick with the same furniture for very long. I either sell it and get something new (new to me) and refinish it. I blame this on my mom. She is always constantly changing out her décor and furniture.
When we moved into our house about three years ago, I painted the chairs a light robin egg blue and reupholstered the cushions. The fabric was a duck cloth from Hobby Lobby.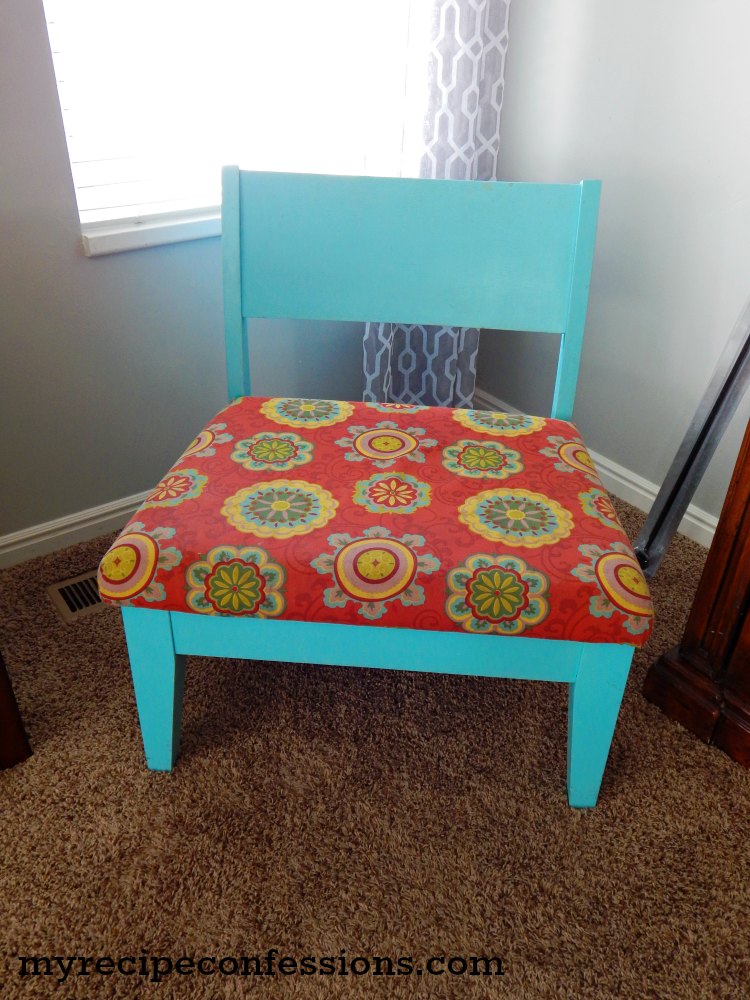 I liked the redo but I wasn't in love with it. I had just had a baby so I didn't have time to change it. Over the past few years, I have made changes to my other furniture and décor. So much so that the color of the chairs really didn't go very well with the colors of my house anymore.  So it was once again time for a makeover.
I painted the chairs with Annie Sloan Old White Chalk Paint. I have told you before how much I love Annie Sloan Chalk Paint. I painted three coats of the paint and then waxed it with Annie Sloan Clear Wax.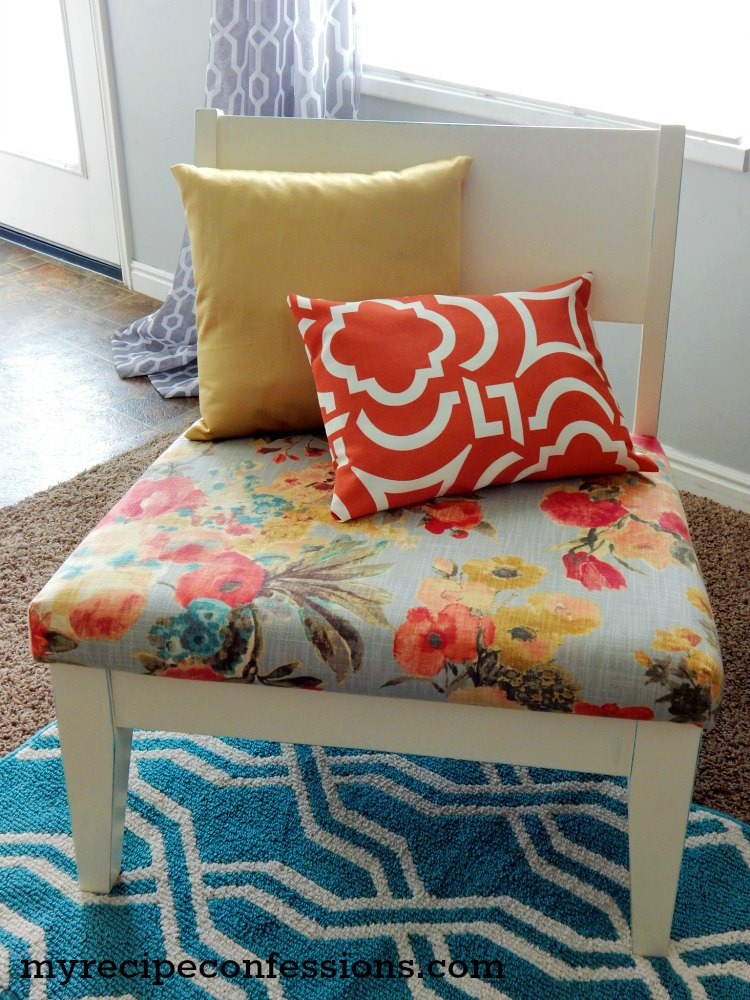 I fell in love with the fabric on the cushions as soon as I saw it. It is HDTV Garden Odyssey upholstery fabric from Joann's Fabric. The fabric was 50% off so I paid $17 a yard. I only needed two yards.
When I put the chairs back together, I felt like they needed something else to make them pop a little more. SO I went back to Joann's Fabric to find some fabric for the pillows. I knew I wanted some gold pillows so I found some gold upholstery fabric called, Rich Galway Pale Gold. It was also 50% off so I paid $10.00 a yard. I bought one yard, but probably could have gotten away with 3/4 of a yard.
I also bought a yard of the Carmody Mango outdoor fabric at $12.00 a yard with the sale. I think the outdoor fabric is going to stand up to my boys really well. I just made envelope pillow covers. I can't really tell you exactly how I did it because my two youngest were trying their hardest to get into the action of sewing. I am just grateful that I finished them without any fingers cut off or sewn up.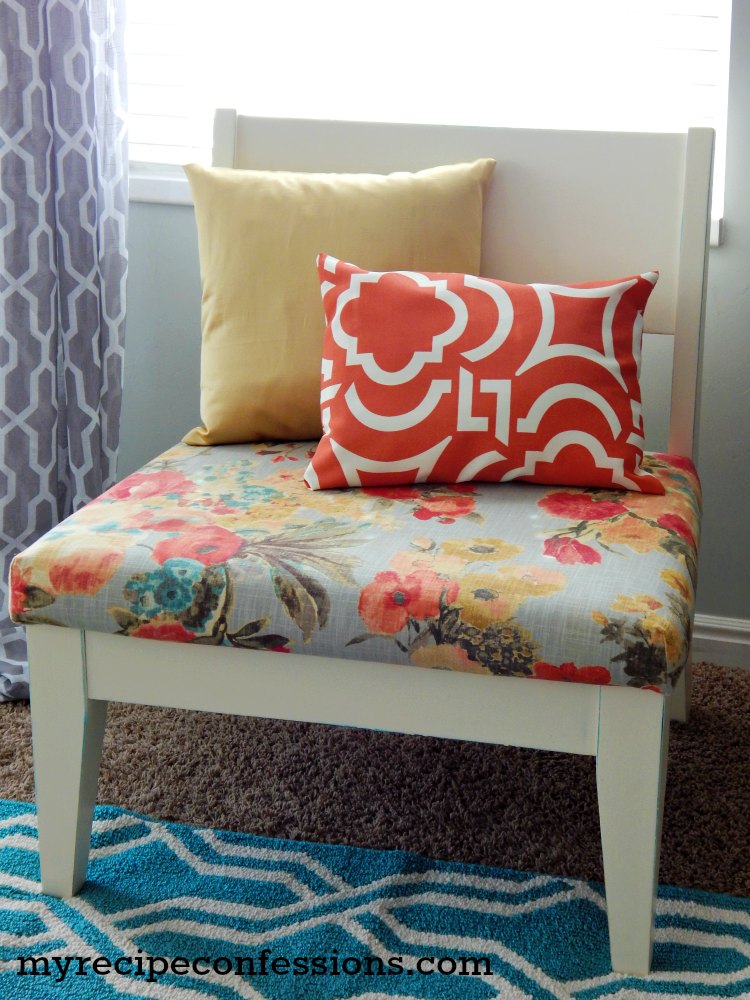 I am absolutely in love with how the chairs turned out!
If you have a piece of furniture that you want to redo, just do it. Research it and make sure you are educated on the best way to go about doing it. But you will never learn until you try it. I have made many mistakes over the years. Some projects never got finished because I messed up so bad there was no way to salvage it. I learned from them and did it differently the next time.
I am more than willing to answer any questions you might have. Just leave a comment below or email me and I will get back to you as quickly as possible.
With love from my kitchen to yours,
Carrie