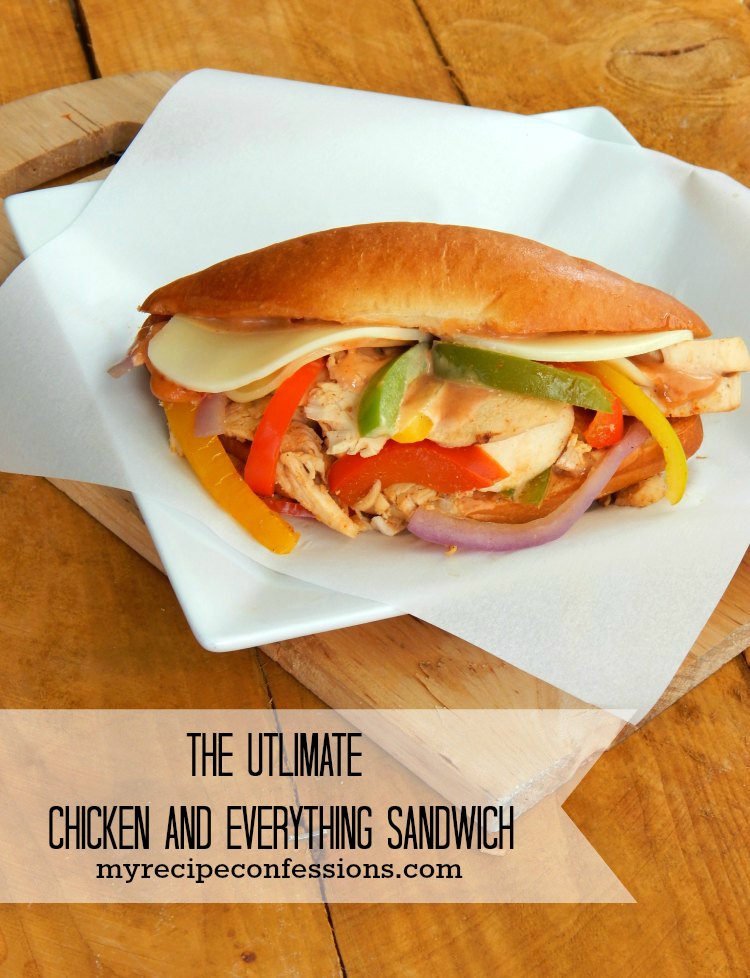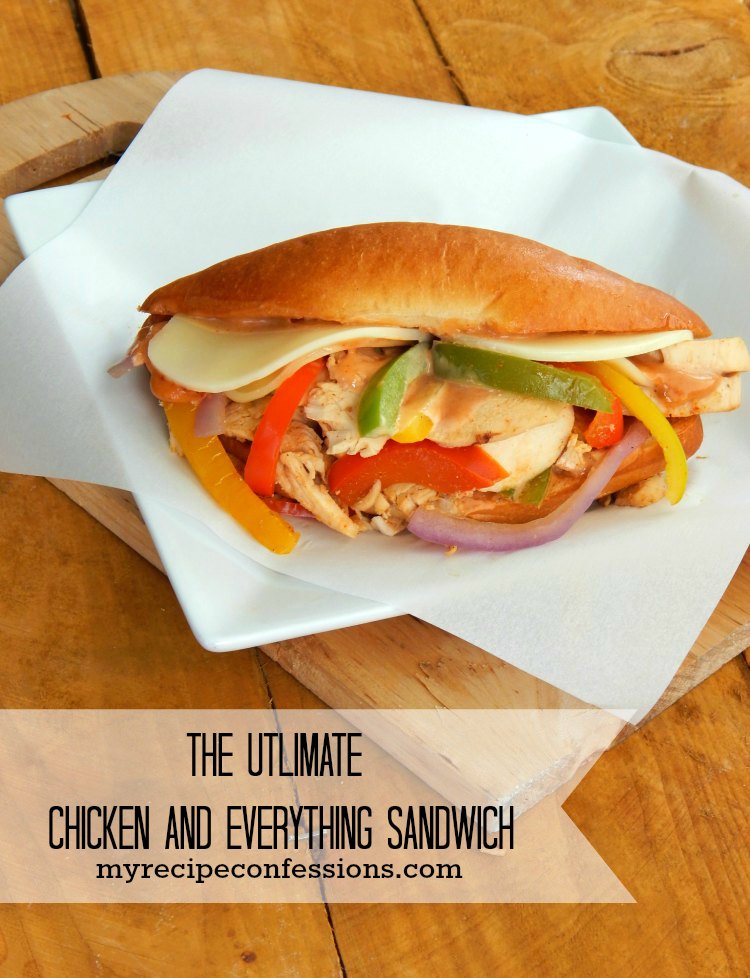 The recipe for this chicken sandwich was developed by accident. I started with one sandwich in mind and ended up with a totally different one. But that is okay because I am so in love with it!
The Creamy Barbecue Spread is so good I could drink it! Seriously, the barbecue spread is what takes the sandwich over the top.
Don't confuse this sandwich with a baby shower/tea party kind of sandwich. The Ultimate Chicken and Everything Sandwich is a hearty, sauce dripping down your hands, lick the plate type sandwich. This is the perfect sandwich for  your Super Bowl Sunday!
With love from my kitchen to yours,
Carrie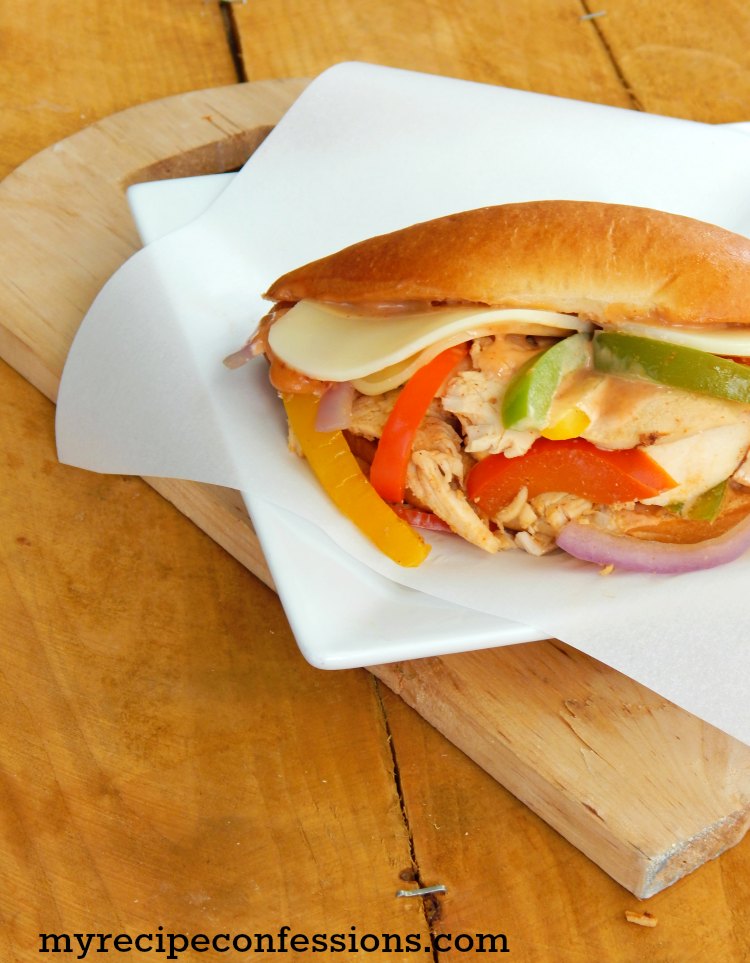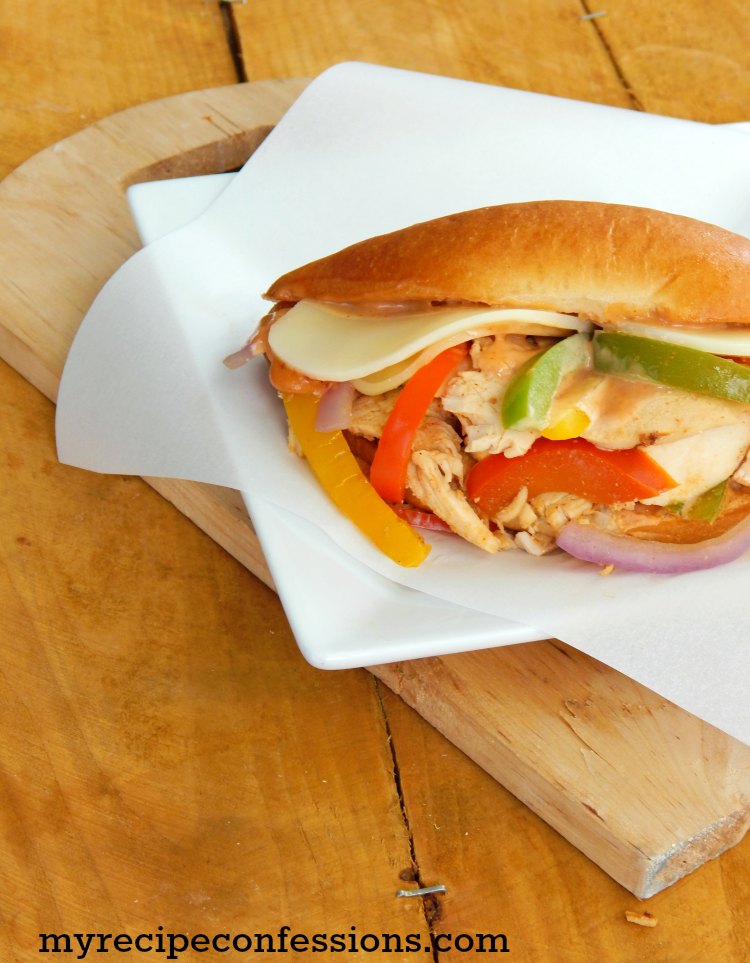 The Ultimate Chicken and Everything Sandwich
Makes about 4 sandwiches
3 chicken breast
1 red bell pepper, julienned
1 yellow bell pepper, julienned
1 green bell pepper, julienned
1 red onion, thinly sliced
1/2 tsp. of salt
1/4 tsp. of garlic powder
1/2 tsp. of black pepper
1 tsp. of paprika
1 tbsp. of canola oil
8 slices of provolone cheese
4 hogie buns
1 recipe of Creamy Barbecue Spead (recipe below)
Instructions
Preheat the oven to 375 degrees
1. In a small bowl, mix the paprika, black pepper, garlic powder, and salt together.  Place the chicken breasts on a baking sheet and sprinkle with the spice mixture. Place in the oven and bake for 20 to 30 minutes or until the juice from the chicken runs clear and the center of the chicken is no longer pink.
2. With a sharp knife, slice the chicken breasts into thin strips. In a skillet over medium high heat, saute the peppers and onions in the canola oil. When the vegetables are tender, add the chicken strips to the skillet and toss. Turn the heat down to low and place the sliced provolone cheese over the chicken mixture and cover until the cheese is melted.
3. Slice the hogie buns down the center and generously spread the creamy barbecue sauce on the top and bottom of the bun. Add a heaping serving of the cheesy chicken mixture onto the open bun. Enjoy!
Creamy Barbecue Spread
1 cup of mayo
1/2 cup of Sweet Baby Rays BBQ sauce
1/2 tsp. of hickory liquid smoke
1 tsp. of smoked paprika
1/2 tsp. of garlic powder
Instructions
1. In a medium sized bowl mix all the above ingredients together. Chill in the refrigerator until you are ready to spread it on the sandwiches.
Here are a few other recipes you might like.