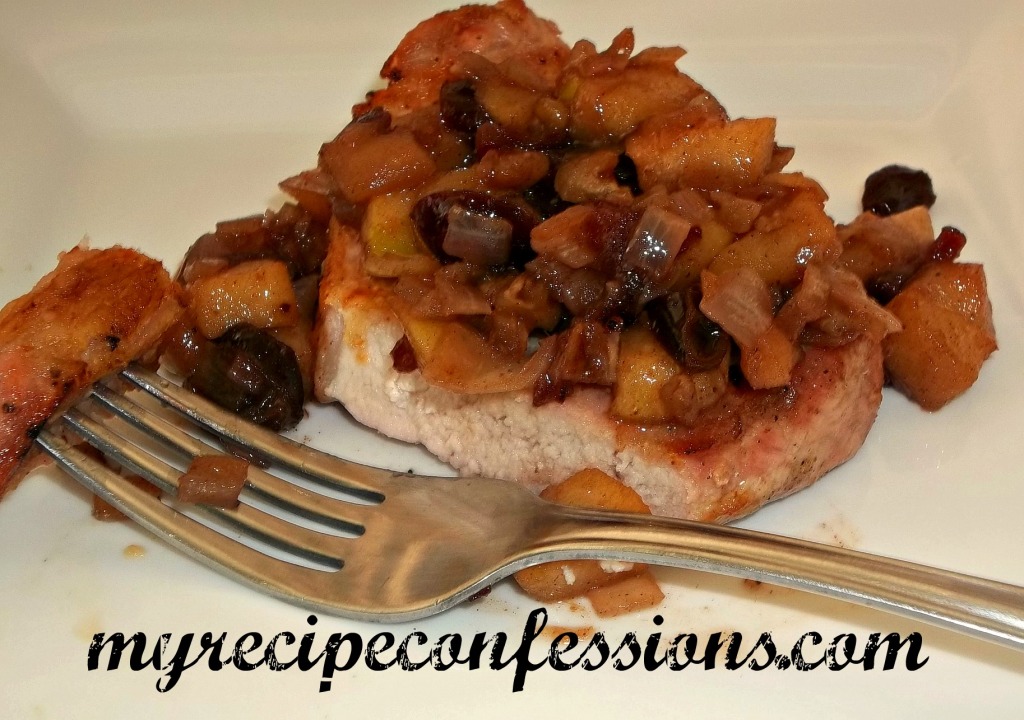 I made this last night for dinner and man it was good! It is one of those dishes that really is simple and quick to throw together but I think a lot of people get intimidated by it. Trust me when I say you can do it, and you will love it! What is chutney you ask? Well Google describes it as a spicy condiment made of fruits or vegetables with vinegar, spices, and sugar, originating in India. I describe it as a freakin' yummy salsa/relish like condiment that will blow your mind. I usually like to serve it with Pork or Chicken. But you really could pair it up with most meats. It can also be served with cream cheese and then spread over crackers. Or, add some mayo to the chutney and you have a sandwich spread. The possibilities really are endless. I think the Apple Chutney is perfect for fall time! You can serve the chutney chilled or hot right out of the pan. I personally like it hot over my meat. As far as the Pork chops go, I just grilled them and then served them with the Chutney over the top. Okay, now that you understand what Chutney is and how you can serve it, let's get on with the recipe. Until next time ,
Happy Eating!
Carrie
Apple Chutney Ingredients:
4 tablespoons butter
2 cups chopped tart apple
1 medium-sized onion diced
4 tablespoons light brown sugar
3 tablespoons golden raisins
3 tablespoons dried cranberries
1/4 cup pecan, coarsely chopped
1 teaspoon cinnamon
1/4 teaspoon cloves
1 teaspoon lemon juice
1/3 cup apple cider or juice
2 tsp. apple cider vinegar
1 tsp. salt
Preparation: Heat butter in a medium saucepan; add apple, onions, brown sugar, raisins, cranberries, pecans, salt, spices, cider vinegar and juices. Cook over medium heat until apple is tender, dried fruits are softened, and cider has boiled away. If necessary, add a little more apple cider to keep the mixture from scorching. Serve warm or chilled over grilled Pork chops. Makes about 3 cups.