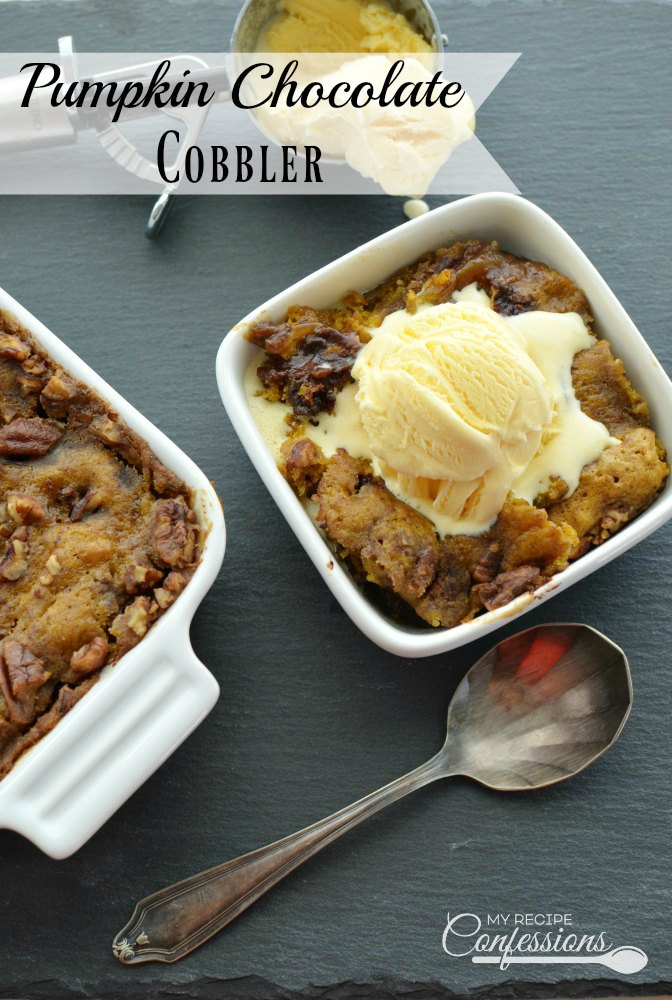 Pumpkin Chocolate Cobbler is heaven in a dish! It tastes a lot like a hot pumpkin chocolate chip cookie with a scoop of ice cream on top. I love love love pumpkin cookies, so this recipe is a home run for me!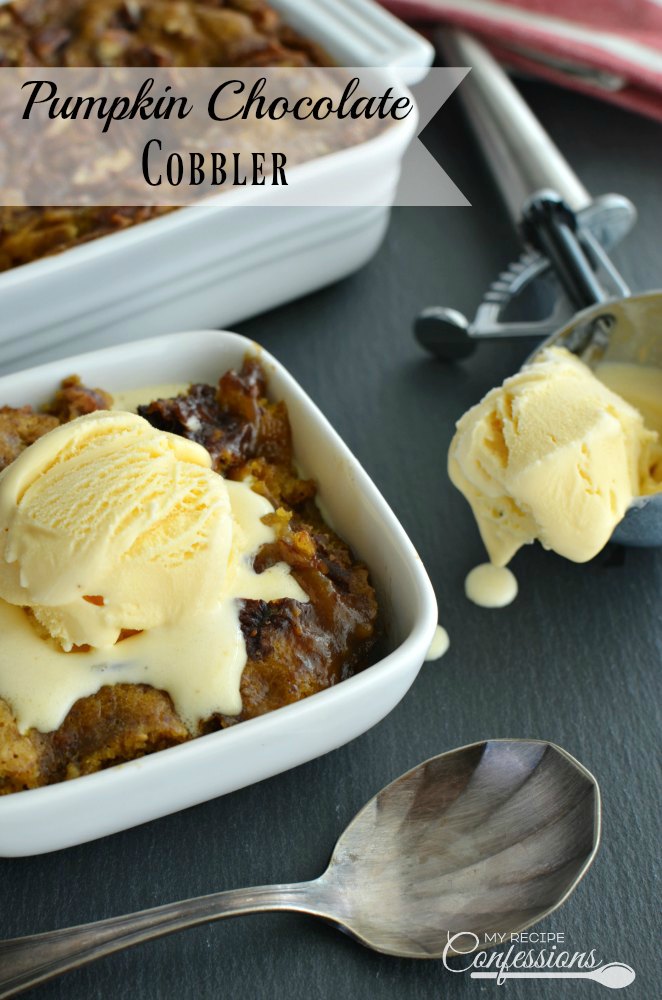 This Pumpkin Chocolate Cobbler is a moist cake-like cobbler on top with a rich chocolate caramel sauce on bottom. Served with a scoop of vanilla ice cream on top, and you have the best pumpkin dessert ever !
With love from my kitchen to yours,
Carrie

Pumpkin Chocolate Cobbler
2 1/3 cups of all-purpose flour
1 tbsp. of baking powder
1 tsp. of salt
3/4 cup of granulated sugar
3/4 cup of dark brown sugar
1 1/2 tsp. of cinnamon
1/2 tsp. of nutmeg
1/2 tsp. of cloves
1/4 tsp. of ginger
1 cup of semi-sweet chocolate chips
1 cup of pumpkin puree
1/2 cup of butter, melted
3 tsp. of vanilla
1/2 cup of milk
Topping:
1/2 cup of pecans, chopped
1/3 cup of brown sugar
1/3 cup of granulated sugar
3 cups of boiling water
Instructions
Pre-heat oven to 350° F.
In a medium-sized bowl, mix the flour, sugars, baking powder, salt, spices, and chocolate chips together.
In a microwave-proof bowl melt the butter. Stir the pumpkin puree, milk, and vanilla into the melted butter.
Mix the pumpkin mixture into the flour mixture until it forms a thick batter. Evenly spread the pumpkin batter into an ungreased 9×13 pan.
For the topping, mix the sugars and pecans together in a small bowl. Sprinkle the topping mixture over the pumpkin batter that is in the 9×13 pan. Next, pour the boiling water over the top of the pumpkin batter.
Place the 9×13 pan in the oven and bake for 35 to 40 minutes or until the center is set up.
Remove the pan from oven and let it set for about 5 minutes. Serve hot with a scoop of vanilla ice cream on top.
Adapted from Pumpkin Pecan Cobbler by Laurens Latest.
Here are a few other recipes you should try.