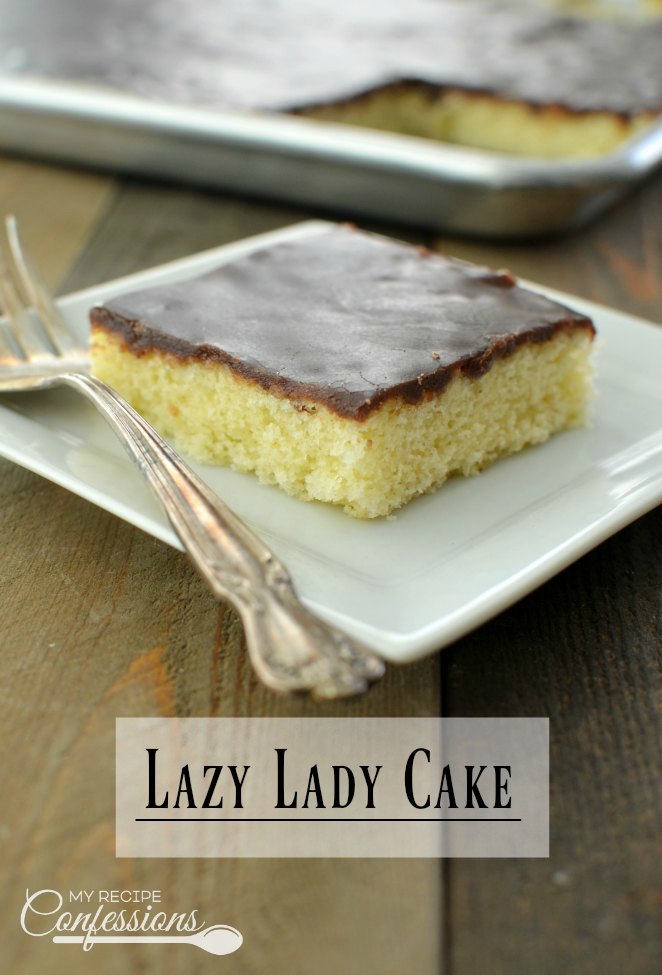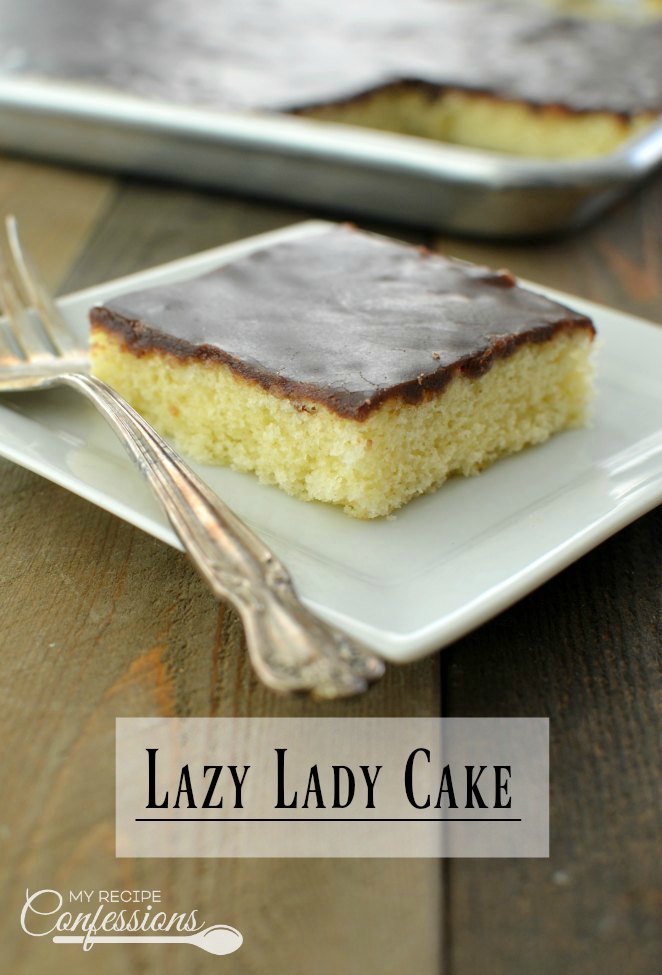 Lazy Lady Cake is a cake my grandma use to make a lot when my dad was growing up. This cake is like a vanilla Texas Sheet Cake. It is a light and spongy vanilla cake with a chocolate frosting. The frosting is poured over the top of the cake as soon as the cake comes out of the oven so that the frosting will soak into the cake (I know, my mouth is watering too). The Lazy Lady Cake is made from scratch but don't worry it is super easy. I guess that is where the name Lazy Lady came from.
My grandma used to make this cake as a refreshment on Monday night for her family. My Grandpa and Grandma had thirteen kids, so when she baked this cake, it needed to be able to feed a lot of people. I remember having this cake at family parties and I always loved every bite.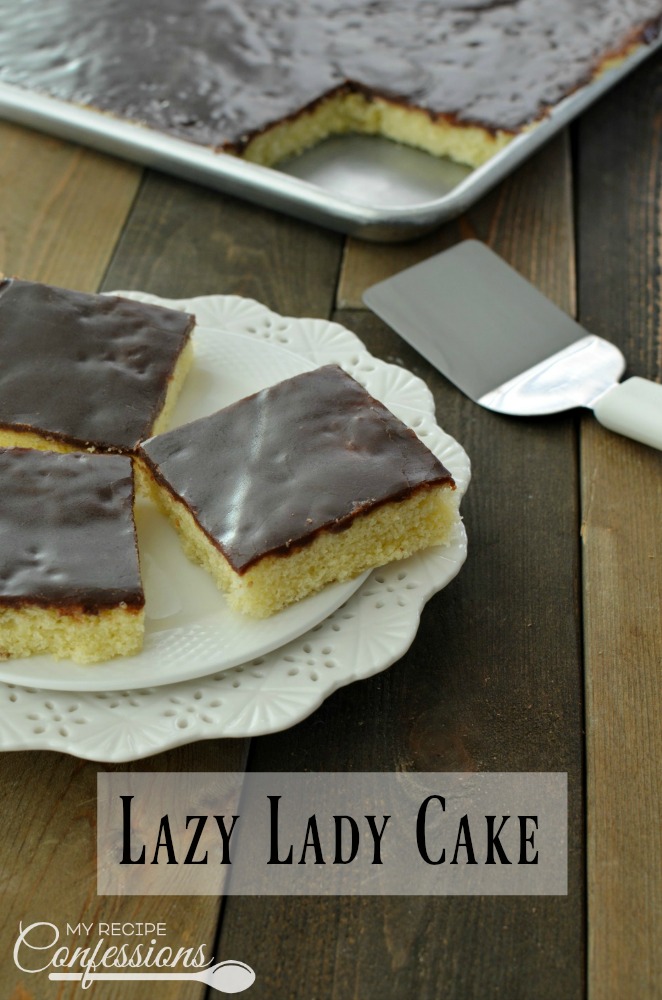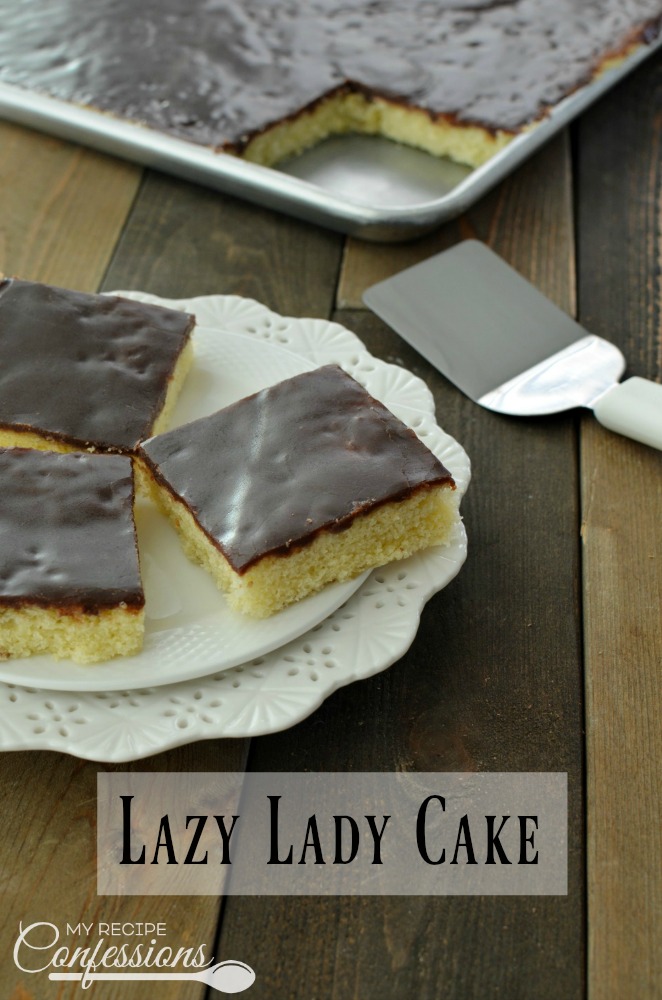 Because the size and type of pan that my grandma baked the cake in isn't readily available, I had to make a few adjustments to the recipe. I baked the cake in a baking sheet (13 x 18 x 1 inch) just like a Texas Sheet Cake.  The original recipe says to bake the cake at 300 degrees for 25 minutes. I found that at 300 degrees the cake took a lot longer to bake than 25 minutes and the cake was a bit dry. I bumped the time up to 350 degrees for 25 to 30 minutes and the cake was perfect. The original recipe also called for brown sugar in the frosting. The frosting had a delicious flavor, but it also had a grainy texture because of the brown sugar. I don't remember my Grandma's frosting being grainy. I found that if I used powder sugar instead of brown sugar, it would result in the same taste but a smoother texture. I love this cake and I know you will feel the same way.
*This post contains affiliate links. That means I receive compensation if you purchase something from these link.
This is the pan that I bake this cake in.

With love from my kitchen to yours,
Carrie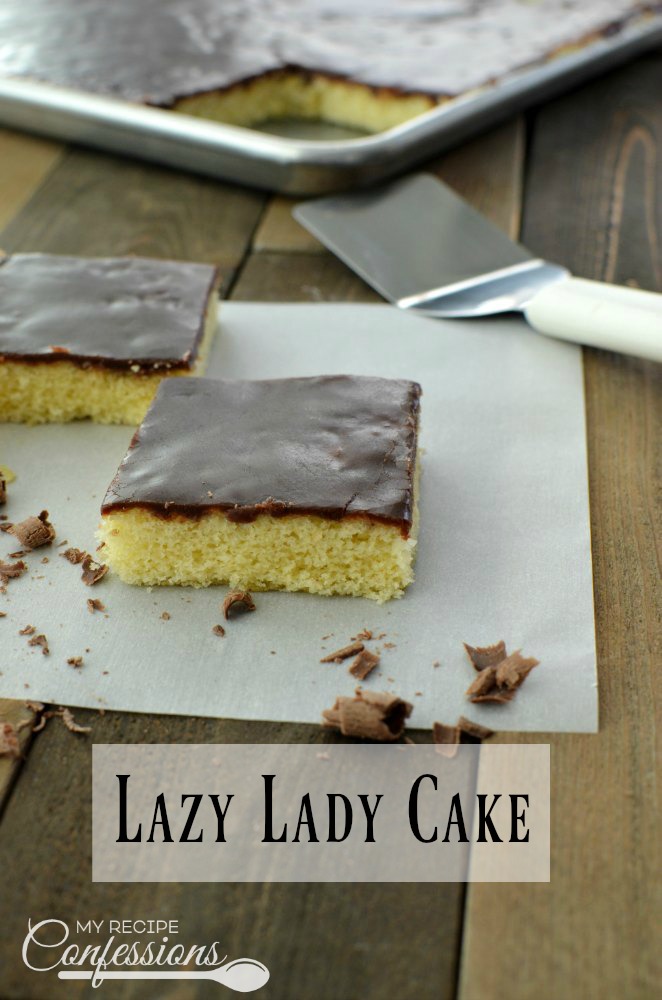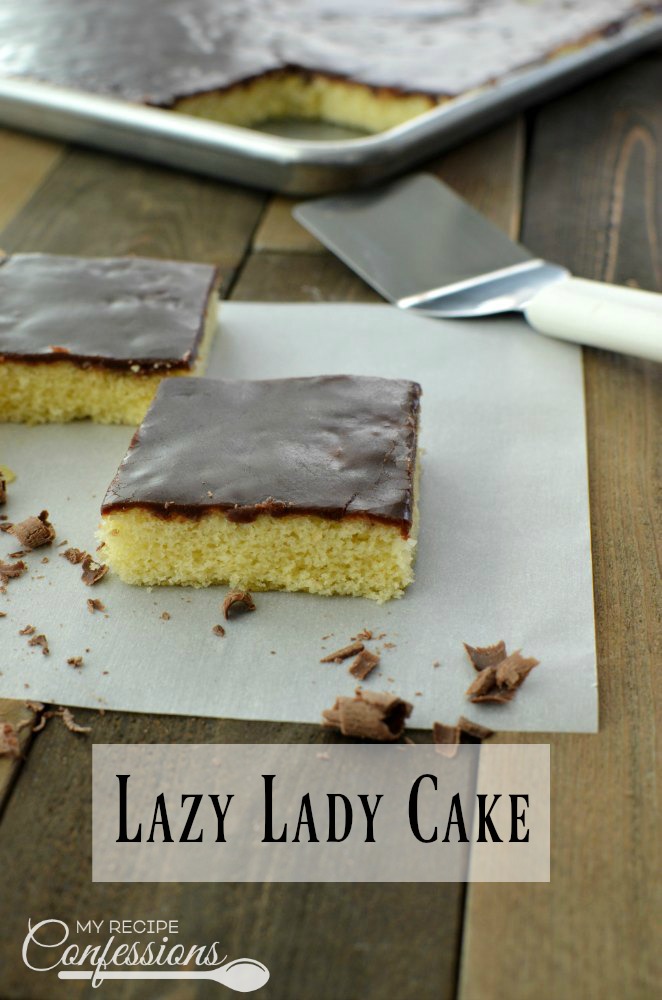 Lazy Lady Cake
4 eggs
2 cups of granulated sugar
2 cups of cake flour
2 tsp. baking powder
1/2 tsp. salt
2 tsp. of vanilla
1 cup of milk
2 tbsp. of butter
Frosting
8 tbsp. of butter
1/2 cup of dutch processed cocoa
1 tbsp. of corn syrup
3/4 cup of heavy whipping cream
3 cups of powder sugar
1 tsp. of vanilla
Instructions
Pre-heat oven to 350 degrees
In a large bowl, beat the eggs until light and frothy. Add 2 cups of granulated sugar gradually into eggs.
Add cake flour, baking powder, salt, and vanilla to the egg mixture.
In a large sauce pan, heat the milk and butter to boiling point. Add the hot milk mixture into the cake batter and mix together. Pour the batter into a greased cookie sheet pan. Place in the oven and bake for 25- 30 minutes or until a toothpick inserted in the center comes out clean.
10 minutes before cake is finished baking, add the butter and cocoa in a medium-sized sauce pan over medium-high heat. Stir until the butter is completely melted.
Add the corn syrup and the heavy cream to the sauce pan and continue to stir until smooth and creamy. Add the powder sugar and vanilla. Continue to stir until smooth and creamy.
Pour the hot frosting over the top of the hot cake. Evenly spread the frosting over the cake.  Place the cake under the broiler set on low for 1 minute. Allow the cake to cool completely before serving.
Here are a few other recipes you should try.