Classic Thanksgiving Stuffing is the traditional stuffing that we all know and love. This is my go-to stuffing recipe because it is simple, yet moist and flavorful.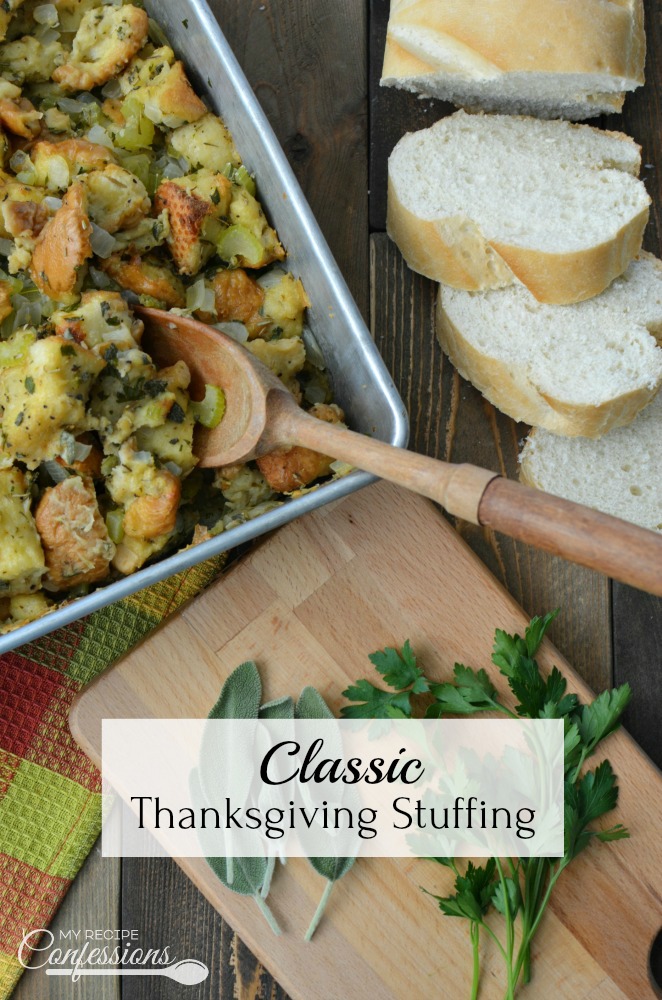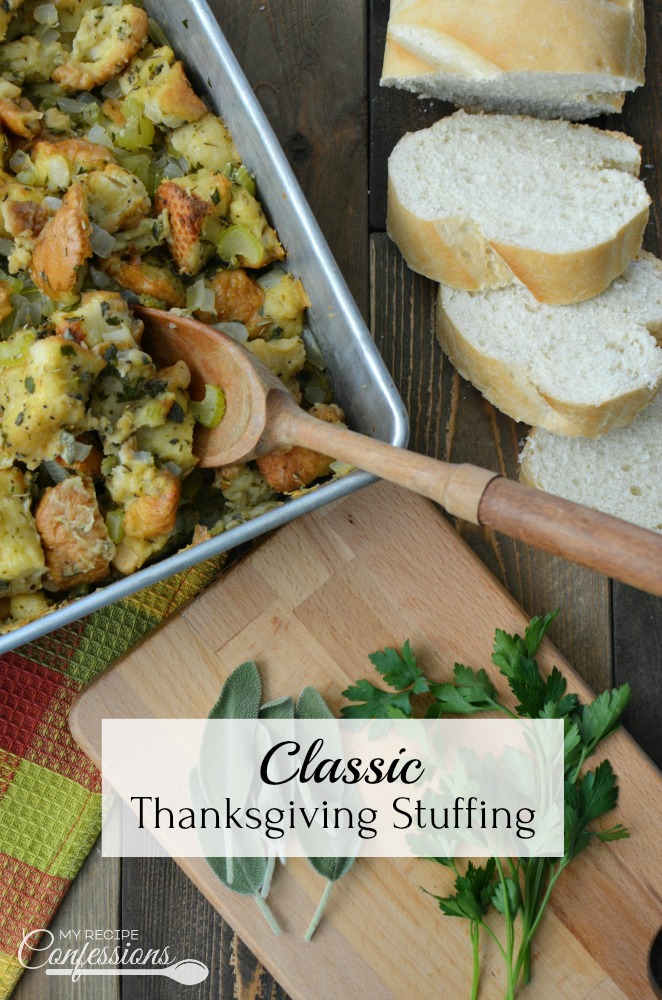 Classic Thanksgiving Stuffing is one of my favorite Thanksgiving dishes. I look forward to eating the stuffing just as much as the turkey.
I love the simplicity of this recipe and that it still has all of the classic flavors you would expect for Thanksgiving stuffing. If you like mushrooms, nuts, or dried fruit in your stuffing, go ahead and add it but it definitely is not necessary because this Classic Thanksgiving Stuffing can hold its own as is.
Whenever I think about my childhood Thanksgivings, two things come to mind. My Grandpa carving the turkey and Grandma's stuffing. I remember going over to my Grandma and Grandpa's house for Thanksgiving. Their house always smelled absolutely amazing. My grandma was an incredible cook. Each year she would make the turkey and stuffing and everybody else would bring the other dishes.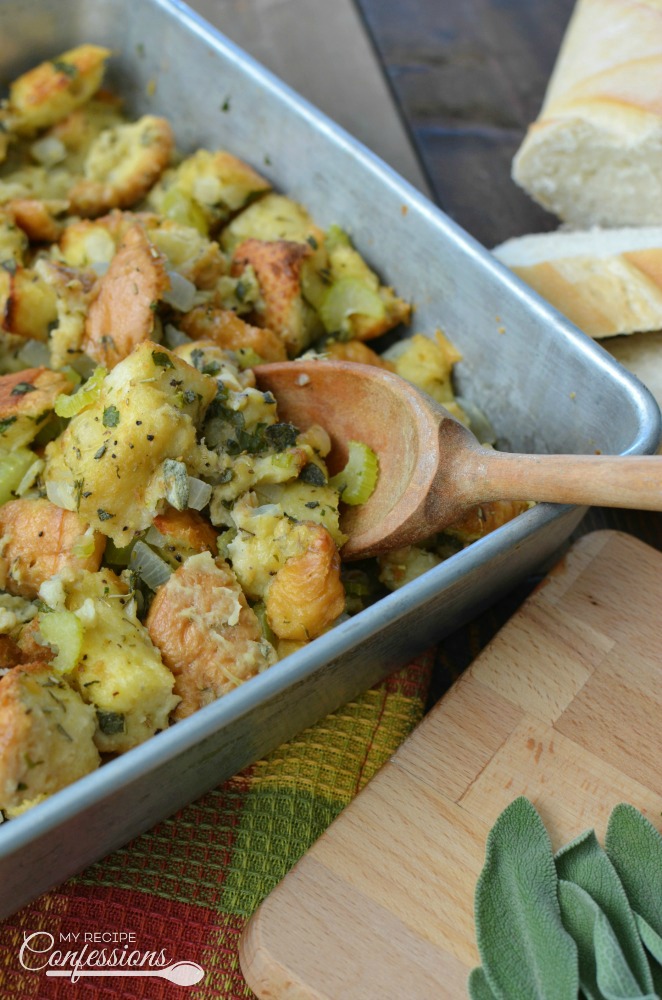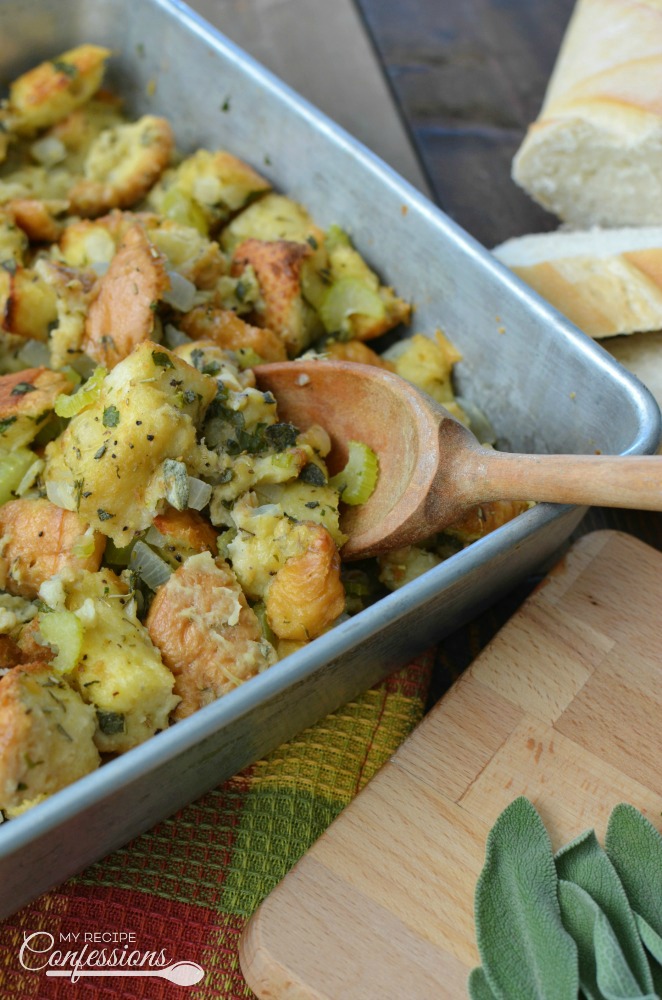 There were a lot of family members that would come so we had to cram in their house. Later as the family continued to grow in size, we had to change our location to a church because that was the only building large enough to fit us all. Thanksgiving should be filled with family and lots of good food, don't you think?
I like my stuffing soft and moist but not soggy. This is where the eggs come in. The eggs help the stuffing to set up better.
If you want to save some time on Thanksgiving Day, you can cube the bread the night before and spread the bread cubes out in a single layer on baking sheets to dry overnight. If you don't have to dry the bread out in the oven you can skip the first step in the recipe and save 25 minutes on Thanksgiving Day.
With love from my kitchen to yours,
Carrie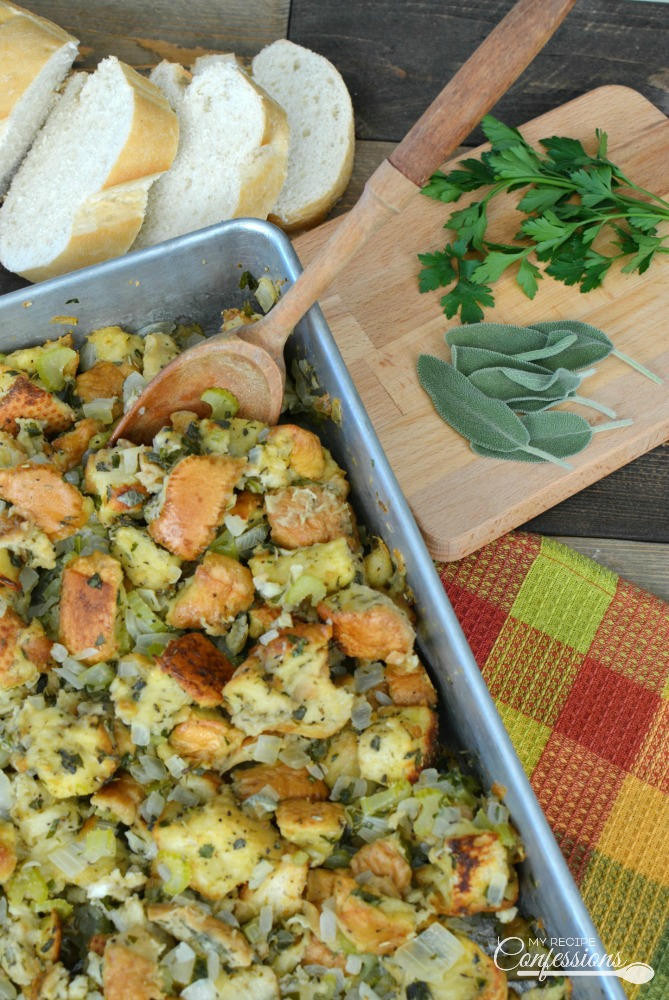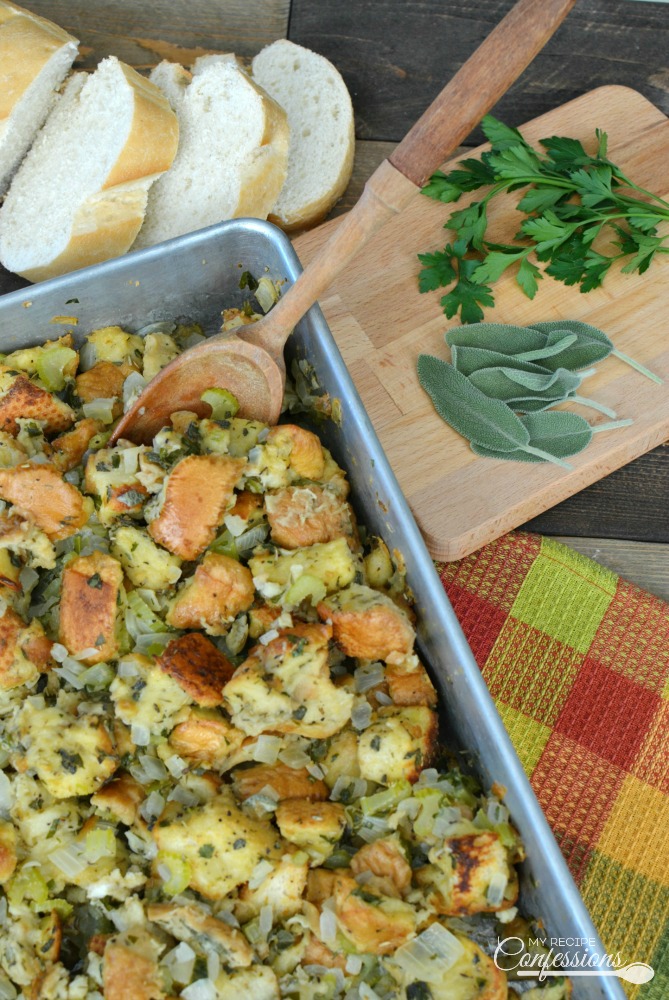 Classic Thanksgiving Stuffing
10 cups of french bread, sliced into 1 inch cubes
1/4 cup of butter
1 1/2 cups of onion, diced
1 1/2 cup of celery, diced
1/4 cup of flat leaf parsley. minced
1 tsp. of thyme
1 tsp. of rosemary
1 tbsp. of fresh sage or 1 tsp. of dried sage
1/2 tsp. of black pepper
2 eggs
3 cups of chicken broth, divided
Instructions
Pre-heat the oven to 325°. Spread the cubed french bread out evenly onto two baking sheets. Place the baking sheets in the oven and bake for 25 minutes to dry the bread out.
Place the cubed dried bread into a greased 9×13 pan.
Pre-heat the oven to 425° Fahrenheit.
In a medium sauce pan, sauté the onions, celery, and garlic in the butter until tender and translucent. Mix in the seasoning, fresh herbs, and 2 /12 cups of chicken broth. Remove the pan from the heat.
In a bowel, whisk the remaining 1/2 cup of chicken broth with the eggs. Pour the egg mixture evenly over the cubed bread and gently toss.
Drizzle the onion mixture over the cubed bread and fold gently until thoroughly combined. Cover the pan with tin foil and bake for 30 minutes. Remove the foil and bake uncovered for an additional 20 minutes.
Here are a few other recipes you might enjoy.