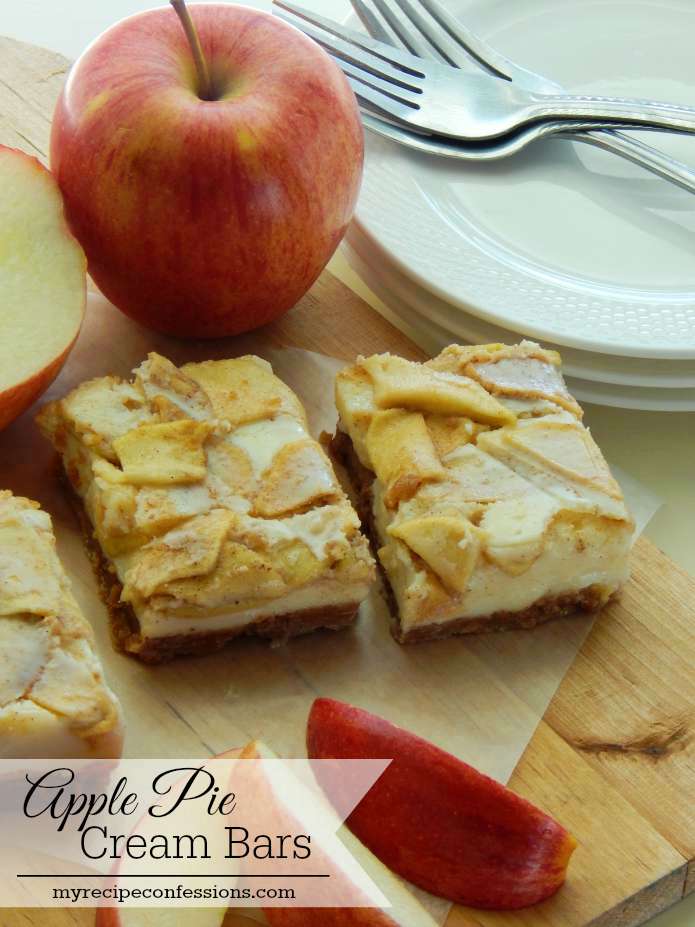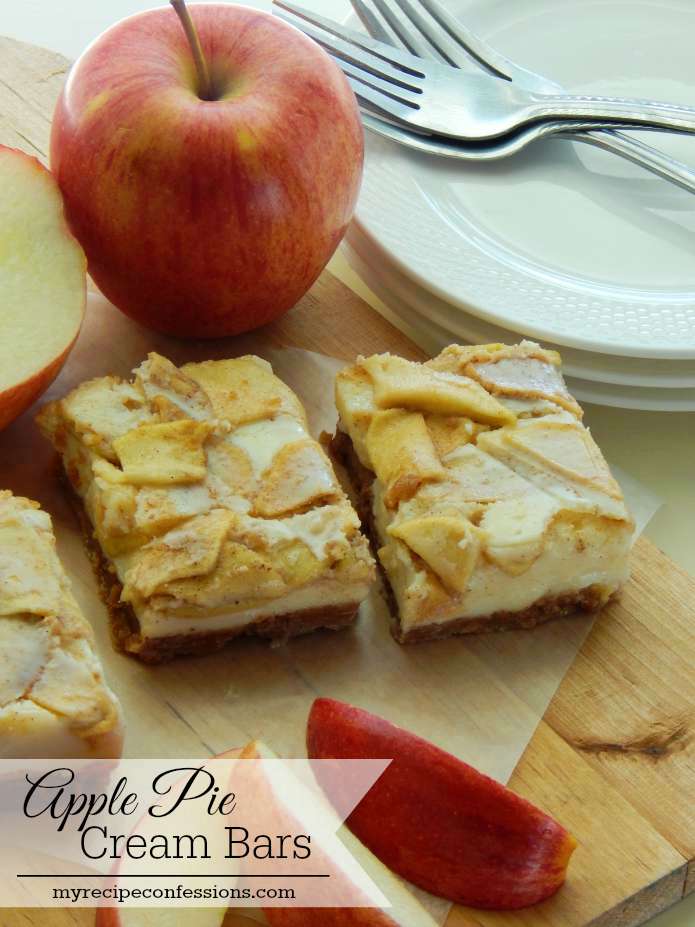 These Apple Pie Cream Bars remind me of when I was little and would sit on the back porch eating a slice of my mom's hot apple pie with a scoop of vanilla ice cream on top. Mmmm, it was heavenly! I guess you could say these bars are like a apple pie a la mode in bar form. They are great for when you have to feed a large crowd and you don't want to make a bunch of pies. They are also good for when you just need an apple pie fix with out all the fuss that goes into making a homemade pie
I was inspired for this recipe after Maria from Real Life Dinner adapted my Raspberry Custard Pie recipe and made Fresh Raspberry Lemon Tart Bars. I thought the idea was genius! I started thinking of all the other varitations I could make. That is when the idea for Apple Pie Cream Bars came to me.  Thanks again Maria!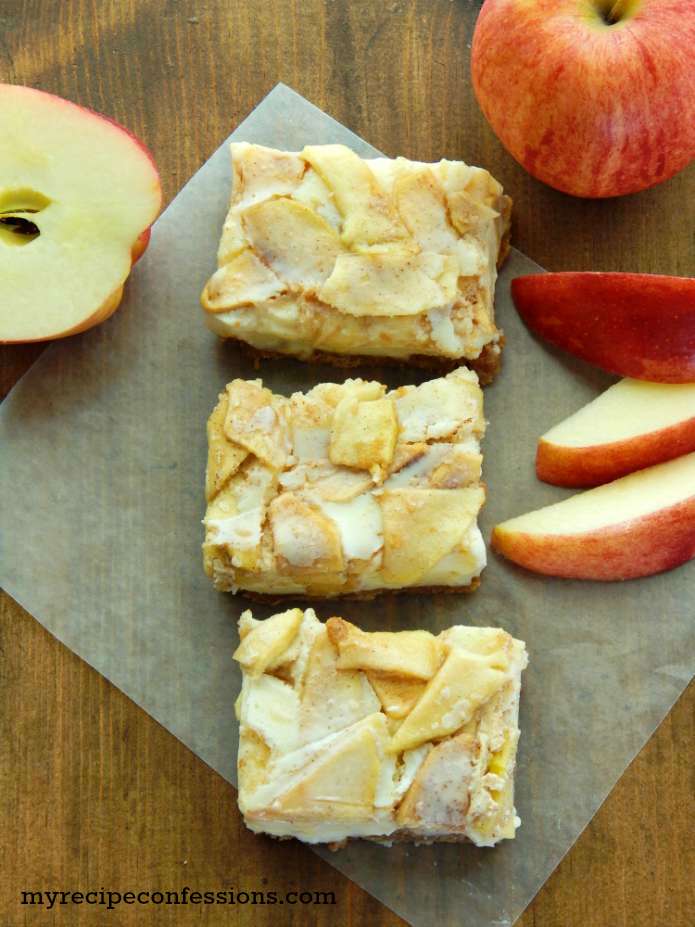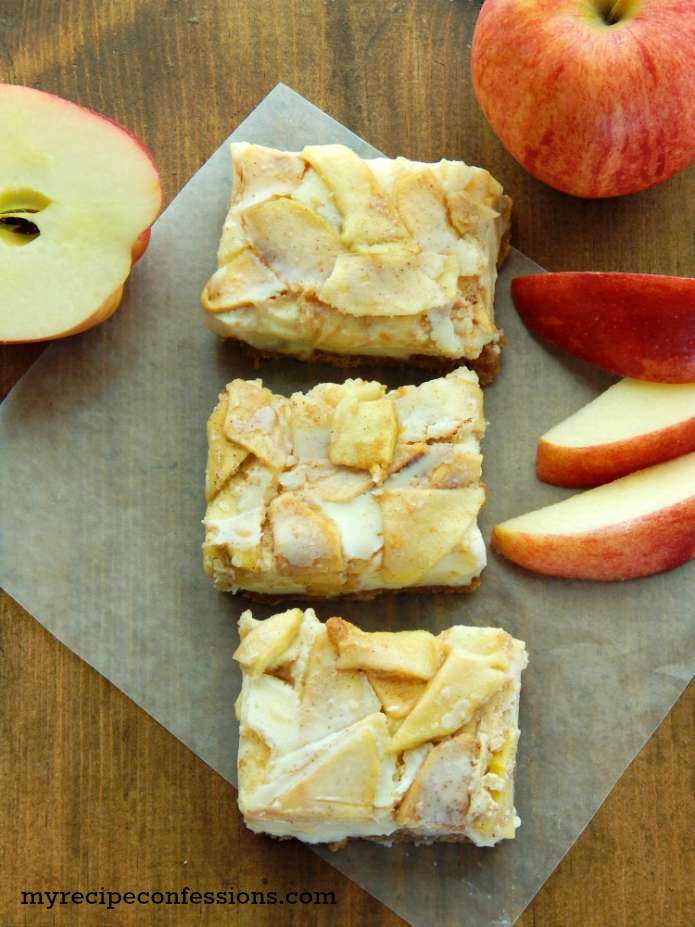 I like to use a mixture of small Granny Smith apples and Gala apples in this recipe. I think the two kinds of apples compliment each other very nicely. Between the three small apples that this recipe calls for, you should have about 2 1/2 to 3 cups of sliced apples. If you want to substitute the small apples for large ones, just use one of each.
With love from my kitchen to yours,
Carrie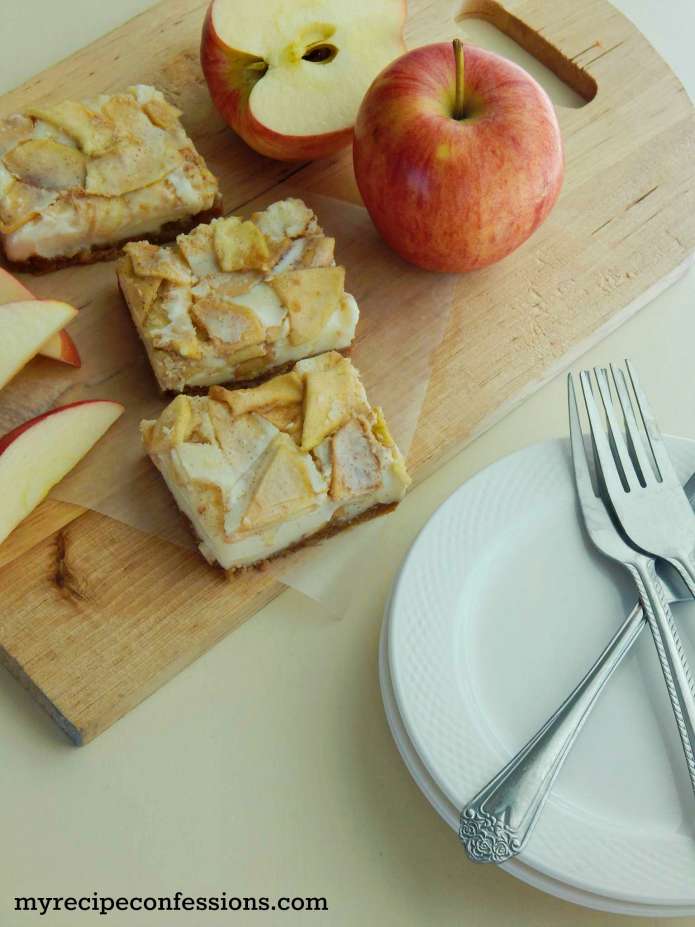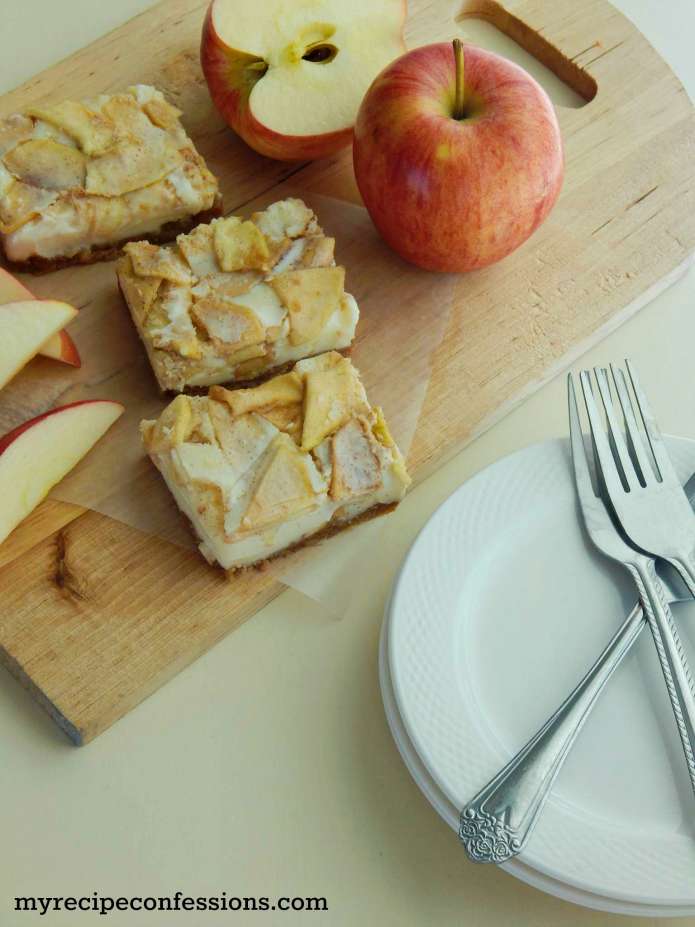 Apple Pie Cream Bars
Crust:
1  1/2 pkgs. of graham crackers
1/2 cup of butter, melted
1/3 cup of brown sugar
1 tsp. of cinnmamon
Apples:
2 sm. granny smith apples, peeled and thinly sliced
1 sm. gala apple, peeled and thinly sliced
1 tbsp. of lemon juice
1/4 cup of brown sugar
1/2 tsp. of cinnamon
1/4 tsp. of allspice
1/8 tsp. of ground cloves
Filling:
2 cans of sweetened condensed milk
1 cup of sour cream
2 tbsp. of lemon juice
Instructions
Pre-heat the oven to 350 degrees
1. In a food processor, grind up the graham crackers until it is as fine as sand. Add the brown sugar, cinnamon, and the butter and mix until it is all combined. Spray a 9×13 inch pan with baking spray and press the graham crackers crumbs evenly on the bottom of the pan (I have a small rolling pin that I like to roll over the crust to even it out). Place the pan in the oven and bake for 10 minutes.
2. In a medium-sized bowl, toss the peeled and sliced apples and lemon juice together. Add the brown sugar, cinnamon, all-spice, and ground cloves and toss to coat. Evenly spread out the apples over the graham cracker crust.
3. Whisk together the sweetened condensed milk, sour cream, and lemon juice in a bowl. Pour the cream filling over the apples and place in the oven. Bake for 25-30 minutes or until the edges are a light golden brown and the center slightly jiggles. Remove from the oven and cool for 30 minutes. Place in the refridgerator for an additional 2 hours. Cut into bars and serve. Cover and refrigerate any left over bars.
Here are a few other recipes you might enjoy.