My kids would eat pancakes for all three meals if I let them. At my house we like to eat breakfast foods for dinner, after all, there is no reason to waste perfectly good food on just one meal a day… right?
I found this recipe on Allrecipe.com. It is a five-star recipe with 5,382 reviews. Come on, after seeing that many reviews, I had to try it! I must say, I was not disappointed! These pancakes are so fluffy and flavorful.  I did add an additional 1/4 cup of buttermilk. Otherwise the batter was too thick to pour onto the grill.
I also made some homemade raspberry maple syrup. I found this recipe in the America's Test Kitchen Family Baking book. It is a given that any recipe from America's Test Kitchen will be amazing!  I love that cookbook. If you like to bake from scratch you need this cookbook. It has everything from quick bread and muffins to custards, puddings, and souffles.
This syrup has a very fresh and vibrant raspberry flavor with a hint of maple. It is fabulous! Another great thing about this syrup is you can switch out the raspberries for any berry of your choice. It will keep for up to one month covered in the refrigerator. Just gently reheat before serving.
These pancakes and syrup would be perfect for breakfast on Christmas morning! Then again, they would be perfect for just about any meal that you want to please everybody who eats it.
Until Next time,
Carrie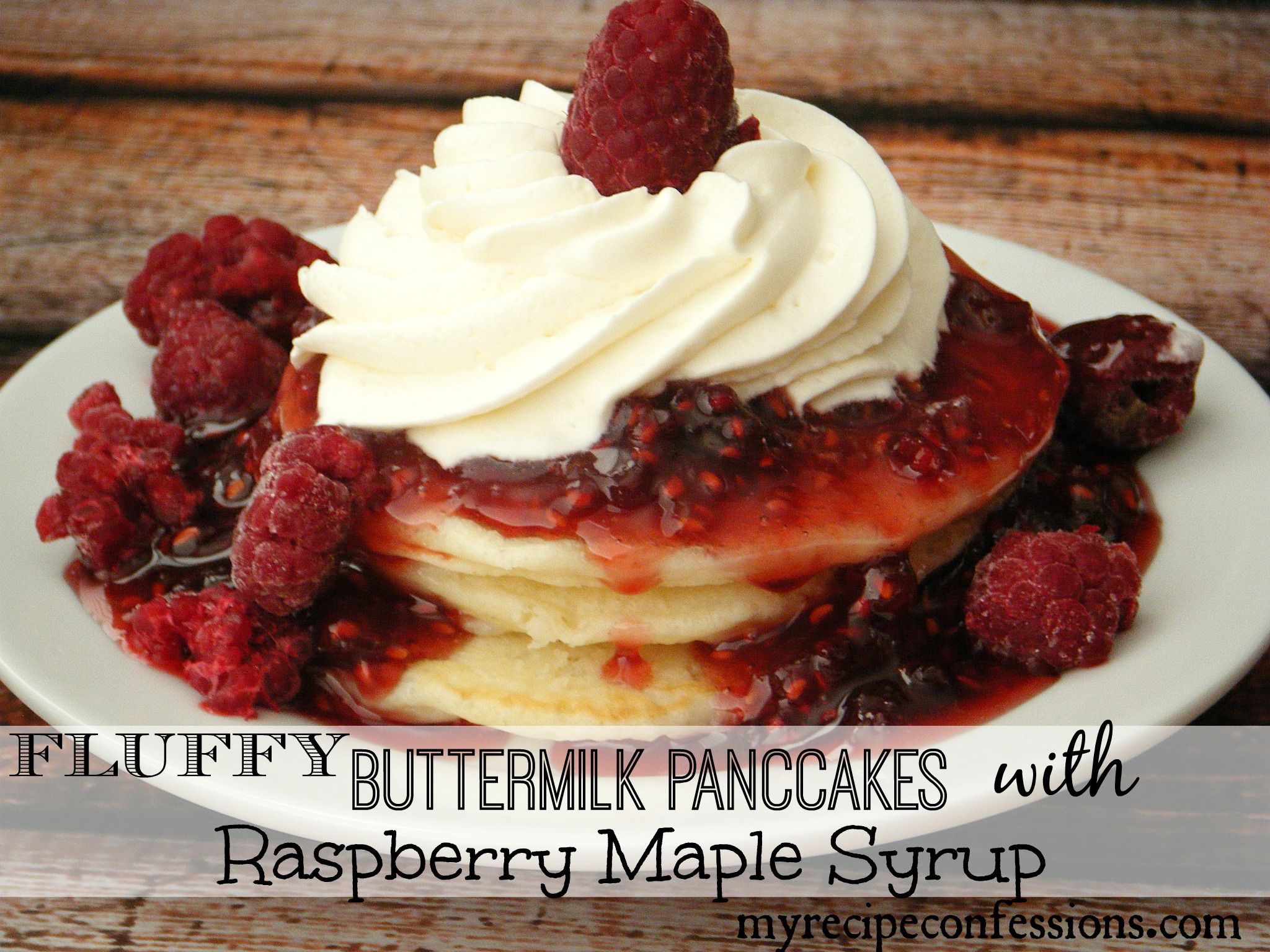 Fluffy Buttermilk Pancakes
makes about 8 pancakes
1 cup of buttermilk
2 Tbsp. granulated sugar
1 cup of all-purpose flour
1 tsp. baking powder
1/2 tsp. baking soda
1/2 tsp. salt
1 egg
2 tbsp. butter, melted
Directions:
1. Whisk egg and melted butter into buttermilk. Combine the dry ingredients in a medium-sized bowl. Make a well in the center of the flour. ( the "well" method helps to prevent over mixing)
2. Pour the buttermilk mixture into the well and gently whisk together until just incorporated. *Do not over mix, the batter will actually have a few lumps. Your pancakes will be dense if you over mix the batter.
3. Spray a large skillet with cooking spray. Heat the skillet over medium high heat.
4. Using a 1/4 cup measuring cup pour the pancake batter into the heated skillet.
5. Cook the pancakes until the first side forms little bubbles in the batter. Flip it over to the next side and cook until golden brown. Drizzle the raspberry maple syrup over the top and serve immediately. Repeat this process with the remaining pancake batter.
*If the pancake is not a golden brown when you flip it, the heat needs to be turned up. If the skillet is not hot enough it, will produce gummy pancakes.
Recipe adapted from Fluffy Pancakes Recipe on allrecipe.com
Raspberry Maple Syrup
makes about 1  3/4 cup of syrup
1/2 cup frozen raspberries
1  1/2 cup of maple syrup
1 /4 tsp. lemon zest
pinch of salt
Directions
1. Cook the raspberries in a small saucepan over medium high heat, mashing them constantly until the moisture has evaporated, about 5 minutes.
2. Whisk in the remaining ingredients, reduce the heat to medium low and cook until slightly thickened, 5 to 7 minutes. Enjoy!
Recipe from, The Amercia's Test Kitchen Family Baking Book
This recipe is linked to: