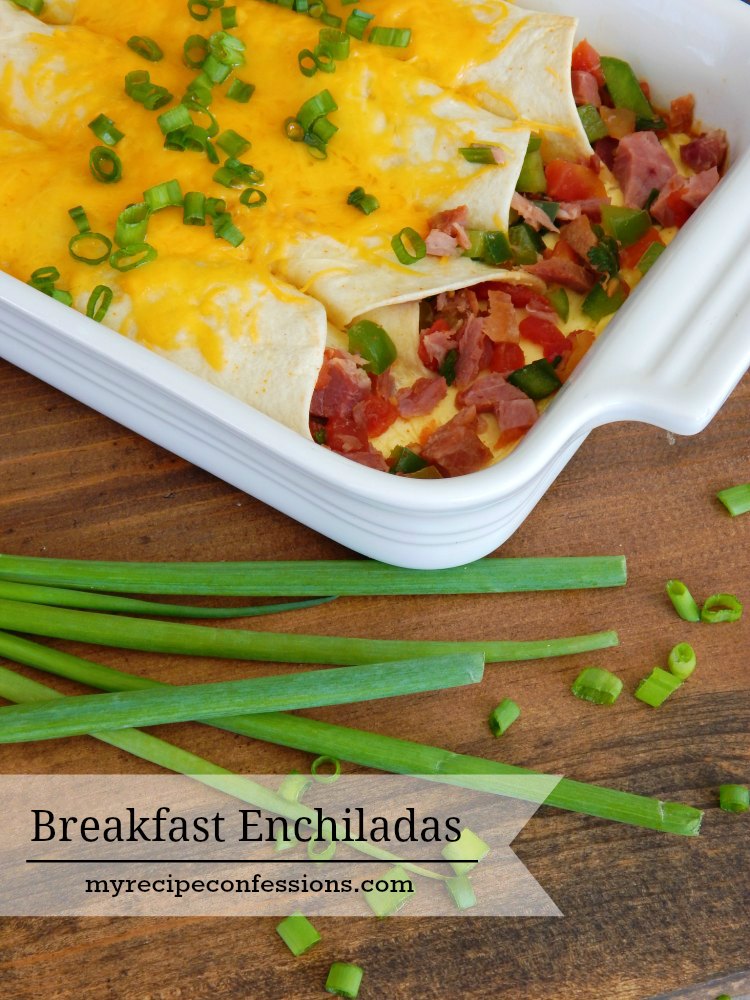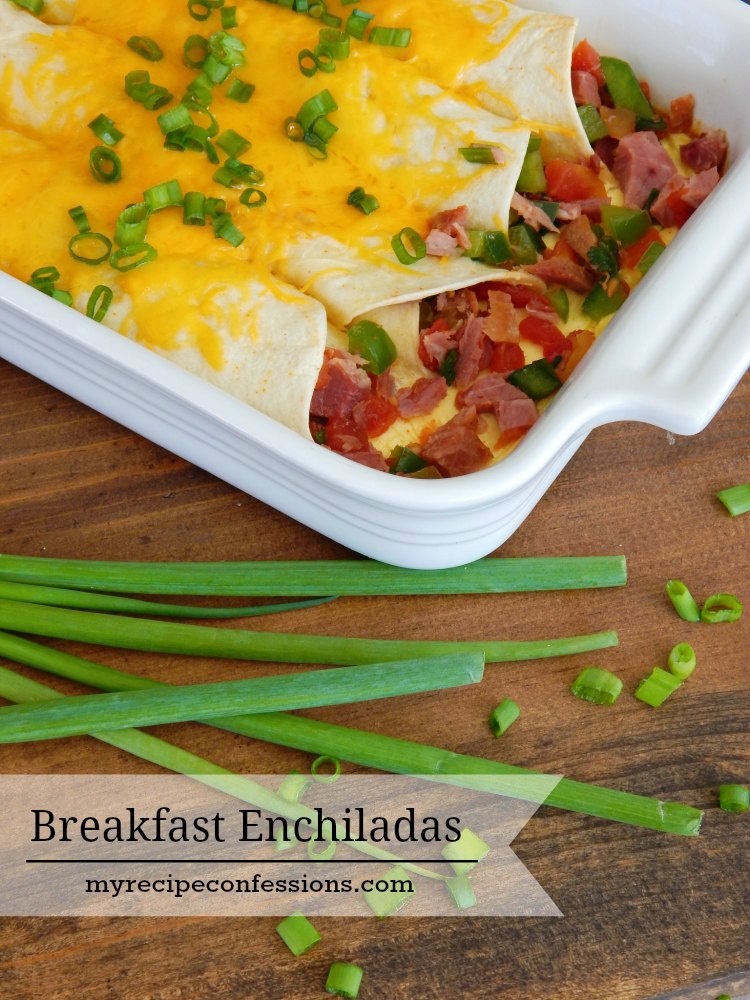 We like to eat breakfast for dinner at our house. I made these Breakfast Enchiladas a few days ago and my family devoured it. In fact, my kids have already asked me to make it again.
I love that I can prepare this dish the night before and then pull it out of the fridge and bake it just before dinner time. Being able to prepare the dish the night before can be really helpful on nights that I am busy with other things and don't have a lot of time to prepare dinner. It is also a great brunch recipe. This recipe would be perfect served on Easter or Christmas morning! You don't even have to wait for a special occasion to make it. It's amazing no matter when you make it!
With love from my kitchen to yours,
Carrie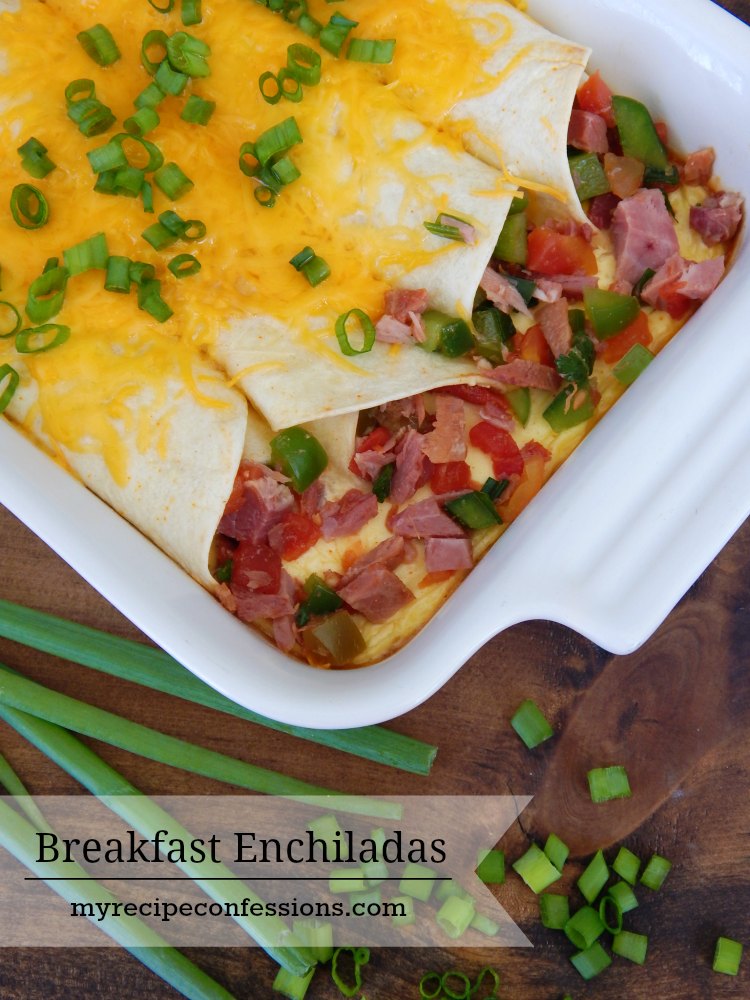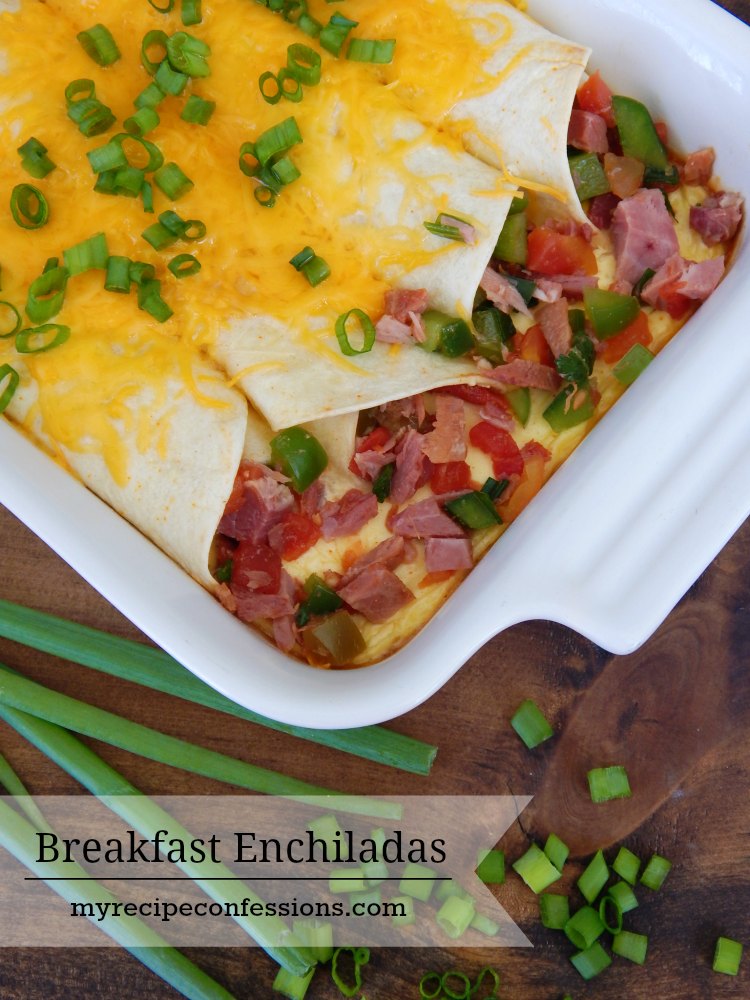 Breakfast Enchiladas
2 cups of ham, diced
1/2 cup of green onions
1 green bell pepper
1 (10oz.) can of rotel
1 tbsp. of cilantro, diced
1/2 tsp. of cumin
3 cup of cheese, shredded
2 1/2 cups of half & half
5 eggs
3 tbsp. of flour
1/2 tsp. of of paprika
1 tsp. of salt
1 tsp. of garlic powder
12 (10 inch) flour tortillas
Instructions
pre-heat oven to 350 degrees
Spray a 9×13 pan with baking spray and set aside. In a large bowl, mix the ham, green onions,green bell pepper, rotel, cilantro, and cumin together.
Place 1 to 1 1/2 tbsp. of filling on each flour tortilla. Sprinkle 2 tsp. of cheese over the top and roll up. Place the filled tortillas in the prepared 9×13 pan.
In a medium bowl whisk the eggs, half & half, flour, paprika, garlic powder, and salt together until well combined.
Pour the egg mixture over the enchiladas and sprinkle with the remaining cheese. Cover with foil and place in the fridge overnight or for 4 -6 hours.
Bake in the oven for 60 to 70 minutes or until the egg mixture is set up. Serve with fresh salsa.
Here are a few other recipes you might enjoy.