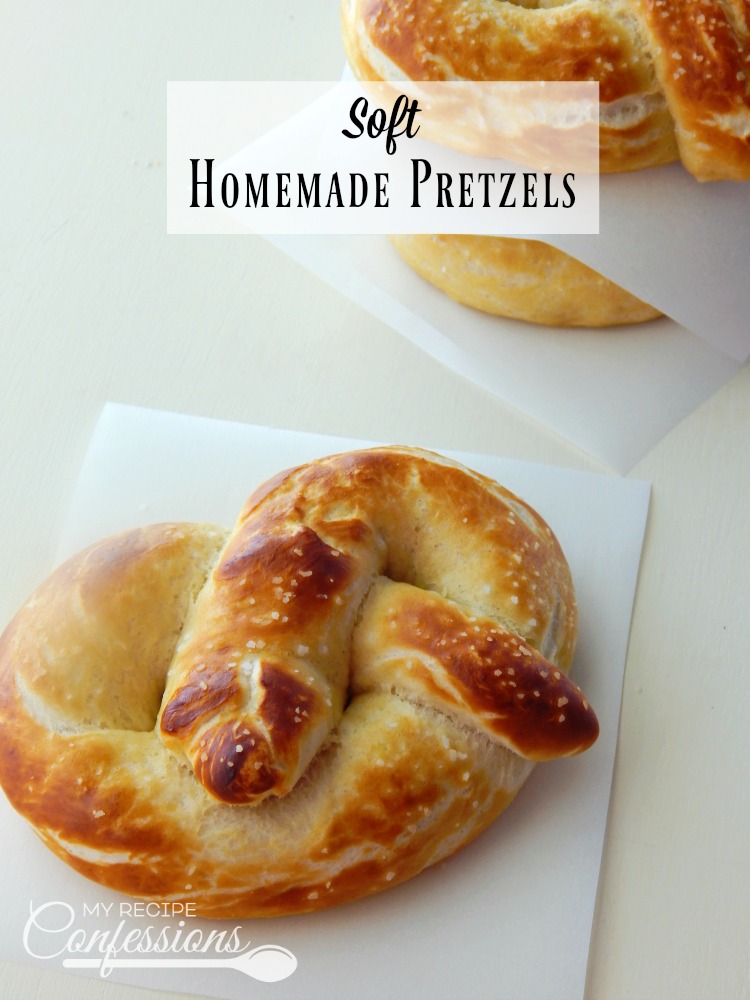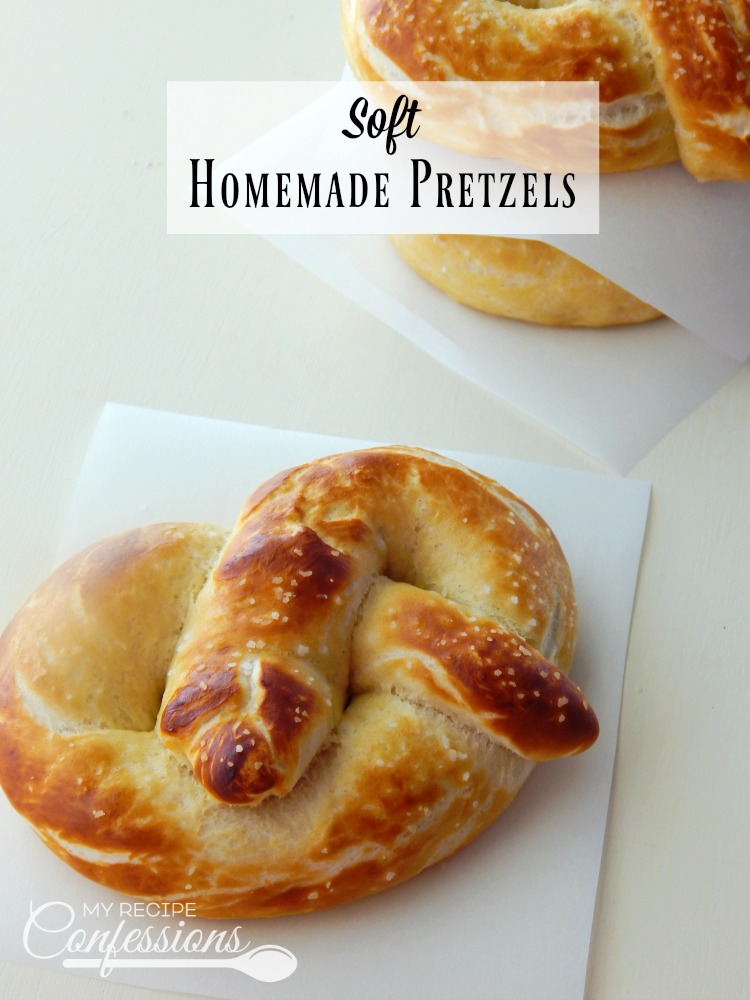 Soft Homemade Pretzels are my weakness! These pretzels are super soft and chewy. They are just as good, if not better than the mall pretzels. They are actually pretty simple to make too. Which makes them that much better. You don't want miss out on these delicious pretzels!
Soft Homemade Pretzels will give the mall pretzels a run for their money! I love the pretzels they sell at the mall. I wanted to give them a try at home because I can't always be rushing up to the mall every time I get a craving for some soft pretzels. These Soft Homemade Pretzels are actually pretty simple to make. The only thing that sets them apart from making bread is that you place the pretzel dough in a pot of boiling baking soda water solution. This solution is what gives the pretzels that chewy texture that we all love. Without the baking soda water solution, the pretzels will be a fancy breadstick. Don't worry, you won't taste the baking soda at all.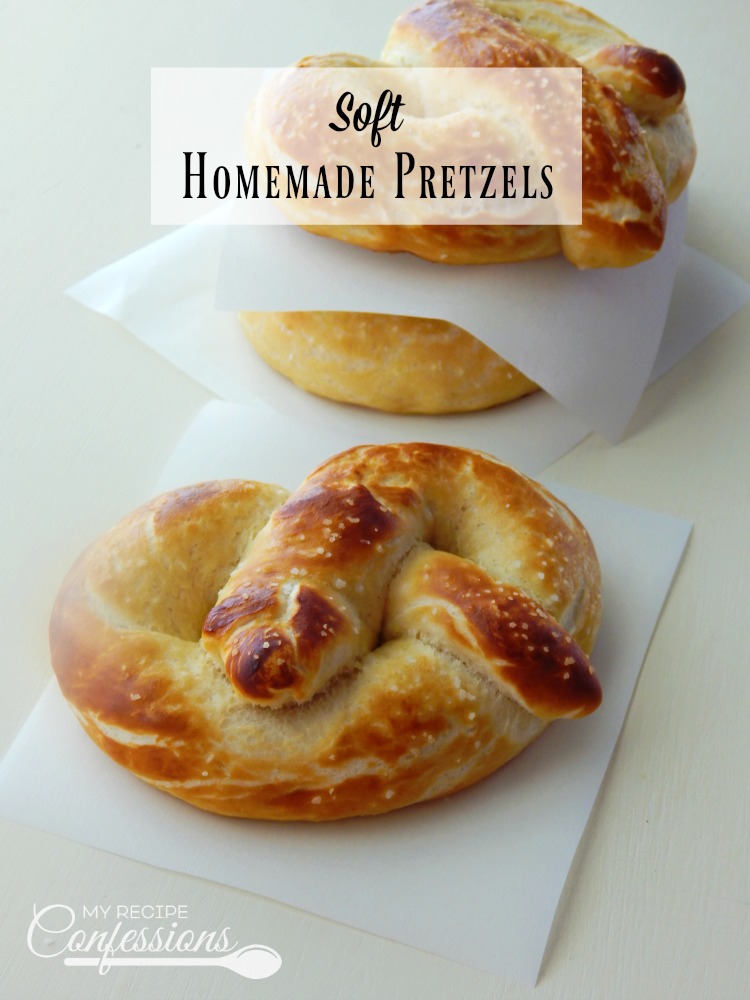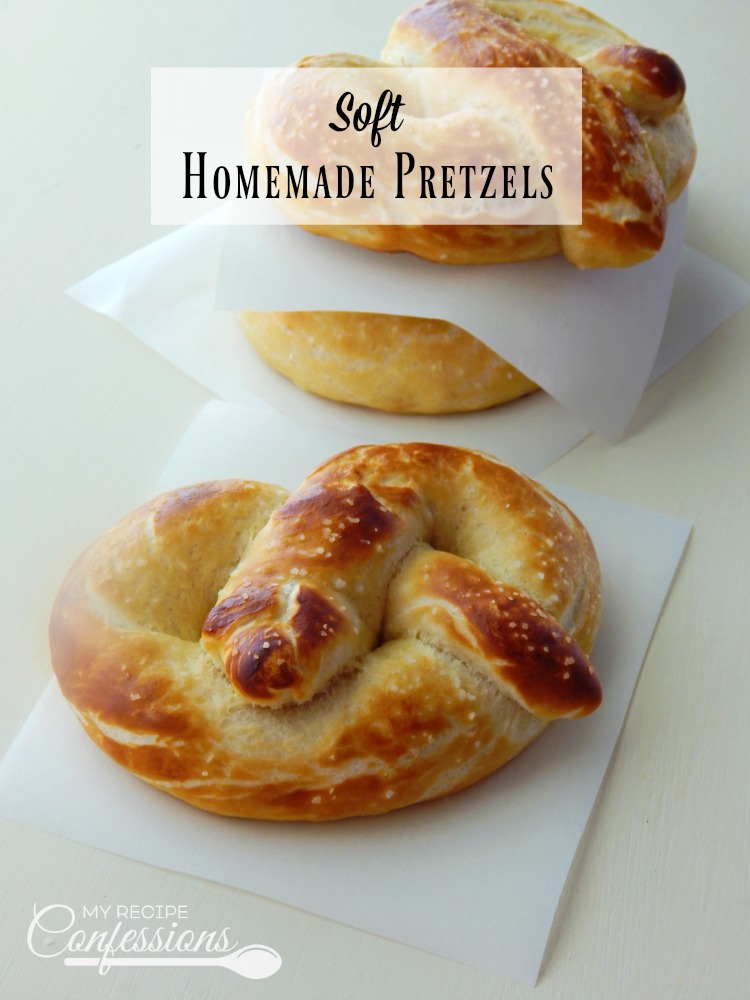 My kids love to help me make the pretzels. They are getting really good and rolling the dough out into ropes. We need to work on their pretzel shaping skills. I guess we will just have to keep making the pretzels over and over until they get it down. It's rough I know, but pretzel shaping is a valuable life skill that everybody needs to master.
Stay tuned tomorrow for fun kid-friendly twist on this Soft Homemade Pretzel recipe.
With love from my kitchen to yours,
Carrie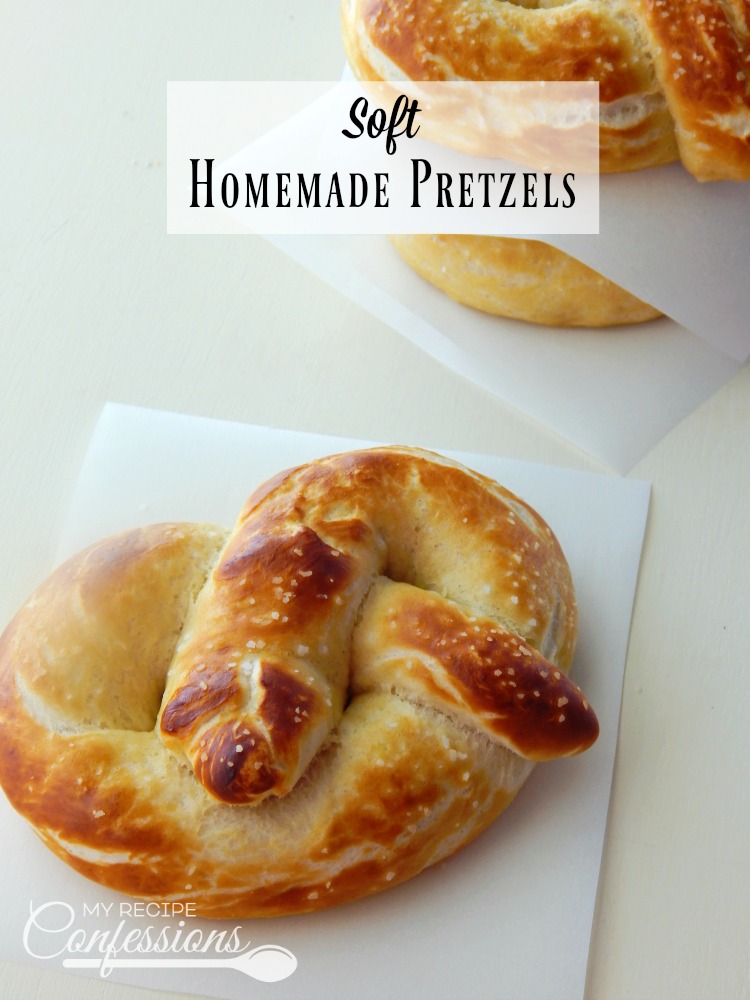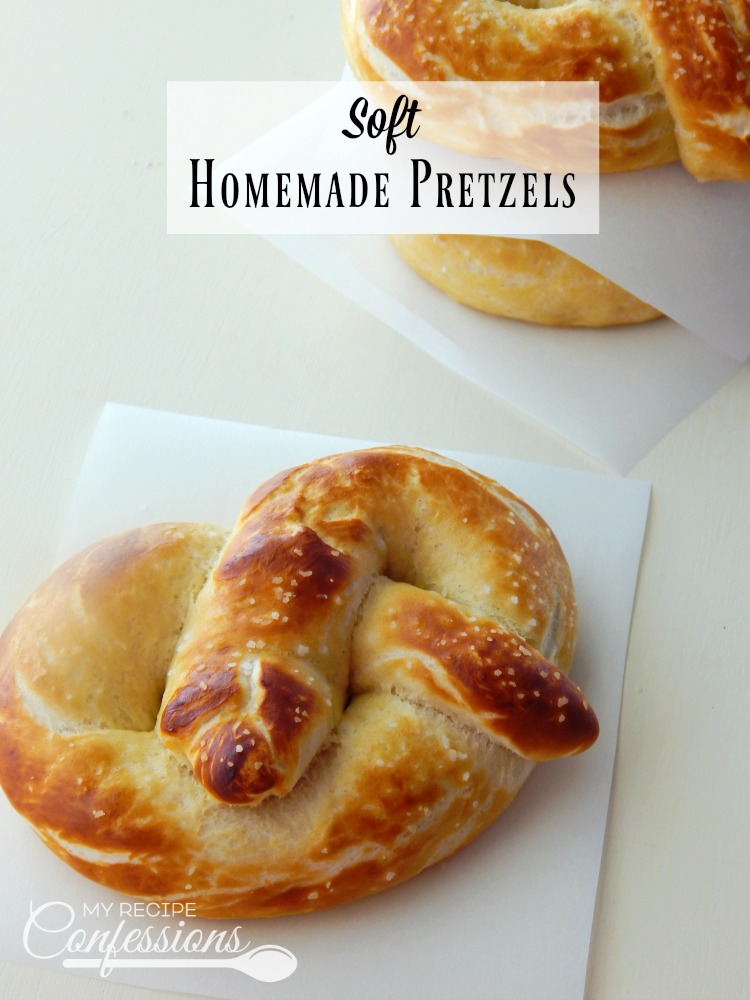 Homemade Soft Pretzels
makes 12 pretzels
1  1/2 tbsp. of yeast
2 tbsp. of light brown sugar
3 tbsp. of granulated sugar
2 cups of warm water
1/4 cup of butter, melted
2 tsp. of salt
3  1/4- 3  1/2  cups of all-purpose flour
10 cups of water
2/3 cups of baking soda
1 egg yolk, beaten
1 tbsp. of cool water
1 tbsp. of sea salt
cooking spray
Instructions
Preheat the oven to 450 degrees
1. In a stand mixer, dissolve the yeast and sugars in the 2 cups warm water. Let it stand for 5 minutes.
2. Mix the 1/4 melted butter into the water mixture. Add the 2 tsp. of salt and 1 cup of flour and mix on low speed until combined.
3. Add another cup of flour and mix on medium speed until the flour disappears. Add the final 1  1/4 cup of flour and mix. If the dough is still really sticky, add an additional 1/4 cup of flour. Knead the dough until it starts to pull away from the sides of the bowl and is really smooth about 3 to 4 minutes.
4. Spray some cooking spray in the bowl and place the dough in the bowl. Spray a sheet of plastic wrap with cooking spray and place it right on top of the dough. Place the bowl in a draft-free spot and allow to rise until double in bulk, about 30 minutes.
5. In a large shallow saucepan, bring the 10 cups of water and 2/3 cups of baking soda to a boil. Divide the dough into 12 equal sections. Roll each section into a 24-inch rope. To form the pretzel, cross the two ends over each other and press them onto the bottom of the U. In a small bowl whisk the egg yolks and 1 tbsp. of cool water together.
6. Place the pretzels one at a time into the boiling water for 30 seconds. Remove the pretzels with a slotted spatula and place on a parchment sheet lined baking sheet sprayed with baking spray. Spacing them 2 inches apart. Brush the pretzels with the egg yolk mixture and sprinkle some sea salt on top. Bake in the oven for 10 to 12 minutes or until the pretzels are a golden brown. Enjoy!
Here are a few other recipes you might enjoy.