Cornbread, Bread Recipe, Side Dish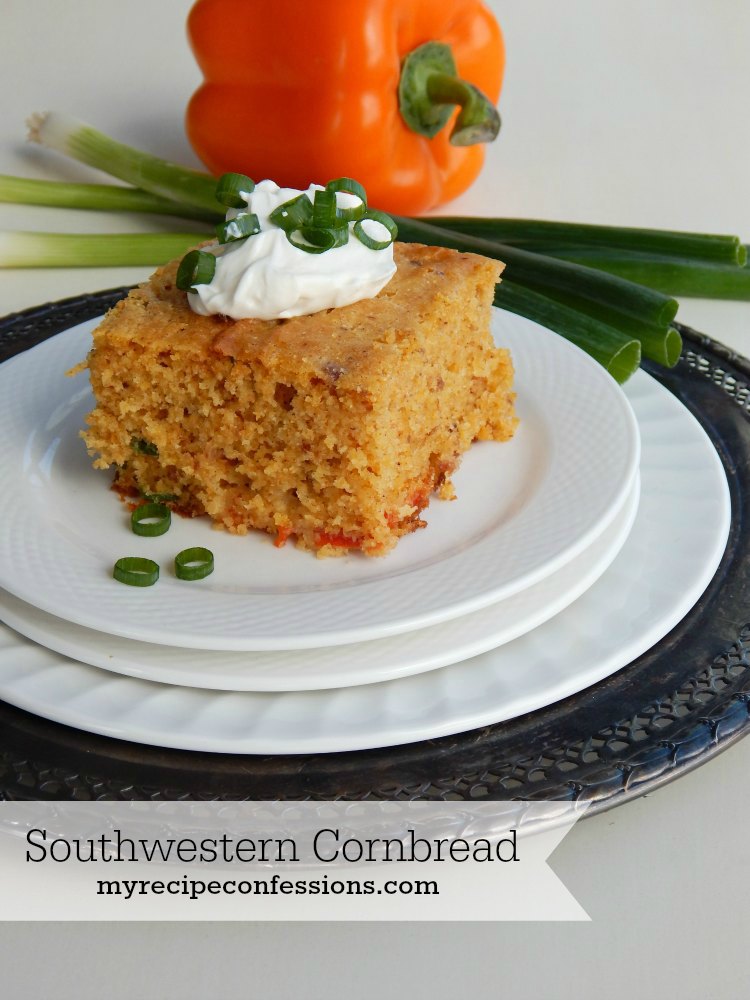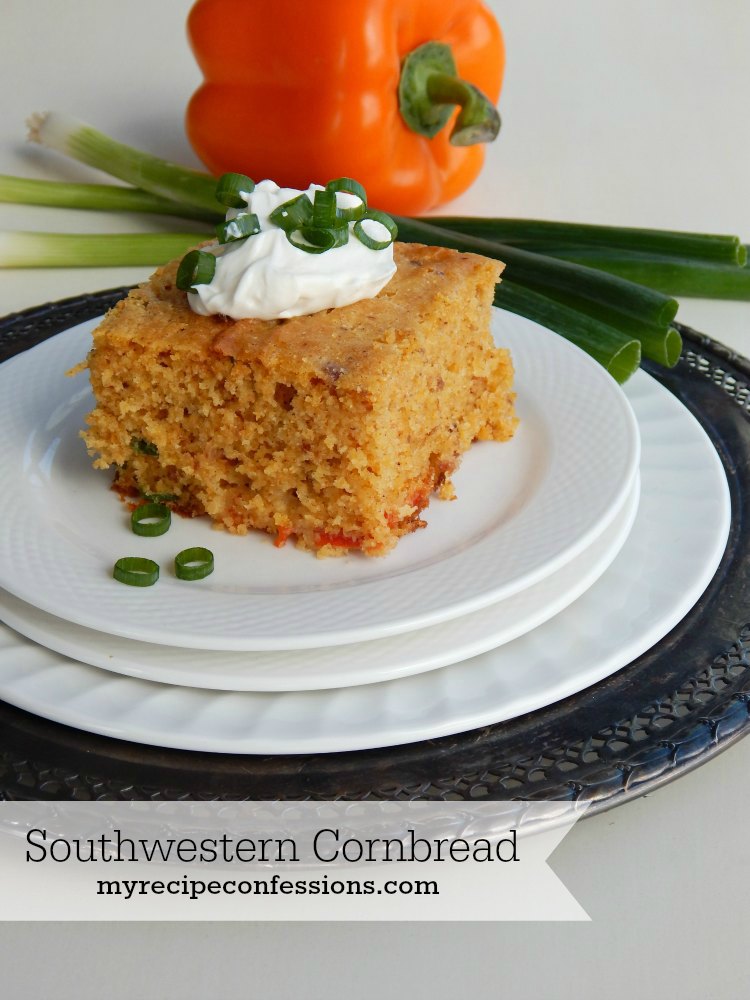 If you love cornbread, then you are going to this Southwestern Cornbread! You will be amazed at how much flavor can be packed into one square of cornbread. Serve this cornbread with a dollop of sour cream and you have a huge hit on your hands!
I was talking to a dad of two of the girls on my daughters dance team a while back. When he found out that I had a food blog, he told me about a southwestern cornbread that he likes to make. Thanks Herb! Of course, I am always up for some new recipe ideas. I ended up tweaking my own cornbread recipe and came up with this baby.
I think this cornbread would be amazing served along with some soup and salad.  In less than 1 hour, this cornbread can be on your kitchen table ready to be devoured. That's a definite win to me!
With love from my kitchen to yours,
Carrie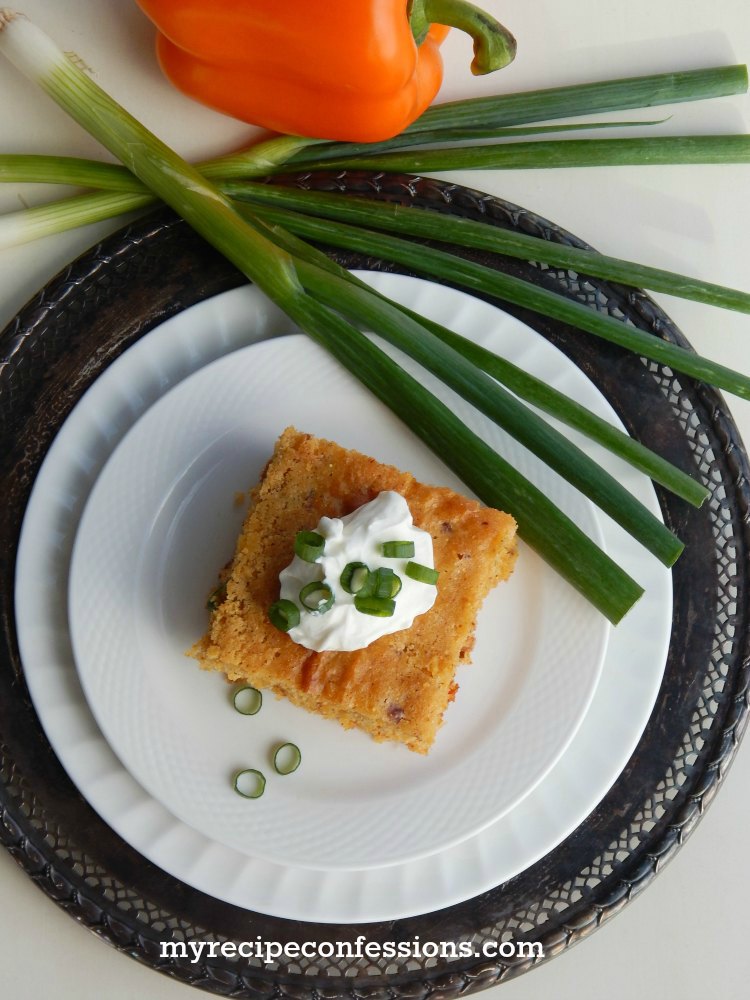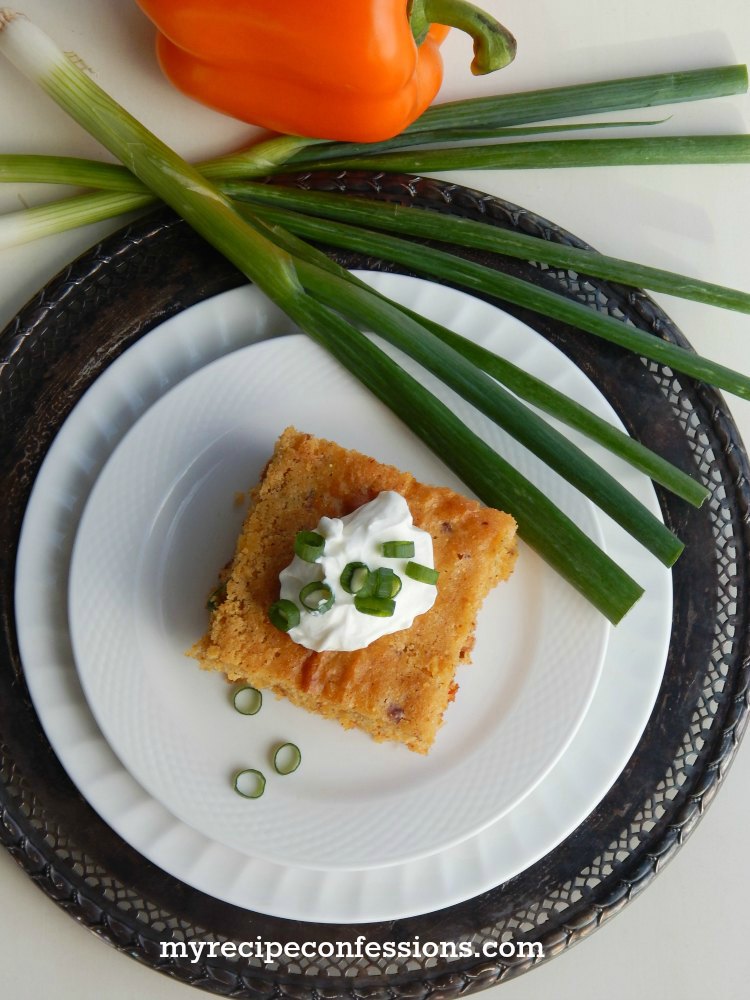 Southwestern Cornbread
Makes 12 servings
1 cup of butter, melted
1/4 cup of sugar
4 eggs
1 1/2 cup of buttermilk
3/4  cup of sour cream
1 tsp. baking soda
1/2  tsp. salt
1 cup of all-purpose flour
1 cup of cornmeal
2 tbsp. of taco seasoning
1 red bell pepper, diced
1/2 cup of green onion, diced
1 can (4 oz.) of mild green chilies
1 cup of bacon, cooked and crumbled
Instructions
Preheat oven to 375 degrees
1. Grease a 9×13 inch pan and place it in the oven while the oven heats up.
2. In a large bowl, mix the melted butter and the sugar together. Cream the eggs into the butter mixture. Add the buttermilk and sour cream to the butter mixture and mix well.
3. In a small bowl, combine the flour, cornmeal, salt, baking soda, and taco seasoning together.
4. Mix the flour mixture into the butter mixture. Fold in the bell peppers, green onions, green chilies, and bacon.
5. Take the hot pan out of the oven and pour the cornbread batter into the hot 9×13 pan. Place it in the oven and bake for 30 to 40 minutes or until a toothpick inserted in the center comes out clean.
Here are a few other recipes you might enjoy.