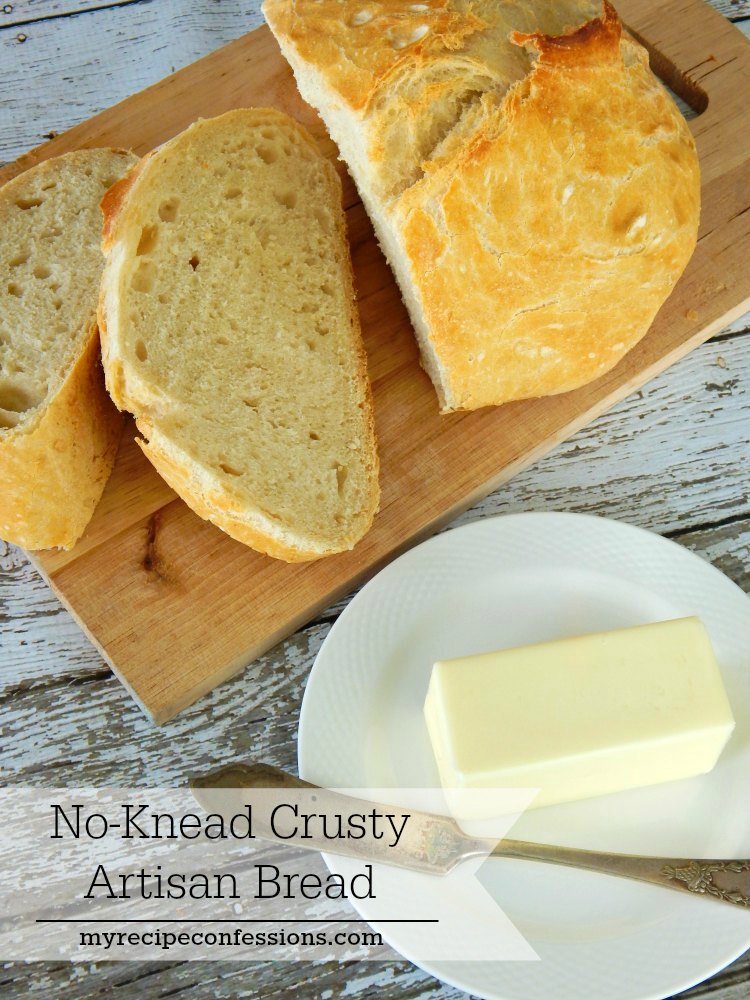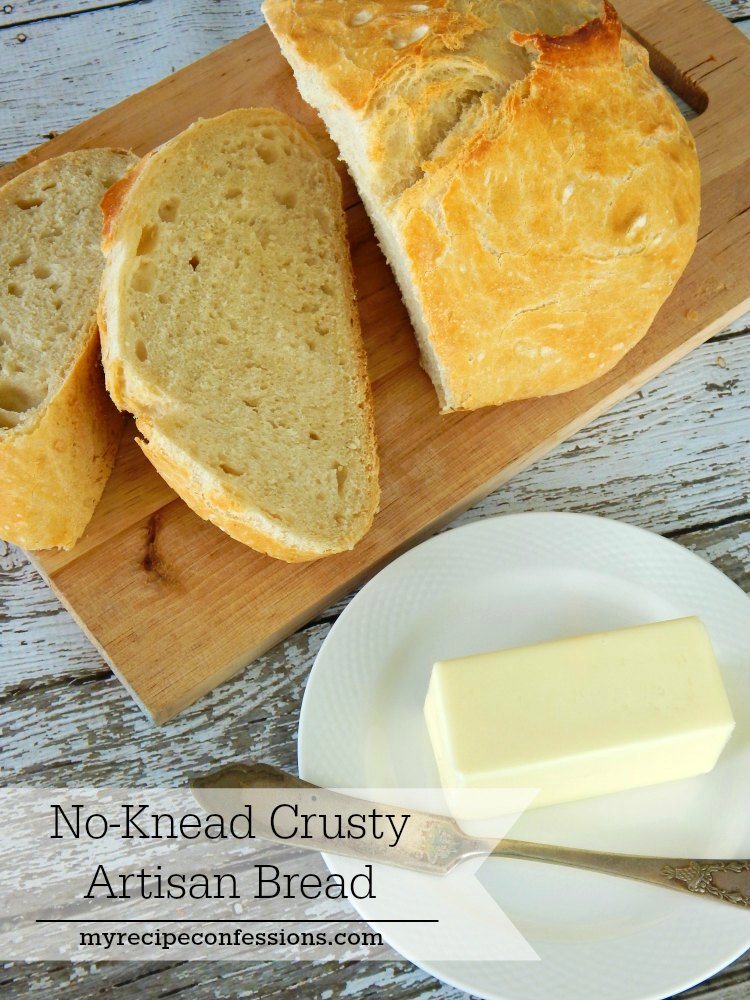 Friends, the wait for an easy and flavorful crusty artisan bread is over! I make bread all the time and I know that importance of kneading you bread dough. So I was a little skeptical when I started seeing recipes for this bread popping up on Pinterest.  That is until my sister told me that her mother in law taught her 14-year-old daughter to make it and now her daughter makes it all the time.
I love homemade bread and I like to make all different varieties of bread. In order to make this bread, you have to mix up the bread dough, cover it, and then let it sit out on the counter for 12-18 hours. I like to make mine right before I go to bed. Then the next morning, I can just pop the bread into the oven. Before you know it, you have a hot loaf of crusty artisan bread sitting on your counter begging to be eaten. I use an 6 quart enamel coated dutch oven, I imagine a 5 quart would be big enough to bake the bread in as well.  I have heard of other people using Pyrex dishes or even a crock pot insert. You just want to make sure that the dish you use can withstand 450 degrees in the oven. I can't guarantee that the other pans will work, because I have only used my enamel coated dutch oven.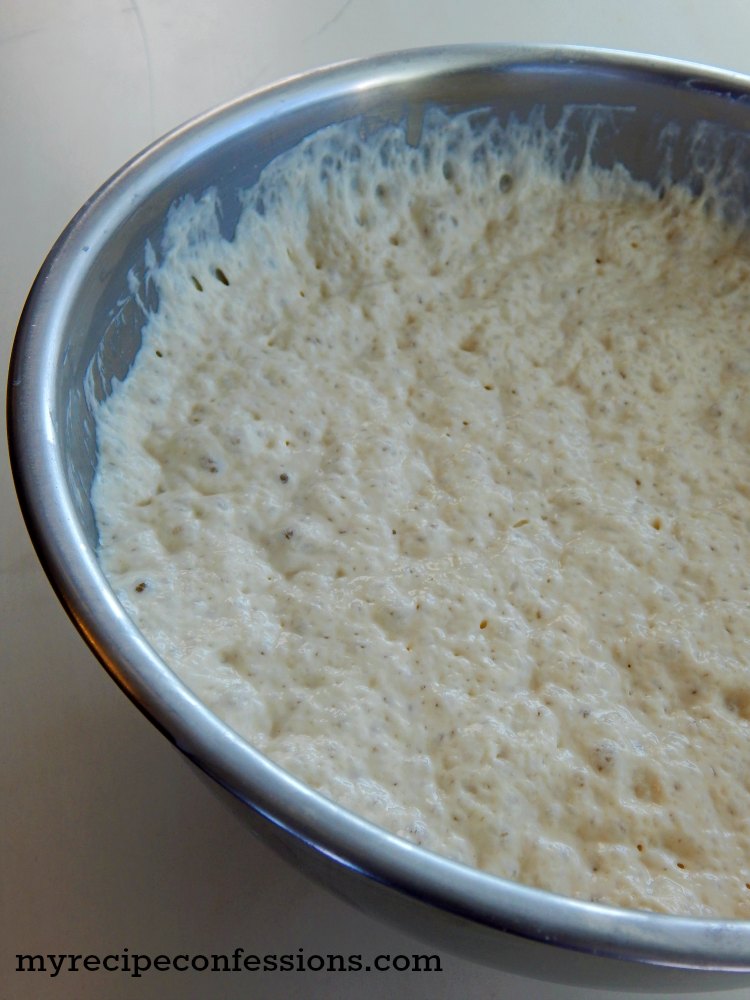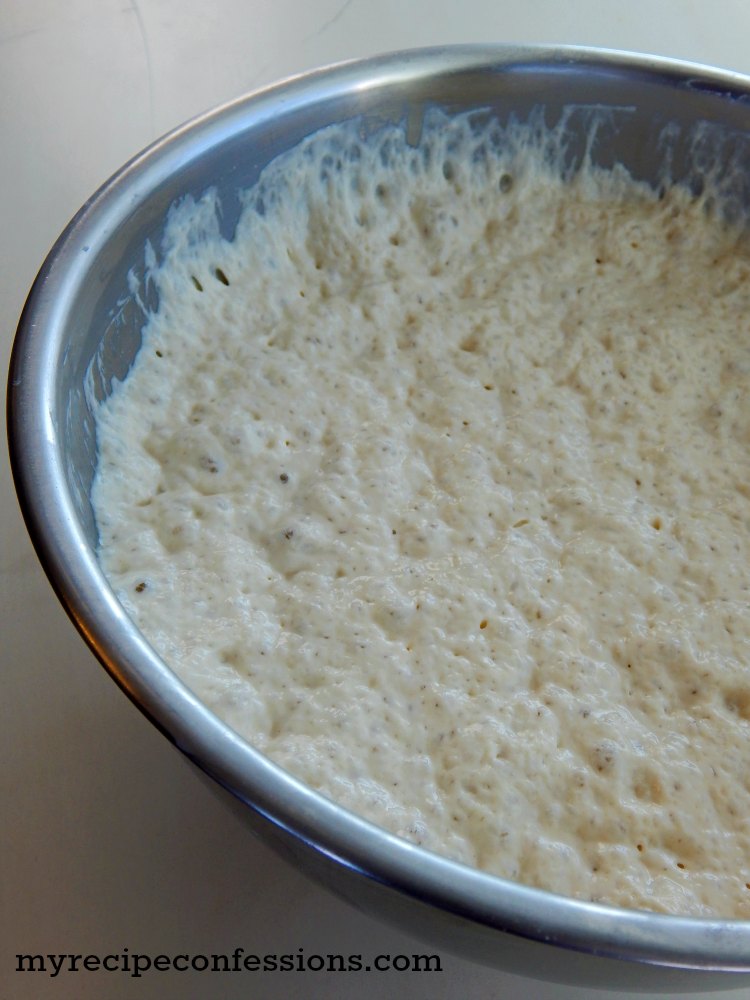 If you work outside of the home, you could mix it up first thing in the morning. Once you get home from work throw it in the oven and before you know it you have a hot loaf of homemade bread for dinner. I can't wait to try a few other variations on this bread. I think fresh herbs or lemons and cranberries would be amazing! Don't worry I will post the recipes here.
I don't know about you, but that sounds pretty heavenly to me! There is no need to wait, start mixing up your bread so you can enjoy your own little piece of heaven soon.
With love from my kitchen to yours,
Carrie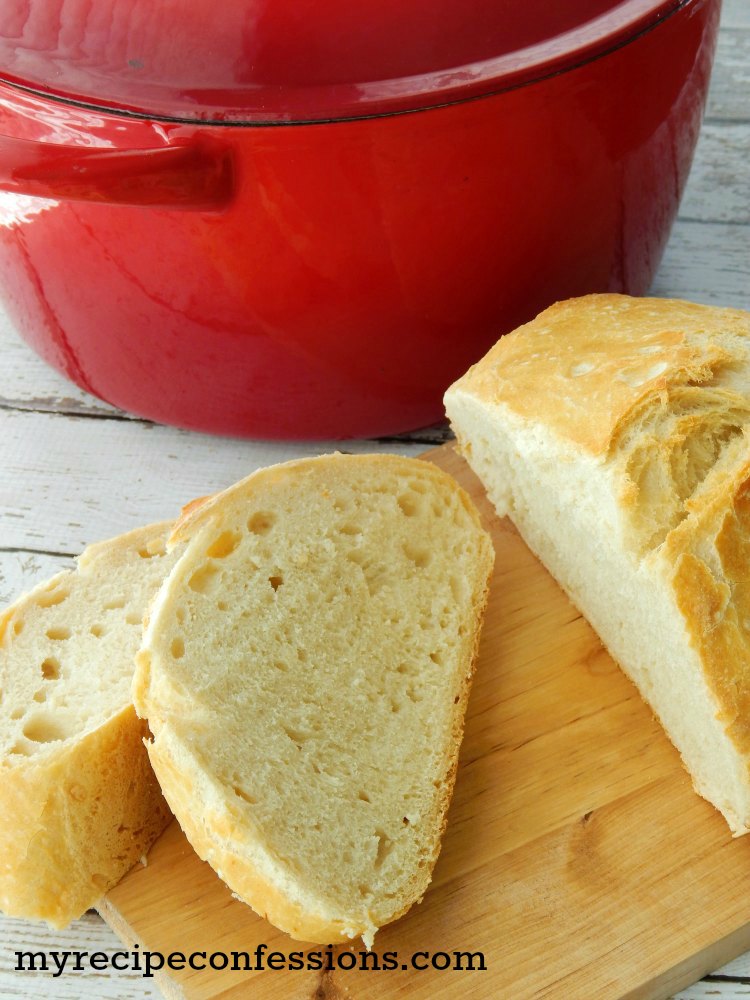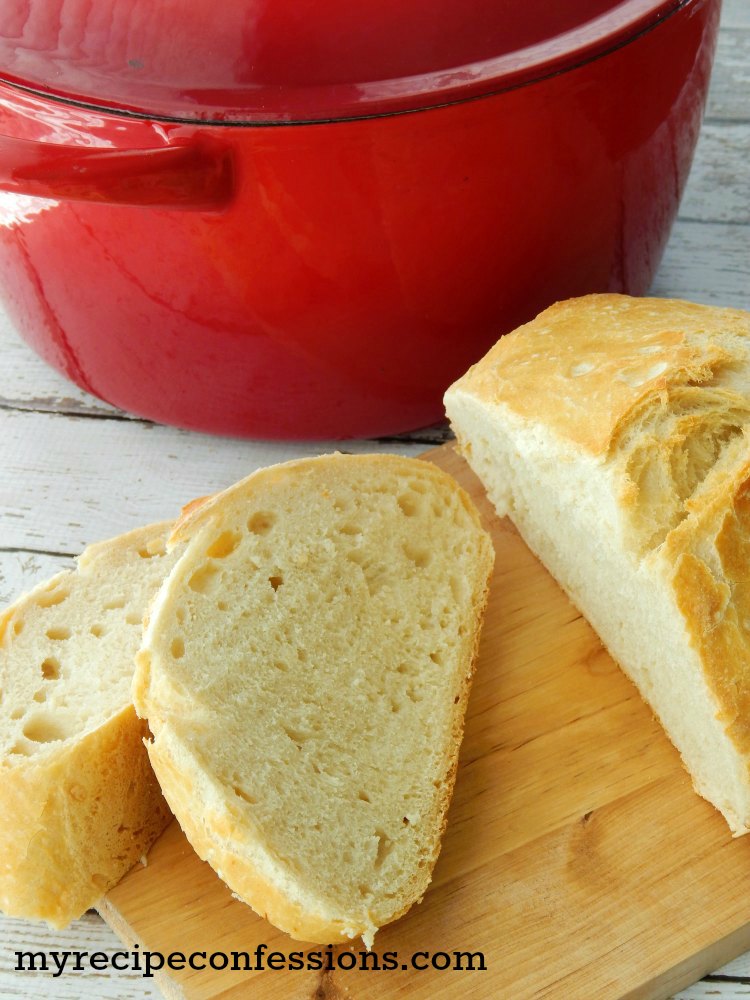 No-Knead Crusty Artisan Bread
2 tsp. of yeast
1 tsp. of sugar
2  cups of warm water
2 tsp. of salt
3 cups of flour
Instructions
1. In a medium-sized bowl, add the yeast, 1/2 cup of warm water, and sugar and lightly stir it. Let sit until the mixture starts to bubble, about 5 minutes. Add the remaining warm water (1  1/2 cup) and salt to the yeast mixture. Mix in the flour a little bit at a time until you have mixed all the flour in. If your dough is dry and crumbly, add an additional 1/2 cup of warm water. The mixture will be very sticky and rough-looking, but that is normal.
2. Cover the bowl with plastic wrap and leave it on the counter for 12 to 16 hours (I make mine before I go to bed and leave it on the counter all night long). The dough will be very sticky and bubbly, which is totally normal.
3. When you are ready to bake your bread, pre-heat the oven to 450 degrees. Place the dutch oven with the lid on in the pre-heated oven for 30 minutes. While the dutch oven is in the oven, place the dough on a heavily floured surface. Gently shape the dough into a ball and place it back into the bowl and cover with plastic wrap to rest.
4. Remove the hot dutch oven from the oven and place the dough in the center of it. Cover the dutch oven with the lid and place it back into the oven for 30 minutes. After 30 minutes remove the lid from the dutch oven and bake the bread for another 15 minutes. You can enjoy the bread hot from the oven or after it has cooled down. Wrap any unused bread with plastic wrap.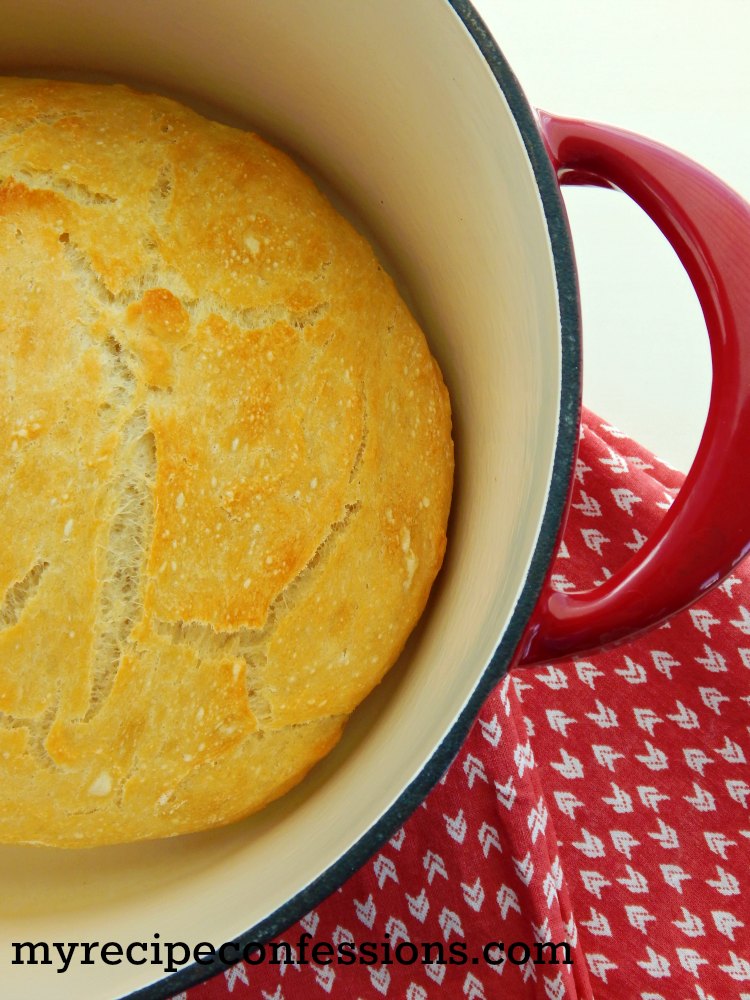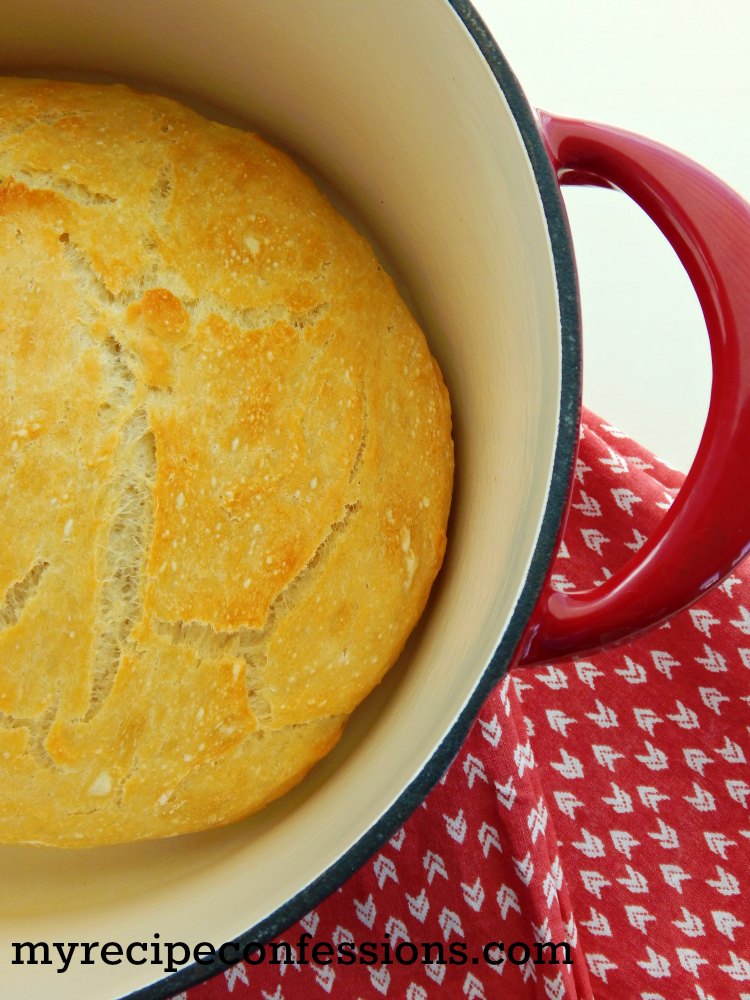 Here are a few other recipe you might enjoy.