I am always looking for new ways to trick my kids into  get my kids to eat more vegetables. If it were up to them, they would eat baked goods and candy for breakfast, lunch, and dinner. Luckily it is not up to them and as a parent I feel it is my duty to make them suffer eat more vegetables. When I saw this recipe, I knew it was the perfect recipe to torture my kids with  to share with my kids. I figured the breading was a perfect distraction from the vegetable underneath. Unfortunately, the cat was out of the bag before I could convince them to taste it. My husband and I sure did enjoy them. In fact, this recipe is so amazing that I will be making it again because I don't give up that easy. One day my children will try this Parmesan Crusted Butternut Squash and they will love it as much as I do. A girl can dream right?
How do you trick get your kids to eat more vegetables?
Until next time,
Carrie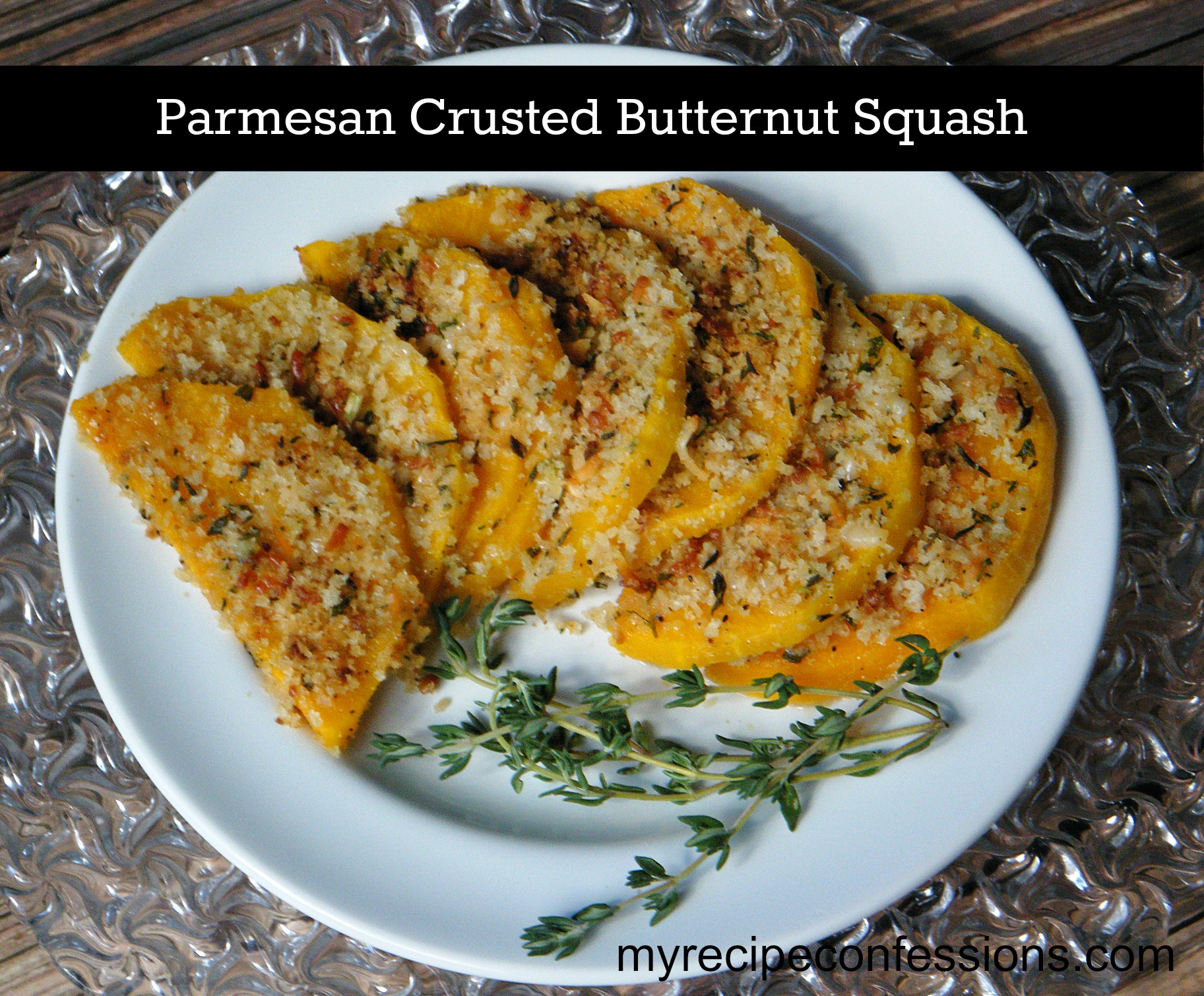 Parmesan Crusted Butternut Squash
1  1/2 to 2 lbs. butternut squash
2 tsp. olive oil
1/4 tsp. ground nutmeg
1/3 cup of Panko bread crumbs
1/2 cup freshly grated parmesan cheese
1 tsp. garlic, minced
1 tbsp. fresh parsley
1/4 cup of fresh thyme leaves
1 tsp. onion powder
1/4 tsp. black pepper
1 tsp. salt
Instructions
Preheat the oven to 400 degrees
1. Peel the squash. Slice in half length wise and scrape the seeds out with a spoon. Discard the seeds. Slice the squash into 1/4 inch slices.
2. In a medium sized bowl, toss the squash in the olive oil. The squash will have a thin coating of olive oil.
3. Spray a baking sheet with cooking spray and place the squash in a single layer on the baking sheet.
4. In a food processor, pulse the remaining ingredients 2 to 3 times. Sprinkle the breadcrumb mixture over the squash on the pan and bake for 25 to 30 minutes until the tops are browned and the squash is fork tender. Serve hot.
Recipe Adapted from the Sprouted Kitchen