Who doesn't love chili this time of year, especially with a dollop of sour cream and a sprinkling of shredded cheese? This chili recipe is a great fix it and forget it crock pot meal. This recipe has a little prep work in the beginning  but once you get everything in the crock pot, you can leave it alone and let the crock pot do its thing. The recipe calls for dry beans. A crock pot is a great way to cook dry beans. My friend Kirsten is the one who told me about this method a few years ago. I have been cooking my beans this way ever since. The chili is so much more flavorful when the beans are made from scratch and you have a lot more control over what goes into your dish. My family won't eat the chili (or anything for that matter) if it is too spicy, so my recipe is for a mild Chili. If you like yours with a little more kick, feel free to replace the green chilies with jalapenos. I like to add turkey bacon along with ground beef. I use turkey bacon because you get the smoky flavor of the bacon without all the grease. I also feel like it holds up better after being cooked in the crock pot all day. This recipe makes quite a bit of chili so you can cut the recipe in half, but the beans will have more flavor if you cook four cups of beans versus just two cups. This is a great recipe for large crowds or to freeze in freezer bags to eat later. Serve the Chili with sour cream and shredded cheddar cheese.
Until next time,
Happy Eating!
Carrie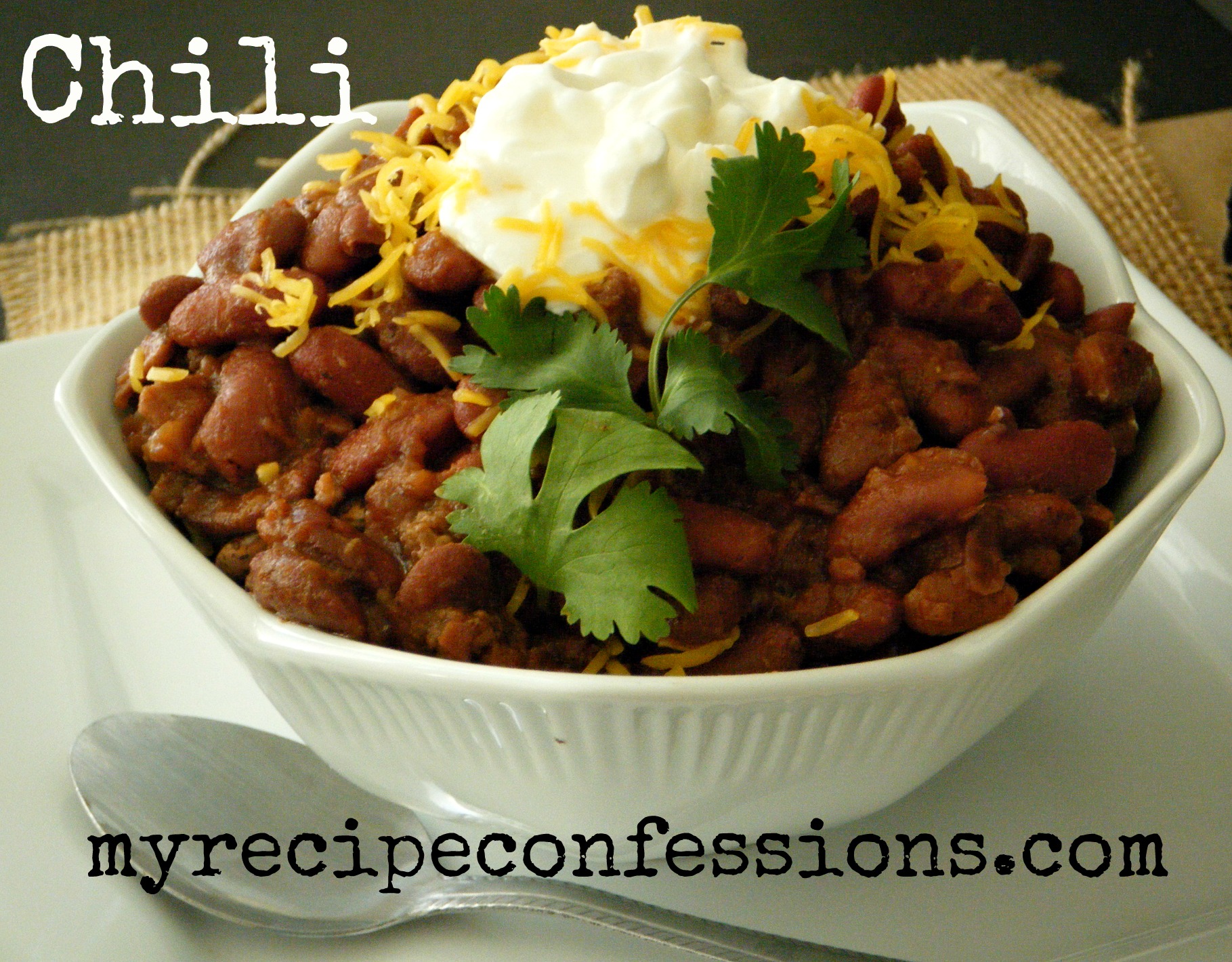 Chili
2 lbs. of dry red kidney beans
1 (28oz.) can of stewed tomatoes
1 lg. yellow onion, diced
1 (6 oz.) can of tomato paste
3 cups of vegetable stock
3 cups of beef stock
2 tsp. garlic, minced
1 bay leaf
2 cups of bacon, cooked and  diced
1 lb. lean ground beef
1 ½ tsp. salt
1 tsp. cumin
1 tsp. oregano
1.Rinse the beans thoroughly and place them in the crock pot.
2. In a heavy sauce pan, cook the bacon and ground beef. Once meat is cooked, remove from heat and rinse it in a strainer to remove any excess grease.
3. Sauté onion and minced garlic in bacon grease. Add onions and garlic to crock pot with beans.
4. Turn crock pot on high setting. Deglaze the sauce pan with one cup of water and then add it to the beans.
5. Pour vegetable broth, beef broth, stewed tomatoes, and tomato paste in sauce pan. On medium high heat, bring to a simmer. Remove the pan from heat and with an immersion blender, blend up the mixture until it is smooth.
6. Add tomato broth mixture to the crock pot with the beans.
7. Once the liquid in the crock pot begins to boil, add meat to the crock pot and turn the heat setting down to low and cook for 4-6 more hours.
8.Continue to check on it to make sure there is enough liquid. If the chili needs more liquid, add ½ c. of water as needed (only add ½ c at a time until the water barely covers the beans).
9. Once the beans are tender add the salt, cumin and oregano. Serve with sour cream and shredded cheddar cheese.