I grew up eating beef stroganoff which consisted of ground beef, a can of cream of mushroom soup, and some sour cream. The first time I ever had beef stroganoff made like this recipe is when a chef I worked with made some and he had me try it. I was quickly hooked.
Over the years, I have played around with this recipe. I never wrote down the recipe. I just kind of had a method that I followed and ingredients that I liked to use. As you can imagine, one pot of beef stroganoff always varied from another.
One of the great things about this blog is that I am forced to keep track of the ingredients and measurements that I use in every recipe. All though it can be a bit of a pain, it has also been a blessing. Now, I have a documented recipe that I can refer to. It also comes in quite handy when one of my sisters calls asking for a recipe and I can just tell them to look on my blog.
So my friends, here is my tried and true recipe for beef stroganoff.
I know beef stroganoff generally has mushrooms. However, my kids will not eat anything with mushrooms in it, so I usually leave them out.
Thanks for stopping by today. I will see you back here tomorrow for some more delicious dishes!
Until next time,
Carrie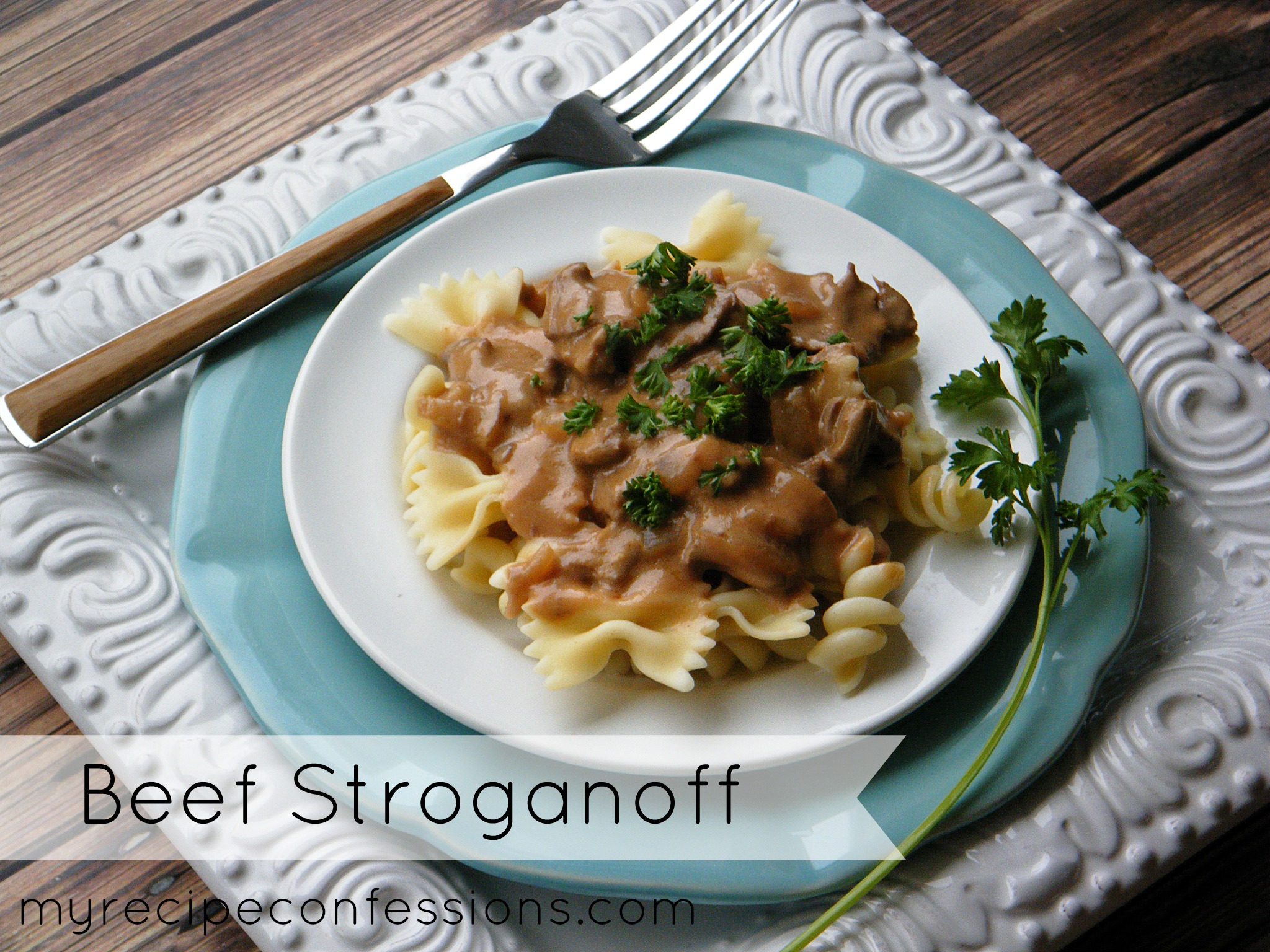 Beef Stroganoff
1  1/2 lb. London broil
3 cups beef stock
1 tbsp. tomato paste
1 tsp. yellow mustard
1 med. white onion, sliced
3/4 cup of button mushrooms, washed and sliced
1/2 cup of sour cream
1 tsp. garlic, minced
1/2 tsp. salt
2 tbsp. flour
1 /2 tsp. worchestire sauce
2 tbsp. canola oil
1 tsp. onion powder
1 tsp. garlic powder
1 tbsp. kosher salt
Instructions
1. Butterfly the London broil. Combine the kosher salt, onion powder,and garlic powder together. Rub 1 tbsp. of  canola oil over all of the London broil. Rub the salt mixture all over the meat. Let the meat sit at room temp. for 30 minutes.
2. Preheat your oven to 350 degrees.  Add the remaining 1 tbsp. of canola oil in a cast iron skillet (or a heavy skillet with a metal handle) and place the skillet on high heat. Let the skillet heat up. Add the London Broil to the heated skillet. Brown the meat for about 3 to 4 minutes on each side. Place the pan with the meat into the oven for 5 minutes. Remove the pan from the oven and place the meat on a plate and loosely cover it with tin foil. Let it rest for about 15 minutes.
3. With a sharp knife, slice the meat into very thin slices on an angle against the grain of the meat. Place the meat on a plate and set it aside.
4. In the same skillet that you cooked the meat in, sauté the onions, garlic, and mushrooms until they are tender. Return the sliced London Broil to the pan and toss 2 Tbsp. of flour in with the meat and vegetables. Remove from heat and set aside.
5. In a large sauce pan add the beef stock, tomato paste, mustard, worcheshire sauce, and sour cream. Stir to mix well. Bring to a boil over medium- high heat.
6. Once the liquid starts to boil, turn down the heat to low. Add the meat and vegetables to the sauce pan and let the sauce simmer for about 20 to 30 minutes or until the sauce thickens.
7. Once the sauce has thicken add the 1/2 tsp. of salt and stir to combine. Serve immediately over noodles or rice.