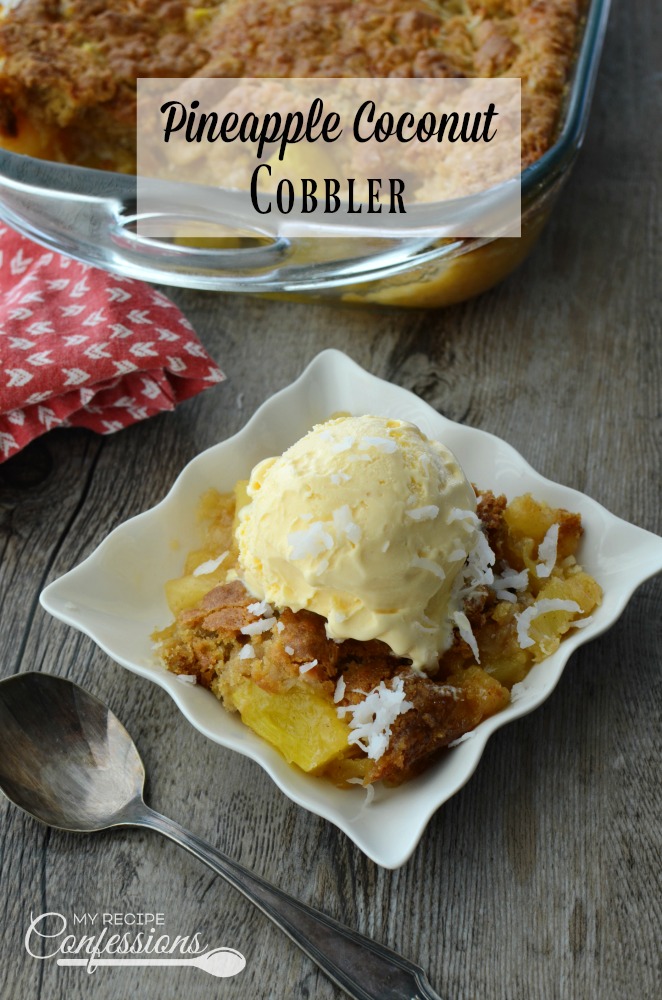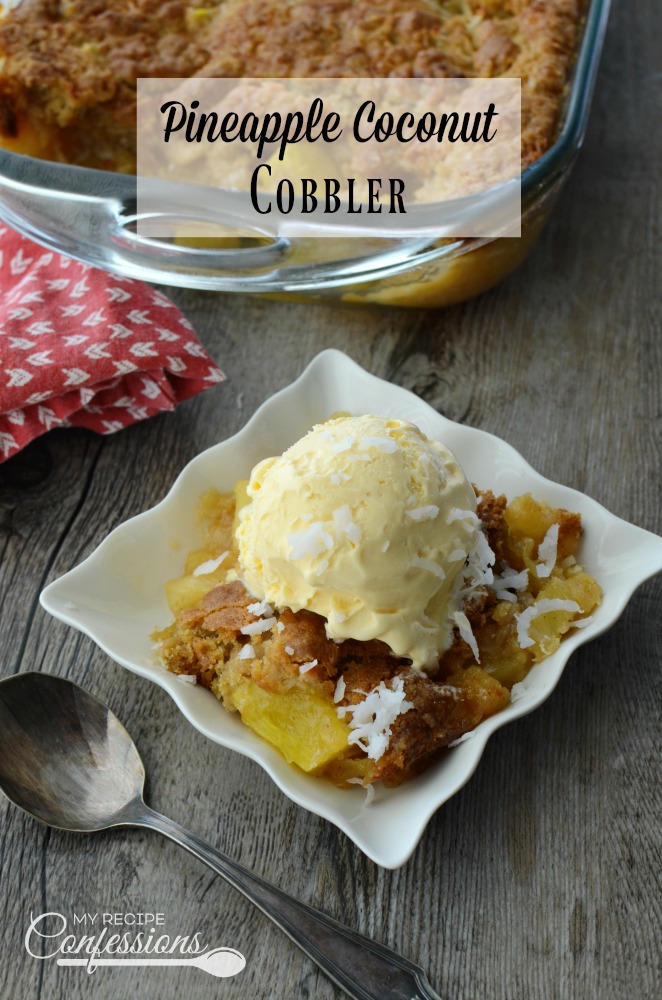 Pineapple Coconut Cobbler will satisfy all of your tropical cravings! The filling has the perfect balance of pineapple sweetness with just the right amount of coconut flavor. The delicious flaky topping takes the cobbler to new heights. Serve this Pineapple Coconut Cobbler hot with a generous scoop of vanilla ice cream for a dessert that you won't soon forget!
I love to try different twists on classic recipes. This Pineapple Coconut Cobbler is exactly that. I used my Peach Cobbler recipe as inspiration to create this recipe.  Of course pineapple and coconut pair together like two peas in a pod.  So when I mixed them together for the filling I knew it was going to be a hit. The recipe calls for 3 cans of pineapple but you can use 3 fresh pineapples instead. You can't beat fresh pineapple but sometimes it is easier to use pineapple from the can.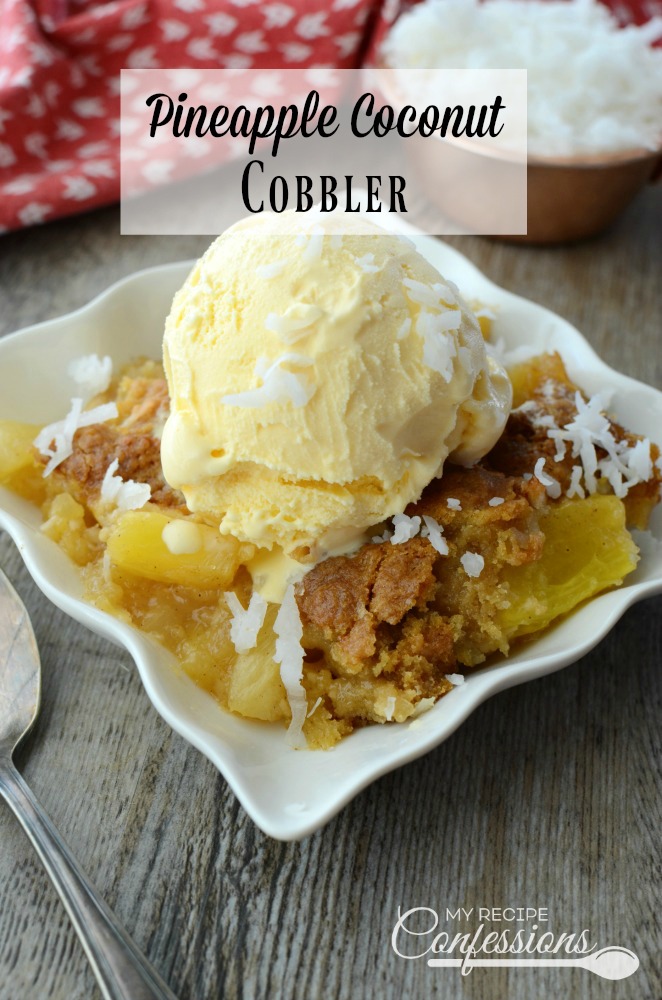 The flaky cobbler topping is the perfect finishing touch to the dish. I use a pastry cutter to cut the butter into the dry ingredients. If you don't have a pastry cutter, you can use a food processor. I just like the texture of the topping better when a pastry cutter is used.
I love this cobbler, my family loves this cobbler, and I know that you are going to love this cobbler too!
With love from my kitchen to yours,
Carrie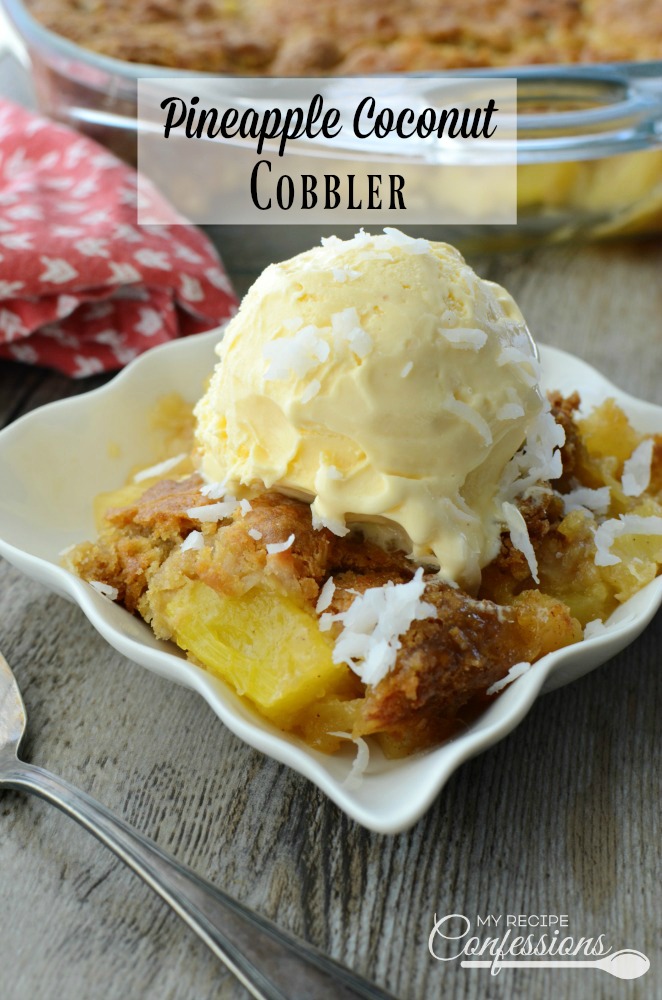 Pineapple Coconut Cobbler
Filling:
3 (20 oz.) cans of  pineapple tidbits, juice drained or 3 fresh pineapples, cored and diced
1 tsp. of coconut extract
1/2 tsp. of cinnamon
2 tbsp. of cornstarch
1/2 cup of sweetened coconut flakes
Topping:
2 cups of flour
1/2 cup of sugar
1/2 cup of brown sugar
1 tsp. of salt
2 tsp. of baking powder
3/4 cup of cold butter, sliced
1/2 cup of sweetened coconut flakes
1/2 cup of boiling water
Instructions
Preheat oven to 425° F.
Mix all the filling ingredients together in a 9×13 pan.
Mix the flour, sugars, salt, baking powder, and butter in a bowl. With a pastry cutter cut the butter into the dry ingredients until it resembles course cornmeal.
Add the coconut flakes and boiling water and continue to mix until well combined.
Evenly drop spoonfuls of the topping over the pineapple until it is completely covered. Place the cobbler in the oven and bake for 20-25 minutes or until it is lightly golden. Serve with French vanilla ice cream or whipped cream.
Here are a few other recipes you should try.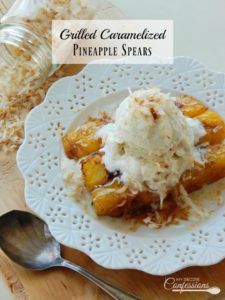 Grilled Caramelized Pineapple Spears