"You are my Sunshine my only sunshine, you make me happy when skies are gray". We have had an out of the norm few weeks of sunny weather. My kids have been playing outside as soon as they get home from school and don't come back in until we finally threaten an early bed time. With them outside playing, it means I can get more things done inside and my house will stay cleaner for longer than five minutes.
Sadly, it rained all day yesterday and it is a cold gloomy day today. So, if Mother Nature is going deny us of our beloved sunshine, I am going to make some of my own. How am I going to make my own sunshine you ask? Well, with just one bite of my Carrot Orange Cookies With Citrus Cream Cheese Frosting and you too will be singing " You are my sunshine". You can't help but smile when you have a plate of these cookies sitting on your kitchen counter. In fact why not spread a little good cheer and take some to your neighbors as well. If you are in need of a little "Sunshine In Your Soul Today" whip up a batch of these cookies and you will be in your happy place in no time!
What are some other ways you bring more sunshine into your day?
Until next time,
Carrie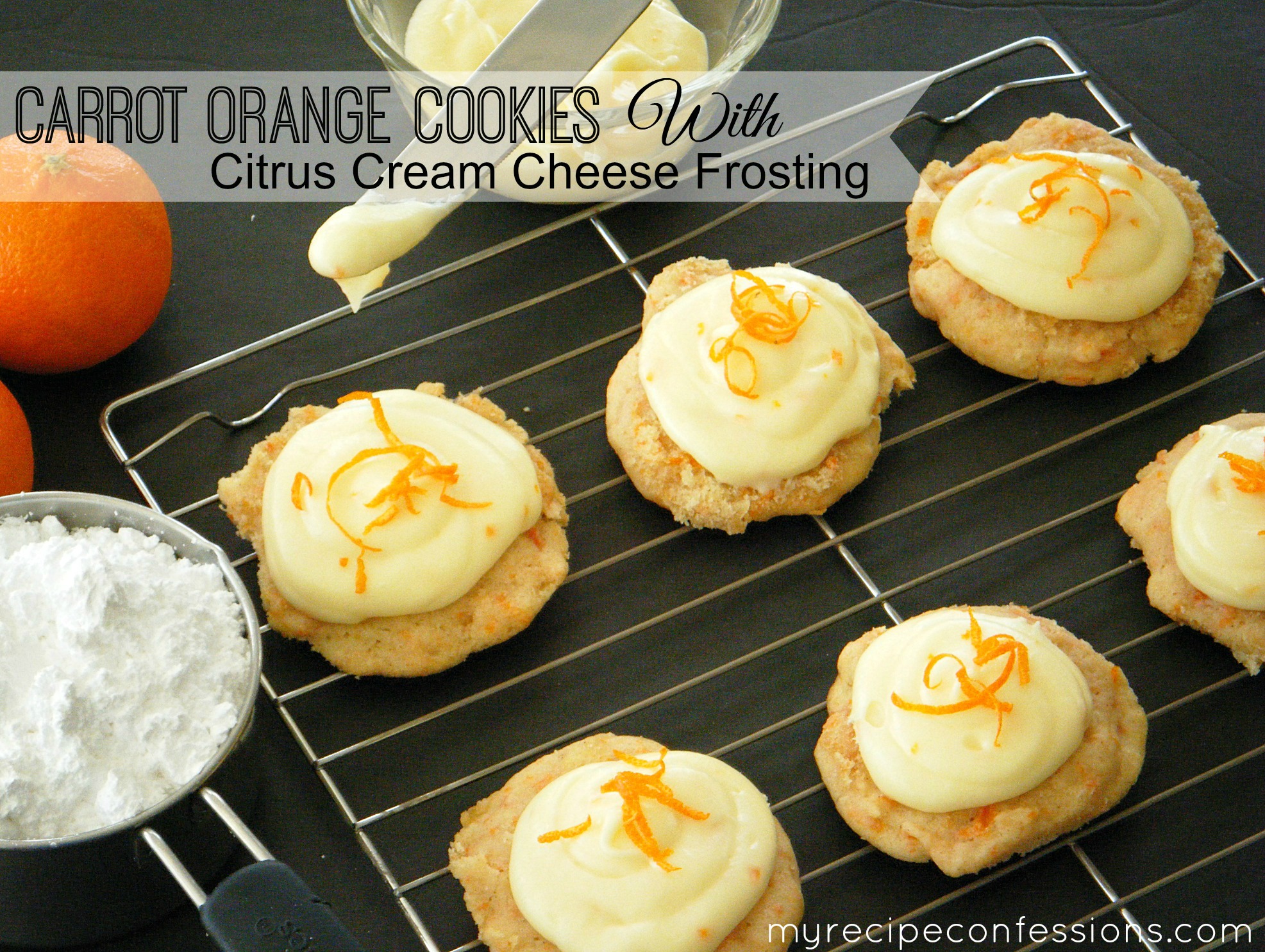 Carrot Orange Cookies With Citrus Cream Cheese Frosting
makes about 2  1/2 dozen cookies
1 cup of butter, softened
1 cup of granulated sugar
1/2 cup of applesauce
1 tbsp. orange zest
1 cup carrots, peeled, cooked and mashed
1 egg
1 tsp. vanilla extract
2  1/2 cup of all purpose flour
1 tsp. of salt
2 tsp. baking powder
1/2 tsp. cinnamon
Frosting
1/2 cup of butter, softened
1/4 cup of cream cheese, softened
2 tbsp. orange zest
3 tbsp. orange juice
2 cups of powder sugar
Instructions
Preheat oven to 375 degrees
1. Cream the butter and sugar together. Add the egg continue to cream the mixture.
2. Mix in the applesauce, vanilla extract , orange zest, mashed cooked carrots, and cinnamon. In a separate bowl sift the flour, baking powder, and salt together. Add the flour mixture to the carrot mixture and mix to combine well.
3. Drop by teaspoonfuls onto a greased cookie sheet. Bake for 10 minutes or until the cookies are lightly golden. Let cookie cool completely before frosting them.
Frosting
1. Add the butter, cream cheese, and powder sugar in a medium sized bowl and mix well. Add the orange zest and orange juice and mix until the frosting is thick and fluffy.
This recipe is adapted from the Gooseberry Patch
This recipe is linked to