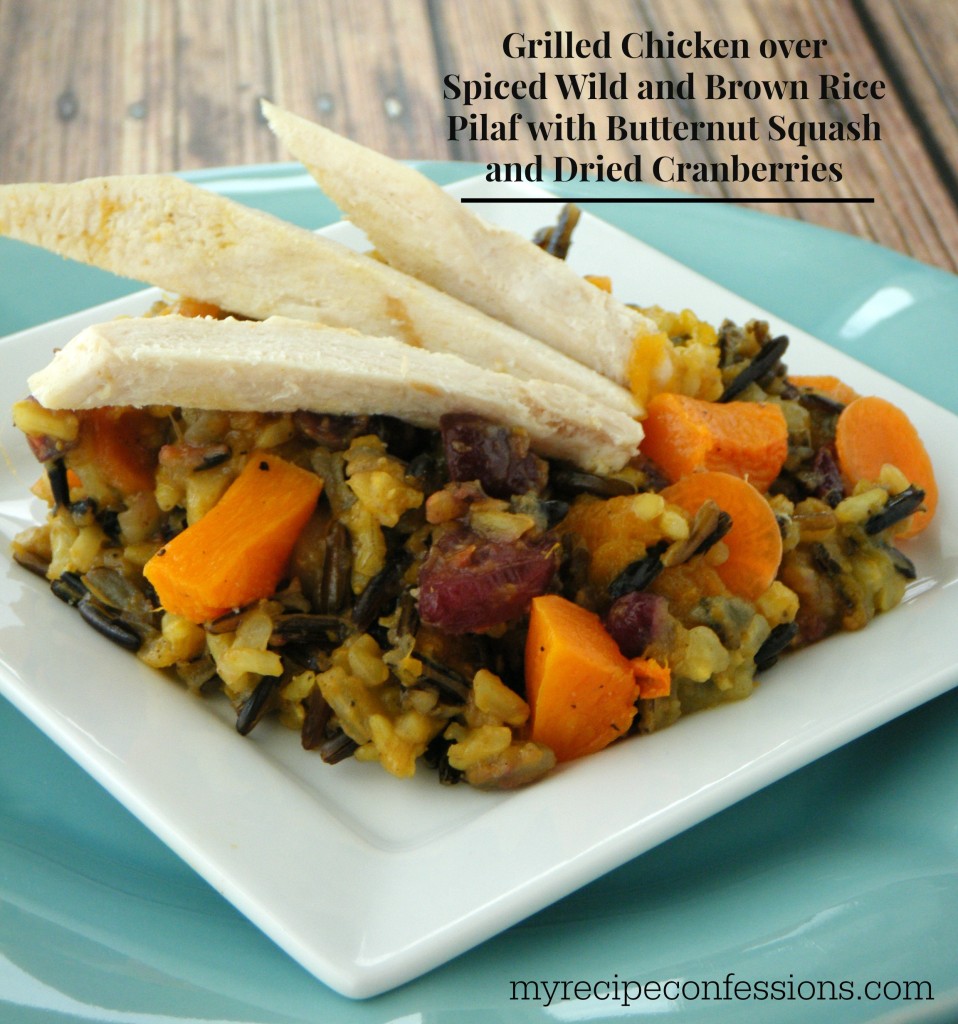 This is a recipe I found in The Bon Appetit Cookbook. I am a sucker for rice pilaf and this recipe did not disappoint!
The original recipe did not call for grilled chicken, but I happened to have some chicken breast I needed to use. I thought the grilled chicken was a great addition to the rice pilaf. However, this rice would not have any problems standing on it own without the chicken.
I was a little concerned at first that my kids would not try it. Sometimes when there is a dish that has different colors, they will turn their noses up and insist that it is yucky. We have learned that if we make them try it anyway, 9 times out of 10 they like it.
They surprised me this time and tried it as soon as it was placed before them and they all liked it.  This is definitely a recipe I will be making again for my family!
Until next time,
Carrie
Grilled Chicken over Spiced Wild and Brown Rice Pilaf 
3 boneless skinless chicken breasts, grilled and sliced
2 tbsp. olive oil
1 cup onion, chopped
1/2 cup carrot, peeled and sliced
1 tbsp. fresh ginger, peeled and minced
1 tbsp. curry powder
1 tsp. ground cumin
1 garlic clove, minced
3 cups butternut squash, peeled, seeded and cut into 1/2 inch cubes
1 cup of wild rice
1 cup of long grain brown rice
1 Fuji apple, peeled, cored, and diced
3  3/4 cup of chicken broth
1 tsp. salt
1 cup of dried cranberries
Directions
1. Heat oil in a heavy large saucepan over medium-high heat. Add Carrots and onions; saute 5 minutes. Add ginger, curry powder, cumin, and garlic; stir for 1 minute.
2. Stir in squash and next 4 ingredients. Add broth and 1 tsp. salt and bring to a boil. Reduce heat to medium-low, cover, and simmer until broth is absorbed and the rice is tender, about 45 minutes.
3. Remove from heat. Stir in cranberries. Cover and let stand until cranberries soften, about 10 minutes. Season to taste with salt and pepper.
This recipe is adapted from the Spiced Wild and Brown Rice Pilaf with Butternut Squash and Dried Cranberries recipe from the Bon Appetit Cookbook.