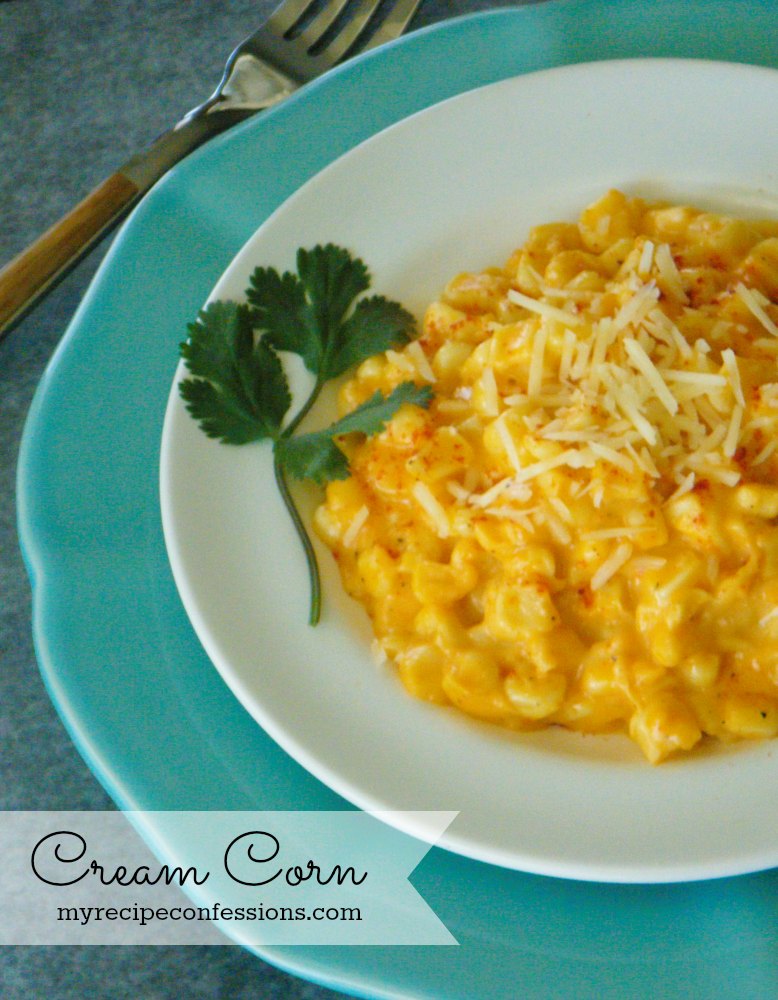 About a month ago I went to a dinner with my friend Melanie from Fourtyeighteen. One of the sides to our meal was creamed corn.  Now, the only kind of creamed corn I had ever had before was from a can and I was not a fan. This creamed corn on the other hand was out of this world! This creamed corn was so creamy and had a slight pink tint to it. With every spoonful I ate, I tried to figure out what spices they had used. Melanie and I both concluded that the pink tint had to be from paprika.
Once I got home I started scouring the internet for creamed corn recipes that could come even remotely close to the one at the restaurant. I found a recipe that looked promising. However, it didn't have paprika in it so I knew I would need to do some tweaking.
After one bite my husband was hooked and told me I needed to make this for his family at their next family party. It is now one of my two year olds favorite foods. As soon as he finishes the corn on his plate, he climbs on my lap and tries to eat mine too.
I  used smoked paprika in this recipe. In fact, smoked paprika is one of my favorites spices right now. It does give it a little kick. If you don't like the kick and want a little subtle flavor, you can go with regular paprika.
Don't judge this dish by the sad and ever lacking can version. This fresh recipe of creamed corn is bound to knock your socks off!
Until next time,
Carrie
Creamed Corn
2 (10 oz.) bags of frozen sweet corn, thawed
1 cup of whipping cream
2 tbsp. butter
2 tbsp. of granulated sugar
1 tsp. salt
1  1/2 tsp. smoked paprika
1 cup of milk
1 tbsp. cornstarch
1/3 cup of grated parmesan cheese
1/4 tsp. black pepper
Instructions
1. In a medium- sized saucepan on medium high heat add the corn, butter, cream, sugar, salt, pepper, and smoked paprika.  Cook until the corn is heated through and the cream starts to simmer.
2. Whisk the cornstarch in with the cold milk. Pour it into the corn mixture and continue to stir until it thickens. Remove the pan from the heat and add the cheese. Briefly stir until the cheese melts. Serve hot.
This recipe is adapted from Cream Corn on allrecipes.com