I know, you are probably cringing right now after reading the title to this post. But, I accomplished my goal. I got your attention didn't I?
I, like 99% of the women in the world can not handle mice. My mom is terrified of mice. If she saw one, she would jump on the nearest piece of furniture and scream/cry until somebody took care of the nasty little creature. If one of my siblings or I saw a mouse in the house (which luckily was very rare), we knew we had to immediately tell my dad.  He would then swear us to secrecy.  Then he would drop everything that he was doing to take care of the little creature. In the mean time all of the kids in the house were put on high alert. The mouse had to be caught before my mom found out, no questions asked! If my mom ever caught wind that there might be a mouse in our house she would threaten to move out and none of us would be able to rest until it was killed and properly disposed of.
However, when it comes to Halloween mice, they are welcome. That is of course unless they are real!  I believe that 99% of the women in the world will agree with me that there is never a place for mice! It is just one of those creatures that you wonder why they were ever placed on this earth. So let me rephrase the title of this post. What do you do when you have a chocolate mouse infestation? You eat them of course. Wow, that sounds so much better, don't you agree?
These mice are actually quite cute and rather delicious! They are a great project for the kids to help with and they are always a hit at Halloween parties! My sweet sister-in-law Jill made these when David and I first got married. She made them for Christmas Eve and then read the Night Before Christmas. This of course, is another fun way to put your new little friends to good use. When you make these mice, you want to make sure that the maraschino cherries are completely dry. I take cherries out of the juice and set them on a paper towel until they are dry. You will also want to make sure that your kisses are unwrapped and you have selected the almonds for the ears. Because once the chocolate is melted, you have to work fast before it cools down again. I hope you and your family enjoy eating these mice as much as you will enjoy making them.
Until next time,
Happy Eating!
Carrie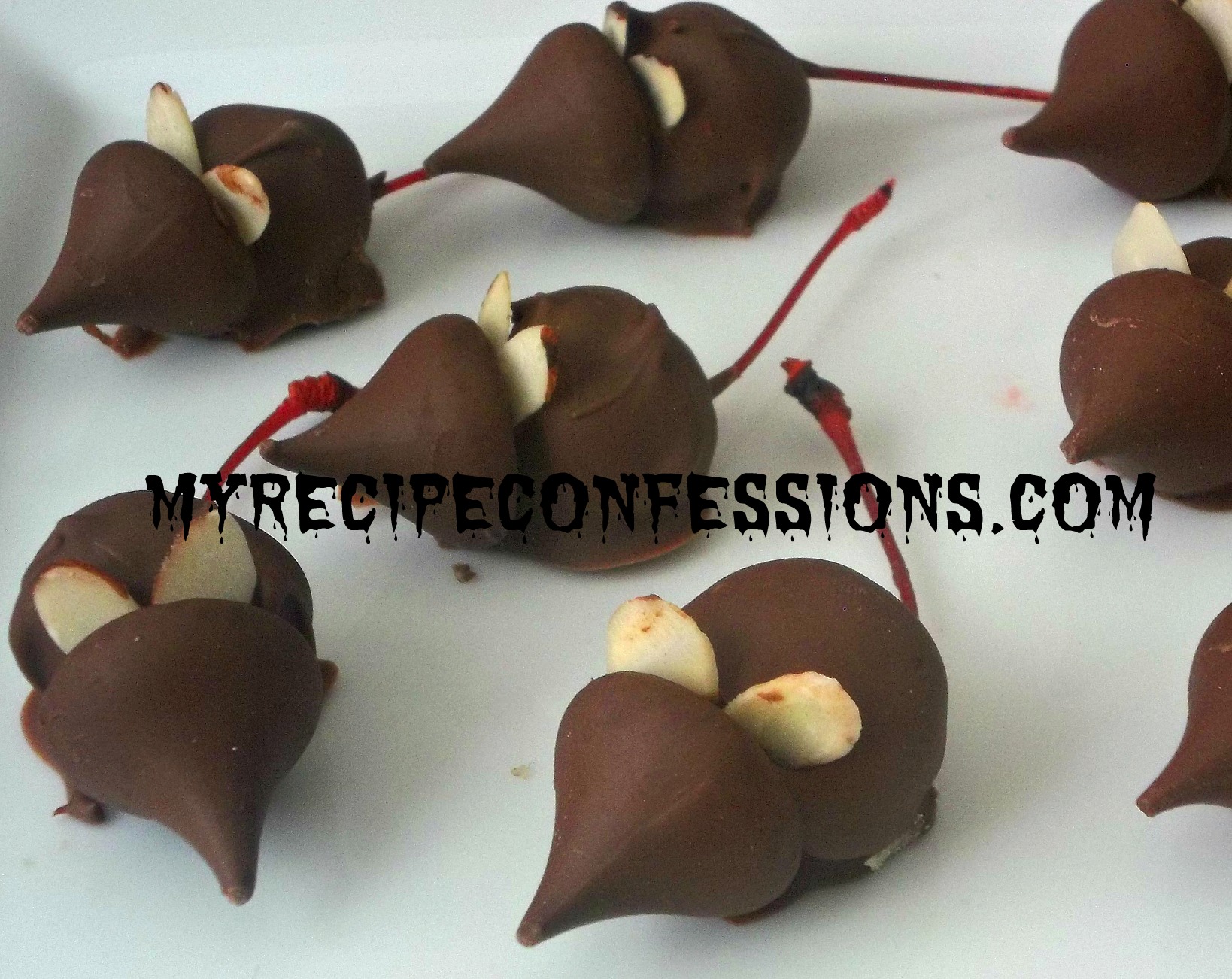 Chocolate Mice
12 milk chocolate Hershey kisses, unwrapped
12 maraschino cherries with stems
24 small sliced almonds
1/2 lb. milk chocolate candy coating
12 inch strip of wax paper
1. Remove cherries from the jar and remove any excess juice with a paper towel. Let the cherries air dry on a paper towel until they are completely dry.
2. Place candy coating in microwave safe bowl. Microwave for 15 sec. and then remove candy coating and stir. Return the candy coating back into the microwave and heat it for another 15 seconds. Repeat this until the chocolate candy coating is completely melted.
3. Dip dry cherries in melted chocolate until completely coated.
4. Set chocolate covered cherry on wax paper and place unwrapped Kiss on the cherry at the opposite side of the tail.
5. Add two small sliced almonds in between the Hershey kiss and the cherry for the ears.
6. Repeat this process with the remaining ingredients.
7. Allow the mice to dry completely before moving them.
Enjoy!