This is a new twist on an old classic. I really could not be happier with how they turned out!  I am a fan of the classic Shepherd's Pie, we had it a lot growing up. It is a great way to feed a large family with out breaking the bank.
I love the combination of the juicy Shepherd's Pie mixture stuffed into a flavorful bell pepper and then topped off with creamy mashed potatoes and melted cheddar cheese. They really are quite feeling as well. Serve these babies with a garden salad or  fresh fruit salad on the side and you will have a home run meal!
Until next time,
Carrie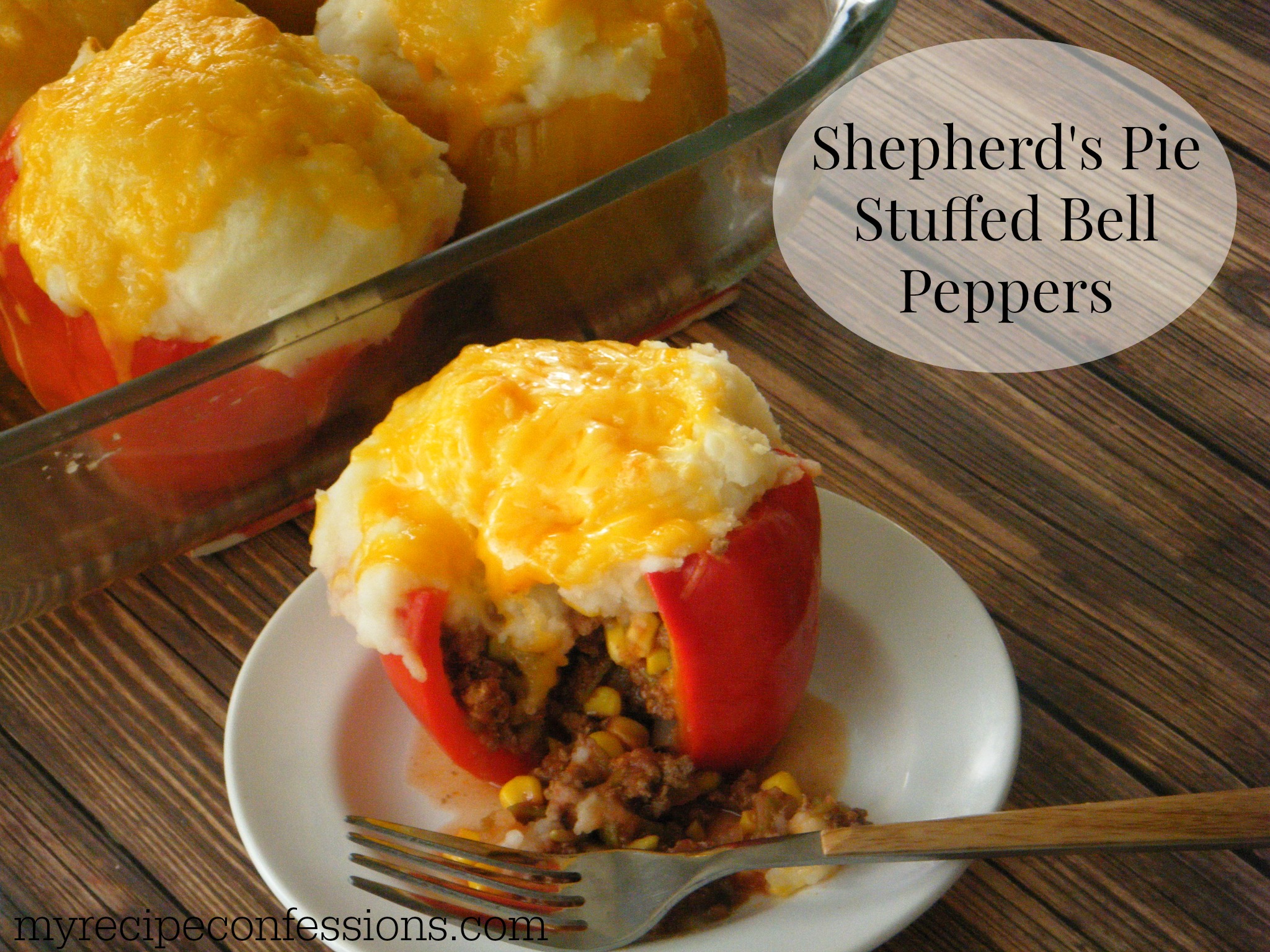 Shepherd's Pie Stuffed Bell Peppers
makes 6 servings
6 bell peppers
1 pound of lean ground beef
1 medium onion, diced
1 (15 oz.) can of sweet corn
1 (15 oz.) can of French style green beans
1 (15 oz.)  can of tomato sauce
1  1/2 tsp. kosher salt
1/2 tsp. garlic powder
1/2 tsp. ground black pepper
Mashed Potatoes
2 pounds of russet potatoes, peeled and cubed
1 tsp. salt
1/2 tsp. garlic powder
1/2 tsp. onion powder
1/2 tsp. ground black pepper
1/4 cup of butter
3/4 cup of buttermilk
1 cup of cheddar cheese, shredded
Instructions
Heat oven to 375 degrees
1. Cut the tops off of the bell peppers and remove the ribs and seeds. Wash the bell peppers inside and out. If the peppers are lopsided you may need to cut a little off the bottom so that they are level. Place the bell peppers in a 9 x13 baking dish and set aside.
2. Brown the ground beef and onion in a large skillet on medium high heat. Once the ground beef is browned add the salt, pepper, and garlic powder.
3. Stir in the tomato sauce, green beans, and corn to the meat until well combined. Remove from heat.
4. Place the cubed potatoes in a large sauce pan and cover with water. On medium high heat boil the potatoes until they are fork tender. Strain the water from the potatoes. Mash the potatoes with a potato masher or press them through a ricer.
5. Add the butter, salt, garlic powder, onion powder, black pepper, and buttermilk to the mash potatoes. Stir to combine.* If the potatoes are still too thick you can add  1/4 cup of buttermilk.
6.  Scoop about 1 cup of the meat mixture into the bell peppers. Add 1/4 to 1/2 cup of mashed potatoes to the top of each pepper. Lightly cover the baking dish with tin foil and place in the oven for 50 minutes.
7. Remove the tin foil from the peppers and sprinkle 2 to 3 tbsp. of cheddar cheese to on the top of mashed potatoes. Cook the peppers for an additional 5 minutes or until the cheese is completely melted. Remove from oven and serve immediately.
Recipe inspired by Skillet Stuffed Peppers.