Grilled Steak and Blue Cheese Salad is a combination of a perfectly seasoned grilled steak, sauted onions, tomatoes, tangy homemade apple cider dressing, and blue cheese crumbles. All on a refreshing bed of romaine lettuce. This game changing salad can be on the table in less than 20 minutes.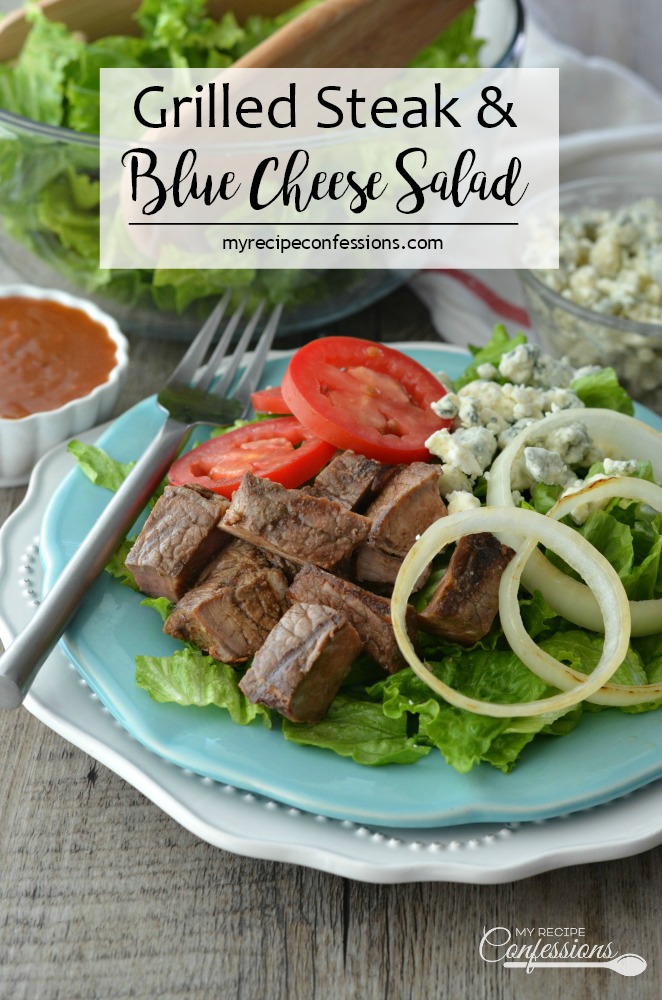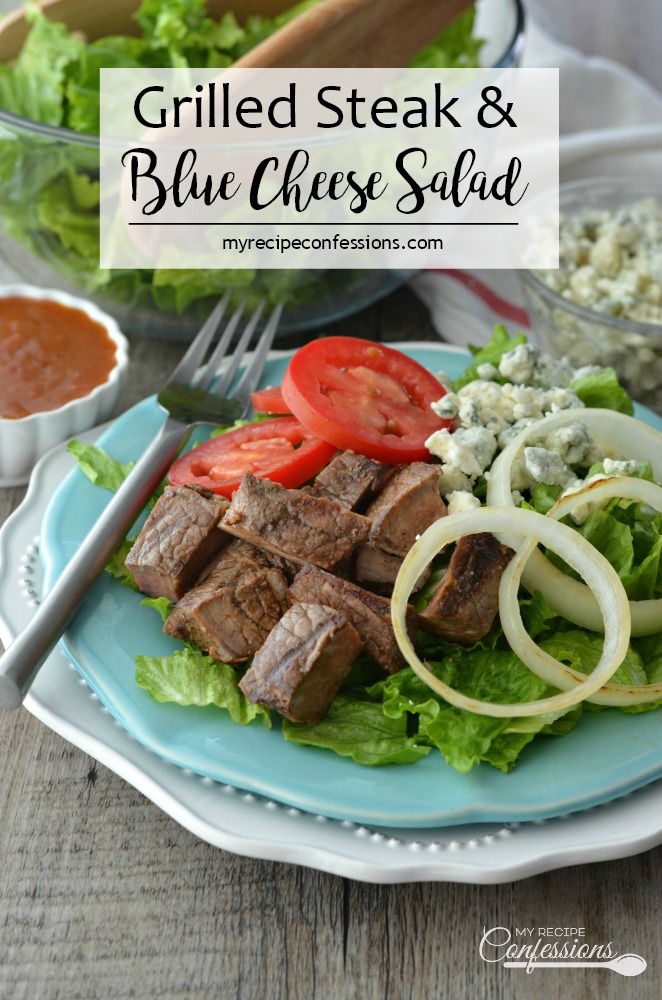 Mmm… steak! Whenever my husband and I go out to our favorite steakhouse, I love to enjoy a fresh garden salad before I dive into my juicy medium rare steak!
So I thought, why not combine one of my favorite meals into one dish? Now I can have the best of both worlds, a juicy steak and a refreshing salad.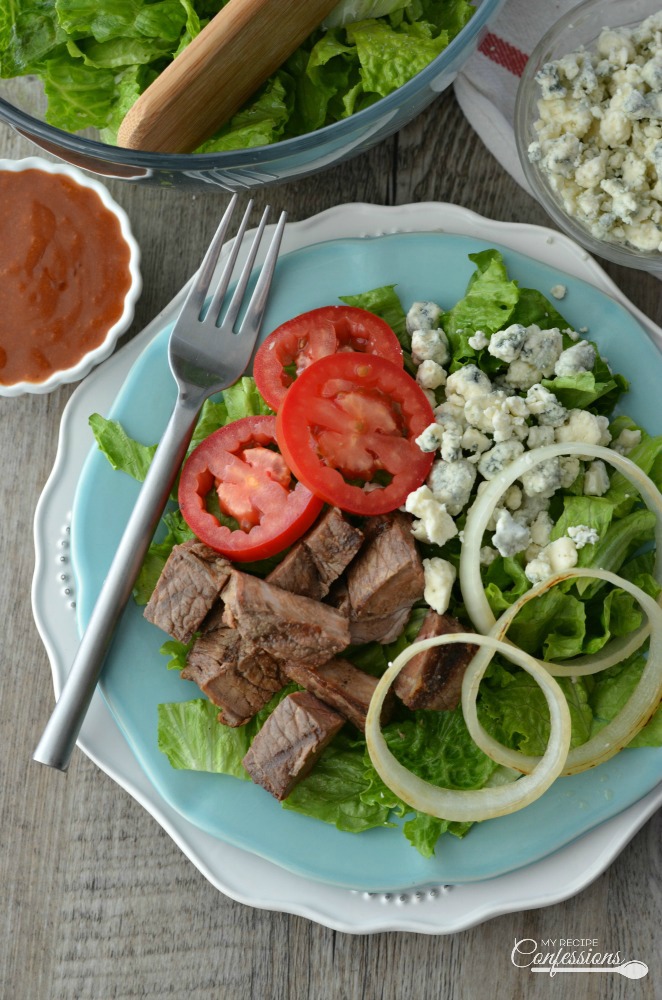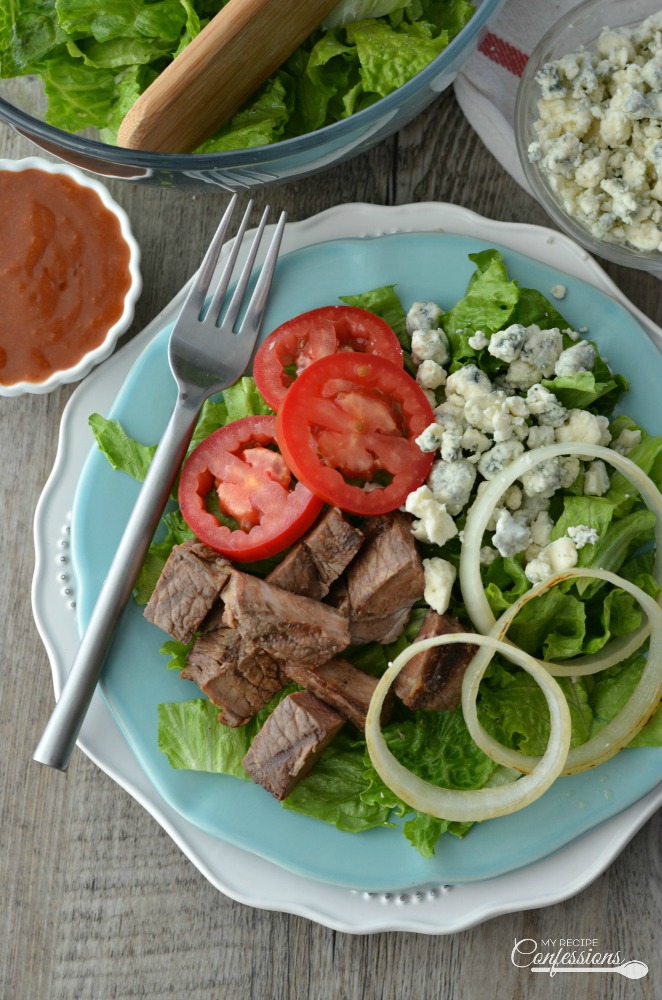 This Grilled Steak and Blue Cheese Salad is light and refreshing, yet manly enough that you can serve it for dinner without any complaints from the hubs!
Until Next time,
Carrie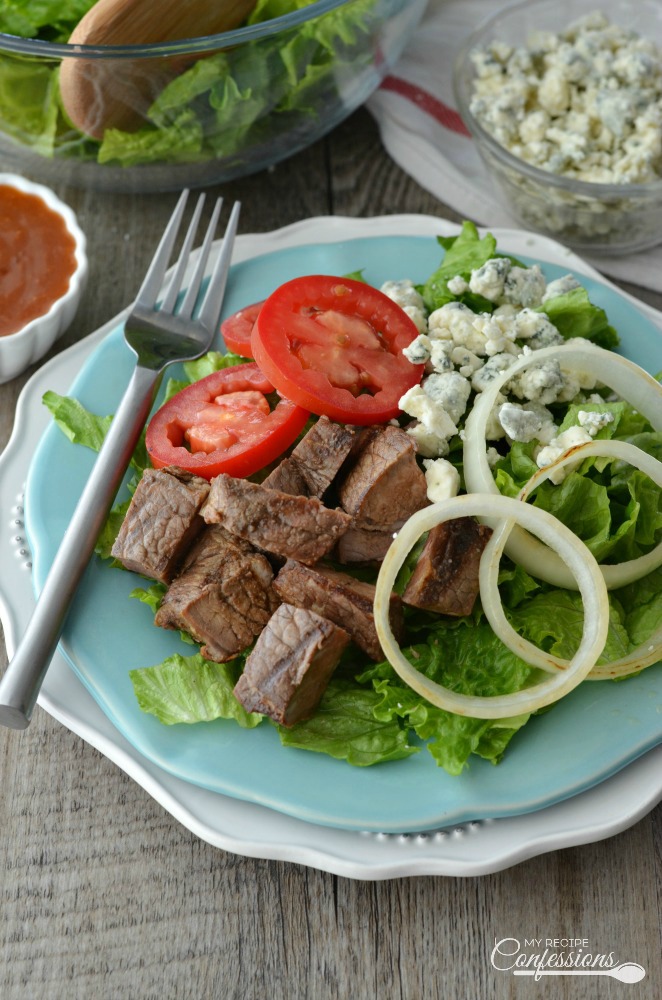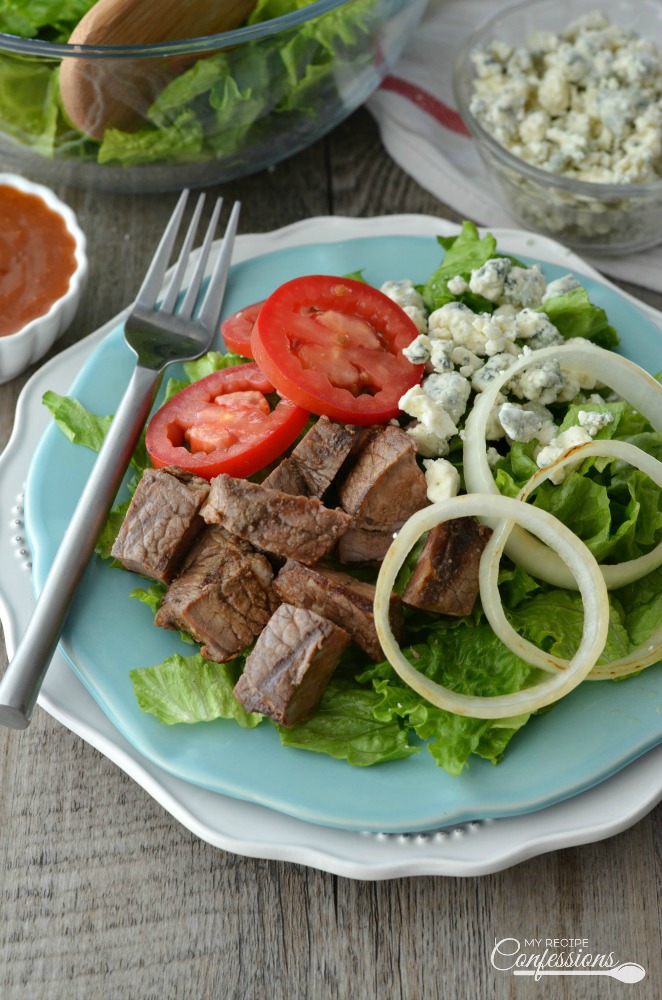 Grilled Steak and Blue Cheese Salad
makes 2 servings
2 ( 8 oz.) sirlion steaks
2 tsp. kosher salt
1/2 tsp. garlic powder
1/2 tsp. onion powder
1/4 tsp. black pepper
3 tbsp. olive oil
4 cups of romaine lettuce, chopped
1 medium onion,sliced into rings
1/2 c. blue cheese
Apple Cider Dressing
1/2 cup brown sugar, packed
1/2 cup of salad oil
1/3 cup of apple cider vinegar
1/3 cup of ketchup
1 tbsp. Worcestershire sauce
Instructions
1. Saute the onion rings in a saute pan with the olive oil until the onions are tender and translucent.
2. Brush 1 tbsp. of olive oil onto the steak. Mix the kosher salt, garlic powder, onion powder, and black pepper in a small bowl. Press the seasoning onto the steak and let the steak rest at room temparture for 20 minutes.
3.Grill the steak on a hot grill to your personal preference. Remove the steak from the grill and cover with tin foil and let it rest for 10 minutes. Slice the steak on an angle into thin strips.
4.Place all the dressing ingredients together and whisk to combine. For two servings, divide the ingredients in half and layer the lettuce, saute onions, grilled steak strips, and blue cheese onto two plates and drizzle with the dressing. Serve immediantely.
This recipe was originally posted on June 24, 2014.
Here are a few other recipes you should try.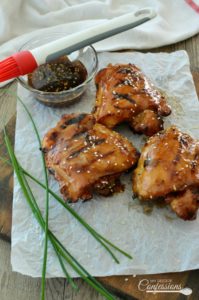 Grilled Honey Teriyaki Chicken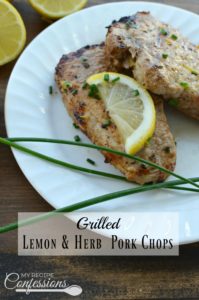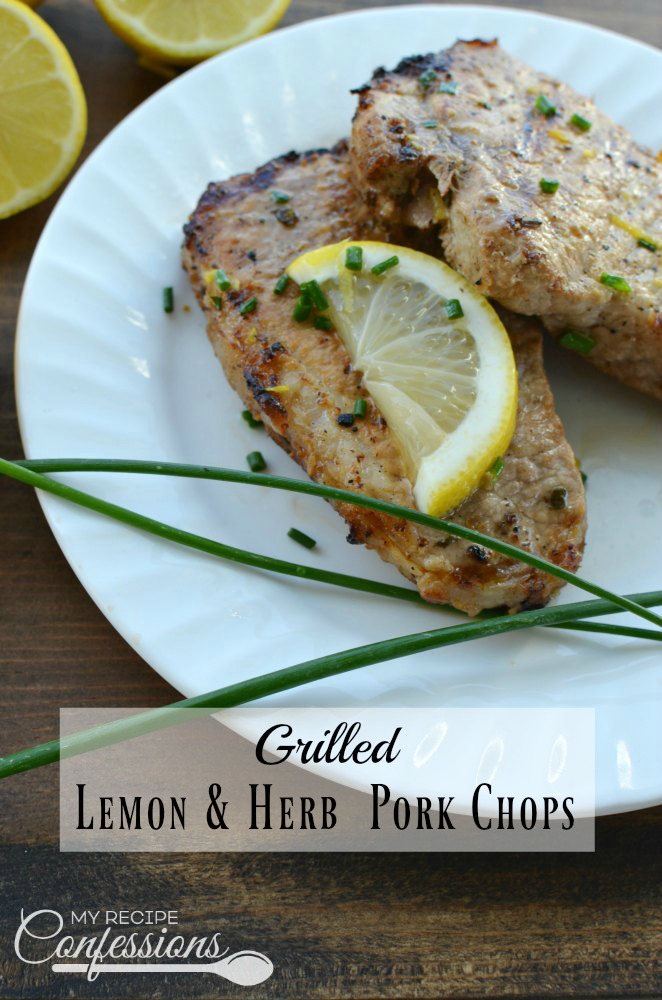 Grilled Lemon & Garlic Pork Chops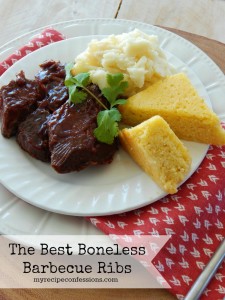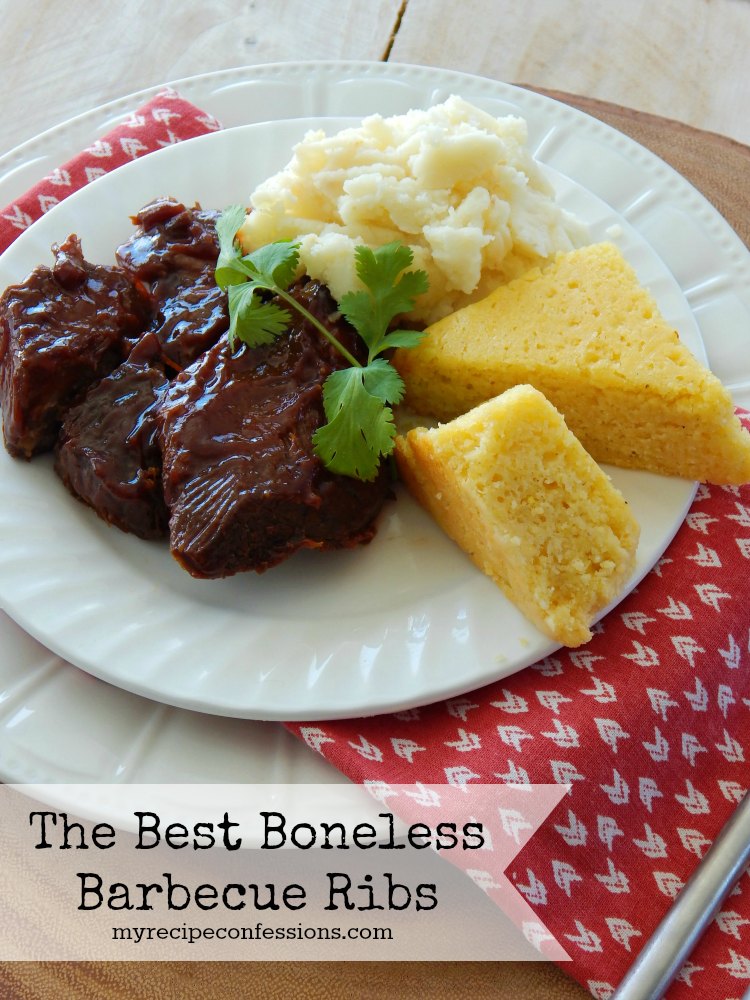 The Best Boneless Barbecue Ribs