I love fall! Every time fall comes around I get the baking itch. I know you know what I am talking about. This weekend I spent most of the weekend baking treats. We had a few family parties and I also took some treats to the neighbors. I might have had a few treats as well.  But, this morning when I got up and stepped onto my very unforgiving scale…let's just say I went for a run.
This salad is perfect if you have fallen into the same funk that I have. It is light and refreshing and yet flavorful and satisfying at the same time. I think the orange vinaigrette adds a fun new pop of flavor.
So go ahead and eat some fall treats. But make this salad for dinner and enjoy this wonderful season with a little less guilt!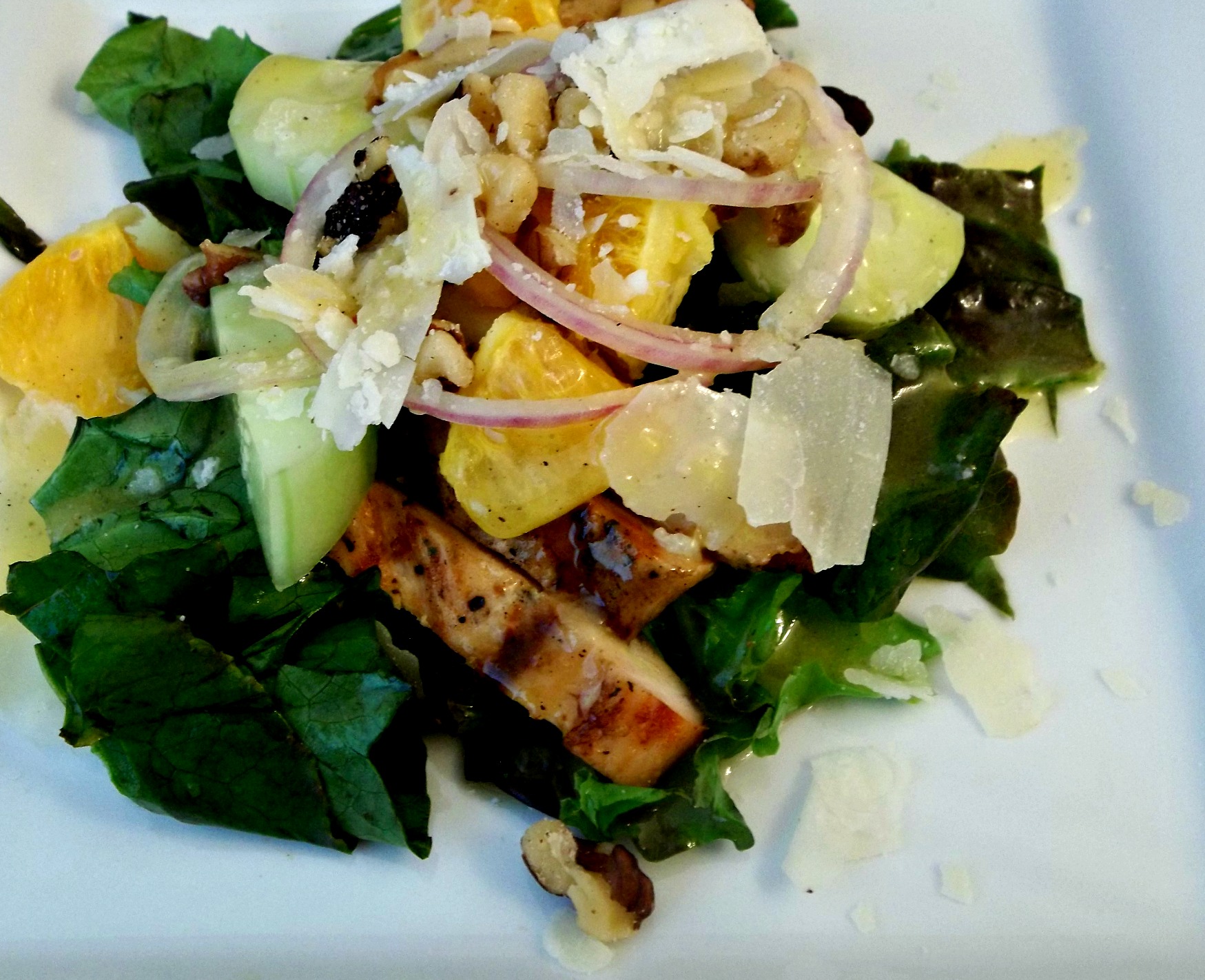 Fresh Grilled Chicken and Orange Salad with Orange Vinaigrette
3 grilled chicken breasts, sliced
1 head of romaine lettuce, chopped
1/2 lb. of spinach leaves, torn
1 sm. red onion thinly sliced
1 cucumber thinly sliced
4 oranges, peeled, thinly sliced and seeded
1/2 cup of shredded parmesan cheese
1/2 cup coarsely chopped walnuts
Vinaigrette
1/2 cup canola oil
1/4 cup orange juice concentrate
2 tbsp. apple cider vinegar
1 1/2 tsp. sugar
1/4 tsp. salt
1/4 tsp. black pepper freshly ground
Salad:
Place lettuce in a large bowl. Add rest of ingredients and gently toss together. Drizzle vinaigrette over salad and enjoy!
Vinaigrette:
Add all the ingredients in blender and pulse until well combined. Cover and refrigerate until ready to serve.