Stuffing is one of my favorite Thanksgiving side dishes.   I guess technically it would be called dressing since I do not stuff it in the turkey. I have heard many conflicting things about putting the stuffing in the turkey while it cooks. So I just don't do it. I don't want to risk making everybody sick.
I must confess that I have made the box stuffing many times because when ever I made stuffing from scratch, it was either too dry or too soggy. It always had a good flavor but the texture was off. I knew there had to be some secret to keeping it moist but not soggy.
I recently came across an article on Foodnetwork.com that broke down the steps of making stuffing. It had instructions on how to make the classic stuffing and then they listed different variations. The thing I found most interesting was the fact that they added eggs to the stuffing and baked it for about an hour. I had never tried having eggs in it before so I decided to give it a shot. I followed the basic instructions, but like always, I decided to add a few new twists to the recipe and I could not be more thrilled with the out come. I found that adding the egg and then baking it really helped give the stuffing more stability. I also decided to use French bread because it is more hardy than your average sandwich bread.  I bought two French bread loaves and cut them up into 1 to 2 inch cubes.  Then I spread the bread cubes on a baking sheet and let them dry for one full day. You need to make sure that the bread is evenly spread out so it will dry evenly. I used gala apples, but really you could use any apple that bakes well. I do not recommend using red delicious apples because they tend to get mushy when they are cooked.
This stuffing was even good the next day. I was surprised at how well it held up over night in the fridge. It was so good, I even ate some of it while it was cold when I was warming the rest up and it even tasted great when it was cold.
Come on my friends, give this recipe a try and  you will understand what I am talking about when I say this is my new go to stuffing recipe!
Until next time,
Happy Eating!
Carrie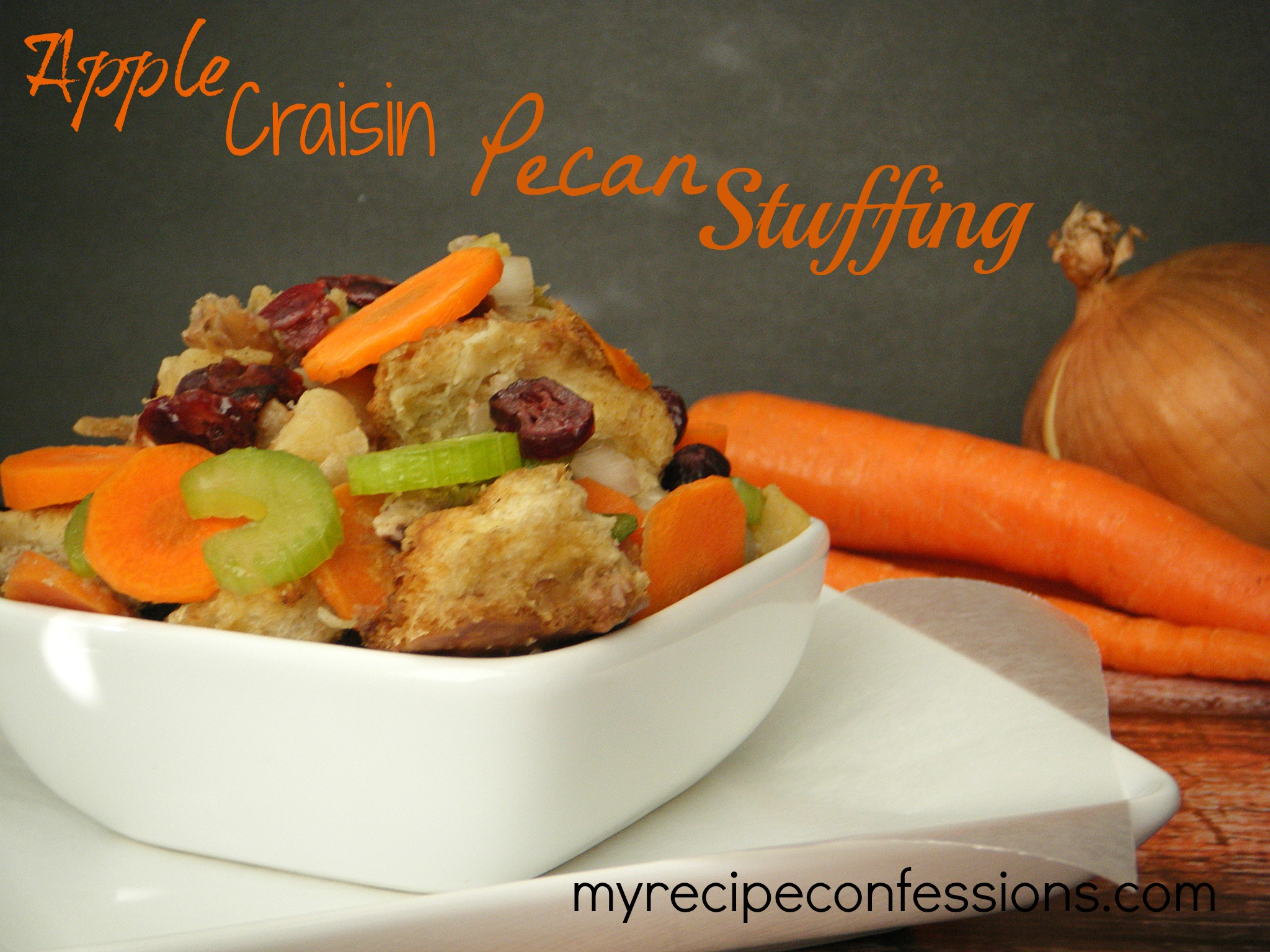 Apple Craisin Pecan Stuffing
2 c diced onion
2 c. diced celery
2 c. chopped and peeled gala apples
1 c. carrots, thinly sliced
1 c. chopped pecans
1 1/2 c. craisins
3 c. chicken broth
1 tbsp. sage
2 tsp. thyme
2 eggs
16 c. 1 inch cubes of dried French bread
3/4 c. butter
Directions:
1. Pre heat oven to 375 degrees Fahrenheit
2. Melt 1/2 c. butter in a large skillet. Add onions, celery, carrots, apples, craisins, sage, and thyme and then sauté until the vegetables are tender. Add chicken broth and bring to a simmer. Remove from heat.
3. In a large bowl slightly beat the eggs. Add 16 cups of dried French bread cubes, pour in the vegetable- broth mixture and toss.
4. Transfer to a greased baking dish and dot with the remaining 1/4 c. of butter. Cover and bake for 30 minutes. Uncover and bake for another 30 minutes or until it is golden brown.
This recipe is linked