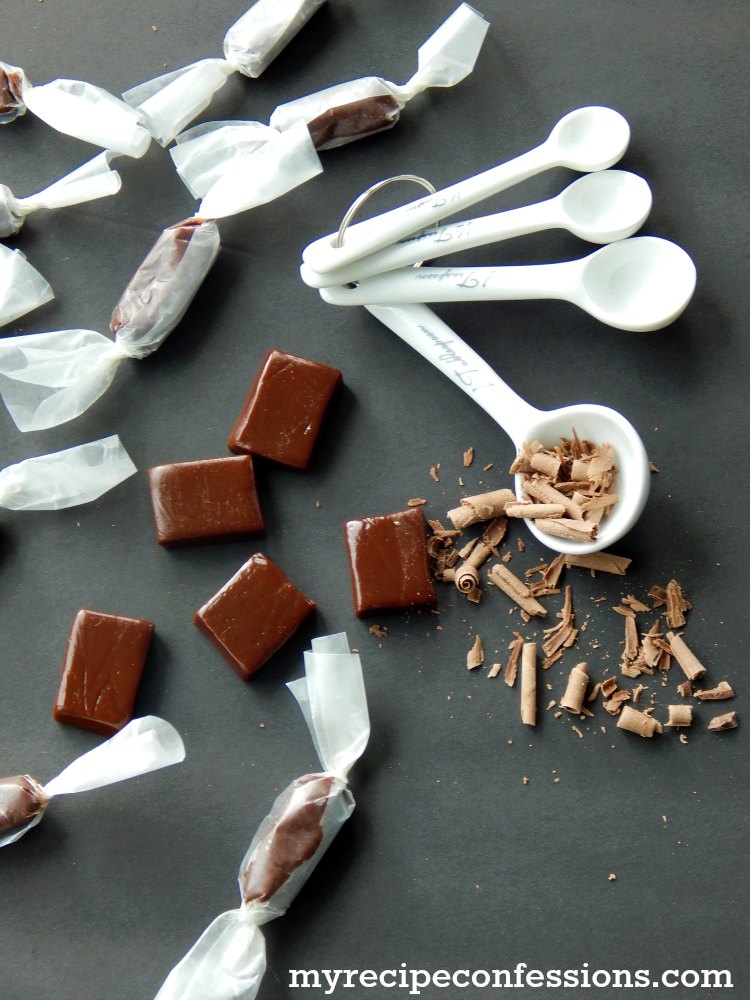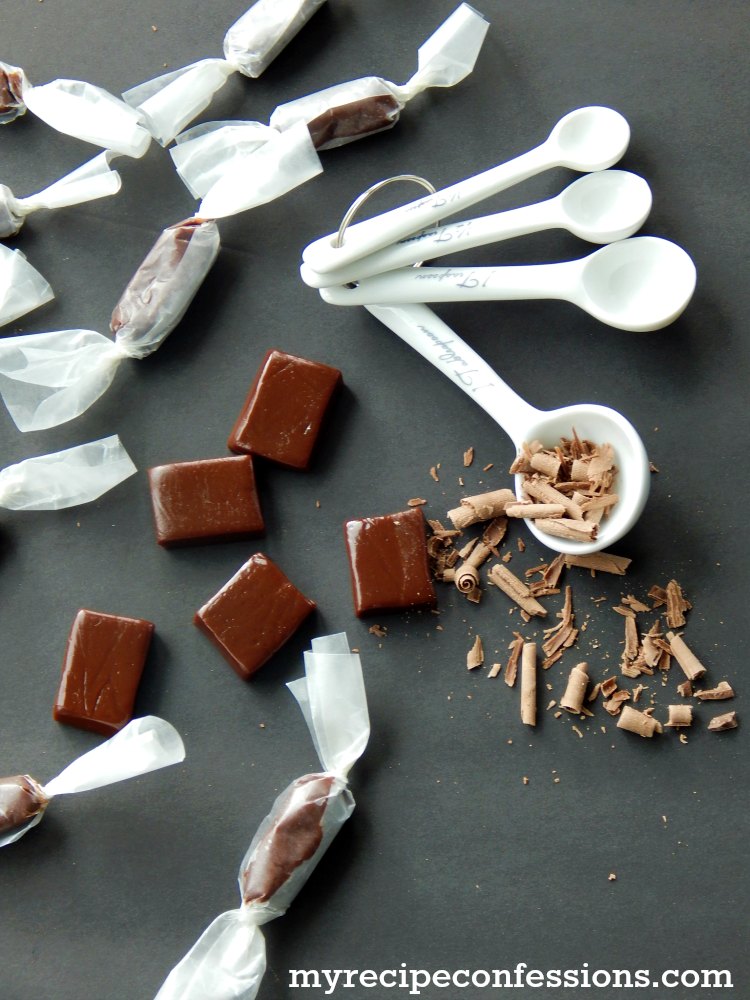 When I finally got my caramel recipe just right, my head started spinning with all of the variations of caramels I could make. One of the first ideas that popped into my head was Chocolate Caramels. I had to run to the store and buy the supplies because I knew if I didn't, I wouldn't be able to sleep. I know, I am a little crazy when it comes to food.
Generally when I develop a recipe, it takes a few batches to get it just right. This recipe I have to say was love at first bite! Then of course the doubt set in because it always does and I began to ask my husband if he thought I needed to cut back on the chocolate.  He insisted that it was perfect just the way it was.
This caramel reminds me of the chocolate caramel suckers they sell at See's Candy. If you love chocolate and you love caramel, well this recipe is a no brainer!
With love from my kitchen to yours,
Carrie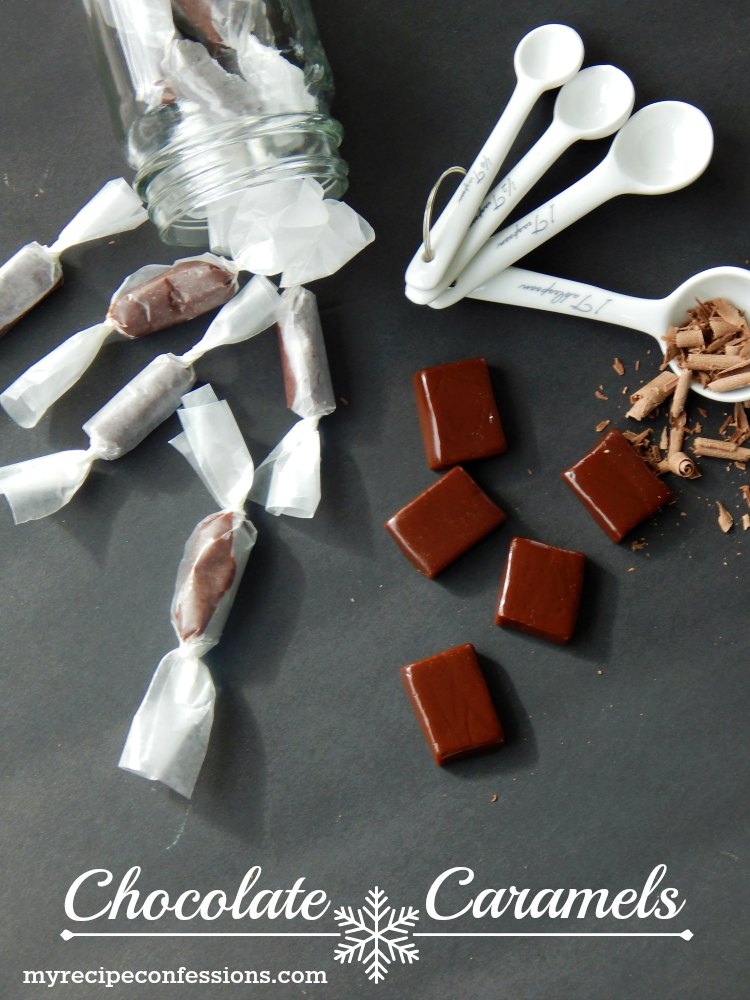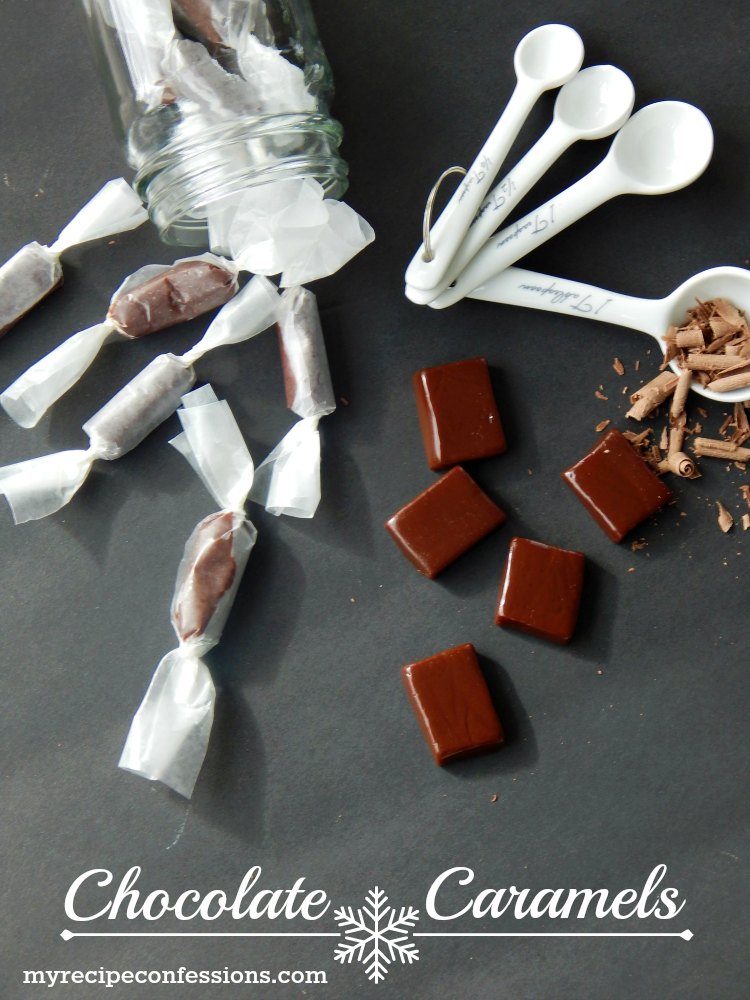 Chocolate Caramels
Makes about 77 caramels
1 cup of unsalted butter
2 ¼ cup of dark brown sugar
1 cup of corn syrup
1 (14 oz.) can of sweetened condensed milk
¼ tsp. of salt
4 oz. unsweetened baking chocolate bar
1 tsp. vanilla
2 tbsp. of heavy cream
Instructions
Pour cold water into a small bowl. Place the bowl next to the stove with 2 to 3 spoons next to it. Measure all the ingredients and have them ready. Spray a 9×13 inch pan with baking spray.
In a thick bottom sauce pan over medium-high heat, melt the butter. Add the brown sugar, corn syrup, sweetened condensed milk, unsweetened chocolate bar, and salt to the melted butter. Stir until combined.
Once the caramel comes to a full rolling boil, set the timer for 7 minutes and whisk it constantly. Check the caramel consistency by placing a spoon into the caramel and then dip the covered spoon immediately into the cold water. If the caramel on the spoon immediately forms a soft ball, remove the pan from the heat, about 7 minutes.
Immediately whisk in the vanilla and heavy cream. Pour the hot caramel into the greased 9×13 inch pan. Do not scrape the caramel off the bottom of the pan!
Once the caramel cools down, slightly place a strip of plastic wrap that has been sprayed with baking spray directly on top of the caramel. This will prevent the caramel from forming a skin on top.
Allow the caramel to cool down completely. I like to let my caramel set up over night before I cut it. Cut the caramel into 1"x 1" strips. Wrap the caramel in 3"x 5" wax paper strips. Store the caramel in an air tight container.