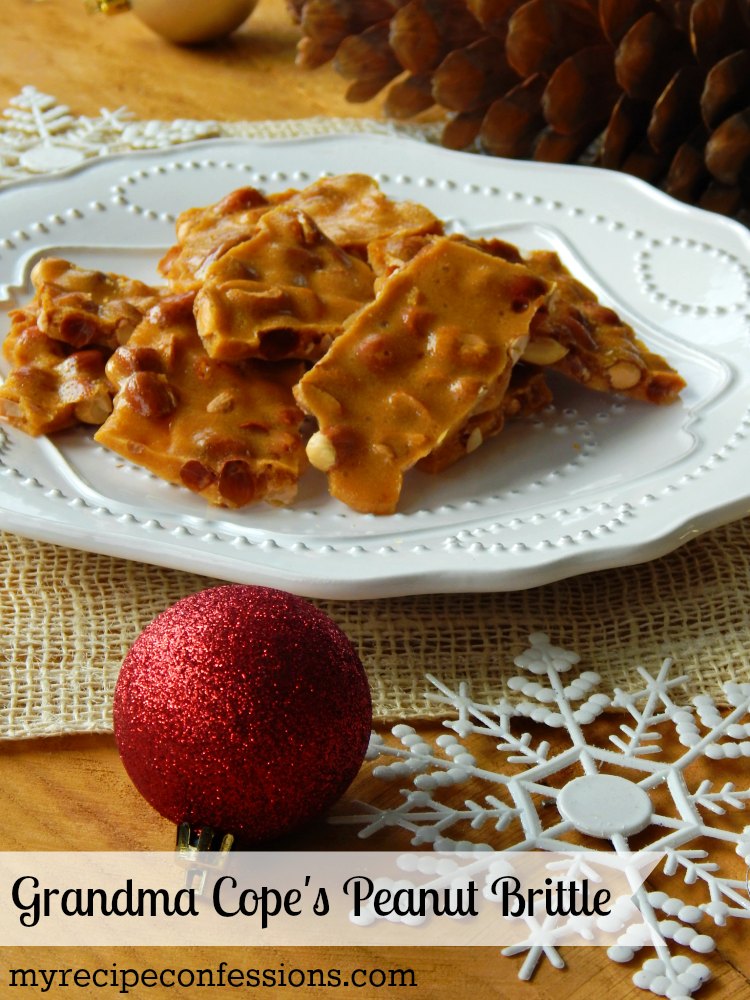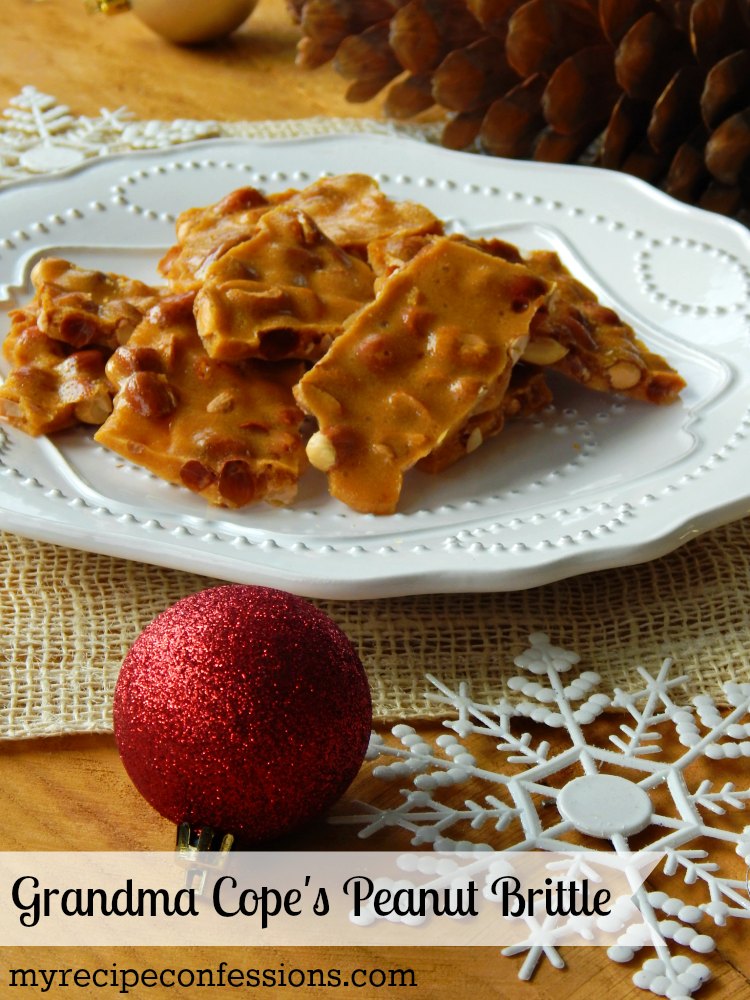 Every year for Christmas, my Grandma Cope would make us a plate of peanut brittle, English toffee, homemade caramels, and homemade hard suckers. I always looked forward to her homemade candy! She is the candy expert.
When I got a little older, sometimes my sisters and I would go and "help" her make candy. She is such a sweetheart and is always happy to answer any cooking questions I might have.
My grandma is now 95 years old. She has arthritis so bad now that she no longer cooks. So now I get to make the candy for her.
Like I mentioned in the English Toffee recipe, I never use a candy thermometer. I was taught by my Grandma Cope to use the cold water method. It is a lot more accurate than the candy thermometers. However, you need to work quickly.
My grandma perfected this recipe over the years. I don't think you will find a better recipe than this one. We all know that the recipes that are handed down from one generation to the next are always the best.
With love from my kitchen to yours,
Carrie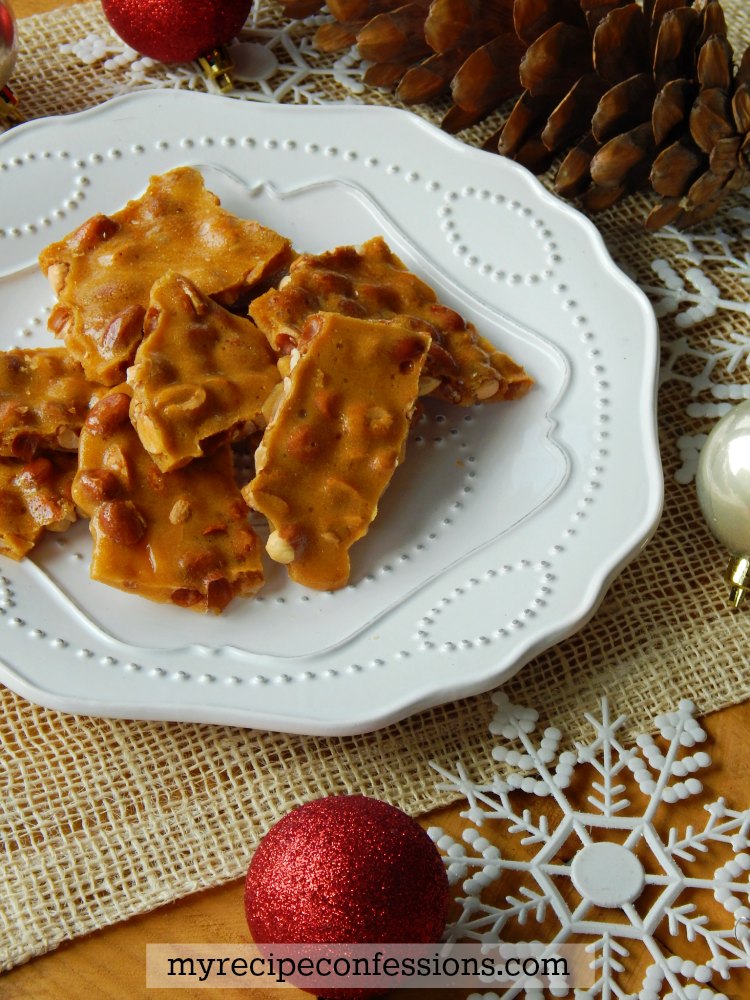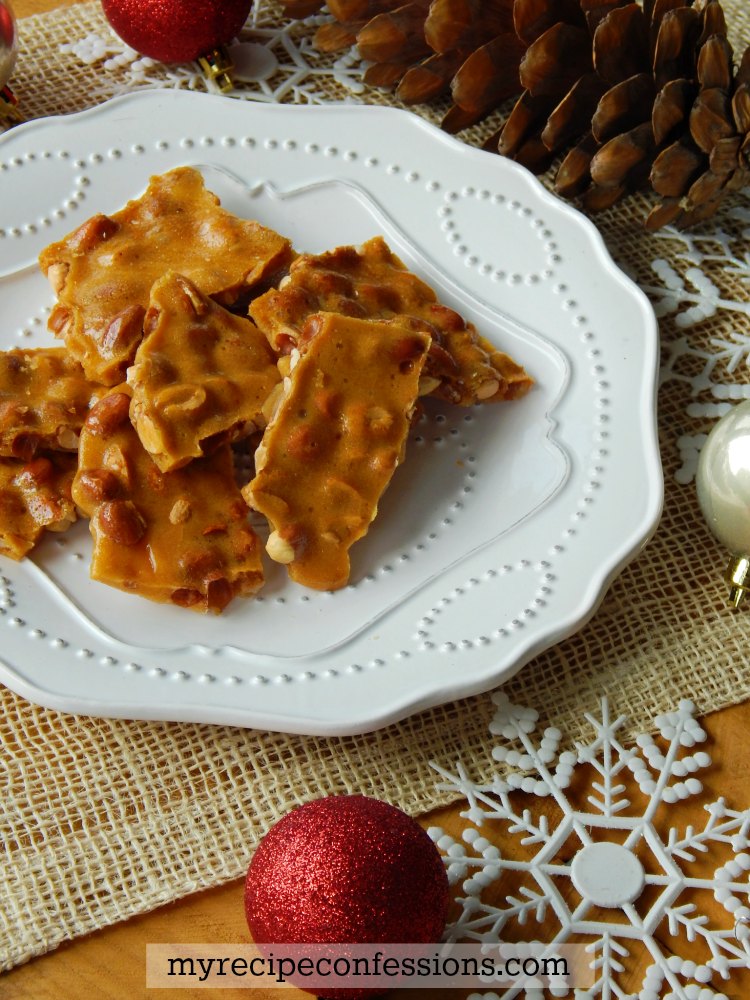 Grandma Cope's Peanut Brittle
2 cups sugar
1 cup corn syrup
½ cup water
¼ teaspoon salt
4 tablespoons butter
1 cup of unsalted roasted peanuts
1 1/2 cup of Spanish peanuts
2 teaspoons vanilla
1 teaspoon soda
Instructions
1. Premeasure the vanilla and baking soda and set aside. Place a small bowl of ice water wand 2 to 3 teaspoons next to the stove.
2. In a large heavy bottom sauce pan over medium-high heat, add the sugar, syrup, water, salt, & butter together. Cover with lid and bring to boiling slowly. When boiling remove lid.
3. Cook to soft ball stage. Dip a spoon in the hot mixture and then dip the covered spoon in the ice water. It is at the soft ball stage if the mixture on the spoon forms a soft flexible ball in the ice water, but flattens out outside of the water. When the brittle reaches the soft ball stage add the peanuts.
4. Stir frequently to avoid scorching. The brittle will turn a caramel color. Cook to hard crack stage. (dip a clean spoon in the mixture and place it in the ice water. If the mixture is hard, brittle and can be snapped in half and the brittle). Remove from heat and add soda & vanilla.
5. Pour onto a greased cookie sheets. Spread as thinly as possible. Let the brittle cool completely before breaking apart.
6. To break up the peanut brittle, press a butter knife into the brittle. Once a few pieces break apart, you can lift the brittle up and break it apart with your hands or continue to break it up with the butter knife.
9.  To clean the sauce pan, fill it with hot water and let it sit for 15 to 20 minutes. The water will dissolve the brittle that is left in the pan.