Spaghetti and meatballs is a dish that just warms my heart. My mom always made homemade meatballs when I was growing up. When mom made meatballs for dinner you knew that you better get to the dinner table on time, or you wouldn't be left with a lot to eat. I have yet to master her meatballs. She doesn't measure anything, she just goes by the texture and the smell of the ingredients. Although these type of recipes can be frustrating, they are usually some of the best ones out there. So, I will keep working on them until I get it right.
I found this meatball recipe one day when I was frustrated, yet again with trying to replicate my mom's meatballs. I have made them a few times and each time my kids practically lick their plates clean (don't worry I would stop them before it got to that point).
The marinara recipe is one that I came up with after getting sick of  the store-bought bottle sauces. They will never compare to a freshly made sauce. This one is quick to throw together and tastes like you have been standing over the stove all day. I use a tad bit of  baking soda in this recipe. It might seem kind of strange, but it is a trick that my mom taught me to help get rid of some of the acidity in the sauce. When you add the baking soda it will start to bubble. Don't worry, this is totally normal. Just keep stirring it until it stops bubbling.
Until next time,
Carrie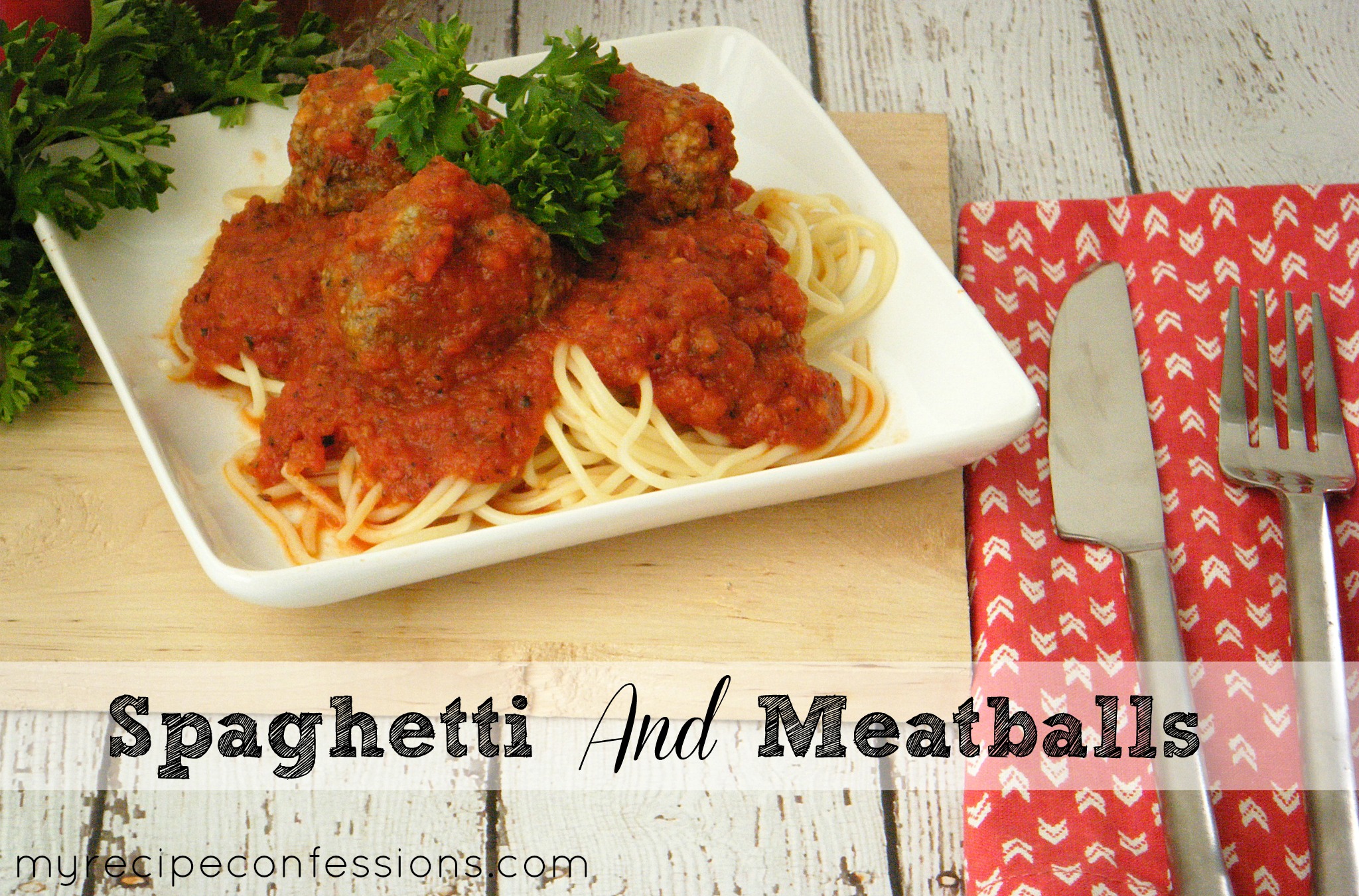 Spaghetti And Meatballs
Marinara Sauce
1 medium onion, diced
1 tsp. minced garlic
2 (14.5 oz.) cans of fire roasted diced tomatoes
1 (28 oz.) can of stewed tomatoes
1 (8 oz.) can of tomato sauce
1 tsp. kosher salt
1/4 tsp. baking soda
1 tbsp. balsamic vinegar
1 cup beef broth
1 tsp. basil
1 tsp. oregano
Instructions
In a medium-sized saucepan on medium high heat, saute onions and garlic until onions become translucent. Add the fire roasted diced tomatoes, stewed tomatoes, tomato sauce, kosher salt, and beef broth.
Let the tomato mixture simmer on medium low heat for about 20 minutes.
With an immersion blender, blend up the tomatoes until it is a smooth constituency. Add the baking soda and stir until it stops bubbling.
 Add the basil, oregano and stir until combined well. Add the cooked meatballs to the sauce and let simmer on low for another 20 minutes.  Serve over spaghetti noodles and top with freshly grated parmesan cheese.
Meatballs
makes about 24 meatballs
1 pound lean hamburger meat
2 eggs, beaten with 1/2 cup milk
1/2 cup grated Parmesan
1/2 cup panko
1/2 tsp. black pepper
1/4 cup fresh basil, minced
1/2 cup Italian seasoning breadcrumbs
1 small onion, minced
2-3 cloves garlic, minced
1/2 teaspoon oregano
1 teaspoon salt
Instructions
Preheat oven to 350 degrees
Mix all ingredients together. With a tablespoon cookie scoop, scoop the meat mixture and place the meatball on an ungreased baking sheet evenly spacing the meatballs.
Place the meatballs in the oven and bake for 30 minutes.