I am exhausted! Today has been a crazy day. When I have days like this, I like to make the Santa Fe Chicken salad for dinner. It is a meal that doesn't take a lot of time to prepare, but it is filling and everybody eats it. I also like it because you don't feel super weighted down after eating it. For the chicken, I just follow the cooking instructions on the back of the bag. When the chicken is done, I cut it up into strips and toss the strips in barbeque sauce. You can use your favorite barbeque sauce, my favorite barbeque sauce happens to be Sweet Baby Rays.  It is amazing! For the dressing, just use your favorite prepared ranch dressing and mix in 1 Tbsp. of taco seasoning into the ranch. The taco seasoning gives it a nice little kick. The recipe calls for tortilla strips, but I usually just crush up some tortilla chips and call it good. I always serve this salad buffet style. This way, my family can make their own salad the way they want it and the lettuce doesn't wilt.  With this salad for dinner, you can have your family fed and everything cleaned up in no time. Then you can sit back and enjoy the rest of night!
Until next time,
Happy Eating!
Carrie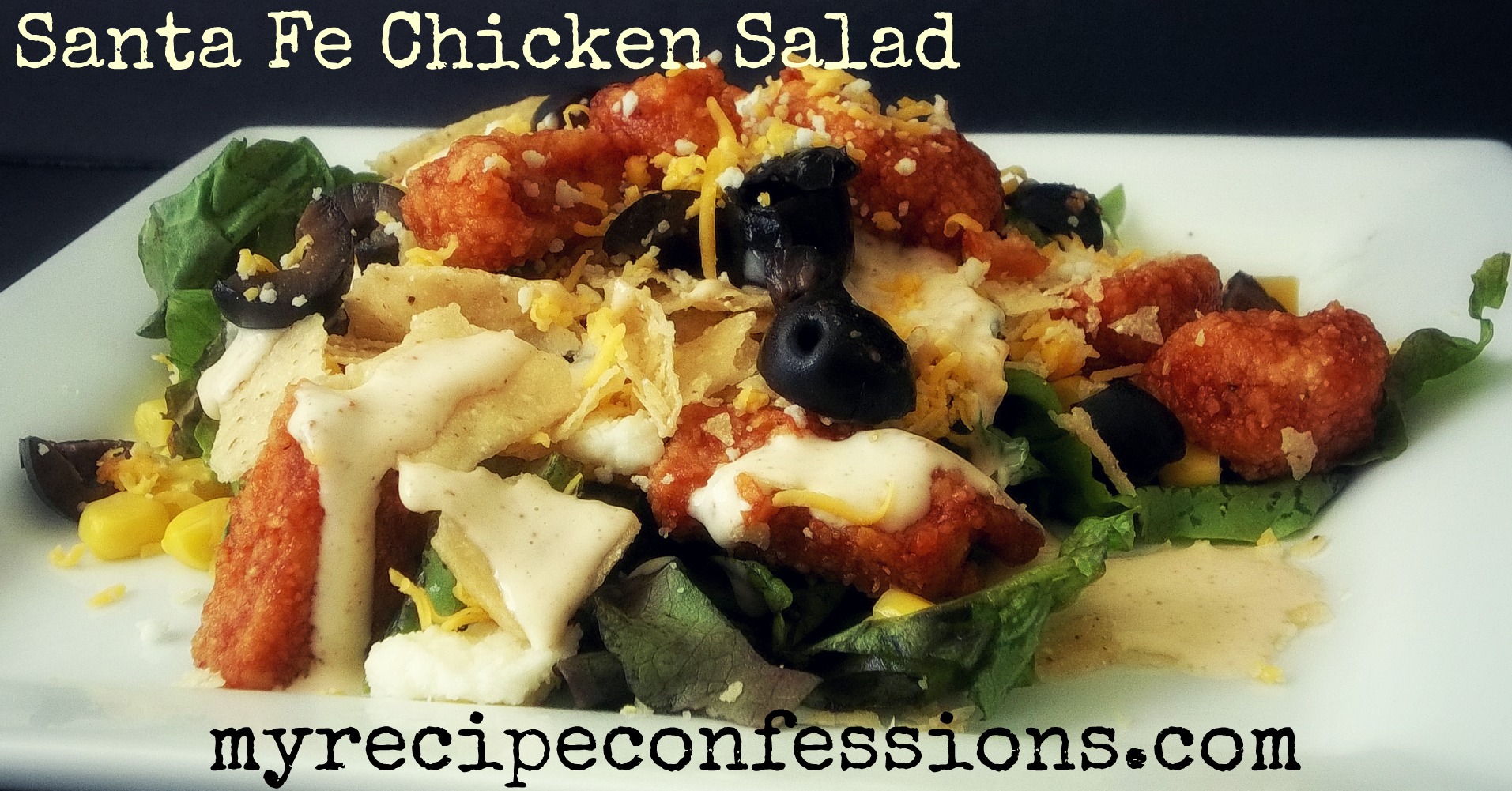 Santa Fe Chicken Salad
1 head of red leaf lettuce, chopped
1 can (15 oz.) of sweet yellow corn
1 can (15 oz.) of black beans
1 can (15 oz.) of black olives, sliced
1/2 cup of green onion, diced
1 cup of tomatoes, diced
1 1/2 cup of shredded cheddar cheese
1/2 cup of avocado, cubed
1 1/2 cups of tortilla chips, crushed
2 cups of prepared ranch dressing
1 Tbsp. taco seasoning
3 cups of chicken nuggets, cut into strips
3/4 c. barbeque sauce
1. Place the chopped red leaf lettuce in a large bowl.
2. Cook the chicken nuggets according to the manufactors instructions.
3. Once chicken is fully cooked, cut into strips and toss in your favorite barbeque sauce.
4. Mix 1 Tbsp. of taco seasoning into ranch dressing.
5. Place tossed barbeque flavored chicken, cheese, corn, black beans, green onions, avocado, olives, and crushed tortilla chips in separate bowls.
6. Layer all ingredients and drizzle the ranch dressing on top.
Enjoy!
This recipe is linked to, Give Me The Goods , Yesterday on Tuesday,
You're Gonna Love IT, Nap Time-Creations