I am counting down the hours until dinner time so I can eat this scrumdiddlyumptious salad! I am not kidding you, it really is that good! My chicken has been marinating since lunch and all I have left to do is chop up the remaining ingredients and toss the salad together. This salad is chuck full of vegetables and has tons of flavor. After eating all the yummy but not so healthy food over the holidays, I know I need to get back on track with healthy food. If you think that healthy food is lacking in the flavor department, you will change your mind after one bite of this salad. You can also serve this salad as a side salad. Just omit the grilled chicken and walla, you have a tasty side to any entrée. Enjoy, because I know I sure will!
Until next time,
Carrie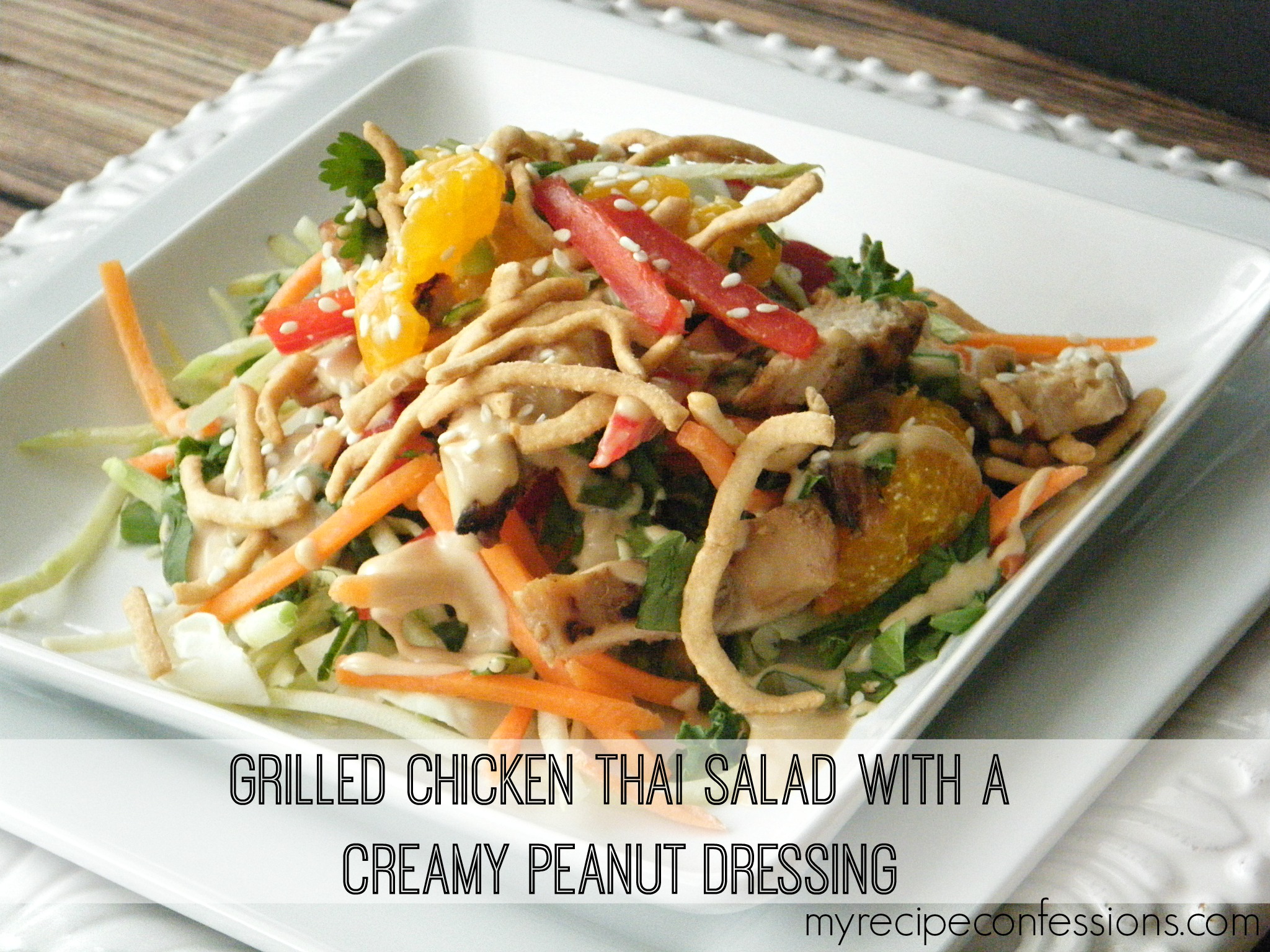 Grilled Chicken Thai Salad with Creamy Peanut Dressing
Grilled Chicken:
1/4 cup soy sauce
4 tsp. sesame oil
2 tbsp. honey
1 tsp. fresh ginger, minced
1 tsp. garlic, minced
4 boneless, skinless chicken breast
Directions:
1. Mix the first 5 ingredients together in a large zip lock bag.
2. Place the chicken breast on a cutting board. Place one of your hands on the chicken. Using your other hand keeping the edge of the knife parallel to the cutting board, begin slicing the chicken down the length of the side of the chicken. Carefully slice the chicken in half width wise. Repeat this process with the remaining chicken breasts.
2. Place the chicken breasts in the ziplock bag and marinade for at least 1 hour.
3. Preheat the grill to medium high heat. Drain chicken marinade into a small sauce pan. Bring to a boil and simmer over medium high heat for 5 minutes. Set aside for basting.
4. Lightly oil the grill. Cook the chicken breast for 6 to 8 minutes on each side or until the juice runs clear from the meat. Baste frequently with marinade. Slice into strips.
SALAD:
1 (12 oz.) bag of Asian chopped salad blend
1 (12 oz.) bag of broccoli slaw
1 cup green onions, diced
1 cup carrots, thinly sliced
1 cup of red bell pepper, diced
2 (11oz.) cans of mandarin oranges
1 cup of cilantro, chopped
1 cup of lightly salted peanuts, coarsely chopped
1/2 cup sweetened coconut flakes
1/2 cups Chinese noodles
Directions:
1. Add Asian salad mix and broccoli slaw in a large bowl.
2. Toss the remaining ingredients (except the Chinese noodles) in with the salad mixture. Top with grilled chicken and Chinese noodles. Drizzle the salad with peanut dressing. Serve immediately.
*Instead of tossing in the remaining ingredients, you can serve this salad buffet style with all the ingredients in separate bowls so that everybody can make their salad to their own liking. Store leftovers in the refrigerator for up to 2 days.
Dressing:
1/2 cup rice vinegar
1/4 cup lite soy sauce
2/3 cup creamy peanut butter
1 tbsp. lime juice
1 cup of coconut milk
1 tsp. garlic powder
2 tbsp. fresh ginger, minced
3 tbsp. dark brown sugar
Directions:
1. Add all the ingredients in a medium sized bowl. With an immersion blender or food processor, blend all the ingredients together until the dressing is smooth and creamy. Refrigerate until ready to serve.
Grilled Chicken recipe adapted from allrecipes.com
This recipe is linked to:
The Best Of The Weekend Link Party