I love Chili Verde Sauce! Of course I am a wimp and can only eat it if it is a mild Chili Verde Sauce.
This recipe came from a sweet little Mexican lady I use to work with. The original recipe didn't have any measurements. It was one of those recipes that she never measured anything. That is when you know a recipe is really good and that it has been made over and over again.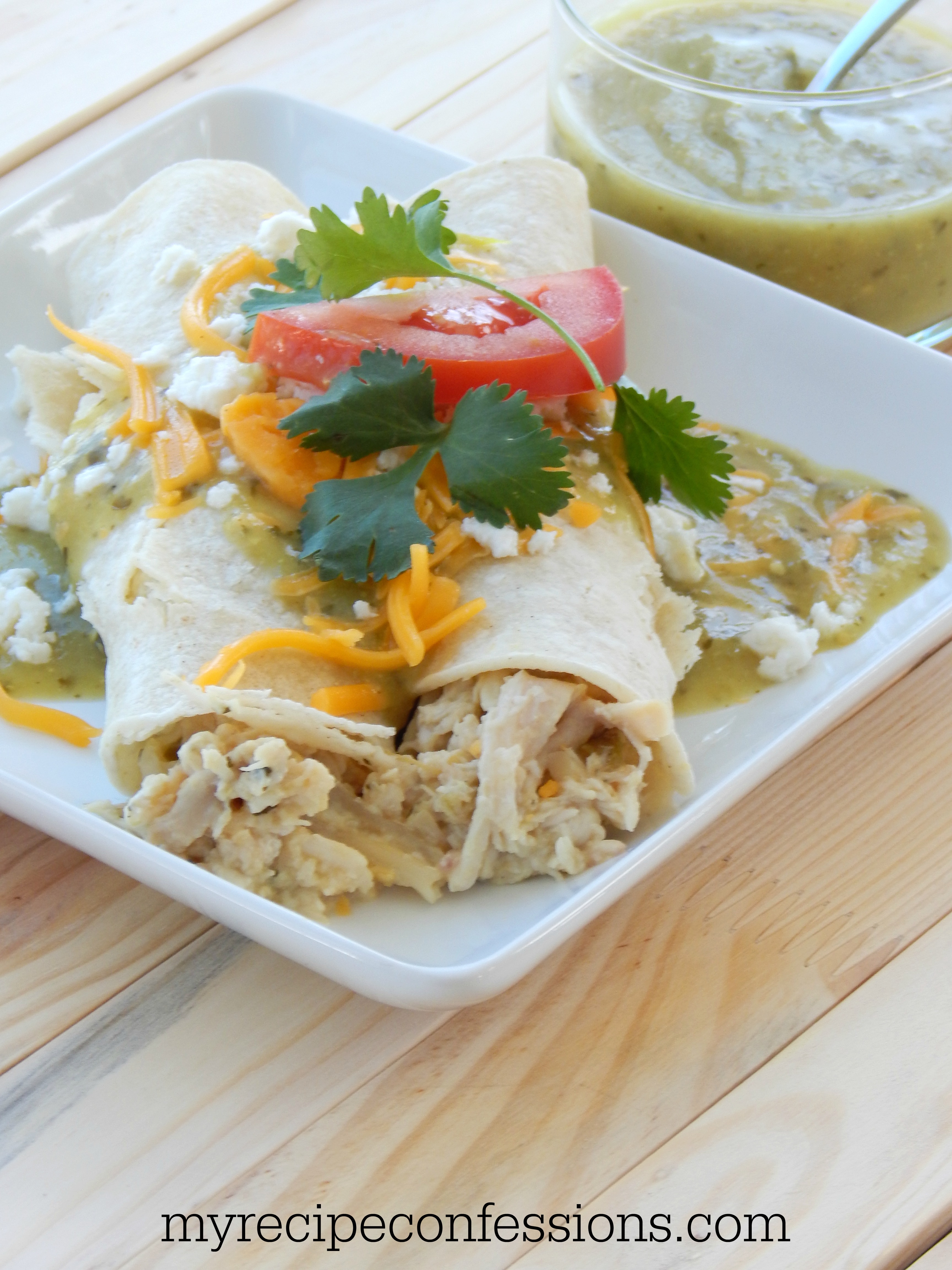 Before I started blogging, this is how cooked most of the time. I added a little bit of that and a pinch of this until it smelled and tasted just right. It use to make my sisters so made when they would ask for a recipe. Now days, I measure everything and write it all down so that I can pass it on to the rest of you. That being said, I have done my best to come up with the measurements for this recipe.
Like I have told you before, my family won't eat anything that is too spicy. I have made this sauce with the jalapenos and just removed the seeds and the ribs. It wasn't quite as hot, but it was still to hot for my kids. So when I make this sauce, I use a can of green chilies and it is just right! Either way that you make these  Chicken Chili Verde Enchiladas, they are guaranteed to knock your socks off!
Until next time,
Carrie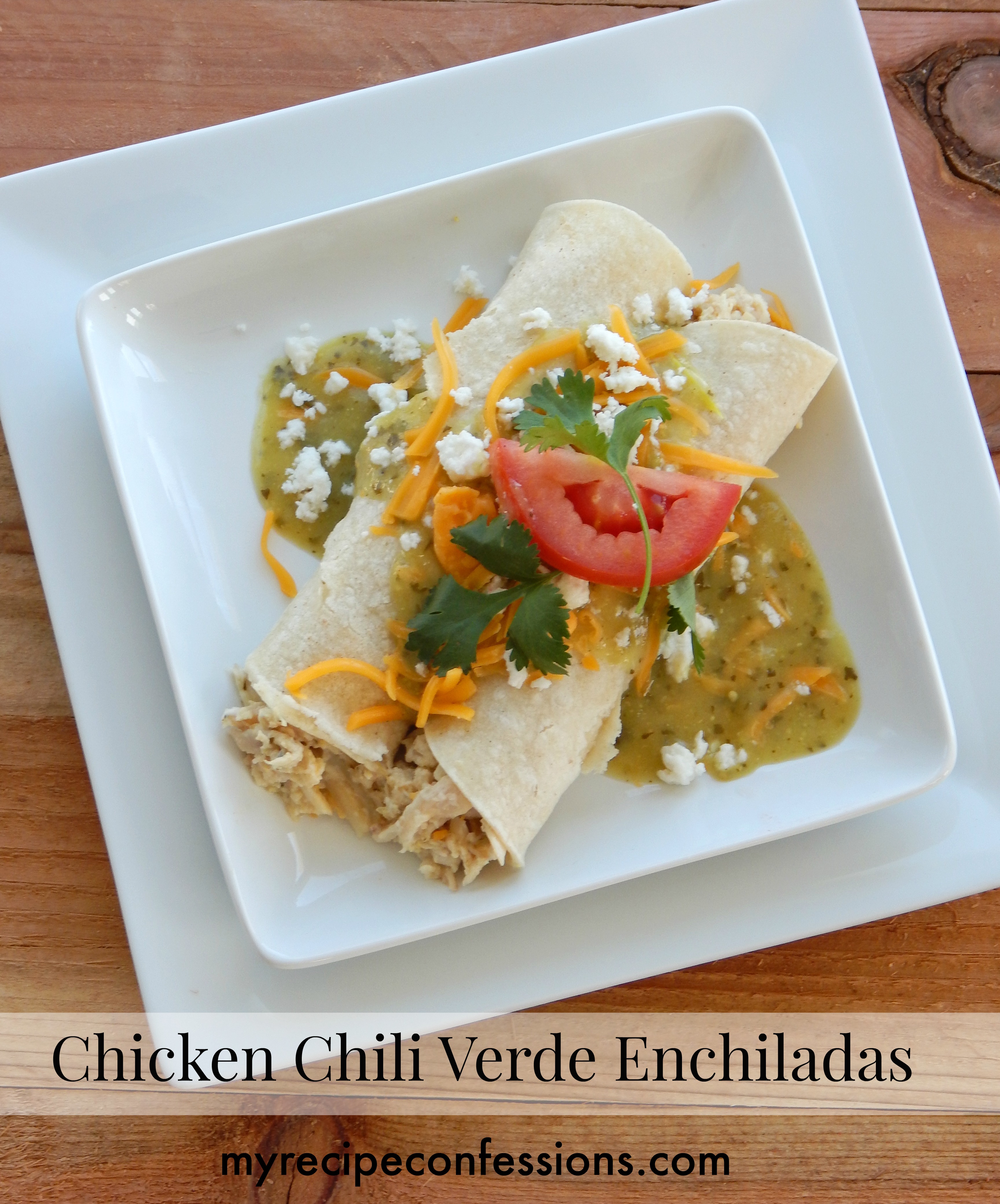 Chicken Chili Verde Enchiladas
2  1/2 to 3 cups of cooked shredded chicken
2  cups of cheddar cheese, shredded
1 cup of queso fresco cheese, crumbled
1 can of chilies
1 cup of chili verde sauce
10 to 12 tortillas
Instructions
Pre heat oven to 350 degrees
1.  In a medium-sized bowl, shred the chicken and add 1 cup of cheddar cheese, 1/2 cup of queso fresco cheese, chilies, and 1/2 cup of the chili verde sauce, mix well.
2. Pour the remaining 1/2 cup of chili verde sauce in a 9×13 pan. Add about 1/4 cup of chicken mixture onto each tortilla and roll it up. Place the rolled tortillas into the 9×13 pan. Pour the chili verde sauce over the rolled tortillas. Sprinkle the remaining cheddar cheese and queso fresco cheese over the enchiladas and cover with tin foil. Bake for 30 minutes or until the cheese is melted and the and the enchiladas are heated all the way through. Serve immediately.
Chili Verde Sauce
5 fresh tomatillos, husk removed and washed
3/4 cup of fresh cilantro, washed
1 tsp. garlic, minced
5 small jalapenos, seeded (for mild flavor 1 can of green chilies, diced)
5 cups of water
5 tsp. better than bouillon
1/2 tsp. cumin
1/4 cup of water
2 tbsp. cornstarch
Instructions
1. Bring the first 7 ingredients to a boil and cook until tender. Once the vegetables are tender blend up in a blender or with an immersion blender until smooth.
2. Bring the mixture to a boil again. Whisk together 1/4 cup of cold water and 2 tbsp. of cornstarch. Pour the corn starch mixture in to the chili verde and whisk until it is thickens. Remove from heat.