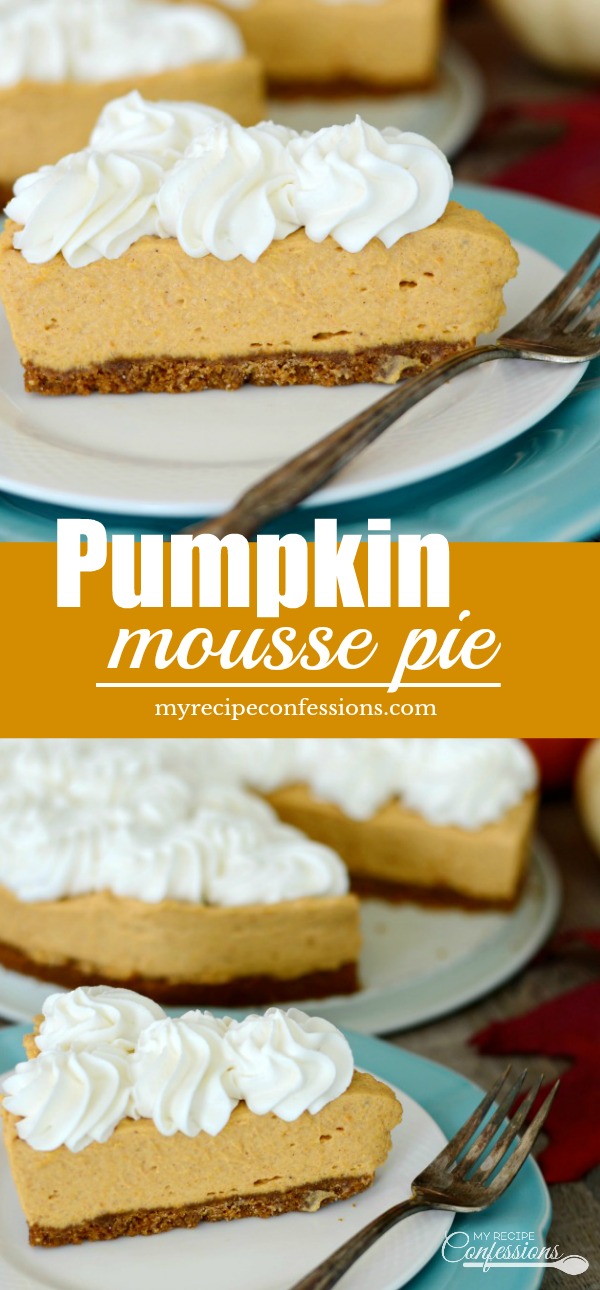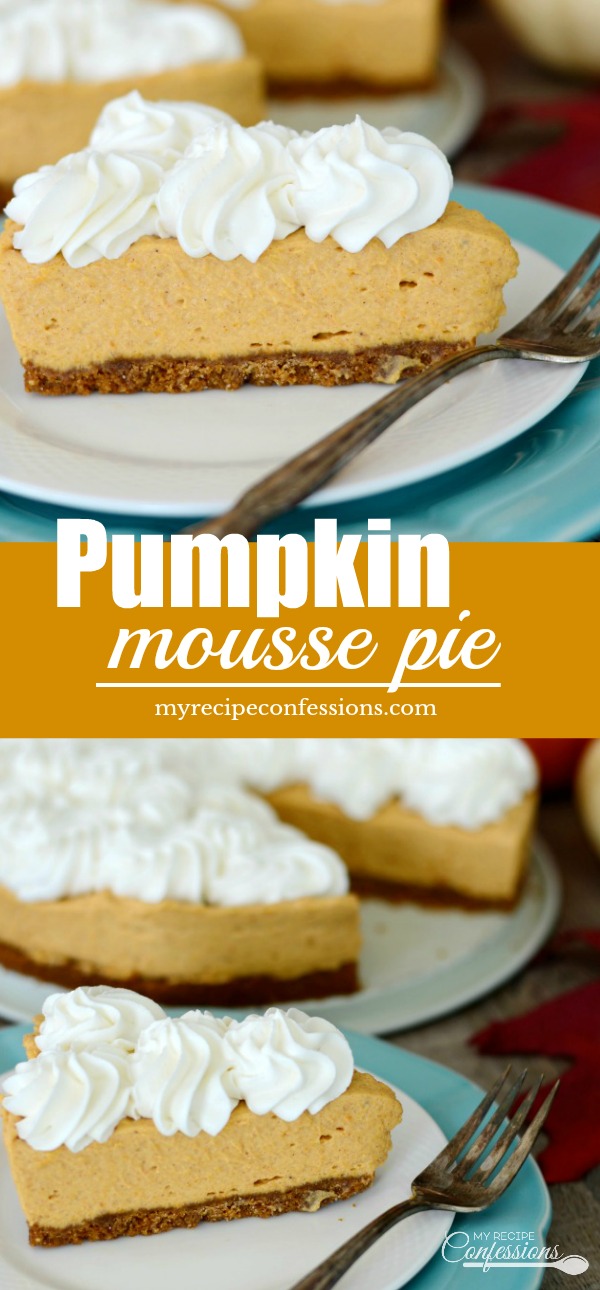 Pumpkin Mousse Pie isn't like your average pumpkin pie. The Pumpkin Mousse with homemade whipped cream is light and fluffy with a creamy pumpkin flavor. The gingersnap crust is amazing on it own but it also really enhances the flavor of the pumpkin mousse.
Pumpkin Mousse Pie takes pumpkin pie to a whole new level! There is just something about the pillowy soft texture of the mousse that casts a spell on you after the first bite. It is hard to stop thinking about it. You will find that your thoughts are consumed with getting the next slice of pie as soon as possible.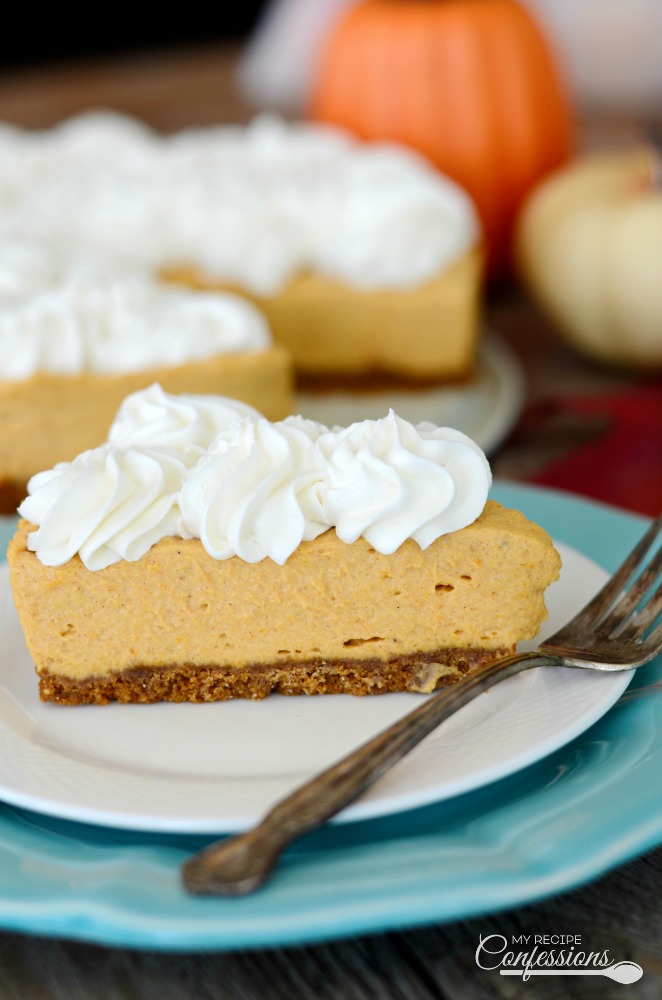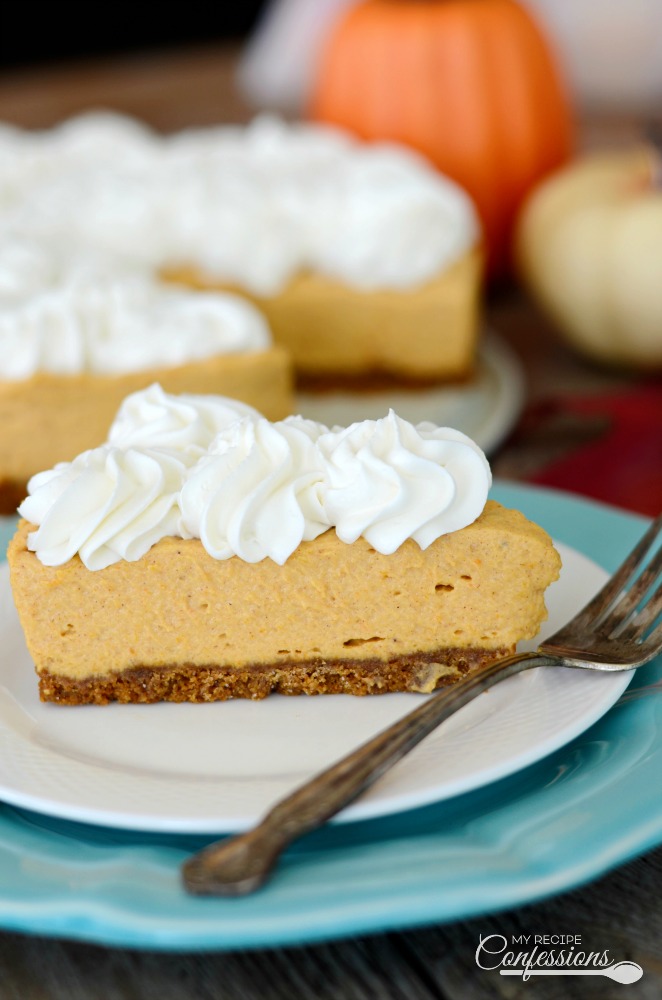 I originally posted this recipe on September 21, 2015. In the original recipe I used Nestle Toll House Pumpkin Spice Morsels. The morsels are a seasonal item and lately I haven't been able to find them. So, I came up with a new recipe that you can make year round because the ingredients are always accessible. I highly recommend making your own Pumpkin Pie Spice. When you make your own the pumpkin spice, it's so much more vibrant than the store bought version. Click here to find my Pumpkin Pie Spice recipe.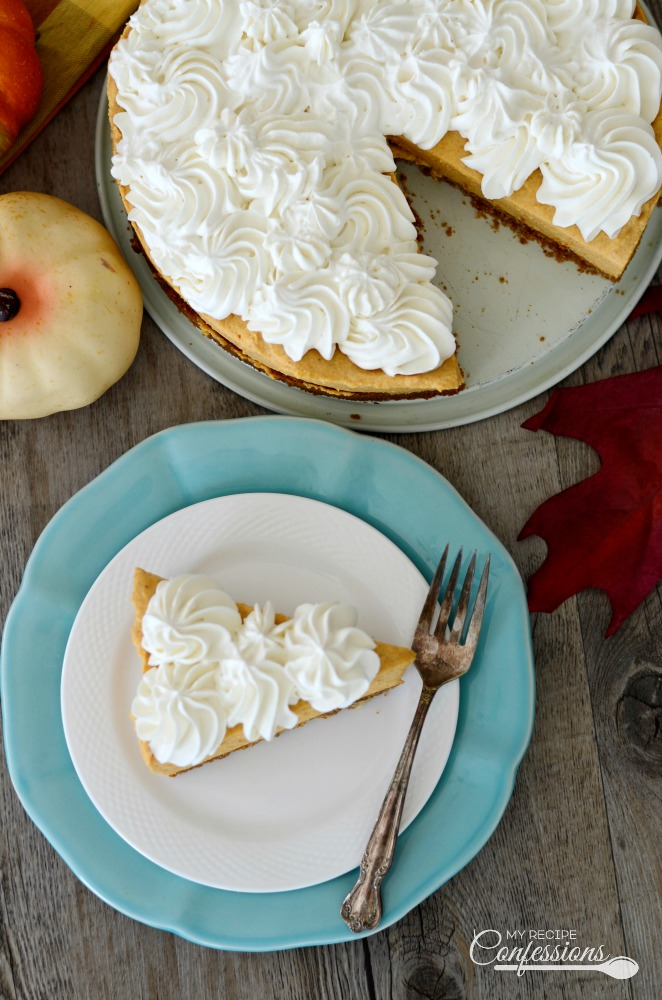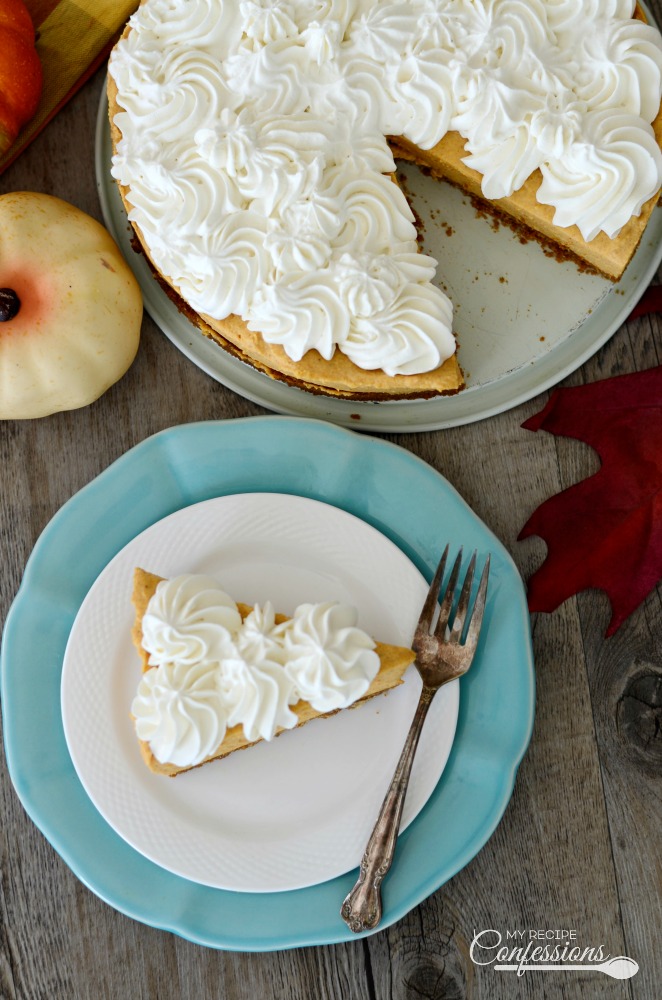 For the pumpkin mousse, I use a 1/2 cup of butterscotch morsels along with a package of white chocolate chips and 1 cup of pumpkin puree. Using butterscotch morsels in the mousse might seem odd but it really helps boost the pumpkin flavor.
You better believe this pie is going to be on this year's Thanksgiving menu. I am willing to bet it will be on your menu too.
With love from my kitchen to yours,
Carrie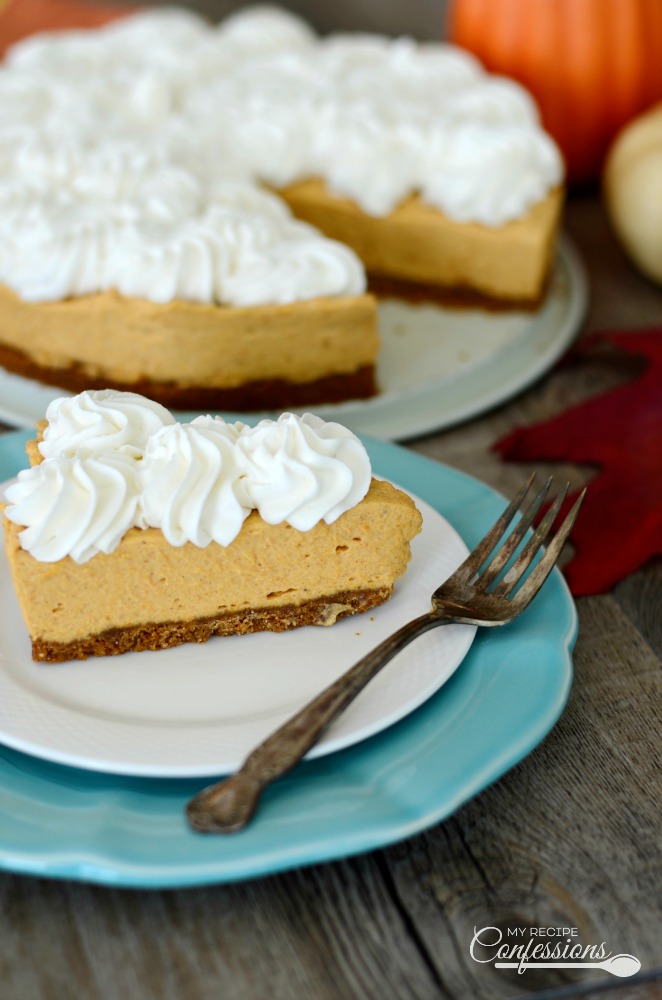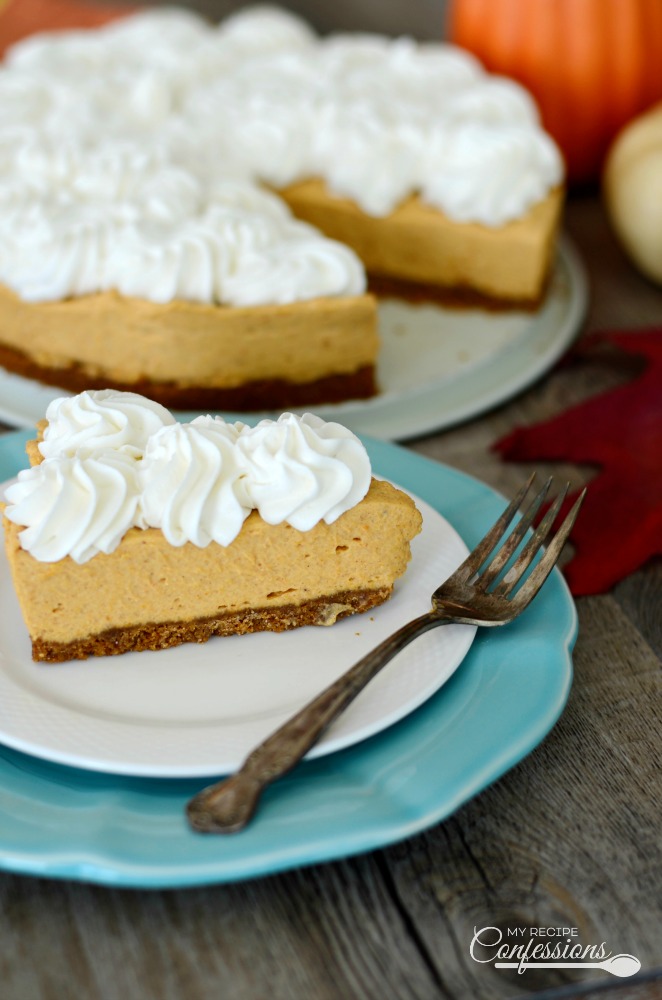 Pumpkin Mousse Pie
Crust:
3 cups of ginger snaps
1/4 cup of butter, melted
2 tbsp. of granulated sugar
Mousse:
1 1/2 cup of white chocolate chips
1/2 cup of butterscotch morsels
3 cups of heavy whipping cream
1 cup of pumpkin puree, chilled
2 tsp. of pumpkin pie spice ( you can find my recipe here)
Whipped Cream:
2 cups of heavy cream
1/3 cup of granulated sugar
1 tsp. of vanilla extract
Instructions
Pre-heat oven to 325 degrees
Crust:
In a food processor, blend the ginger snaps until they resemble the texture of sand. Add the butter and sugar and mix well.
Evenly press the ginger snap crumb mixture in the bottom of 9 inch spring form pan and bake for 15 minutes.
Remove the pan from the oven and allow to cool completely.
Mousse:
Pour the white chocolate chip and butterscotch morsels into a large bowl. In a small sauce pan over medium-high heat, bring the 1 cup of heavy cream to a simmer. Remove the pan from the heat and pour over the white chocolate chips and butterscotch morsels.
Whisk the cream, white chocolate chips, and butterscotch morsels together until smooth. Mix in the pumpkin puree and cover with plastic wrap and place in the refrigerator for 1 hour or until the pumpkin mixture is completely chilled. It is very important that you allow it to chill completely. If not, the mousse will not whip up properly.
Remove the pumpkin mixture from the fridge and add the remaining 2 cups of heavy cream and pumpkin pie spice. Whip until it forms stiff peaks.
Whipped Cream:
Whip the heavy cream, sugar, and vanilla together until it forms stiff peaks.
Assembly
Evenly spread the pumpkin mousse over the crust, cover with plastic wrap, and chill in the refrigerator for 3 hours. Spread or pipe the whipped cream over the pie and serve.
Here are a few other recipes you might enjoy.