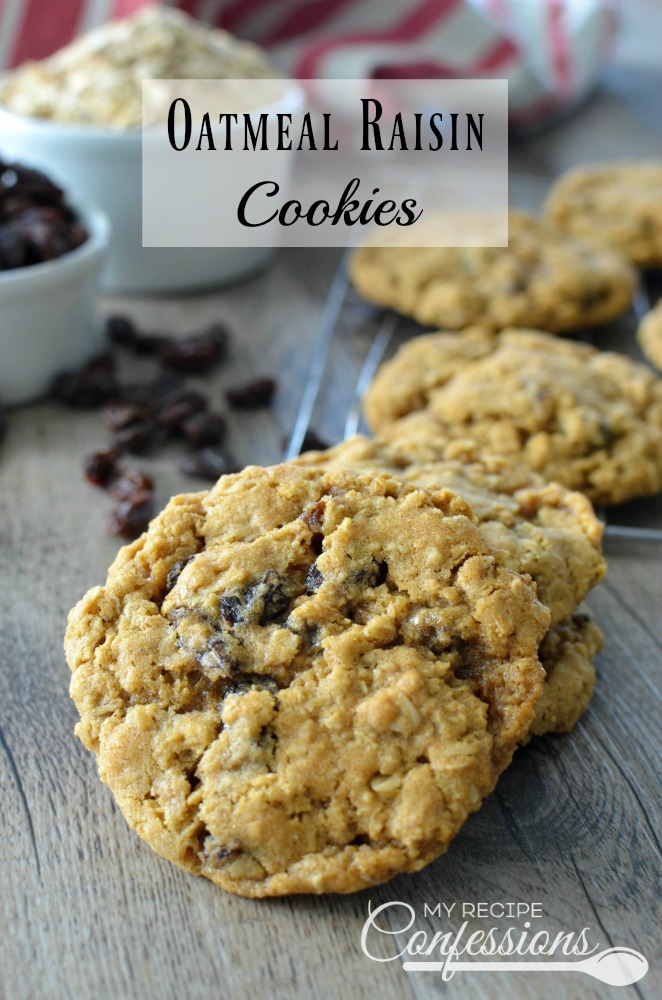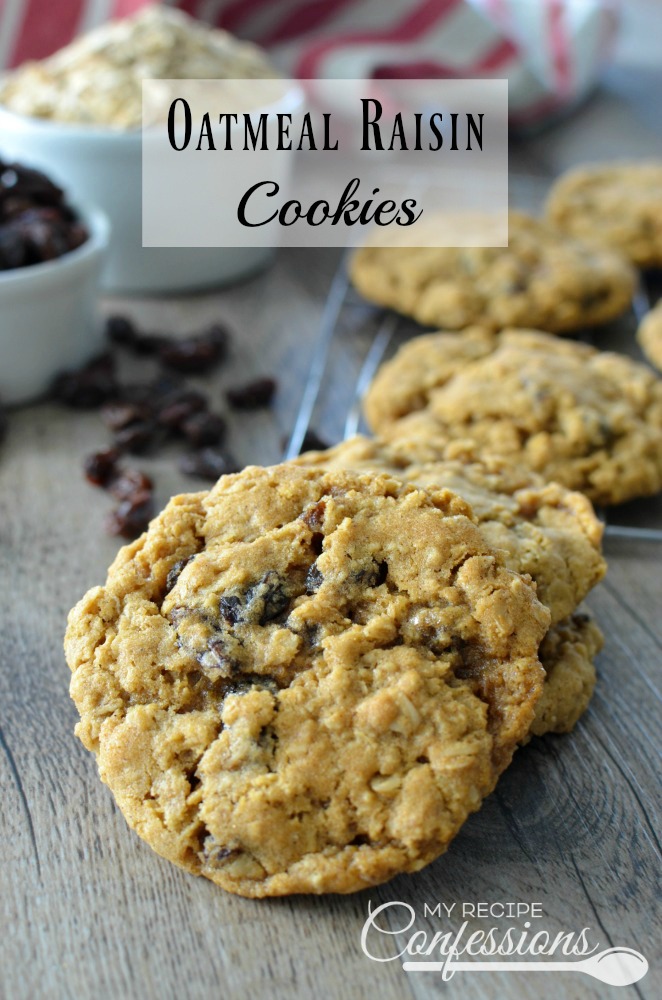 These Oatmeal Raisin Cookies are hands down the best that I have ever had! Each cookie is packed with so much flavor that you will be hooked after the first bite. These cookies are soft and fluffy and have the perfect chewy texture. This recipe is one that you will want to hang onto. I promise you won't find a better Oatmeal Raisin Cookie than this one!
When I was younger I hated oatmeal raisin cookies with a passion! I always thought that they were chocolate chip cookies and when I would take a bite, I would realize that the brown chunks in the cookie were raisins instead of chocolate chips. I always felt so betrayed. Why would anybody ever swap out chocolate chips for raisins? That is just crazy!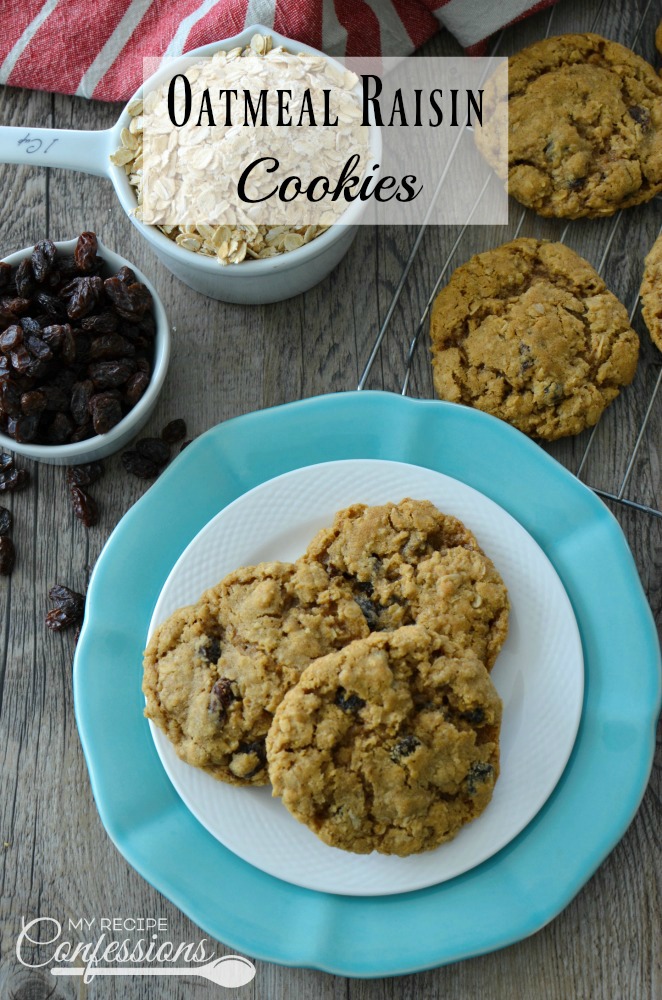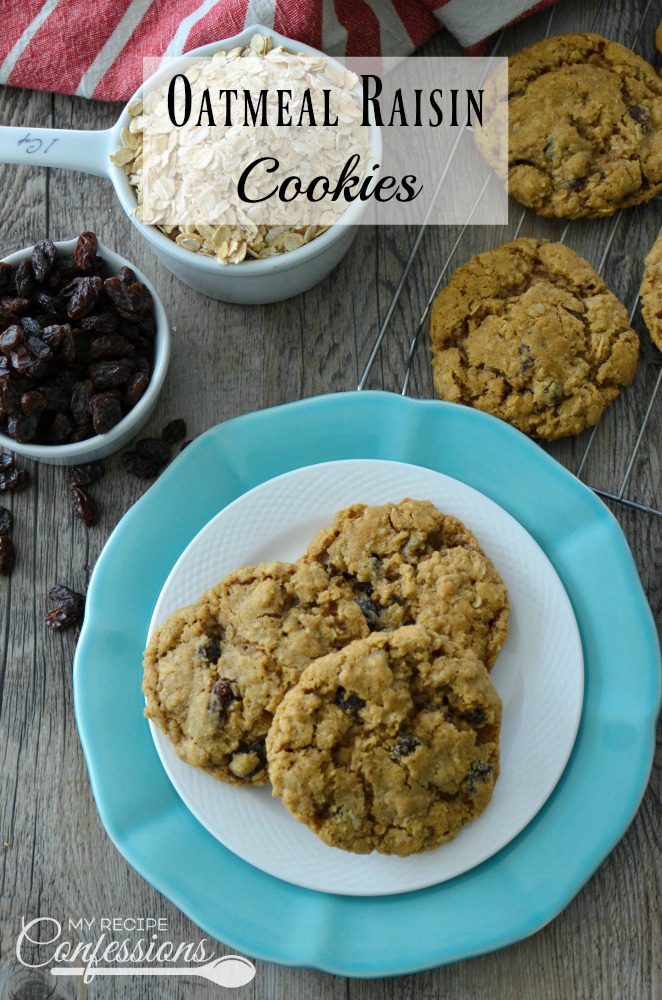 One day instead of immediately spitting the cookie out, I continued to chew and got the full flavor of the cookie. Something crazy happened, I realized that Oatmeal Raisin Cookies were actually quite delicious. I will admit that even with my new found love of these cookies, I am still pretty picky about how I like them. I like my Oatmeal Raisin Cookies to be soft, chewy, and moist. I hate dry cookies! I want them to be full of flavor and not bland and boring.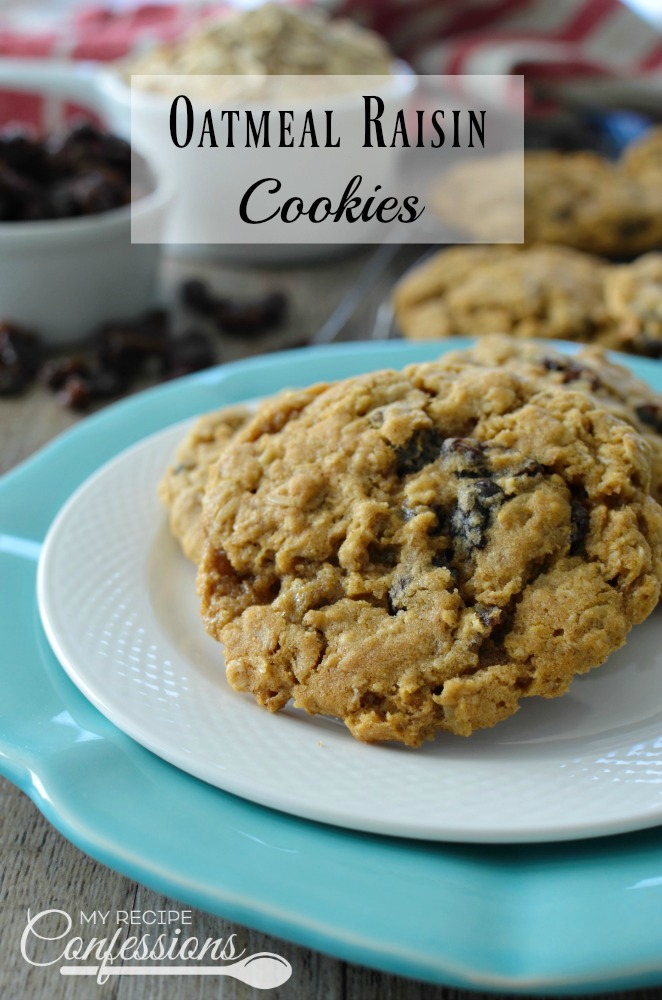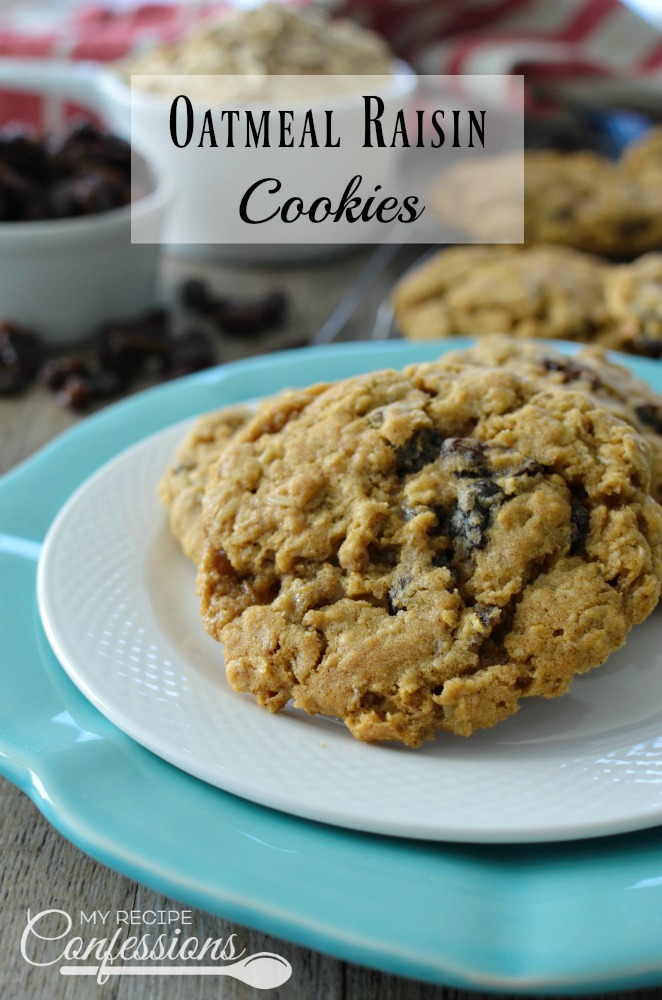 The moral of this story is, don't judge a cookie by its raisins.
*Here are a few tips and tricks that make these cookies so amazing. First of all, make sure you use old fashioned oats and not instant oats or quick oats. Quick oats and instant oats will dry out your cookies. It is best to have the butter and eggs at room temperature. You can place the eggs in a bowl of hot water for a few minutes to bring them to room temp. When baking the cookies, make sure to not over bake them. You will need to remove them from the oven as soon as the edges of the cookies are a very light brown. The center of the cookies will look under-baked and you will be tempted to leave them in longer, but Don't DO IT! The cookies will continue to bake and set up after they are removed from the oven. Once the cookies have cooled down completely they will be perfect.
With love from my kitchen to yours,
Carrie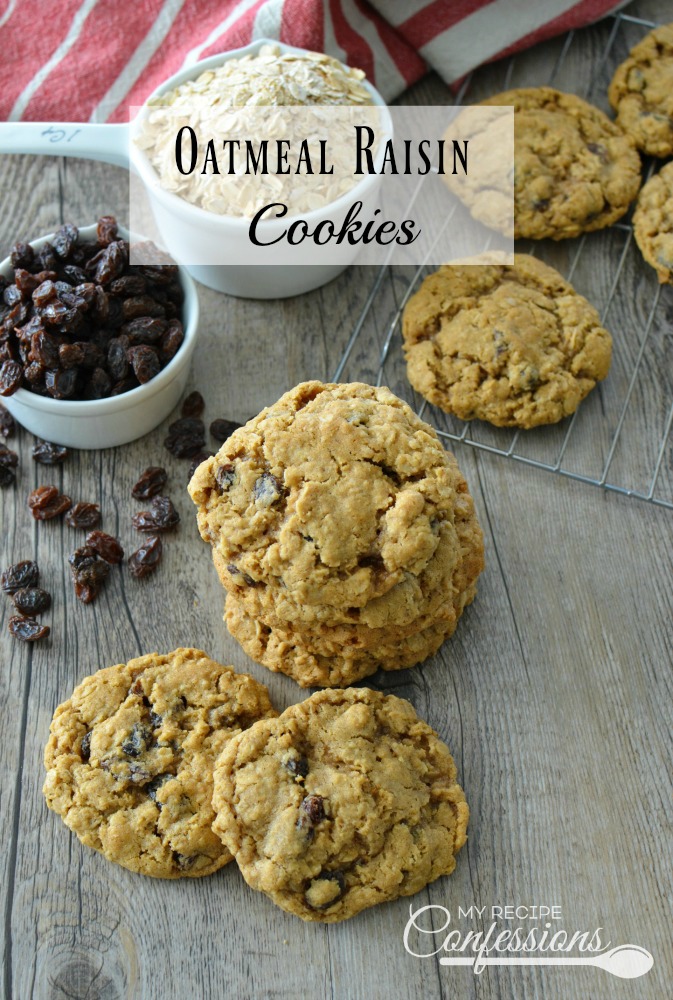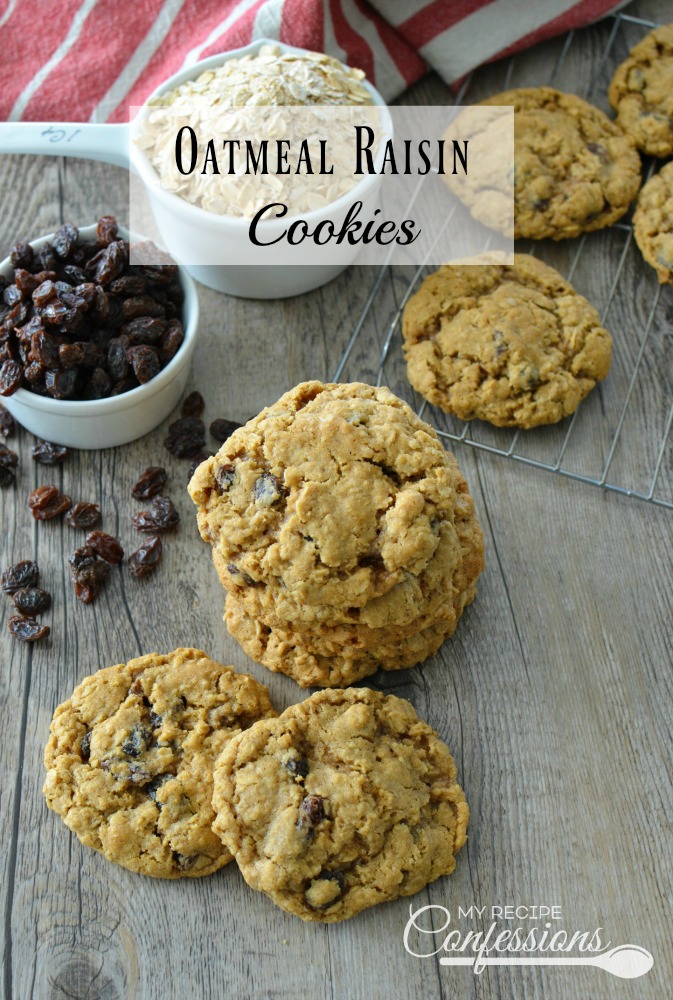 Oatmeal Raisin Cookies
makes about 28-30 cookies
1 cup butter, softened
1 cup of brown sugar, packed
1 cup of granulated sugar
1 large egg, at room temp.
2 egg yolks
1 tbsp. of molasses
1 tbsp. of vanilla
2 tsp. of cinnamon
1/4 tsp. of ground cloves
1 1/2 cup of all-purpose flour
1/2 tsp. of salt
1 tsp. of baking soda
3 cups of old fashioned oats
1 1/2 cups of raisins
Instructions
Pre-heat oven to 350° F
Spray baking sheets with baking spray and set aside. In a bowl, mix flour, salt, and baking soda.
In a large bowl, cream the butter and sugars together until light and fluffy (about 2-3 minutes). Add egg and egg yolks one at a time until combined, scraping down sides of bowl as needed.
Add the vanilla, molasses, cinnamon, and cloves to the butter mixture. Scrap down the sides of the bowl and slowly add the flour mixture just until the flour disappears. Mix in the oats and raisins just until incorporated.
Roll 1 1/2 tbsp. of cookie dough into a ball and place on the prepared baking sheet. Chill in the refrigerator for 20 minutes prior to baking.
Bake the cookies for 10-13 minutes or until the cookies are lightly brown around the edges. The cookies will look *underdone but they will continue to bake after taking them out of the oven. Let the cookies cool for five minutes on the baking sheet and then transfer them to a wire rack to cool completely.
This recipe is adapted from Oatmeal- Raisin Cookies by The America's Test Kitchen Family Baking Book and
Soft & Chewy Oatmeal Raisin Cookies by Sally Baking Addiction.