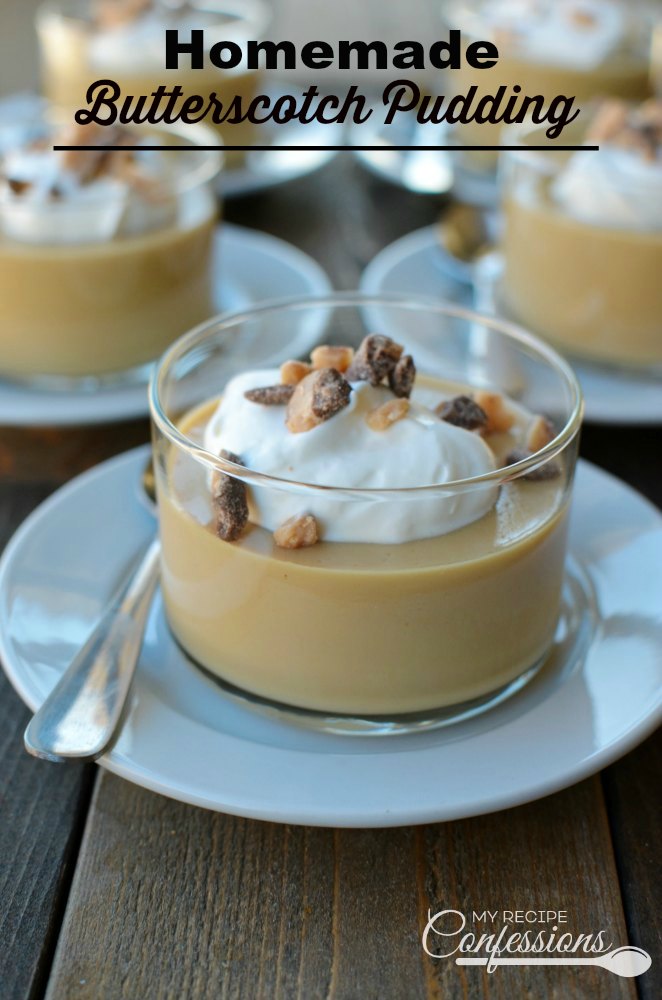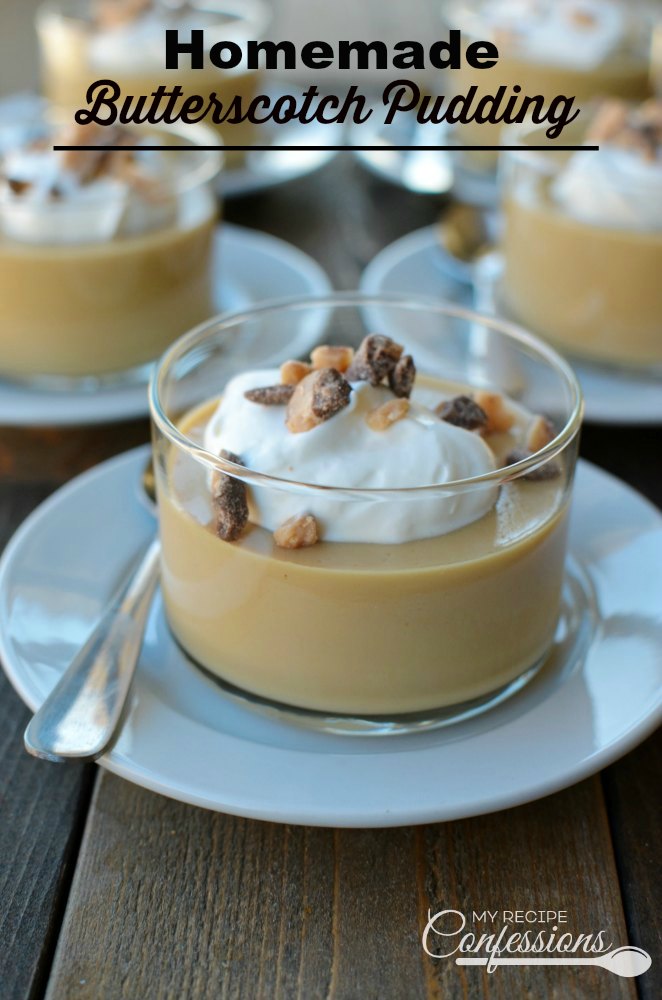 This Homemade Butterscotch Pudding is silky smooth and irresistibly delicious. When you top it with some whipped cream and sprinkle some English toffee on top, it impossible to stay away from.
Don't even think about buying a box pudding mix. This recipe for Homemade Butterscotch Pudding is very easy to make and is so much better than the box stuff!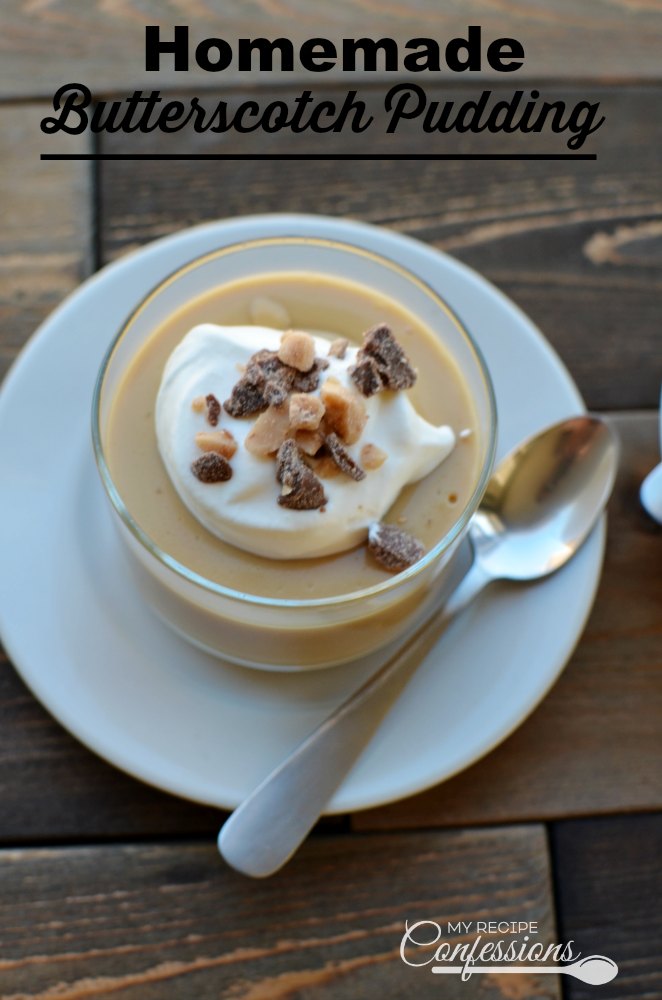 We ate all of the pudding last night and I think I might have to make some more because I can't stop thinking about it. You can eat it warm or cold, it's really up to you.
With love from my kitchen to yours,
Carrie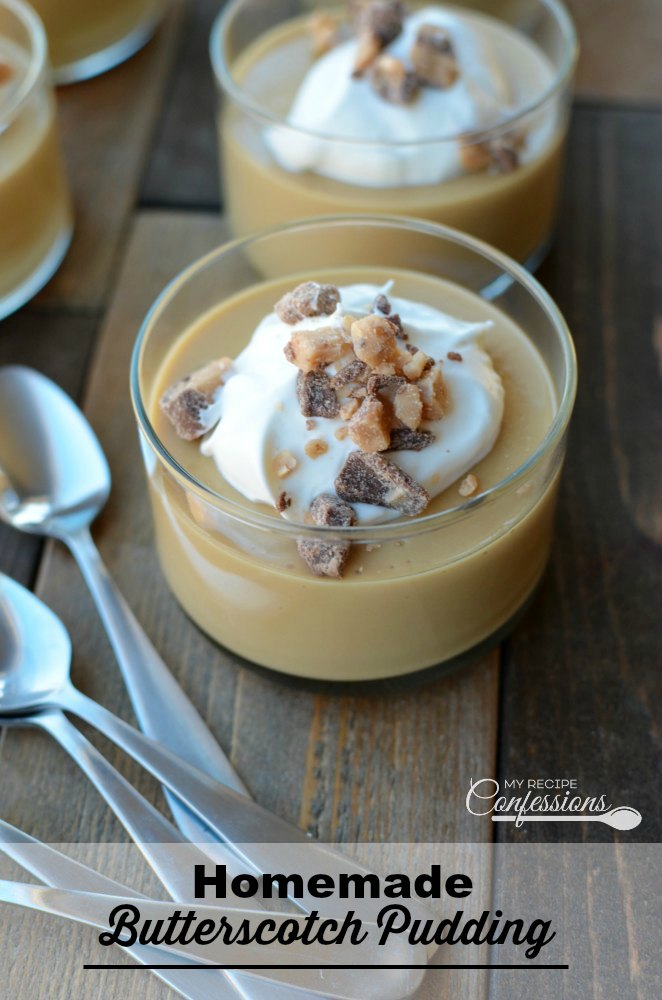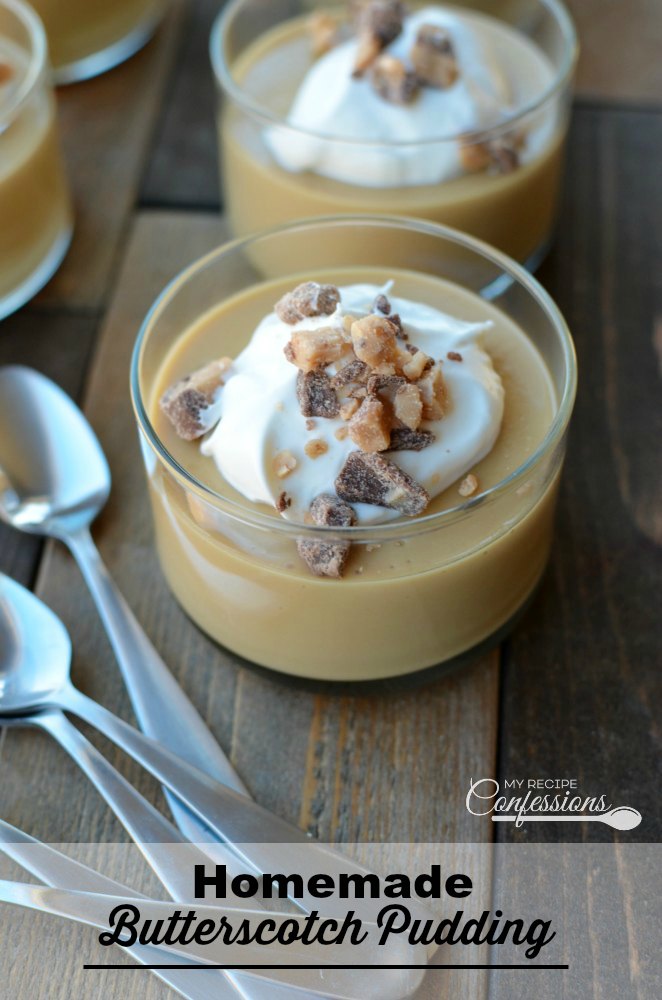 Butterscotch Pudding
3 cups of half and half
4 egg yolk, lightly beaten
2 tbsp. of cornstarch
1 cup of dark brown sugar
1/4 tsp. of salt
2 tbsp. of unsalted butter, room temperature
2 tsp. of vanilla extract
3/4 cup of chilled heavy whipping cream
3 tbsp. of powder sugar
1/2 cup of crushed English toffee
Instructions
In a medium-sized heavy sauce pan over medium-high heat, gently whisk the half and half, brown sugar, and cornstarch together until thick and bubbly. Cook for 2 more minutes and remove from heat.
Gradually whisk one cup of half and half mixture into the lightly beaten egg yolks. Slowly whisk the egg mixture into the remaining half and half mixture that is still in the sauce pan. Bring to a gentle boil and reduce heat. Cook and stir for 2 more minutes.
Remove from heat and stir in butter, vanilla, and salt. Pour the pudding into six 3/4 cup ramekins. Cover with plastic wrap and chill in refrigerator until cold, about 3 hours.
Right before you are ready to serve it, whip the heavy cream and powdered sugar together until it forms soft peaks. Serve pudding with a large dollop of whipped cream and sprinkle with crushed English toffee.
Adapted from Best Ever Vanilla Pudding by Better Homes and Garden
Here are a few other recipes you should try.