This recipe is a delicious twist on the classic biscuits and gravy. I love a good chicken pot pie but wanted a quicker version. The homemade biscuits in this recipe are amazing.  If you haven't already tried the easy homemade biscuits recipe I shared a few weeks ago, you are in for a real treat! They are very simple to make and are out of this world!
The creamy chicken gravy tastes like chicken pot pie. After tasting this dish, you will want to get your southern drawl on! Don't just take my world for it, give this mouthwatering dish a try.
With love from my kitchen to yours,
Carrie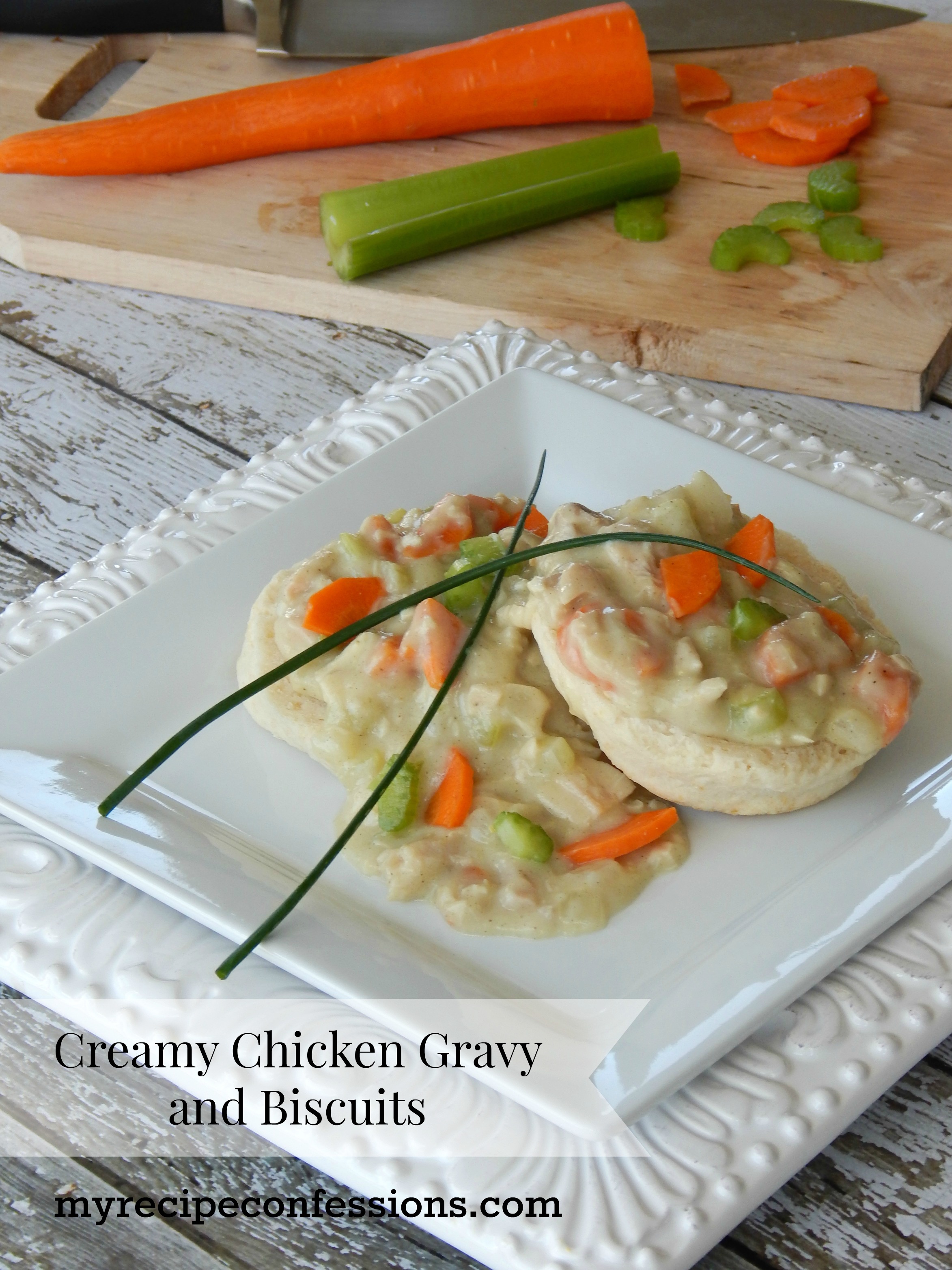 Creamy Chicken Gravy and Biscuits
makes 6 to 8 servings
1 medium yellow onion, diced
3 celery stalks, diced
3 medium carrots, peeled and finely sliced
3 cups of chicken, cooked and cut into 1/2 inch cubes
3 cups of chicken broth
1 cup of half and half
1 tsp. salt
1/2 tsp. sage
1/2 cup of butter
1/4 cup of flour
Instructions
1. In a large sauce pan on medium high heat, saute the onions, celery, and carrots in the butter. Cook until the vegetables are fork tender and the onions are translucent. Add the flour to the vegetables and continue to stir for 3 to 5 minutes.
2. Add the chicken, chicken broth, and half and half to the vegetable mixture. Whisk the mixture to break up the flour and butter. Stir until the gravy is smooth. Bring the gravy to a boil and then turn down the heat to medium-low. Add the salt and sage. Then let the gravy simmer, stirring ocasionally until it thickens. About 10 to 15 minutes.
3. Cut the homemade biscuits in half and pour the gravy over the top.