Now that school has started, I'll bet that your kids would love coming home to a batch of Andes Mint Chocolate Rice Krispie Treats.
You can whip these babies out in no time and then have plenty of time to sit and listen to your kids tell you about their day.  Some would say that a tall glass of milk would make this treat complete.
As an added bonus, if your kids are anything like mine, you can use this treat as a motivation for them to do their homework in a timely manner!
Until next time,
Carrie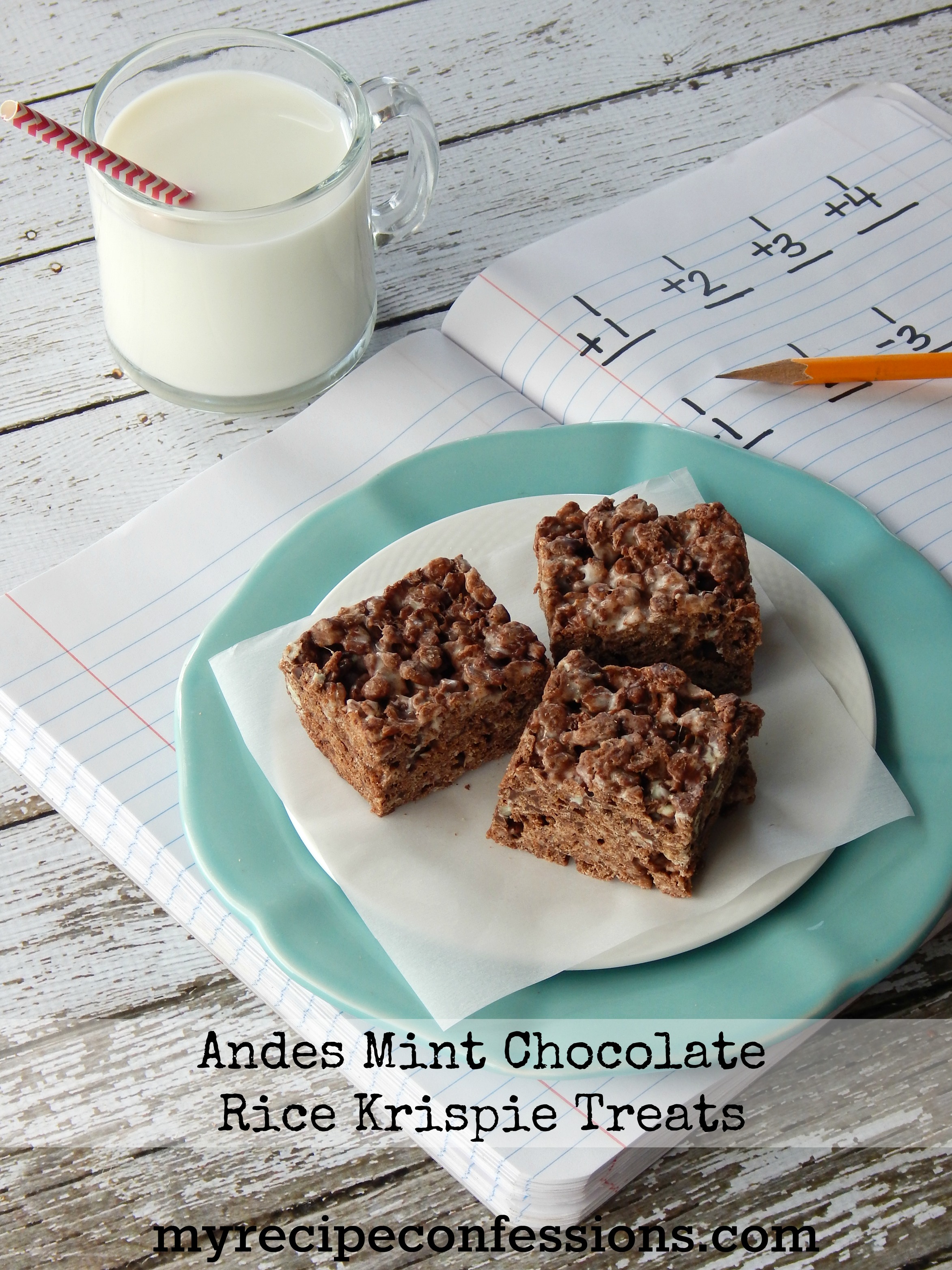 Andes Mints Chocolate Rice Krispie Treats
1 (16 oz.) bag of mini marshmallows
1/2 cup of butter
1 tsp. peppermint extract
7 cups of chocolate rice krispies
1 (10 oz.) Andes Crème de Menthe baking chips
Instructions
1. Spray a 9×13 pan with baking spray. In a large bowl, melt the marshmallows and butter in the microwave for 2 minutes and 30 seconds. Remove the bowl from the microwave and stir the marshmallows. If the butter in not completely melted, return the bowl to the microwave for another 30 seconds.
2. Stir the peppermint extract into the melted butter and marshmallow mixture. Add the chocolate rice krispies and gently stir. Once the mixture is mixed well, add the Andes Crème de Menthe baking chips and gently stir.
3. Pour the rice krispie mixture into the 9×13 pan. With a rubber scraper that has been sprayed with baking spray, evenly spread the mixture out in the pan. Gently press down the rice krispie treats in the pan. Place the 9×13″ pan in the fridge for 30 minutes to set up.  Cut and serve.